The Wanderings of Kit (Do you wander or just wonder?)
By writing this blog I want to inspire you and show you that–
YES—YOU CAN > >
Change your life at any time to make it more magnificent!

Live with little money and still have an excellent life.

Be able to live life getting very little sleep.

Live ANYWHERE in the world and still make your life a fantastic event!

See experiences that will add to and make your life better.

I want to inspire you as to the wonders of the earth.

Perhaps this is my new "gig", traveling the world doing the same?

And, I'm not just, "Kitting Around".
Design the life YOU want to live, NOW, then live that life.
*********************************************
***Remember, to read past blog posts, go to https://kitsummers.com/blog/
***If you are reading this through Facebook, check out my blog in on my website.
***If you are not my Facebook friend, yet, please befriend me.
***The freedom I am experiencing in my travels is a marvelous thing.
***Going where I want, when I want and seeing wonderful places and people.
***I will have places to show you and tales to tell.
***I will have secrets to unfold and good news!
I'm glad to take you on my journeys with me!
********************************************* *********************************************
As you might have noticed, in the last blog I was very sad and it showed in my words. I am writing this to inspire and pick your life up. So, often I forget my own words, such as >>
When you are at the dead-end you have to force yourself to remember that you will soon be back up again and joyfully happy. When you are on top of the world and everything is superb, remember that you "might" be back down again.
Balance is the key. Find a place between these two and you will never be depressed again.
Although I am not currently traveling, I am feeling much better this week. But, my blood pressure remains high, so I take the drug, which I do not like to do.
My computer repair should be finished in the next few days, then to the south I go, to the warmth. It's great to be able to just pick up and travel when I want or need.
Again, I must apologize for my last post, I had been very down and sad, I should not have written while in that mood. I want to words to inspire you and bring you joy in your life. I hope I have been able to do that.
Yet, I wouldn't know, I hardly hear from anyone. How about you, will you connect with me and let me know about you? I am hoping this will be a back-and-forth dialog, please do?
So, I just sent off my latest blog to you two hours ago. After, I went searching and found a campground, so nice it is. Everything is so green and lovely in Oregon, with bird sounds, too. Another sound here is the local highway—yuck—but, I know the noise will be less and less as nightfall comes.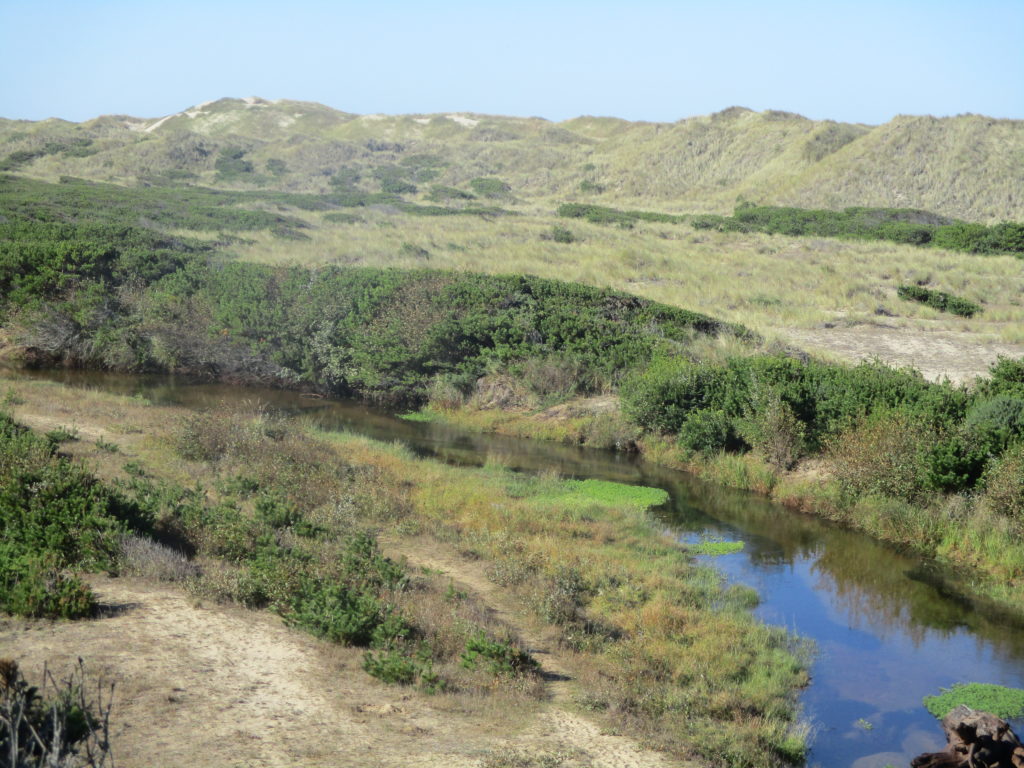 After traveling down the coast, I was thinking about my return to the Portland area. I could go up the coast as I did coming down. I'm sure I would see even more delightful sights. Yet, I have done the coast and I must explore other areas. I am guessing you will find out tomorrow what route I took.
===============
Words to inspire you >>
During the last week or two, I have been quite down. Part is because I am stuck on one place until my computer repair is finished, part medical, part seeing a bleak future. I must remember, we are each responsible for our thoughts and actions. Today I am looking for and finding good, I must remember that we direct our thoughts, we can't let our thoughts direct us.
================
My daily jottings >>
10/4/19—Dinner was delicious. First I put together a salad with lettuce, broccoli and tomatoes. Then, I cooked up some rice and added some of that buffalo style chicken like I had last night. These are items I got from one of the food banks. So, good food at no cost.
6:44 now, the sun goes down earlier and earlier. But, I lied, the sun never goes down. We on earth rotate away from the sun—that big yellow ball always stays in the same spot. Oh, I lied again, the sun is always moving, as we move with it. And what a fun ride it is!
As you would know, I am typing this offline on battery power, I do like it this way.
10/5—To the coast, I go
Have to wait for my computer to be repaired, why stay in the Portland area? To the west I go . . .
LIFE MUST GO ON
As you might have been able to tell from my last blog post, I was feeling quite depressed and upset about life. I am writing this blog to inspire "you" and add to "your" life as you make things better and better.
Simon West
Overnight after I published the last post I heard from my friend, Simon, in Australia. He basically let me know how much I helped him with his juggling, his performing, and his life when I was down in Australia. This made me feel much better, thank you so much, Westy. Seems that I have helped many, I must remember that. Here is Simon >>
https://www.facebook.com/simon.west.5872
On the coast
Found a place to park that is right on the water. Being Sunday, many are showing up to bike or walk. I like to get out and meet people and present myself in a fun way when I can. I will be taking the bike off the van soon and go for a ride.
(Yes, that's Kit's head there.)
The writing style?
I've written this way in some of my books. I title each paragraph so you know toward what you will be reading. What do you think, do you like?
The Ocean
Came down to South Beach State Park. They keep this place very nice. I went down to the ocean, but, too cold to go in. Nice to walk around on the sand.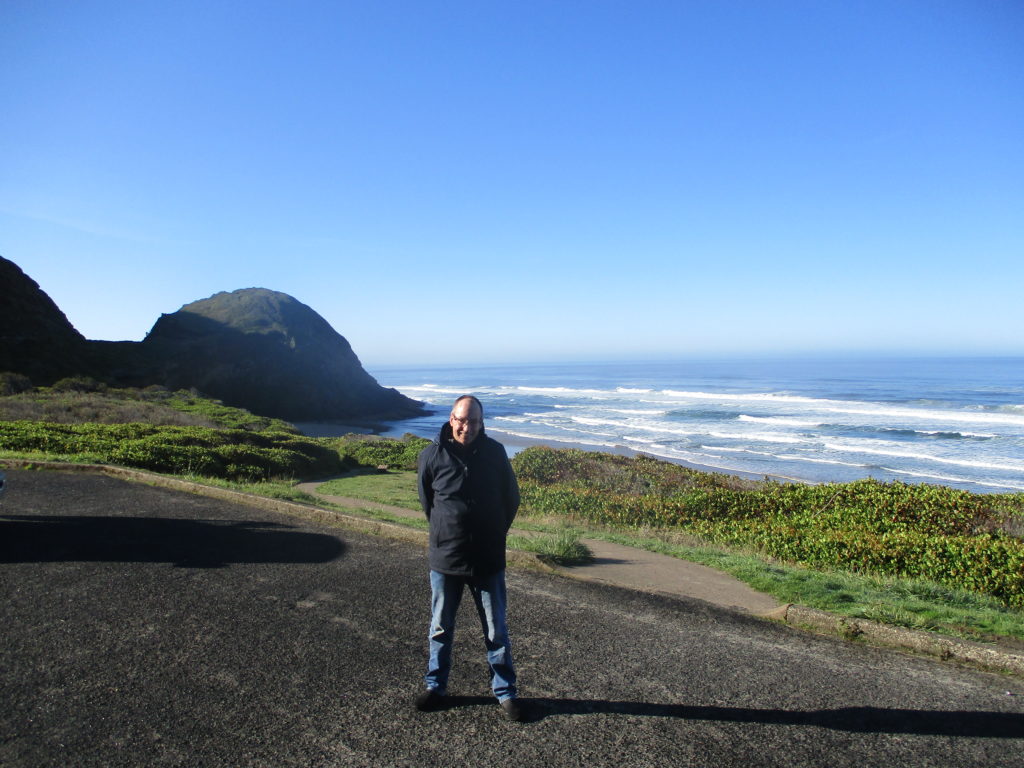 Shower times
It's been a few days, I shower when I can. After the ocean, when I walked back up there is a water faucet about a meter and a half off the ground, yes, shower time. To prepare I go with a washcloth already soaped up with a shampoo/body wash. It is near the van, so I did not even bring a towel. Feel nice and clean.
The wonders of Oregon
Watch this video about this amazing state.
https://www.youtube.com/watch?v=N1DwftT8GS0
10/6—Dreams?
Had a dream last night that I started a romance with my friend Daniel Powell's sister (he only has brothers.) The love was clean and wonderful. I do miss being in a relationship – much.
The Beauty
The drive along the Oregon coast will always stand out in my mind in brilliance. If you ever have the chance to take this drive – you must.
Here is more on Oregon >>
https://www.youtube.com/watch?v=pouXKvwrfoc
10-7 through 10-11—When?
As you know, I continue to await my computer repair. So, in the Portland/Gresham area for a time. Looking forward to getting back on the road again.
Where to stay?
Last night was spent in a residential area. There was a long row of tall hedges that I parked on the side of, this hide the van. The quiet was very silent, nice that way.
Difficulties
Having a hard time today, very lonely. I am back in the Portland area awaiting my computer, they are waiting for a part for it. Just last week I was so happy to be traveling through the coasts of Oregon, do you like the photos?
10/10—Breakfast
I had a crescent that I picked up at a food bank, along with a stick of butter. Yet, I like my crescent toasted, what was I to do? Then I figured out to put some butter in my fry pan and toast up the crescent that way. It was delicious.
Time to spend not time to waste.
Your time should be precious to you. Make sure you do what pleases you, always. For me, traveling, seeing new things and meeting new people is fabulous.
So Lovely
Driving down Oregon Coast Highway with a beautiful ocean off to my right and Sisulan National Forest to my left. The scenery is beyond words.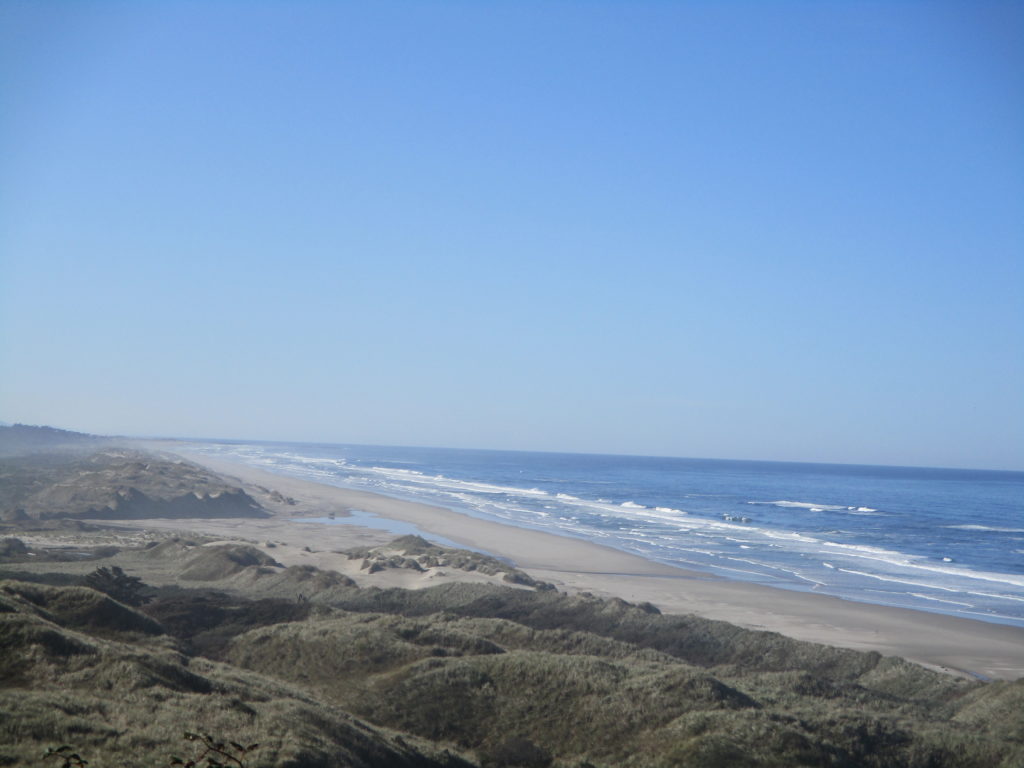 A nice change
A clear and sunny day today.
A nice change, it has been so rainy and cold.
Where to go?
So, I had a couple of days until my computer will be back, why stay in the city and wait? Mt Hood, being so close, was waiting for my arrival. I arrived in the general area at about 5:15 pm. Guess what time it is – TACO TIME!
The place for the night
I took a side road off of the main drag, then I found a turnoff with nothing, so here I am for the night. The big taco was delicious. I pulled down yet another blanket for the cold tonight, my covers should keep me toasty warm.
The joy of camping
Funny, some people plan and make time for their vacation—to go camping. I camp every night—and I love it!
10/11—Up to Mount Hood with me.
After seeing Mt. Hood from down in the area my sister Sandy lives in, I had to make the journey up here. I left in the evening for the 50 drive, found a turn-off the main road where I could sleep.
Taco time
I had just finished making a delicious taco when a truck pulled up. A guy got out and came up to the van and said, "Can I help you?" People sometimes say this when they can't think of anything better to say, such as, "What are you doing on my land?"
The answer
Of course, my answer was, "Help me with what?" We spoke more words and he said the land belongs to his friend and he watches over it. I asked if I could stay and he said he would ask his friend. I heard nothing more and slept well.
SNOW
Still waiting for my computer repair, but why stay in the Portland area, Mt. Hood is only about 80 kilometers (50 miles) away, so away I went. At about 7:30 am I arrived at Timberline Lodge of Mt. Hood. Much snow around, I like it here.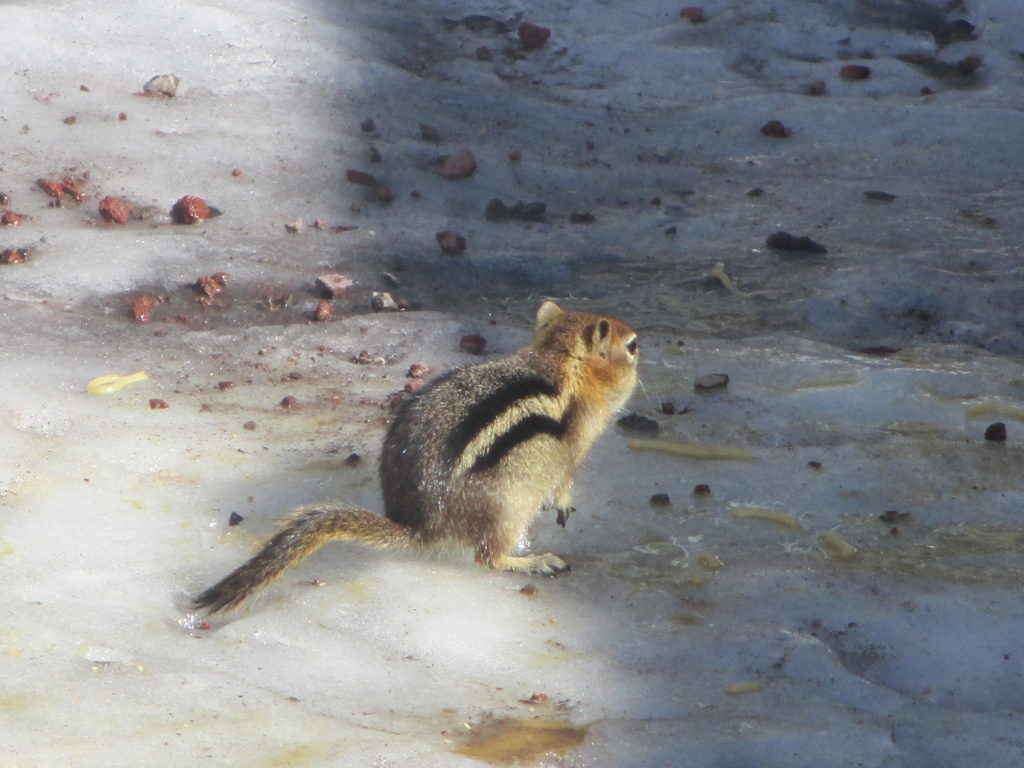 A few chipmunks around
They don't have much to eat, I gave them some food. 
The drive up
While driving up, I unfocused my eyes momentarily and the lights outside raced past me in a brilliant phantasmagoria. At times, because I go to so many places, I lose track of where I am, takes some thinking and realization.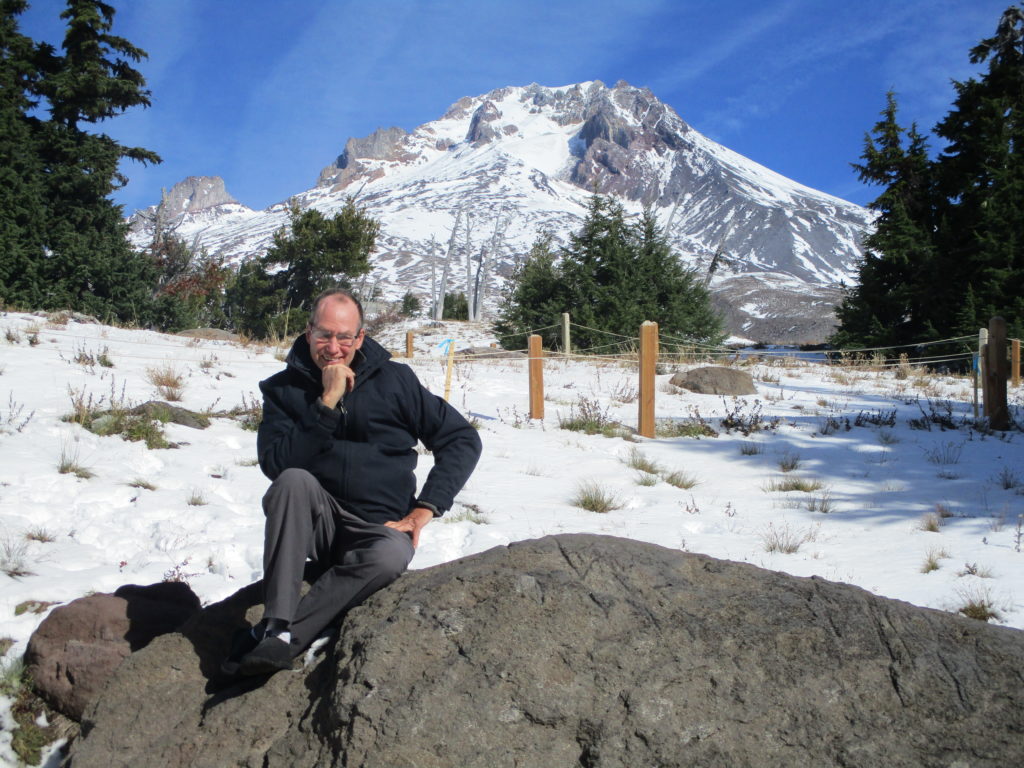 My video
Received this as a comment on my video from Lisa Tsuda yesterday, made me feel better >> "World famous..🌷" Not sure what she meant, but nice.
Libraries are good
At a library now preparing this blog to be published for you now. Libriries have all I need to get the blog out, very nice.
Contact me
Remember, let me know what you think of this writing style. I'll be writing to you from further south next week.
====================
My Challenge for You this Week >>
Get back to that exercise routine you have been putting off.
================
Next Blog >> Written from warmer climates, you will see.