The Wanderings of Kit (Do you wander or just wonder?)
By writing this blog I want to inspire you and show you that–
YES—YOU CAN > >
Change your life at any time to make it more magnificent!

Live with little money and still have an excellent life.

Be able to live life getting very little sleep.

Live ANYWHERE in the world and still make your life a fantastic event!

See experiences that will add to and make your life better.

I want to inspire you as to the wonders of the earth.

Perhaps this is my new "gig", traveling the world doing the same?

And, I'm not just, "Kitting Around".
Design the life YOU want to live, NOW, then live that life.
*********************************************
***Remember, to read past blog posts, go to https://kitsummers.com/blog/
***If you are reading this through Facebook, my better blog in on my website.
*** If you are not my Facebook friend, yet, please befriend me.
***The freedom I am experiencing in my travels is a marvelous thing.
***Going where I want, when I want and seeing wonderful places and people.
***I will have places to show you and tales to tell.
***I will have secrets to unfold and good news!
I'm glad to take you on my journeys with me!
********************************************* *********************************************
Words to inspire you >>
1. Accomplish
• "He who is not courageous enough to take risks will accomplish nothing in life."
—Muhammad Ali
• "You can have anything you want if you want it badly enough. You can be anything you want to be, do anything you set out to accomplish if you hold to that desire with singleness of purpose."
—Abraham Lincoln
• "Here I am . . . wanting to accomplish something and completely forgetting it must all end—that there is such a thing as death."
—Leo Tolstoy
2. Action
• "Knowing is not enough; we must apply. Willing is not enough; we must do."
—Johann Wolfgang von Goethe
• "Do you want to know who you are? Don't ask. Act! Action will delineate and define you."
—Thomas Jefferson
• "The path to success is to take massive, determined actions."
—Tony Robbins
3. Ambition
• "Ambition is the path to success. Persistence is the vehicle you arrive in."
—Bill Bradley
• "Ambition is enthusiasm with a purpose."
—Frank Tyger
• "A man's worth is no greater than his ambitions."
—Marcus Aurelius
4. Believe
• "Believe it can be done. When you believe something can be done, really believe, your mind will find the ways to do it. Believing a solution paves the way to solution."
—David Joseph Schwartz
• "Be brave to stand for what you believe in even if you stand alone."
—Roy T. Bennett
• "Believing in yourself is not for you; it's for every person who has touched your life in a significant way and for every person your life will touch the same way five minutes from now, or five centuries from now."
—Jaye Miller
5. Clarity
• "Clarity precedes success."
—Robin Sharma
• "A lack of clarity could put the brakes on any journey to success."
—Steve Maraboli
• "Clarity affords focus."
—Thomas Leonard
===============
My daily jottings >>
9/19/19—Every time I start on a brand new week of blog writing, I never know how the week will set up and what I will be doing. I sort of like it that way. I can go forward and "make" things happen so that I can add to the words I send to you.
Medical issues—My sister, Sandy, has been checking my blood pressure and it's been high. In fact, the first time she checked it was at 178/100, which, I heard, was quite high. She took me immediately to a clinic and they put me on a medication that has been helping, but it is still high.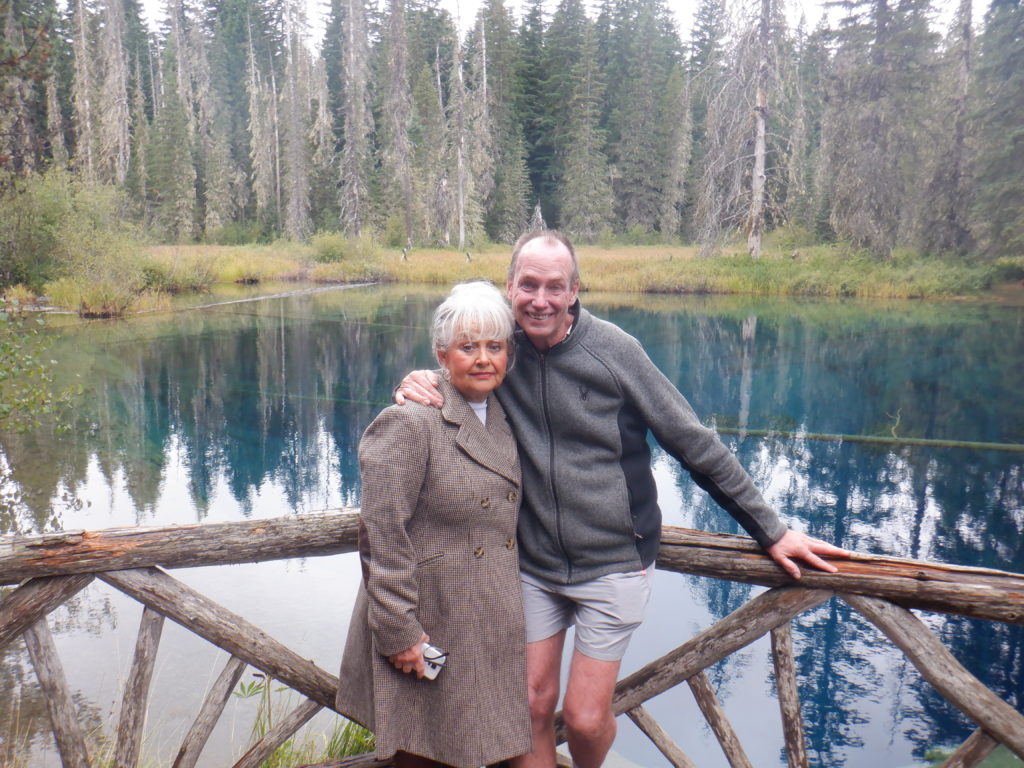 The thing is, I am not caring much about high blood pressure – if I die, I die.
Then, through my insurance, I've been able to go once a year to get my teeth checked and cleaned. I did that this week, with x-rays, too. I found out https://mainstreetdentalgresham.com/ was on my plan.
The dentist, Dr. Seth Monson, saw that I had an infected tooth that needed to be removed – yikes! I stayed that day and, through the most pain I have ever experienced, the tooth was out of my mouth.
Some years ago I needed a few dental procedures done, I went to two dentists and found out the cost would be about ten thousand dollars. Then, living so close to Tijuana, I thought I might be able to find someone good down there.
I found Dr. Bartell, who did the work for one-tenth the price, around $1,000. So, I will be needing two tooth implants to make my mouth whole again. Here he is, take a look >>
https://drwbartell.com/
They speak English as good or better than I do and were a delight to work with. I have to wait six months for the pulled tooth area to heal, so, being completely mobile, I will be down there. You see, I am in the Portland area now and it is getting cold.
If you have expensive dental work you need to be done, contact Dr. Bartell. For the prices he charges it might be worth it to fly down to San Diego and cross over the border to get the work done — YOU WILL SAVE MONEY!
JUGGLING—Today I went to https://www.portlandjugglers.org/ There were two rooms where they were juggling, a large number of jugglers were there. I walked around and only knew a few jugglers.
I talked with the person who was setting up workshops and offered to present two workshops. I've worked with hundreds of jugglers in the past to help them move up to a higher level. Today I was told that all the workshop spots were already full and they could not fit me in.
I saw an old friend doing a workshop and offered my ideas and help to make his workshop even better, he denied me.
So, there I was, a non-juggler (used to be a world-record holder in juggling) seeing a bunch of jugglers who might need my help. I went up and helped a few to learn tricks they were working on. I just felt like I do not fit in with jugglers anymore, so, after an hour, I left.
Life can be frustrating–As I was driving away I cried, thinking of the loss of my juggling, recent loss of Tina, and the loss of so many things in my life.
I had been upset already in the last few days and wondering what the future might hold for me. Depression had set in. I questioned if life was worth living at this point. I've had great times, mixed in with terrible times. I have helped many people, too.
When I don't want to live anymore I think of my daughters, April and Jasmine, and that brings me back from the brink.
9-30—Getting cold in Portland, time to head south. I have a warm sleepy bag and can wear warm clothes to sleep, so I can go down to the freezing point and still be alright. Last night I slept in a residential area, very quiet. I found out later that it did get down to the freezing point—burr.
In the morning I went to a McDonald's to get on their free WiFi; I was there when they opened at 5am. Soon some homeless men came in to get out of the cold. One guy was sitting at a table across from me and seemed to have a lot of trouble with his movements and his nerves.
He had bought a breakfast sandwich and had a coffee. He had all his possessions with him, just a small bag of stuff. I went over and gave him a five-dollar bill, I hope he uses it right to help him. I wanted to help more but did not see how.
I've written before if anyone is homeless, why would they be up north where it is so cold. They should save up and buy a bus ticket to get south where it is warmer. I am so glad I have my home with me all the time.
For the warmth, through the morning more and more of the homeless came in with their life possessions in tow, such a small bag on wheels. They came to get out of the cold and buy breakfast.
HOW CAN WE HELP THESE HUMANS?
The reason I am hanging out in the Portland area is that I had brought my computer to Best Buy to fix a repair that they had done recently. So, in the cold for, perhaps, another week, then to the south I go.
Seeing that homeless it reminded me about food banks. These places have free food for who needs it. I was in need, so I went to a few. These are food items that might be slightly beyond their expiration date, but still good to eat. And, their cans of food from stores that might have too much.
Normally, you might go to the store and by eatable items, then you bring them home, where they could sit for one or two weeks before being eaten. So, there really is no difference. All the food is very clean and safe.
10-1—Parked last night in an apartment complex to sleep, I have also parked in motel parking lots. These places are usually very quiet, people go to sleep and that is it.
This morning I awoke at 1:30am. My mouth was hurting from the tooth that got extracted last week, I was cold, and had to pee. Yet, I just laid there, I knew it would be very cold when I got out from under the covers. Eventually, I took care of matters and then laid back down.
Yet, I knew that I would not get back to sleep. Then dark thoughts started entering my mind. And, the area was very quiet, but my mind was quite noisy.
Some years ago I was riding my bike slowly, and suddenly I fell to the side and hit my head—YES, another one of my accidents. I've always had full control of riding a bike or a unicycle, so I was surprised at what happened.
Then it started—the ringing in the ears—tinnitus. As I researched and learned that this noise would be in my head for the rest of my life, I got sad. This morning it is strong, more pain in my life which I do not need right now.
I lay-ed in bed until about 3am, them I came to the conclusion that I was up for the day. So, with a McDonald's within two miles, off I went. I can park outside of the place when they are closed and still get on their WiFi, so I did.
I've been pondering, am I wasting my life in how I am living it? Tears recently about all my loses >>
Loss of my juggling because of my first accident.
(I have many new readers, have you seen my past juggling abilities?)
https://www.youtube.com/watch?v=SZALVajgH6Q
The breakup with Mary Ellen after a 23-year marriage.
The loss of my ability to run from the second time I was hit by a truck.
The pain of Tina leaving me. And other things.
Feeling sorry for myself, in a way, yes.
I was going to hang out in the Gresham area until my computer repair was complete, then I remembered I was totally mobile. So, off to the northeast point in Oregon, welcome to Astoria. I will get notices on the progress of the computer repair until it is done. I had to get out of the Portland area.
You know how I do not like cities, even Portland, the city I was born in. But, for at least 50 miles out, I still hit city traffic. I just had to get out.
Being near Gresham, I was too, "in a city", had to get out, so today I drove out to the Oregon coast. Coming out to Astoria, Oregon I went by many forest areas, it was wonderful. Oregon is so green and wonderful.
You see, I was going to stay in the Portland/Gresham area until my repaired computer came in, and then I remembered the Oregon coast and the Town of Astoria, so off I went. As soon as I got out of the Portland area I relaxed and felt much better.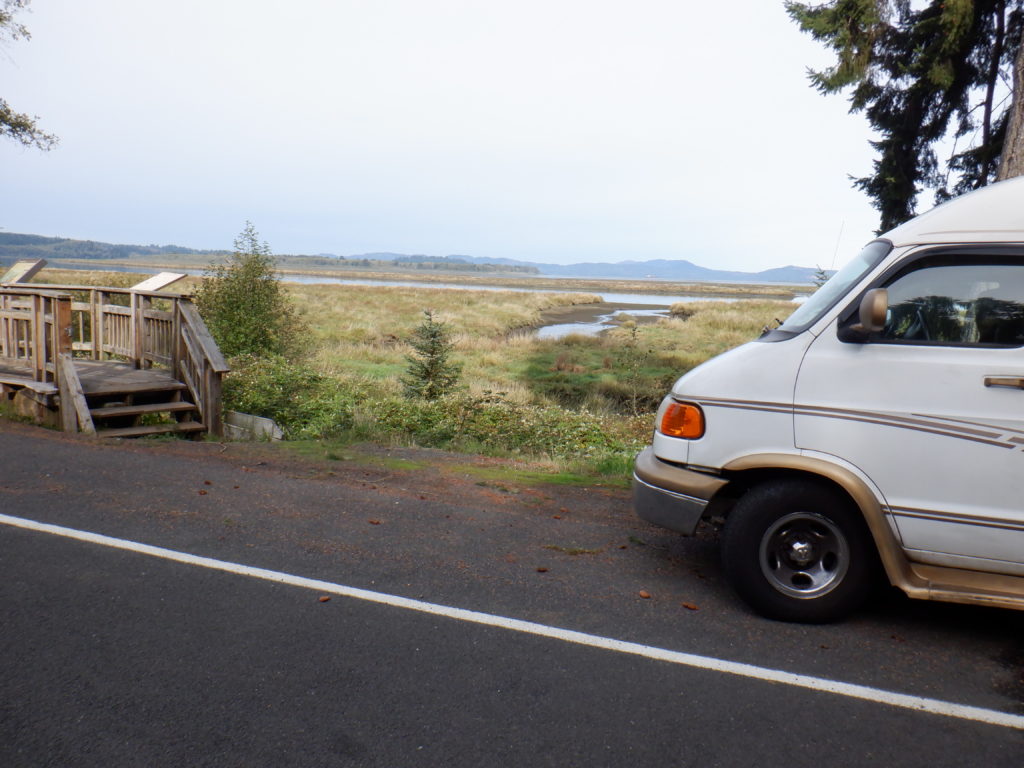 Such a wonderful small town Astoria is, take a look >>
https://www.youtube.com/watch?v=zChZFzKGWqg
10/2—Continuing down the Oregon coast, I saw magnificence. Take a look >>
https://www.youtube.com/watch?v=vkGhbC34Po4&t=36s
Last night I slept in a big empty parking lot. So quiet, mine was the only vehicle there. Surprisingly, I slept until about 3:30am, that is a late sleep for me. I knew there was a McDonalds within a mile, and here I am typing to you now.
Stopped at a different big parking lot and took everything out of the van and cleaned it well. I do this about once a week.
While driving I saw a state park off to the right that had a campground. So nice, with few vehicles here, this was my place for the night. After building a fire and relaxing, I was quite content.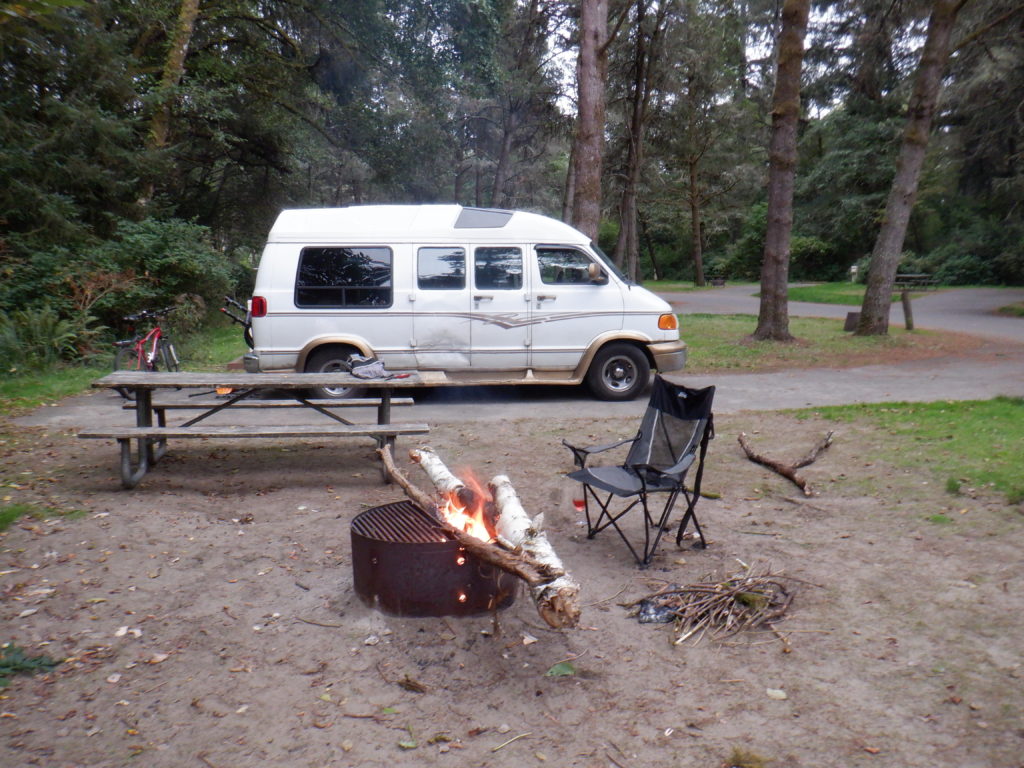 Because I travel alone and there is no one to really see me or smell me, I can go days without a shower. I had written before that when I get itchy—it's time. It's been four days, I am starting to get itchy, so, shower time. Many parks have showers, as this one did, so felt wonderful.
As I was eating dinner with the side doors open a seagull came up and asked if I had any extra, which I did. So, I gave him some food and his ten friends came up and asked for some, too. I obliged and some of them left happy and full.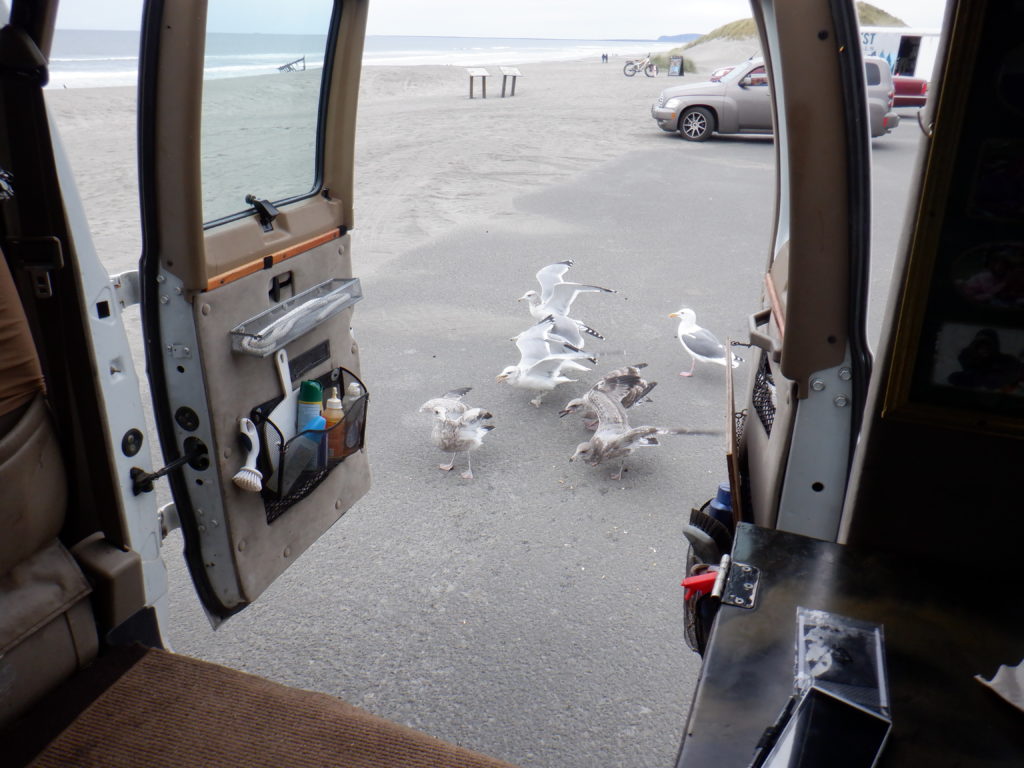 10/3—Last night was a bad sleep. I woke at 1am and I was wide awake (I wonder how it would feel to be narrow awake?) My tooth area was hurting, took a couple of Ibuprofen. And, to help me get back to sleep I took one Advil-pm. Took awhile, but I got back to sleepyheadness and slept until about 6am.
Down the coast I went exploring wonderful Oregon. I will get back to you later and let you know how the day is panning out. There are many small delightful towns along with way, it is fantastic.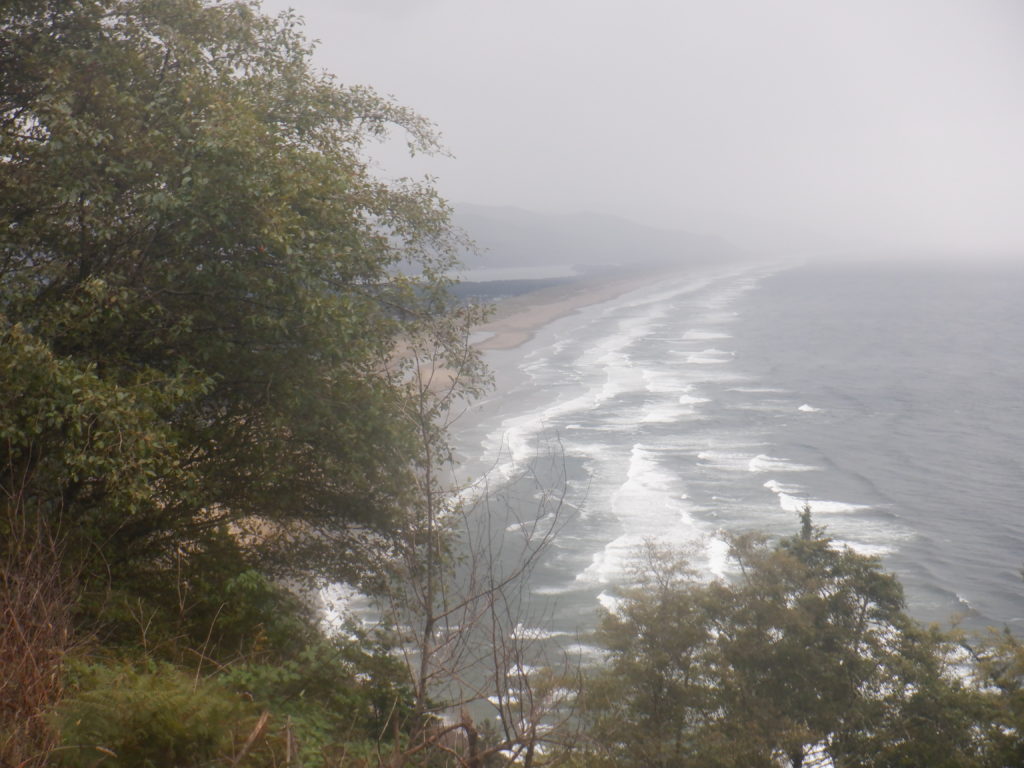 10/4—At another McDonald's typing online. I still have a few days until my computer is finished. My blood pressure, even with taking the medicine, is still too high. So, I don't know what to do.
Today and the next few days is forecast to be rainy, so I will be inside where I can.
Seems that this week went by so quickly, I hope you had a fantastic last seven days.
Was in Tillamook last night, the usual limited sleep, tired right now as I type these words.
Currently at Driftwood Library in Lincoln city on their wifi. I do like working on this in libraries much better than any McDonalds, very quiet and clean.
==============
My challenge for you this coming week >>
Work on keeping a smile on your face ALL WEEK – I am here to help.
================
Next Blog >>Hopefully my computer with be fixed and returned to the middle of next week, then I head south.