The Wanderings of Kit (Do you wander or just wonder?)
By writing ​​this blog I want to inspire you and show you that–
YES—YOU CAN > >
Change your life at any time to make it more magnificent!

Live with little money and still have an excellent life.

Be able to live life getting very little sleep.

Live ANYWHERE in the world and still make your life a fantastic event!

See experiences that will add to and make your life better.

I want to inspire you as to the wonders of the earth.

Perhaps this is my new "gig", traveling the world doing the same?

And, I'm not just, "Kitting Around".
Design the life YOU want to live, NOW, then live that life.
*********************************************
***Remember, to read past blog posts, go to https://kitsummers.com/blog/
***If you are reading this through Facebook, check out my blog in on my website.
***If you are not my Facebook friend, yet, please befriend me.
***The freedom I am experiencing in my travels is a marvelous thing.
***Going where I want, when I want and seeing wonderful places and people.
***I will have places to show you and tales to tell.
***I will have secrets to unfold and good news!
I'm glad to take you on my journeys with me!
********************************************* *********************************************
Words to inspire you >>
Learn to count on yourself.
No one knows you better.
No one can help you better than you.
================
My daily jottings >>
10/12/19—Last night I went to church! Actually, I slept in a church parking lot. I knew it would be quiet and I would not be disturbed, which is how it turned out. 
10/13—Not traveling now, so not a lot to write about. Yet, I just found out that my repaired computer will be in tomorrow! I am so happy to be able to get back on the road again. 
To the south I go, are you somewhere between Oregon and New Mexico? I would love to stop by for a visit, let me know.
I was thinking that, with computers and internet, libraries were going down. But, right now, on a Sunday, the library in Sandy, Oregon is quite full of people reading, studying and using computers (as I am), so great to see. 
10/14—FINALLY GOT MY COMPUTER BACK! Now life can go on and go forward. Stuck in Portland was difficult for me, that would be for any city.
As I was going east out of Portland I stopped by Multnomah Falls, always nice to see. I went as a youth, and then a couple years ago as Tina and I were passing through.
Take a look >>
https://www.youtube.com/watch?v=E5xTS7BHhyU
While driving on I-84 going east, I stopped at the library in The Dalles. Libraries all over America are so well set up for me to work on the Blog in a comfortable way.
I used to aim for McDonald's for their free WiFi, but I am finding that libraries offer much more. Like I wrote before, I am seeing that the libraries are very populated, a good thing.
Along with free wifi, there are electrical outlets where I can plug in for power. Also, most libraries have a "family bathroom", a room on its own where I can get naked and get totally clean, my way of showering when I need.
10/15—At a library all morning on computer. Then I hit the road. Along the way, I saw >>
https://oregonstateparks.org/index.cfm?do=parkPage.dsp_parkPage&parkId=29
I knew they would have a shower, so I did, it's been a few days, I feel nice and clean now. Also, they had drinking water available, so I filled some containers and am very happy.
Stopped at a McDonald's to use their wifi. I decided to get a McChicken sandwich. Now too long ago they were a buck, here I paid $2.50, yikes. But, I see it as my renting their wifi and I was able to plug into the electric, too.
I got tired of just driving on my freeways, I am now traveling back roads going south. There is no rush to get anywhere, I think I will like this better. I will let you know . . .
On the drive, I drove down loooonnng straight roads, amazing.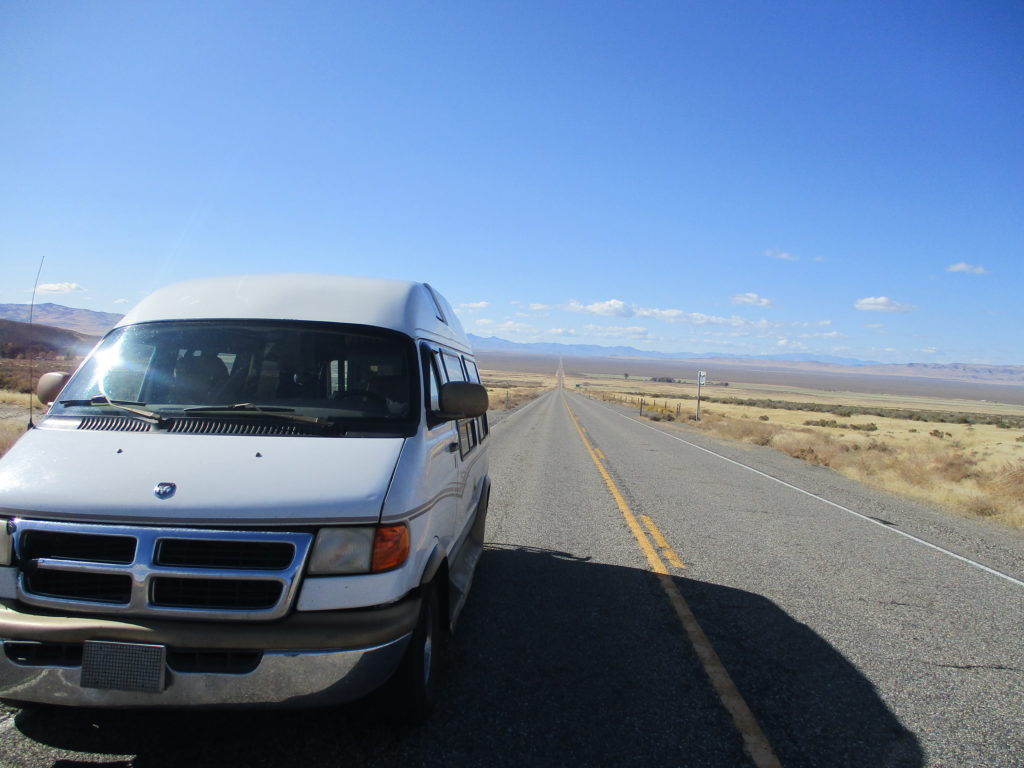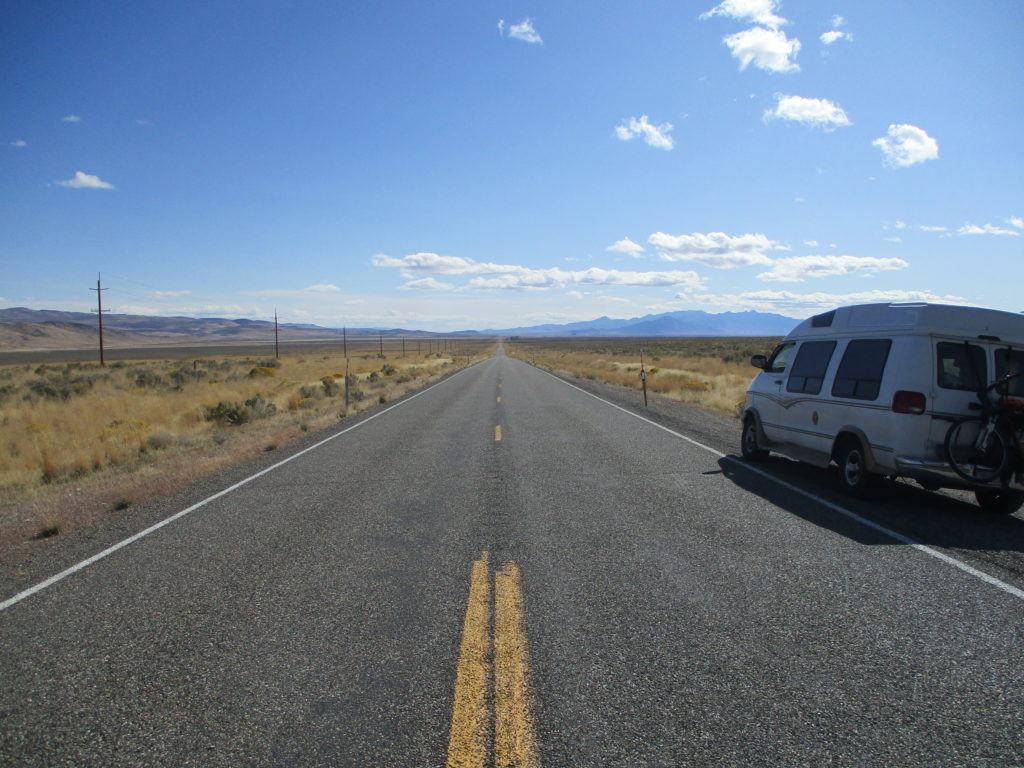 10/16—So, there I was driving at 4am in the dark down to the town of John Day. Suddenly, after going around a turn, I hit a deer that I did not see. It shocked and scared me.
Poor deer.
I kept driving, but knew my van was impacted in a bad way. The grill was damaged, I had to put the headlight and signal light back in with duct tape. And, the bumper, yikes. It got bent in some so it hits the tire when I turn a certain way.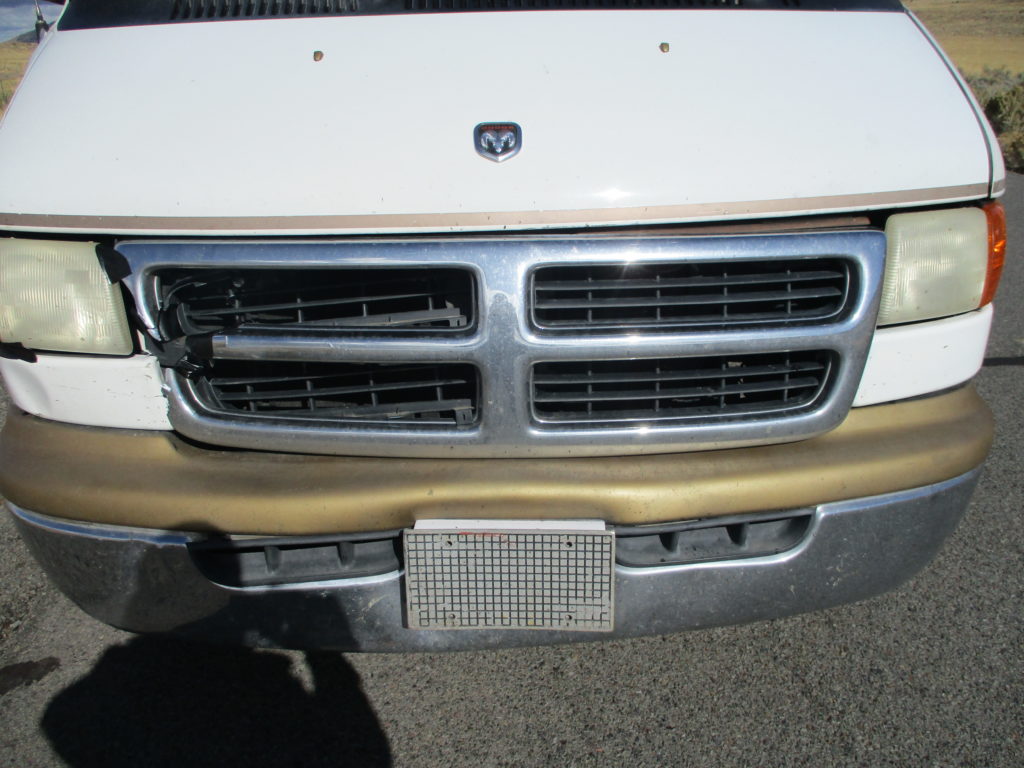 I had passed a body shop on my way and he was just arriving. I let Jeb know that I did not have money, but needed his help. The bumper was hit and needed to be pulled out. He got in his truck, hooked up a chain, and pulled.
The van is alright to drive once again.
After spending the day in the town of John Day, mainly a the library, I've gone south to the forests.
In driving along, for a moment I looked over the side and thought how easy it would be to drive off and pass-away. I hardly ever wear my seat-belt, after all.
Once again, it made me question my life and where I was going, what I was doing.
After hitting the deer earlier and thinking more about my life, I am not seeing forward momentum.
What am I living for?
Just to write words to you?
Hardly ever even hear back from anyone, after all, am I wasting my time?
Found a campground and built a fire, drinking a Corona, back to the environment which I like. I am the only one in the whole campground, lucky me.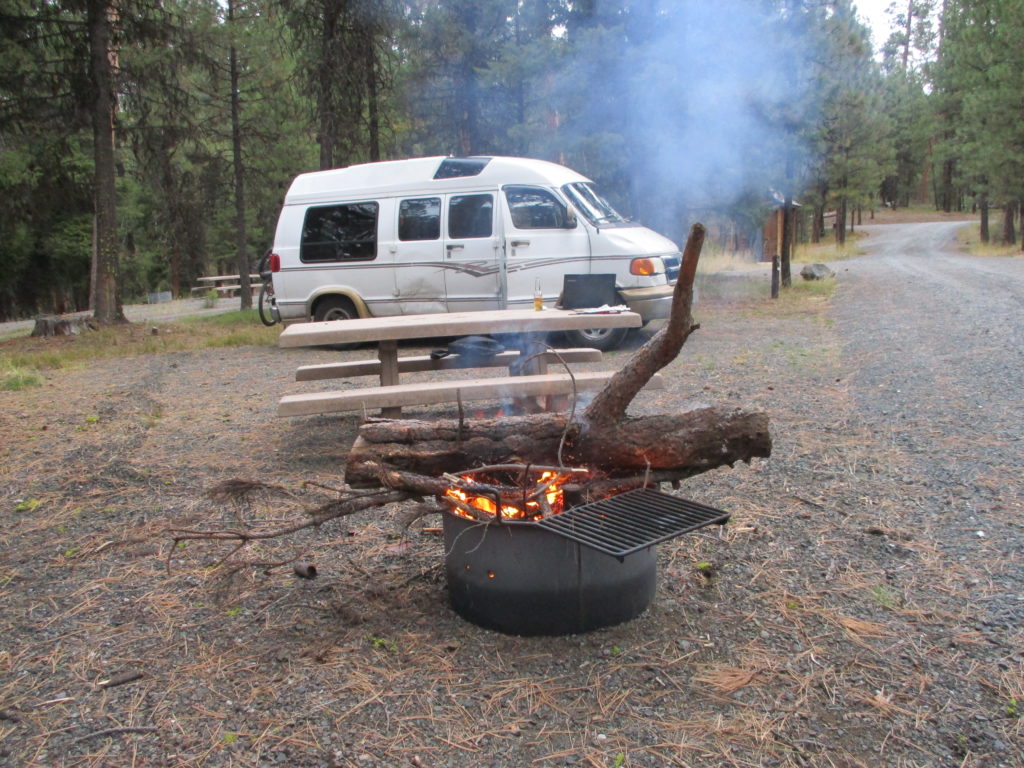 I have a lot of food that I got from food banks, but, I feel like I want to stop eating again. Last time my fast lasted for four days, this next time I will go for a least a week. I wonder how it would be to starve to death?
In tending to the fire I burnt the hair off the back of my hands, again. A fire death would hurt too much. Yet, I also grabbed a log and it was still smoldering, hurt my hand much. Yes, a fire death would be too painful.
I write about death and dying, yet, that is not a path I am on. I live my life for my daughters, April and Jasmine, and my sister, Sandy. No one else seems to care.
People seldom talk about their own death, which is coming for us all. Are you accomplishing what you want to before your demise?
Having no belief in any of the Gods, I will miss nothing when I die. When it comes, it does, nothing anyone can do. The hope of a God and heaven is nice, but simply not there.
Why does the smoke from the fire always come toward me, wherever I am. The fire is blowing ash all over my computer. But, who am I to complain? I guess I'm Kit.
For dinner, I had one of the things a got at a food bank, a Lunchables. Actually, I was quite good, Ham and cheddar and crackers and cookies—yum. On my second beer, too.
Almost six pm, already night shade is coming down. Quiet has also enveloped the area. So, I bid you a good night. I hope I sleep better, I've only been maintaining a three or four-hour sleepy time, but that is life. Goodnight.
10/17—Rain overnight, so no morning fire. To the south I continue, toward warmth.
I had wanted to go for a bike ride and unicycle ride today—too rainy. Hopefully, soon it will happen.
Still heading south, just over the border into Nevada, I came into the town of Denio, NV. A small town of about 30 in the main town, then, as I am told by the librarian, there are also many ranched around.
Right away I saw the sign for the library and popped right in. One young librarian named Hanna, was the only one there. I am the only customer in the small library, and may be the only one here all day. The hours are only 9am to 1pm, so I did not stay long.
On down the road and into Malheur National Wildlife Refuge and Buena Vista Overlook. Not much to see, the plains of America are not that interesting.
Amazing the GPS even tracks these small dirt roads into the parks and such.
I was trying to get into Malheur National Forest, GPS showed me a very questionable dirt road to go down, and it would be 7 miles to the park. I didn't want to take a chance, did not even look like many went down there. So I chickened out and turned around.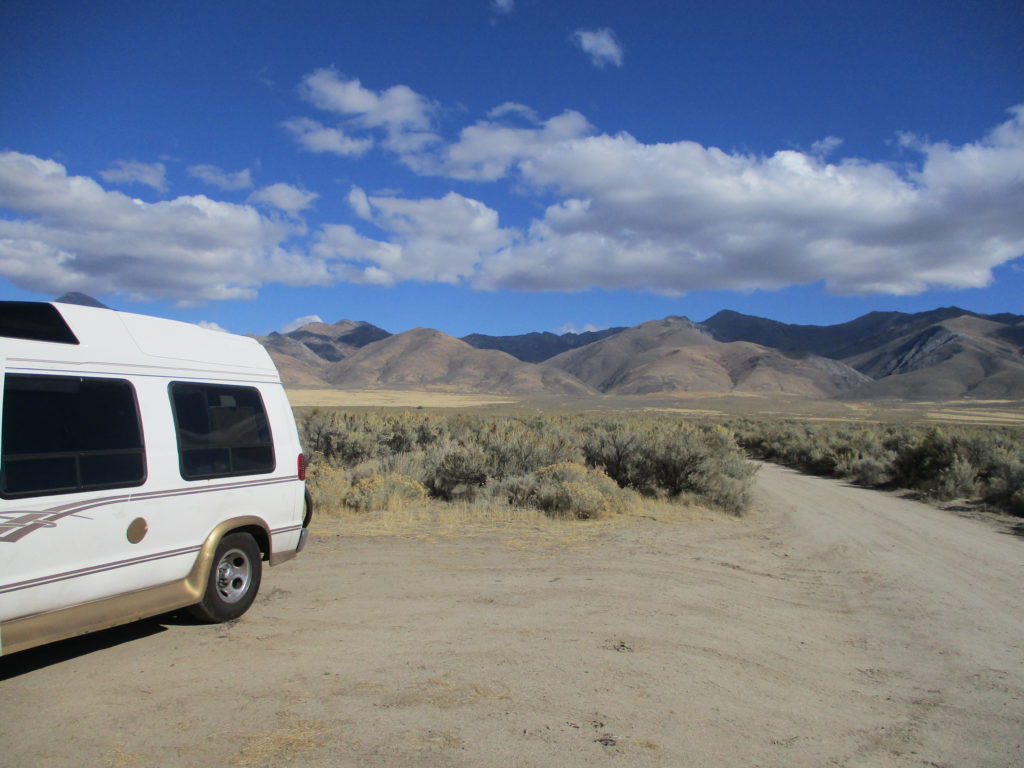 Went down to Minnemucca (I like the name), which is in Nevada, and I am now in their library.
For some reason I am cold and scared right now, not sure why. Trying to decide which direction to aim. I think toward Salt Lake City, I want to have someone check the van since I hit that deer. Once again, poor dear deer.
Changed my mind, SLC would not be south, so I am pointed at Las Vegas now.
It would help if you wrote to me >>
My Challenge for You this Week >>
Work toward making three new friends this week.
================
Next Blog >>
Will be posting from down in Las Vegas.
No, I don't gamble.