(Do you wander or just wonder?)
With my words, I hope to throw some oblique light upon your life. By writing this blog I want to inspire you to see your life in a different and/or better way and find joy how you can.
****************************
*** If you are reading this through Facebook, check out my blog on my website.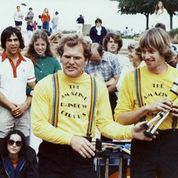 *** If you are not my Facebook friend, yet, please befriend me.
*** The freedom I am experiencing in my travels is a marvelous thing!
*** Going where I want, when I want, and seeing wonderful places and people.
*** I will have places to show you and tales to tell.
*** I will have secrets to unfold and good news!
I WANT TO TAKE YOU AWAY WITH ME
ON WONDERFUL ADVENTURES!
*************************
*************************
*************************
INTRO TO THIS WEEK >>
It can be difficult to set goals as I am driving to my next destination, yet, that can be a goal in itself. My current goal is to get to Florida, here I go!
Going south, I visited Shenandoah National Park. I love this area, I have been here a few times. I made sure I was there during the week, with fewer people, less traffic. Had a great campground to spend the night at, too.
Then on to see my old juggling friend, Tommy Curtin.
*************************
WORDS TO INSPIRE YOU! >>
Inspirational quotes and motivational sayings have an amazing ability to change the way we feel about life and can change our thinking. This is why I find them so interesting and important on the path to joy and happiness.
Inspiration >> The process of being mentally stimulated to do a certain thing.
I hope to inspire you with my words. Words have power.
You see, the way you think and feel about yourself, including your beliefs and expectations about what is possible for you, determine everything that happens in your life. It all derives from your quality of thinking.
When you change the quality of your thinking, you change the quality of your life—sometimes instantly. Just as positive words can make someone smile, and/or, a well-timed humorous quote can make someone laugh, our thoughts react to the world in real-time. You have this control.
You have complete control over only one thing in the universe — your thinking – and that's where motivational quotes come in! Self-talk is so important—THINK RIGHT!
I hope the words I pick do help you.
*************************
BE INSPIRED BY THESE WORDS>>
This is the only life you have.
Find as much joy as you can!
And, more important >>
Bring as much joy as you can to others.
I hope I bring you joy with my writings.
*************************
MY DAILY JOTTINGS >>
10/17—So there I was set to drive to Front Royal (FR)in Virginia to drive Skyline Drive through Shenandoah National Park when I heard from my old juggling friend, Jeff Jehrio. He was wondering if I was going to stop in Columbia, Maryland to see him.
It was backtracking some, but I had to go. We went out and had a delicious lunch at an excellent Mexican Restaurant. We talked about old times and I tried to inspire him to get to juggling and performing again. I told him some ways to go about it and will be sending him books I have written on the subject.
After that, it was off to the town of Front Royal in Virginia, the start of the drive down Skyline Drive through the park. Today is Saturday, and, as I got into FR traffic was way backed up with people going into the park. In fact, the roads all around Baltimore and DC are so crowded.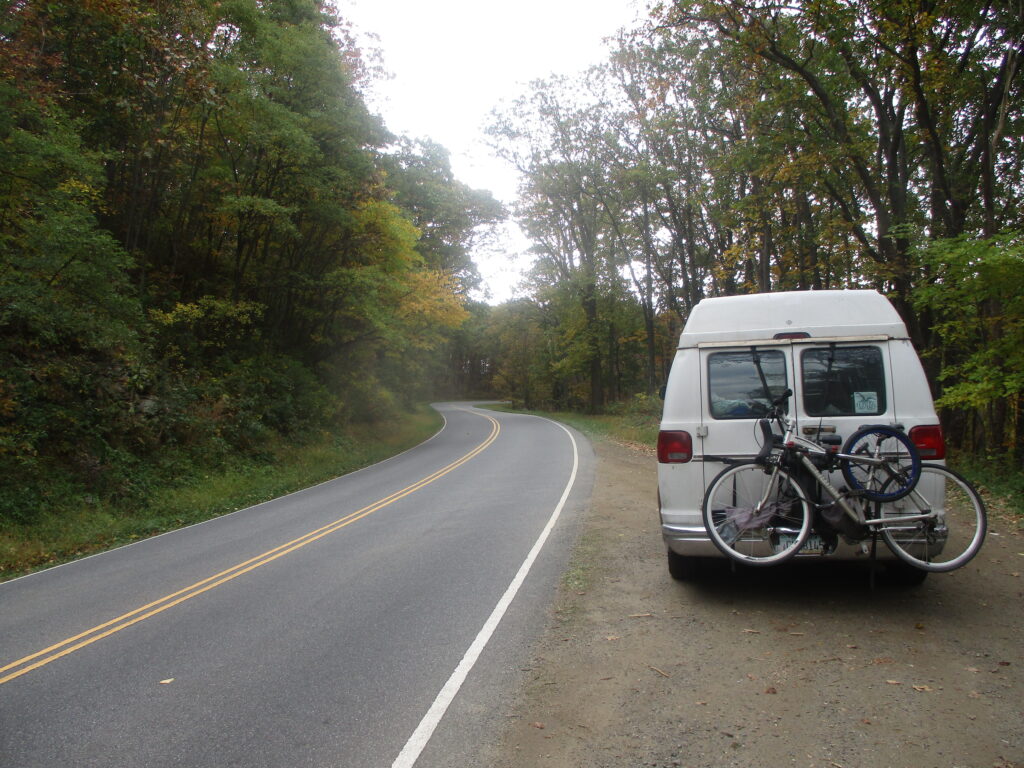 When I got into FR I went directly to the library at 4:30, which was going to close at 5pm. I got sad, but found out they have a patio with an electrical outlet in the back of the library. This library is in the trees, and in the wilderness.
Absolutely wonderful here.
Tomorrow, Sunday, the library will be closed, but you will find me outside on my computer starting early. I even think I will stay out of the park tomorrow, too, because of the crowds, I will arrive on Sunday or Monday.
On a different subject, I just read an article that said 71% of a study of Covid patients said they were constantly wearing a mask and still got it. You know how I hate to wear the facial covering, this proves my point that it is not necessary.
You have to remember, Covid is not a death sentence. Just look at Trump, he recovered well.
Tucker Carlson said on his show, "In other words, almost everyone, 85%, who got the coronavirus in July was wearing a mask, and they were infected anyway," Carlson lamented, as Fox reported. "So clearly, this doesn't work the way they tell us it works. Clearly, someone's been lying to us — many people, actually."
Scientists who study viruses wear a suit where no air can get in and none out. And, we are trusting these little masks? The "Control" of humans is getting too big and I do not like it. I only where the facial covering when it is mandatory.
Many times, like when I see someone driving alone in a car with a mask on, I want to ask them, "Are you concerned about getting sick, or scared of dying? Seems that most had one because others do.
Tonight I will stay parked at the library, in the woods, and sleep. I like this area much, I may stay here all day tomorrow and go to the park on Monday. I will let you know.
10/18—11pm—I saw a flashlight looking around outside, then came a knock on the van door. An officer was here asking questions. We connected well and had a good conversation. He said I could stay and sleep parked here at the library.
The next day, as I awoke at the library, it was so calm, quiet, and nice, this gave me a smile. Later, after they opened, I asked the librarian if they had any books on juggling, she said no.
I told her about and showed her a copy of my book, Juggling with Finesse, and she bought one for the library. Now that I have copies, picked up from my daughter's house, I should be able to sell them quickly.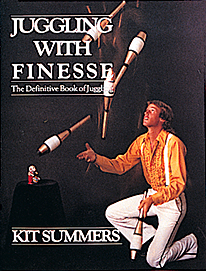 Spent all day at the library charging my things up and reading news articles. But, it was cold today. Winter is on the way, I really need to get down to Florida.
Started out today at the library once again. And said the library I can get online, so that's a good thing.
Then it was off to Shenandoah Park. Skyline drive takes you all through the park at the top of the mountains. So much beauty, hard to take in.
Good thing I waited until Monday to come here, the crowds even today were pretty big.
This is the third time going through this park. In the past, I just drove through. Today, I just did some hiking and saw some other sites.
I'll have to find out, but I think millions come to the park every year. It's kept very nice, if you get a chance, you must come to see.
10/20—Spend last night at Big Meadow s Campground. Being a Monday, not many people here. When I signed up for a spot, the guy put me in the handicapped camping spot, because I have a disability pass and get half off for a campsite.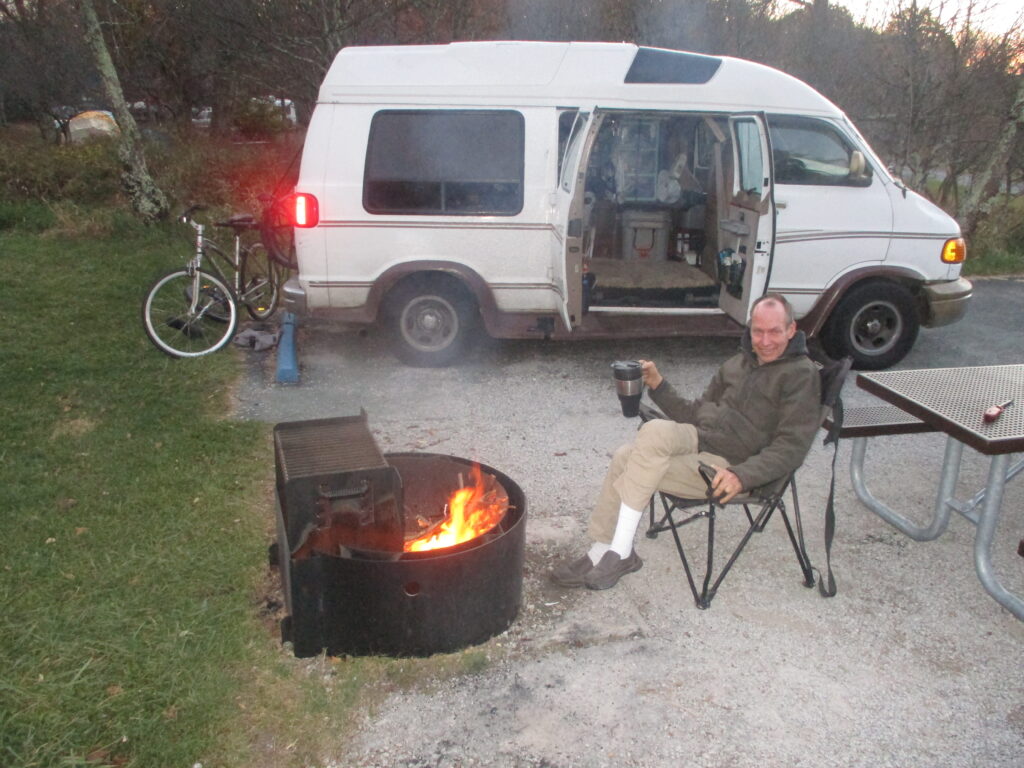 Last night I made a very big fire, the spot I'm on is flat and nice and near a bathroom, I could live here forever. And, right before I went to this campground I went to another one, there are three deer walking around the campground, so good to see. You will see the dainty deer in the photo.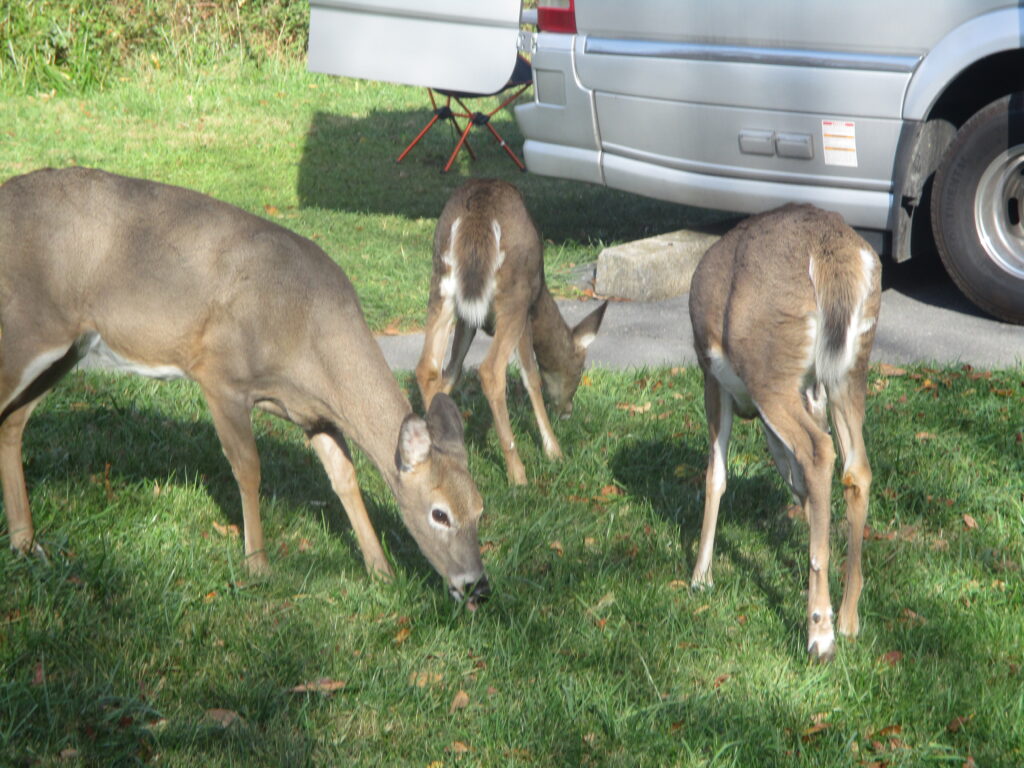 The campground had drinking water so I filled up my containers. I have seven one-gallon containers. Also, they have the shower available, so I did. A happy boy am I.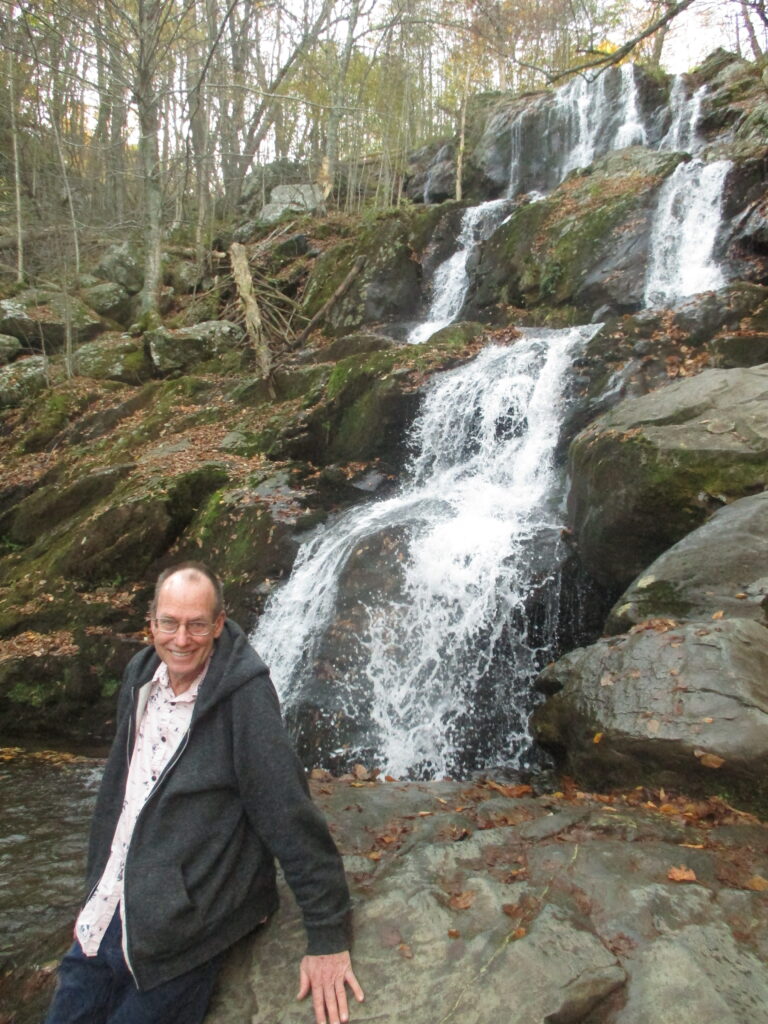 Yesterday I did the hike to Compton Peak, not a lot to see, but I enjoyed it, much. Today, I hiked up to Dark Hollow Falls. About 2 miles each way and the path was rocky and some places, which, as you know, I do not do well on.
As I was starting this hike I saw the rocky terrain and almost turned back. But then I thought of you and had to bring you photos, so I continued.
For the hike in I forgot to make a walking stick staff. So, before I started back I made one. Yet, I saw a woman hiking who was having trouble, so I gave her mine and she was joyful with the stick to help her walk.
I like a good challenge, although, I am careful. Even with the stick, I was using to help with balance, on some small boulders, I took a fall. Scraped my arm and hurt my shoulder and wrist. But, I've been through worse.
Near the end, as I was getting into the parking lot, I saw a woman who might need to help walking, so I gave her my stick. She seemed overjoyed.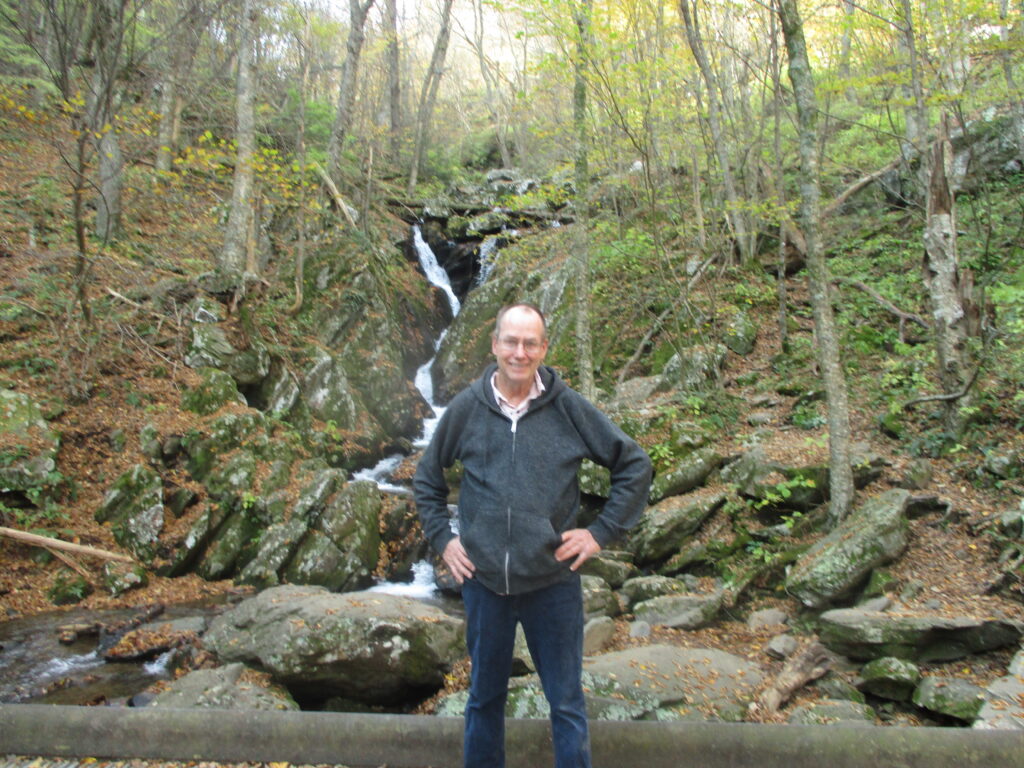 She said, "Don't you need it?
I said, "No, I'm almost home.
It came out so naturally.
I explained to them that I live in my van and that is my home.
What surprised me, was even out in the wilderness here, there were people who would not even look at you. As I was walking by them I would say things like, "Really?", or "Oh no, another unfriendly". I did not wait for a response. I just think life is much better if you are friendly—as I hope you are.
10/21—I came to see my old friend in Tennessee, Tommy Curtin. At age 79, now, he is looking great. Living with his wife of 57 years, Mary, in Bristol Tennessee, I had to come and see him. At age 79 now, he is doing great.
We talked of old juggling things. And people from the past. Tommy learned to juggle at age 12, and have been hey juggling performer all his life.
He did do a few other things like you started in and ran a movie theater for some years. But mainly, juggling has been his life.
Learn about Tommy here >>
and here >>
Having started juggling at the age of 12, this soon became his joy in life. Before long he put a show together and started doing shows around town. Eventually, he went on to perform all around the world.
Along with on stage performing his juggling, Tommy also put on ice skates and performed his act with Holiday on Ice. His first performing, he took to the ice in South America with the show at the age of 22. He eventually returned to South America three more times.
Right now I am at a McDonald's on the wifi and plugged into power my computer. This is the first McDonald's in months that I could sit in. Life is getting back to normal? A good thing.
I'm lonely out here, I would love to hear from you.
Either through Facebook or email, kitsummers@gmail.com
*************************
MY CHALLENGE FOR YOU THIS WEEK >>
Set Three Big Goals for Yourself this Week.
From my book series, "Beyond Your Potential" >>
When I am setting goals for myself, I always try to make sure that I go slightly above and beyond what I think my maximum potential is. That is, I constantly challenge myself to do more, yet am satisfied with a series of small victories.
Your goals are always changing and growing, use small goals and steps towards your greater goal should be just beyond your reach.
Do the Work
Without having a clear goal in your mind, you can find it difficult to decide what to do next. It takes much work to figure out your goals and desires in life. Many people don't take the time or effort to figure out what it is they really want in life.
If you want success, you must work. Setting goals and planning your path might very well be the most rewarding work that you will do in your life.
Remember, a goal is something we truly want to do, something very important to us. Goals are essentially making plans that allow progress.
I hope you would agree with me that we all should continue to advance ourselves and make progress in our lives.
Congratulate Yourself
Remember to applaud yourself for every effort you make, regardless of the outcome. When you praise yourself, you are putting positive thoughts into your mind which will undoubtedly boost your self-esteem and help you to continue making progress on your goals.
Each goal that you achieve should help to bolster your self-confidence and confirm the belief you the abilities to continue making progress in your life.
***********************
NEXT BLOG>>
Continuing to drive toward Florida along the east coast. If you live in any of the states I will be passing through, please let me know. I would love to stop by to visit you.