BLOG 91—The Coast of the Carolina's
The Wanderings of Kit
(Do you wander or just wonder?)
With my words, I hope to throw some oblique light upon your life. By writing this blog I want to inspire you to see your life in a different and/or better way and find joy how you can.
****************************
*** Remember, to read past blog posts, go to kitsummers.com/blog/
*** If you are reading this through Facebook, check out my blog on my website.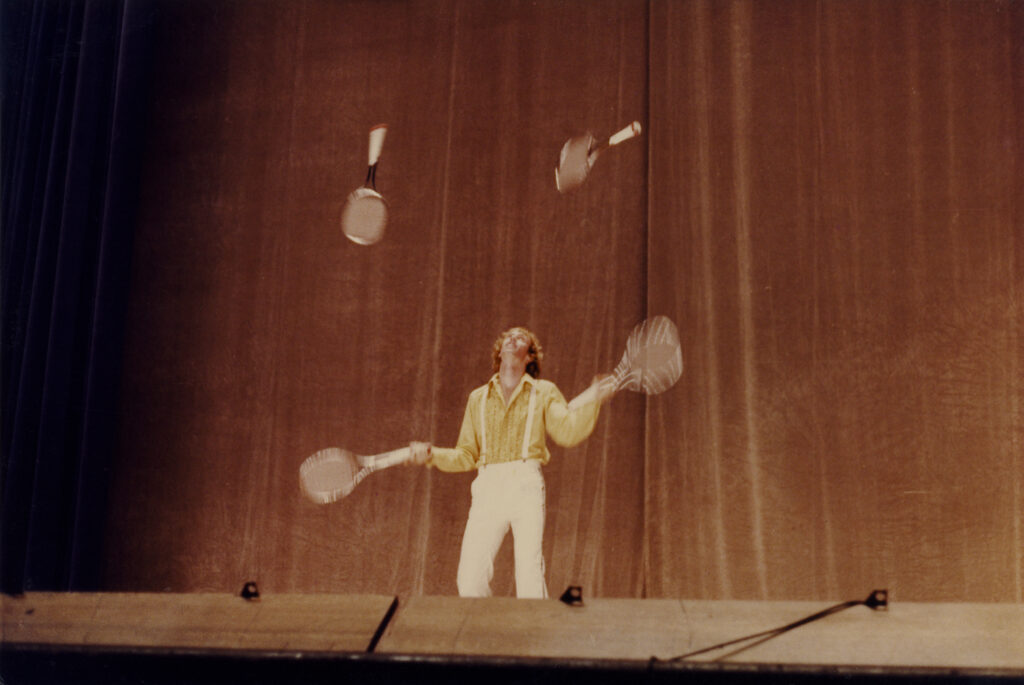 *** If you are not my Facebook friend, yet, please befriend me.
*** The freedom I am experiencing in my travels is a marvelous thing!
*** Going where I want, when I want, and seeing wonderful places and people.
*** I will have places to show you and tales to tell.
*** I will have secrets to unfold and good news!
I WANT TO TAKE YOU AWAY WITH ME
ON WONDERFUL ADVENTURES!
*************************
*************************
*************************
INTRO TO THIS WEEK >>
Perhaps it is from my 37-day coma in 1982, I never feel hungry, never feel full. In fact, I think I will be doing another fast (I do it real quick), the last time was for a week. This time I think I will go without eating for 2 weeks. I drink plenty of green tea, though.
Still heading south, to Myrtle Beach and Carolina Beach this week. Both places turned out very nice. Great to see Liisa, you will read more.
*************************
WORDS TO INSPIRE YOU! >>
Inspirational quotes and motivational sayings have an amazing ability to change the way we feel about life and can change our thinking. This is why I find them so interesting and important on the path to joy and happiness.
Inspiration >> The process of being mentally stimulated to do a certain thing. I hope to inspire you with my words. Words have power.
You see, the way you think and feel about yourself, including your beliefs and expectations about what is possible for you, determine everything that happens in your life. It all derives from your quality of thinking.
When you change the quality of your thinking, you change the quality of your life—sometimes instantly. Just as positive words can make someone smile, and/or, a well-timed humorous quote can make someone laugh, our thoughts react to the world in real-time. You have this control.
You have complete control over only one thing in the universe — your thinking – and that's where motivational quotes come in! Self-talk is so important—THINK RIGHT!
I hope the words I pick do help you.
*************************
BE INSPIRED BY THESE WORDS >>
"A good teacher can inspire hope, ignite the imagination, and instill a love of learning." – Brad Henry
"You may not always have a comfortable life and you will not always be able to solve all of the world's problems at once but don't ever underestimate the importance you can have because history has shown us that courage can be contagious and hope can take on a life of its own." – Michelle Obama
"All the great things are simple, and many can be expressed in a single word: freedom, justice, honor, duty, mercy, hope." – Winston Churchill
"Hope lies in dreams, in imagination, and in the courage of those who dare to make dreams into reality." – Jonas Salk
"Hope is the thing with feathers that perches in the soul and sings the tune without the words and never stops at all." – Emily Dickinson
"The very least you can do in your life is to figure out what you hope for. And the most you can do is live inside that hope. Not admire it from a distance but live right in it, under its roof." – Barbara Kingsolver
"Hope can be a powerful force. Maybe there's no actual magic in it, but when you know what you hope for most and hold it like a light within you, you can make things happen, almost like magic." – Laini Taylor
*************************
MY DAILY JOTTINGS >>
10/23—I ended up parking next to a lake, very nice here. I am right at the water. I see all around me, what looks like, million-dollar homes. Yet, I have it better being right at the water. So, a million-dollar van?
10/24—Starting about 5:30am I began looking for the entrance for Smoky Mountain National Park. Going by GPS, it took me to a road that was not there.
For about two hours I was looking for the entrance. Being so early there was no one to ask how to find the entrance. I finally gave up and went south. But, I have been through this park before, so no big loss.
So, I was going to meet up with my friend, Liisa Tison-Pyke, on the 27th, so I had a few days to spent. Where to go, what to do?
When I was with Tommy Curtin he told me that the juggler, Slim Chance, who was performing in Myrtle Beach in South Carolina. So I called him and will be meeting with him tomorrow. A destination was discovered.
So, as you see, my days fill in.
For tonight, I found a library in Columbia, South Carolina, where I am parked in the back to sleep here tonight. Should be quiet and dark—the way I like it. Also, they have their wifi connection on, so, of course, I am online.
10/25—Connected with David Hirschi (stage name–Slim Chance.) He is performing at the Alabama Theater in Myrtle Beach, South Carolina. Here is the website for David >> http://therealslimchance.com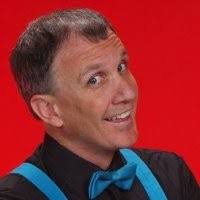 David and I talked much about juggling. He has been sort of an isolated juggler all of his life, therefore we really don't know much about each other.
We talked about old jugglers we know, our old acts, and where we used to perform. A have a good conversation.
David told me he has a copy of my book, Juggling with Finesse.
So, I went to the Alabama Theater (https://www.alabama-theatre.com/) and David got me in on a comp through the marketing director, Abby Sher. Thank you so much for that, David and Abby.
A big stage, a big show—from 7-9pm the audience had great entertainment. The audience was mainly older folk, who seemed to really enjoy the show. Excellent dancers and singers were much of the show, David being the only variety act.
David told me they normally have busloads of people who come in for the show. Because of Covid, buses are not running now. I was surprised at the number of people who did show up, though. People were spread out through the seats—you know, social distancing and all.
About 15 minutes into the show David was introduced. He has a great Country Bumpkin character that the audience loved.
Starting off with small round saw blades that had a handle attached, the a 3 blade juggle. Then he threw every blade under each leg as he juggled, the audience was quite impressed.
5 ball juggling was next. Many great tricks, including a neck catch.
Through all this juggling comedy talking was intermixed. The audience loved his country accent. He played his character well.
Next up—a rubber chicken, along with a bowling ball and a ping pong ball was sent into the air. The audience loved the great comedy that was included throughout.
The 9 box stack was next. Using cigar boxes he did a balance on his chin with them. He handled this routine, and the audience quite well throughout.
David ended the act with an impressive combination trick while juggling.
Later in the show, David returned to do some great comedy with the MC of the show.
And, yet another act he did. Ventriloquism was introduced and the audience was in an uproar with his comedy. During this ventriloquist act, David also did a great 3 box routine.
Here is another film of David, enjoy.
https://www.youtube.com/watch?v=OkCpVrcOVA4
Overall, a wonderful show. If you ever get to Myrtle Beach, go see the show at the Alabama Theater, you will be thoroughly entertained.
10/27—From Myrtle Beach, I took a short drive to see my old friend, Liisa Tison Pyke (yes, I spelled her name correctly.) I first met her brother, the excellent juggler, Dana Tison, in 1984 Las Vegas IJA juggling convention. Liisa was there, too.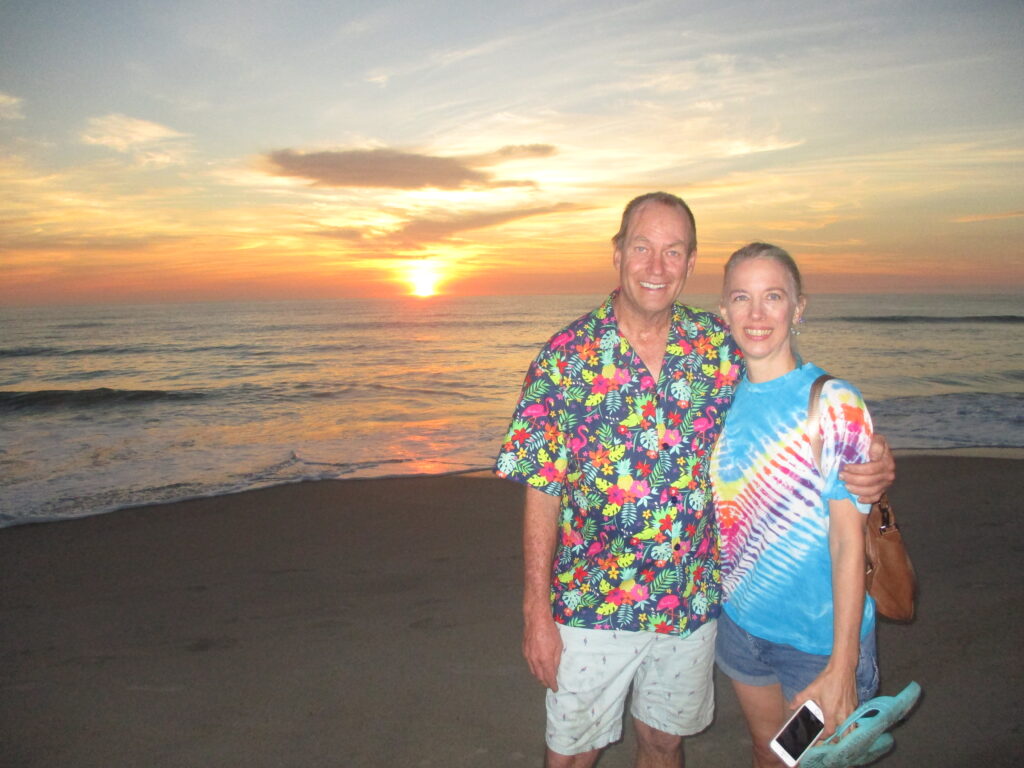 Liisa and I and the wonderful sunrise
Here is Dana performing his excellent juggling >>
https://www.youtube.com/watch?v=HIxRtUJpj_g

Liisa had rented a place to stay for four nights, a nice place within walking distance from the beach. I was staying the nights in my van, we got together during the days.
Sharing Liisa's life is John, her husband of 23 years, and their daughter, Gracie, who is 18. A wonderful life they live.
10/28—To the beach with us. Of course, we had to go in the water. Small waves, but very powerful, both coming in and going out. Seemed that the waves actually broke when they got right to the shore.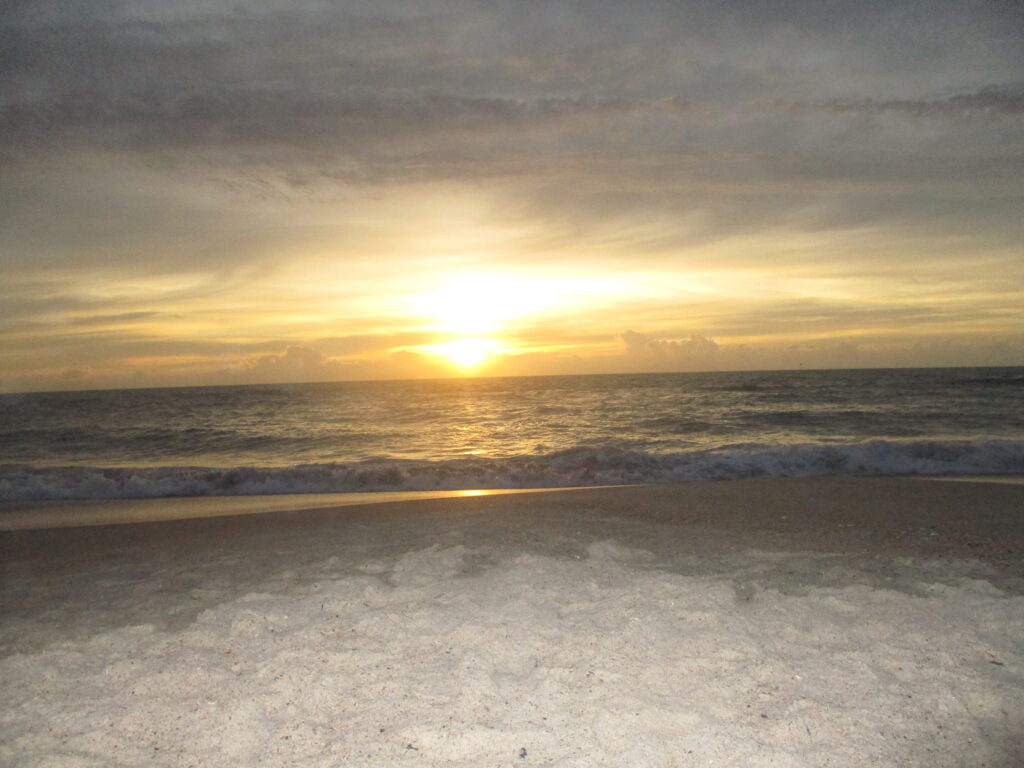 Perhaps because of my balance issues, four times my feet were swept out from under me and I fell into the water. I did want to go into the water, but on my terms. I had never had this happen before. Losing my control like that I did not like, at all.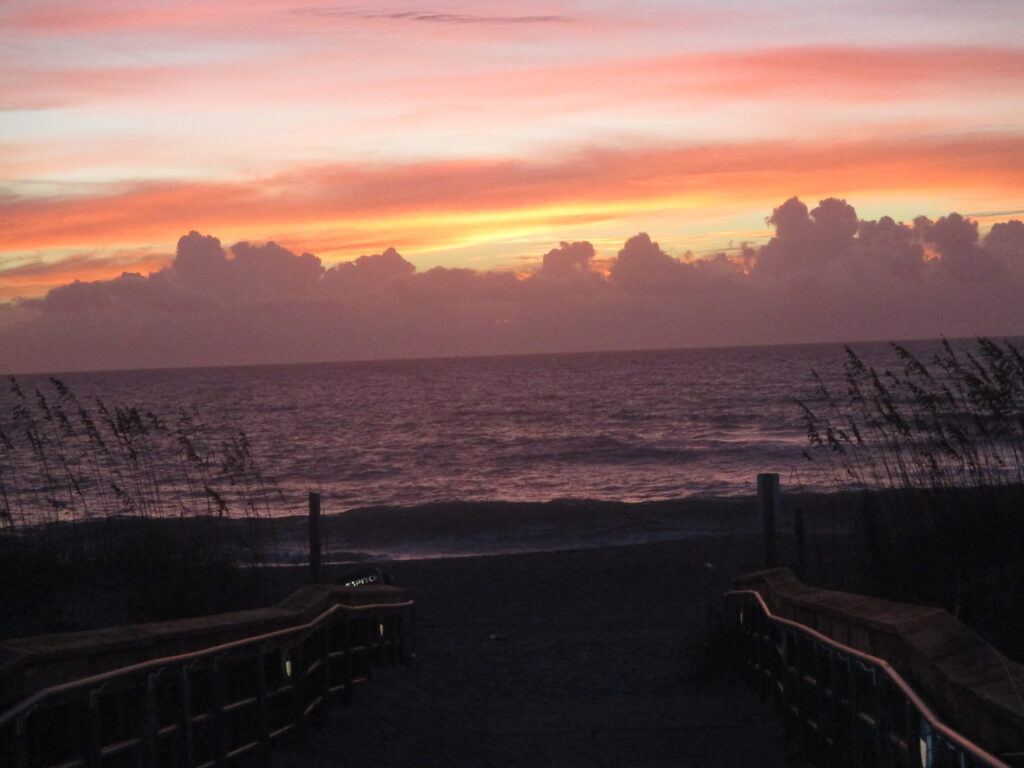 Along with the beach, we went hiking at Carolina Beach State Park, a very nice place. Take a look >>
https://www.youtube.com/watch?v=GLGebsEf5bE
10/29—Before the sun made an appearance, we were at the beach, again, to see the sunrise. But, as you night now, the sun does not rise, the earth rotates toward the sun. Many others were down too, I am glad we went.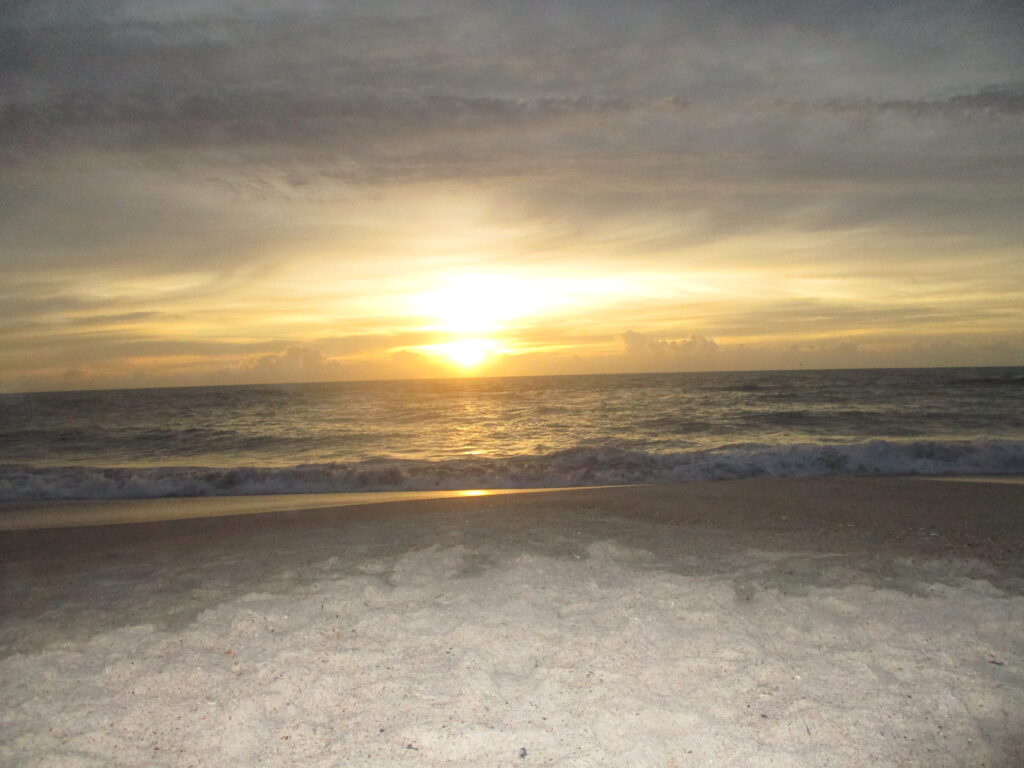 Funny watching birds as they flew along the shore. They seem to have a destination in mind, but I don't think they do or did. Many passed by us.
10/30—Once again we went down to the beach to see the sunrise over the ocean. The clouds in the distance added to what we saw. You will see photos, but better is to see this daily phenomenon in person.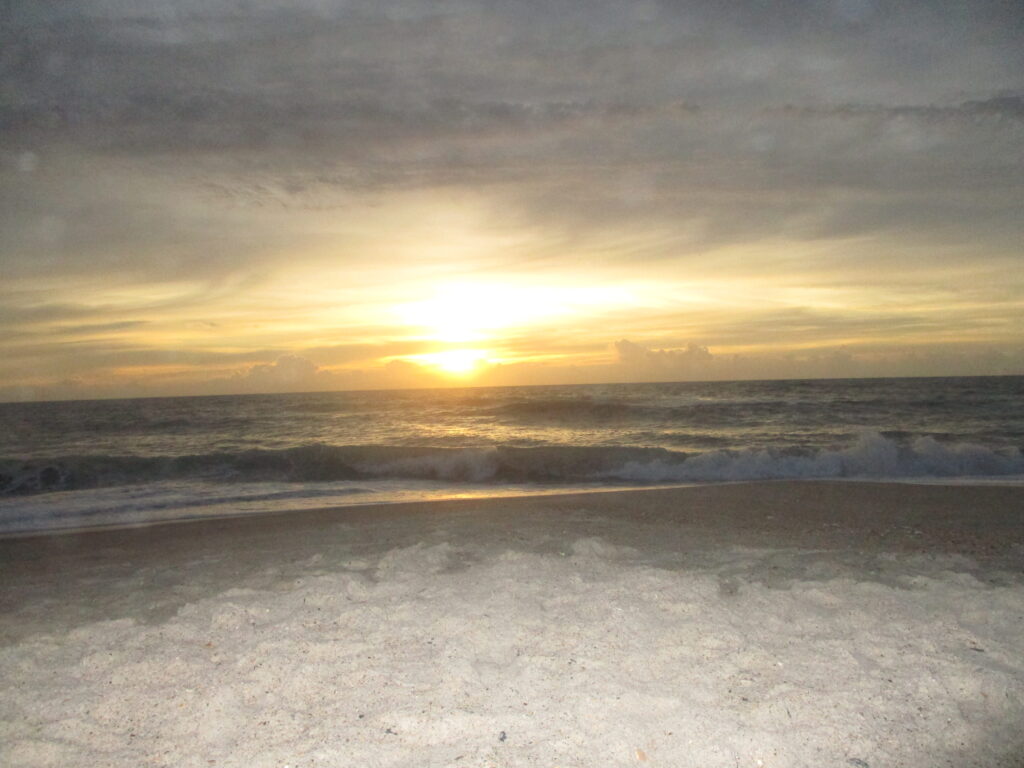 What a wonderful time Liisa and I had together for a few days. Our friendship crystallized even more. I am so glad I know Lovely Liisa.
================================================
I'm lonely out here, I would love to hear from you.
Either through Facebook or email, kitsummers@gmail.com
*************************
MY CHALLENGE FOR YOU THIS WEEK >>
Open up, make five new friends this week.
***********************
NEXT BLOG>> Heading toward Florida along the east coast. If you live anywhere in the states along the way, I would love to visit you. Let me know.