(Do you wander or just wonder?)
With my words, I hope to throw some oblique light upon your life.
By writing this blog I want to inspire you to see life in a different and/or better way and find joy how you can.
*** Remember, to read past blog posts, go to kitsummers.com/blog
*** If you are reading this through Facebook, check out my blog on my website.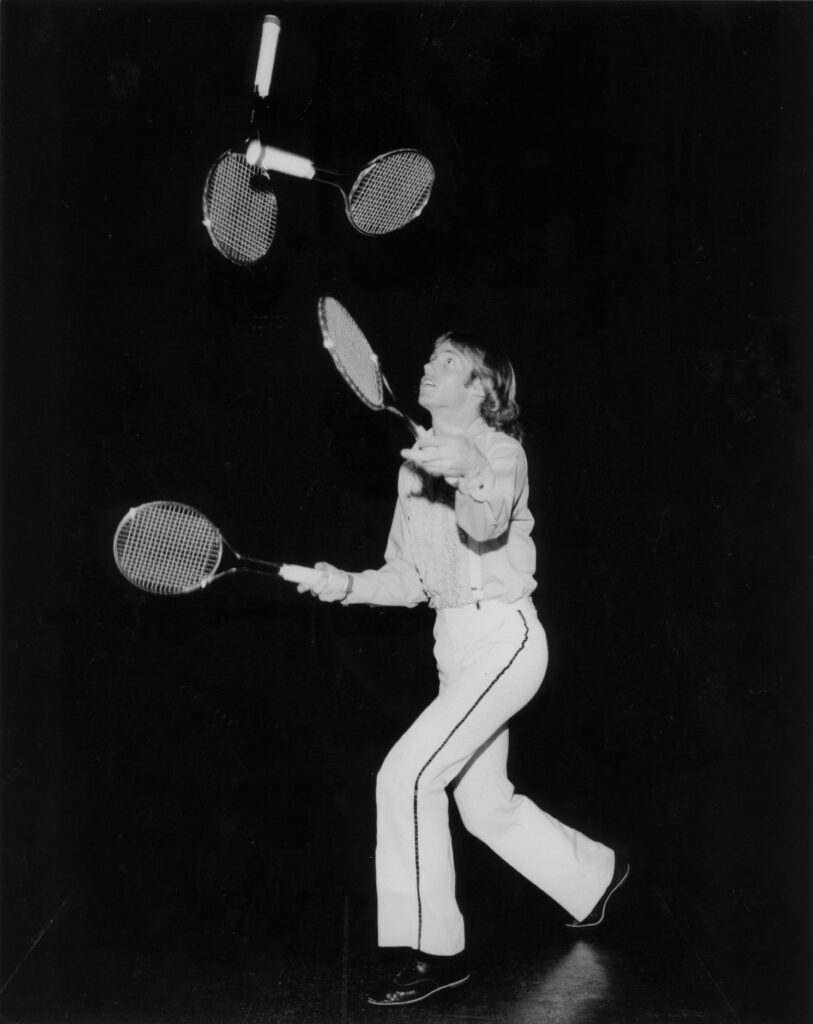 *** If you are not my Facebook friend, yet, please befriend me.
*** The freedom I am experiencing in my travels is a marvelous thing!
*** Going where I want, when I want, and seeing wonderful places and people.
*** I will have places to show you and tales to tell.
*** I will have secrets to unfold and good news!
I WANT TO TAKE YOU AWAY WITH ME
ON WONDERFUL ADVENTURES!
 **********************************************
INTRO TO THIS WEEK >>
As you know, I go to many libraries to get their wifi and plug-in. Always quiet and clean, I do like our libraries. That is why I think of myself as a library hopper, from one to another. When did you last go to a library?
Every week I feel like I have to make something happen, so I can add to the blog. What if you lived your life that way? You have to make things happen to add to your story. Wouldn't that make life more meaningful for you?
This week I actually went to a beach where I could ride my bike (and unicycle) on the hard sand. I'm not sure if I ever rode a unicycle on a beach before, an interesting experience.
WORDS TO INSPIRE YOU! >>
Inspirational quotes and motivational sayings have an amazing ability to change the way we feel about life and can change our thinking.
This is why I find them so interesting, challenging, and important on our path to joy and happiness and finding ways to inspire ourselves. Inspirational quotes provide us with a quick and timely burst of wisdom to get our focus back, offering the inspiration needed for the day or occasion.
I hope to inspire you with my words.
Words have power.
At any age you can (and should) make changes to make your life better.
You see, the way you think and feel about yourself, including your beliefs and expectations about what is possible for you, determine everything that happens in your life. It all derives from your quality of thinking.
When you improve the quality of your thinking, you change the quality of your life—sometimes instantly!
Just as positive words can make someone smile, and/or, a well-timed humorous quote can make someone laugh, your own thoughts react to the world in real-time. You have this control.
You have complete control over only one thing in the universe — your thinking — and that's where motivational quotes come in!
To keep your motivation, you have to use each day as an opportunity for improvement, to be better, to get a little bit closer to your goals. It might sound like a lot of work—and with your busy schedule, next to impossible.
But the best part is, the more you accomplish, the more you'll want to do – the higher you'll want to reach! So, as long as you have the hunger for success, you will always have the power within you to achieve it.
Self-talk is so important—THINK RIGHT!
Motivational words, yes, they're just words.
But they're positive words; they will keep you on track.
I hope the words I pick do help you.
*************************
BE INSPIRED BY THESE WORDS>>
From my book series, Beyond Your Potential
YOUR POTENTIAL
I mention my 7 club juggling to underscore that in juggling, you can probe your own potentialities and grow in a special way as the reach of your talent stretches outward.
Along with juggling, this drive can be found in other areas of life. This stretching and knowing that you are constantly expanding in what you can do gives you a security all your own, a security that none can challenge because you, and you alone sometimes, know how far you have reached in perfecting this unique aspect of yourself.
START NOW TOWARD YOUR PASSIONS
Finding the passion can be hard at times. In fact, in writing this book I had put together some hundred pages of text and then waited years to get back to it—I couldn't find the motivation to work on my motivational book!
I had to find the "passion", which I eventually did, to really delve into finishing this collection of words. I had to attack it with the attitude that these books were written to help "you" in "your" life to have a better future. That's the thing, once you just start at something the desire and passion will build and build—BUT YOU HAVE TO START!!
FINDING THE PASSION
I had to allow each of the things like: my juggling in the old days, authoring Juggling with Finesse and my other books, my salsa business – summerssalsa.com, and the writing of this book, and now this blog, to consume me.
That is what must occur for you to find your passion. All you think about, much of what you do, is geared toward your passion. Seems that so few people find and drive toward their passion in life, and they often go about living unfulfilled lives. This passion must develop to the point where it consumes you. The rewards are so great.
Now, it's time to get out there and do
something incredible that you can rejoice in!
=================================
MY DAILY JOTTINGS >>
3/4-5—Not a lot happened these days.
3/6—My bike needed some work so today I went back to Jack for repair. He was quick and perfect and did not charge me. Thanks, Jack.
3/7—Slept at a library last night. Always quiet, I like this for sleeping. Then, on to a McDonald's to use their wifi and I could plugin. Nice to have things opening up once again.
Yesterday there was rain all day and night.
Today is a bright blue sky, much better.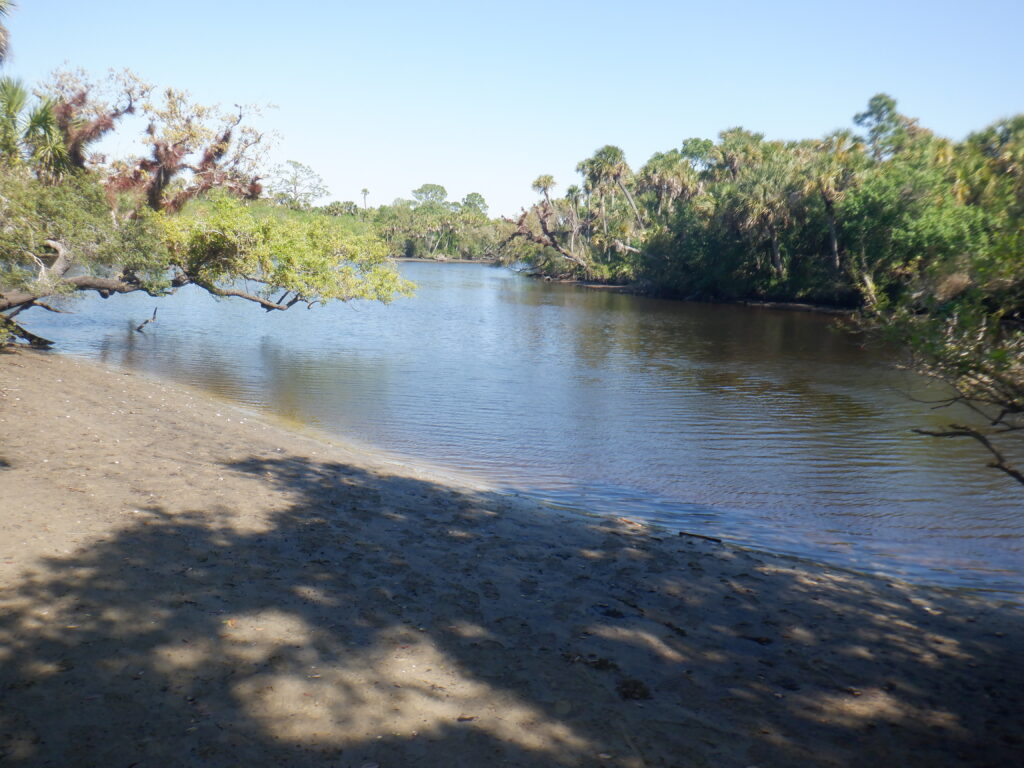 Saw a turn-off for Jelks Preserve, so off I went. Trails go along the Myakka River. I found it to be a beautiful walk. Take a look – https://www.youtube.com/watch?v=oaa3f4gfs3o
I talked with one guy on the trail who asked me where I was from. As I've been asked before, seems that I have somewhat of an accent when I speak? He thought it might be in German. I like that, keep 'em guessing. 
Passed another guy wearing a mouth covering out here in the wilderness, no one around. I had to ask him, "Are you scared of getting Covid-19 out here?" He acted like it was a sense of habit. I hope I never get that habit. I refuse to live my life in fear.
Perhaps I'm spoiled from being down south with the heat. Right now the temperature gauge says 75, it feels cold.
My friend Phyllis told me about Siesta Key on the west coast of Florida. She said with the hard sand you could ride your bike all over the large beach. Of course, I had to experience it.
Watch this for memories, Phyllis >>
https://www.youtube.com/watch?v=po0redTCkt4

There I was just south of Sarasota. My friend Phyllis suggested I go by Siesta Key. She said with the hard sand you could ride a bike all over the beach. I had to go . . .
It was kind of nice to ride my bike around on the beach.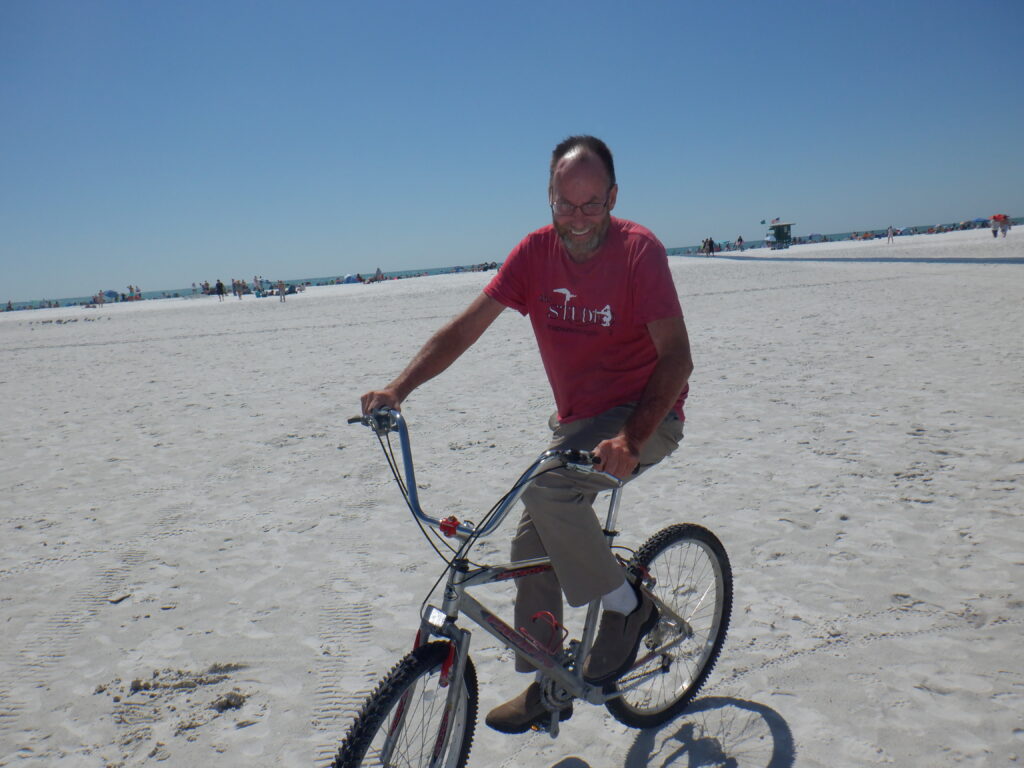 Also, I rode my unicycle on the sand to add to the parade.
I had fun, as you can tell by the photos.
But, too many people, too many cars, I had to get away. I know that on the east coast of Florida there will be gobs of people and cars.
Being a Sunday about 1 pm, the beach was packed, along with the parking lots. I drove around for a bit until I finally found someone leaving from a handicap space, so I jumped on the chance and parked.
Some years ago my doctor, after I got hit by two different trucks, qualified me for handicapped parking. What is strange for people, I think, they see my unicycle on the back of the van.
I went out into the ocean, the water was quite warm. The temperature where I was living is around freezing to 40 degrees. Quite nice I don't have that temp around here.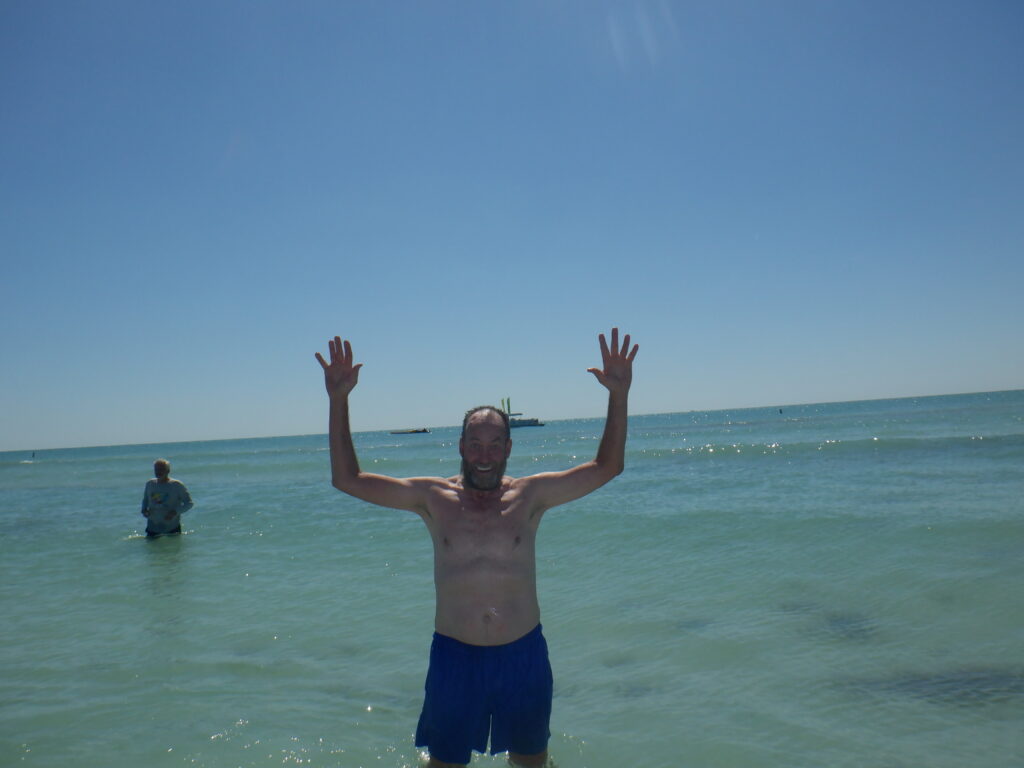 Now I'm back at the van where I'll be there doing some reading and relaxing. Later another walk on the beach is called for. And I just might sleep here tonight right here in the parking lot. I will look for signs saying, "No overnight parking". I will move on if they have those.
I see many cars having a hard time finding a sparking space.
I feel fortunate to have found one so quickly.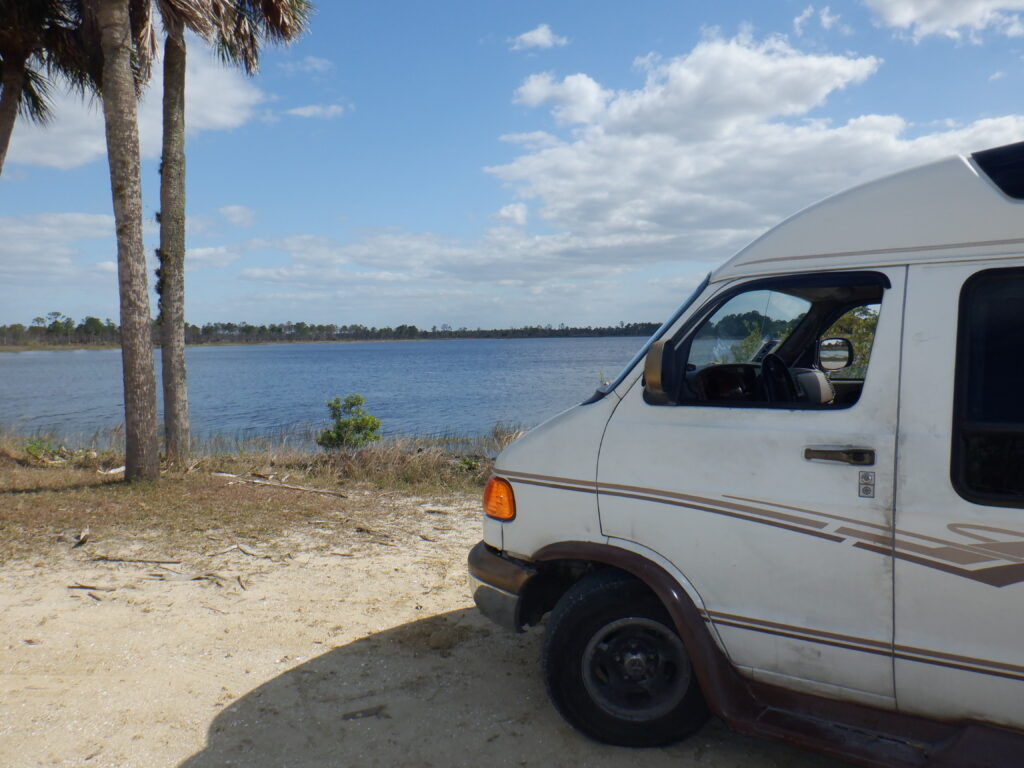 I had written that I might stay in the parking lot at the beach.
I've changed my mind, could be too noisy around here.
On GPS I see there is a library within 5 miles, looks kind of a remote, so I'll be going in there to stay tonight. When I go to these libraries, they're usually very quiet and I sleep well. Also, most have Wi-Fi available outside the building, an added plus.
At the library now. The wifi connection is not so good, but it works.
3/8—Yes, I slept well last night. Was going to ride my bike today and also juggle, but with the winds blowing strong could compromise things.
Last night I got cold. I had to get my sleepy bag down to get warmer in my sleep. I've decided to head down back south to find some more warmth.
3/9—Very quiet last night, I think I slept well. Went over to the library early and I guess they turn their wifi off at night; no connection. I will boil some water for tea and do what I can to improve the van until they open at 9am.
No wind today, I believe I will be throwing stuff in the air and also riding on my two-wheeled vehicle. Should be a fun day.
Toward the interior of Florida I went to a town I've been to before, Immokalee, was my next destination. But, it seems that there are no small towns in Florida, along both shores it is like non-stop cities.
As I went for the North the weather got colder, I was not ready for that. So I will be heading back down south for the warmth. That's what is good about living in the van, I can travel to the warm weather.
It's been awhile, only had one because I had 10 inch tortillas. The taco was scrumptious. I mix cheese in with the chicken. Makes for a good mix.
Slept last night at the Immokalee Library parking lot. Quiet and nice, seems that I hoop from one library to another.
I mainly came to Immokalee because of the cool name. Its name means "my home" in the Seminole language, a nod to one of two Indian tribes that had occupied the area – the ancient Calusa tribe were early occupants. Here is about Immokalee >>
https://www.youtube.com/watch?v=5FKlytD0Aek

3/10—I needed the help of someone at Geek Squad with my website, so I went to the nearest, which was further north in Naples. Might be colder up north, but I can tell spring will be here in a month.
Living in the van I have the freedom to go wherever I want when I want, I like that. I had been planning to head to the north, still too cold, so I did a U (you?) turn and now the sun is on my left at sunset.
I had to go to Best Buy in Naples, I did accomplish a couple things there. But, too many people, too many cars, and too much traffic; I had to get away. Then I had to head south back toward Big Cypress and Everglades parks.
I carry in the van nail clippers and the file and about once a week I go after my four limbs – watch out fingers and toes! Keeping myself looking good, too bad females don't notice.
I saw a road going off from the main road so tonight I took that road. I parked at the dead-end at about 3:30 in the afternoon and I will be here for the night. It's sort of getting close to the park area, it looks all right.
3/11 – I have to remember, there is no rush for me to get anywhere. My only cost in life is buying fuel for the van, it is better for me to stay in one place as long as I can to keep that cost low.
Going to the South, I returned to the state park, which opens at 10am. I saw there was a food bank near me at Marco Island. The food bank also opens at 10, I ended up there for their opening first (I used "there" and "their" in the same sentence, I like that.)
The temperature is already warmer, I'm glad I'm going to the South once again.
All my life I've been – go go go. Always moving forward, always doing something, I don't take the time to relax and settle down. That's something I must learn, I guess. I will start today.
They are forecasting rain for this afternoon and evening. So, today won't be good to go to the State Park after all. I will find things to do in the Marco Island area for the day.
I have 100 books to read.
I have my bike to ride.
I have my unicycle to ride.
I have things to throw in the air.
I will keep myself amused.
And, most important, I have to get these words off to you tomorrow in my blog post. Please get back to me and let me know what you think of my writings.
Here is Marco Island, a nice place to waste time >>
https://www.youtube.com/watch?v=3RKw1AeCv_k
In the library now, I'm surprised at how many are here. Not all are wearing their mouth covering (when and why did people start calling it a mask?)
A very nice town, I've stayed here before, as I will tonight.
3/12—As usual, very quiet sleeping at the library parking lot last night. I even slept until about 5am, that's late for me.
I guess the library turns off their wifi at night; no connection. To work on the blog I can be offline, I use Libre Write to put my words together. I find this program the perfect writing tool, and it's free, too.
I'm lonely out here, I would love to hear from you.
Either through Facebook or email, kitsummers@gmail.com
*************************
MY CHALLENGE FOR YOU THIS WEEK >>
People who ask me, right away, "How are you"? usually mean nothing with the words; a waste of breath. My usual answer to this "question" is simply, "Yes I am". If you say these words to people, I suggest you get away from that "habit". 
Every new conversation, when you see someone, right away say something nice about the person, ENTHUSIASTICALLY! This will usually lead to a better conversation. Make it a habit with each person you see, and then see again.
***********************
NEXT BLOG>>
Staying south for the warmth.
Just don't know where to currently.
=========================