With my words, I hope to throw some oblique light upon your life.
I WANT TO INSPIRE YOU TO LIVE DIFFERENTLY OR BETTER!   
     
*** The joy I am experiencing in life is a marvelous thing!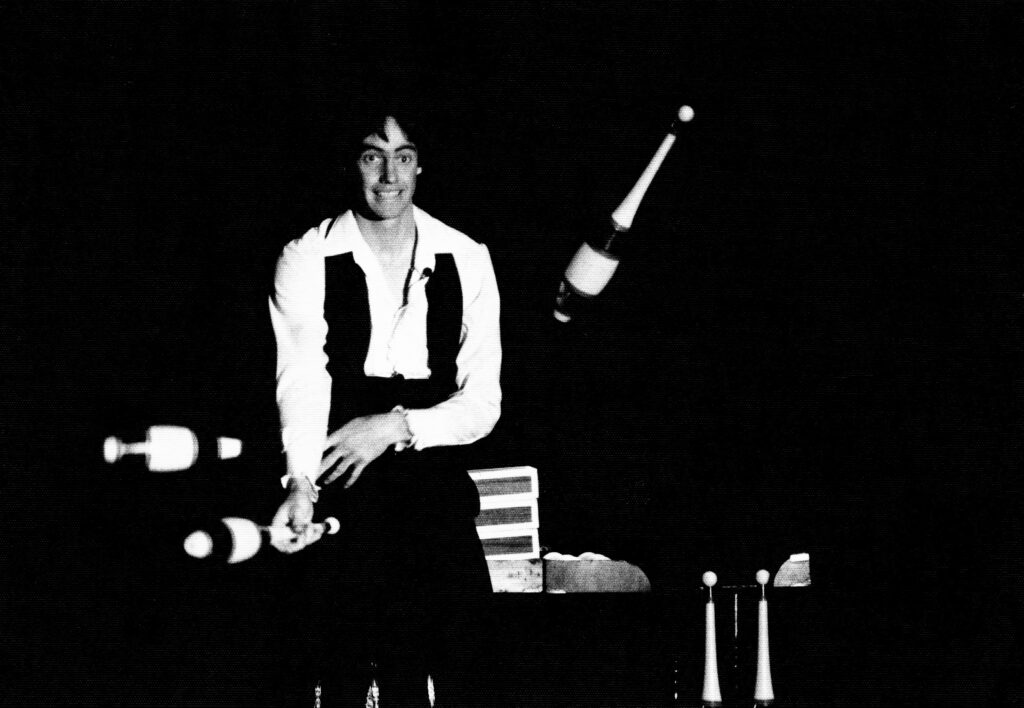 *** Hit by two trucks, one involving a 37-day coma, I remain happy.
*** To read past blog posts, go to >> kitsummers.com/blog/
*** If you are reading this through Facebook, check out my blog on my website.
*** Website is kitsummers.com
*** Thanks, my wife, Beth, for editing and adding to each weekly blog.
*** I will have places to show you and tales to tell.
*** Secrets to unfold and good news!
BE TAKEN AWAY WITH ME
ON WONDERFUL ADVENTURES!
********************
TOPIC FOR THIS WEEK—Starting New!
We all go through challenges and changes,
and I've gone through massive ones.
It is a perfect time to start again during these times of change.
I've had to start over in my life several times.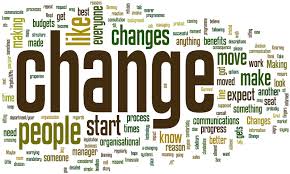 Change and Challenge
You can always find a way to make things better and better in your life. It might be the most essential time you are to spend. Always look for joy and happiness; they are there, just waiting for you! We can all realize a happy future–no matter what we have gone through.
 
Even if you make a multitude of money.
No matter how much money you accumulate, you can improve your life. You can spend weeks visualizing what it means to be happy and find joy and what it takes to get there. I've put a plan in place and wait for your action–that's where many people stall–you must press forward and make the action happen!
   
The truth.
Because the truth is that there is nothing as simple as just "taking action." There is a lot behind that leap of trust — even when we have the plan all laid out before us. Can you envision the life that you want to live?
 
YES, then you can make it happen!
It takes a lot of courage to change, more than plans, action, or any of it. We must dig deep and find change and that delusional sense of courage that allows us to step off the cliff and into the unknown. And that's asking a lot, especially when your life needs radical, unknowable change that drives you to places you've never seen.
 
When life requires extreme change.
You may have stepped and are falling into a life you don't like. Sometimes, we make all the wrong choices, and other times follow everyone else's anticipations but our own. In a way, that's how cultures are formed. Millions and millions of people make the same decisions day in and day out, good or bad.



Don't fall for it.
Down that route lies madness for many who wind up living lives they don't recognize or enjoy, but they made these paths. It's an unfortunate way to live. We were not made to suffer a life of persistent disappointment and misery.
 
RADICAL CHANGE!
And that's when radical change comes in; yet, you have to make this change. When we finally wake up and realize we're doing things incorrectly, be empowered to step forward in ways YOU never thought you could find. From there, we can make choices that align with our truth (rather than those decisions expected from us by others who don't know us).
 
Awaken now!
Is it time come for you to redesign your life fearlessly? Are you standing in a place in your life that you no longer recognize or love? You can take steps to shift your future in unknowable ways, but it will require sacrifices and decisions that come with pain. There's no escaping it. You can choose.
 
LEARN TO CHANGE WITH THE CHANGES.
I have lived in happiness and joy for most of my life–you can find that, too! You know what I have been through and the radical changes and losses I have had. It's OUR choice to make the life that we want! Even through awful transitions. Always aim for a better life.
   
Open your eyes!
Look around you, in your home, I mean. Is your home in shambles? Often we can not change our future because we are stuck in the muck. First, clean and straighten your home, then apply and change your life for the better.
 
Definition: Edification
"The instruction or improvement of a person morally or intellectually."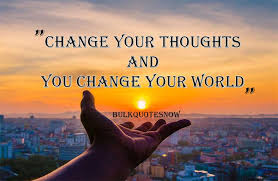 I just came upon that word–edification.
It is appropriate to use these blog words.
We must do this daily, in all ways possible.
Aim toward that in your life.
 
MORE IDEAS FOR YOU >>
   
1–TRY NEW THINGS
You may have attended the same schools, read the same books, gone to the same movies, played the same video games, and watched the same TV shows as others. But they don't have life experience, ideas, or world views like you. We are all different. Those are the things that can elevate your life.

Be unique; find your own way.
One thing you can do is try new foods.
Also, check out the latest museum exhibits.
Read books that are outside your area of expertise.
Don't be afraid to take more significant risks,
such as moving across the country, as I have.
It's the life experiences that broaden your viewpoint.
 
2–DON'T FEAR YOU WILL FAIL
I recently wrote about "Fear" being — False Evidence Appearing Real.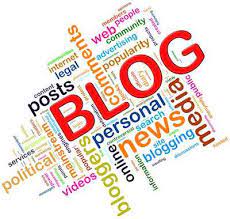 Too many people believe failure is a referendum on them.
Failing well can be the key to success!
Sometimes people conclude that they're not good enough.
 
Failure is a roadmap for what not to do next time. However, those with a growth mindset think failure is a roadmap for how to approach and do right next time. From insignificant slip-ups to epic fails, all of us will falter at some point in life; to succeed, you must deal with a certain amount of blindness to the risk.
 
3–TALK TO STRANGERS
Most of your future successes are waiting outside your immediate network. It's where the success lies. People are here to help, even people you do not know. But most of us talk to strangers only 2% to 3% of the time. Be open! People are here to help.
 
Open yourself up to new people and opportunities by looking approachable. Assume the other person is shy and tell them, "Hello." Then find common ground on which to start a conversation. If there is something of interest, don't hesitate to ask for the person's contact information and follow up with them.
 
You don't have to be a socialite to talk to a stranger. We're all so worried about what other people might think about us. The truth is that no one cares because they're concerned about themselves. Yes, most people are self-centered, even you.
 
And, rather than go up to someone and say, "Hi, how are you?" After you see this person, say something nice about them–enthusiastically! This is a much better way to meet and connect with a stranger. When asked this question, I often just answer, "Yes, I am." Better communication starts easier by saying something positive.
   
4–BE WILLING TO CHANGE
To stay relevant as you move forward in life, you must be willing to embrace change. What got you where you are today isn't where you want to go tomorrow. Acknowledge that what got you where you are today won't get you where you want to go tomorrow. Don't refuse to change and hold onto what had made their money in the past, which proved fatal. Learn to change with the changes!
 
5–WRITE YOUR PERSONAL MISSION STATEMENT
A mission statement sums up who you are and what you stand for; it brings focus and purpose to your life. You must let the world know who you are. A personal mission statement is a powerful tool because it provides a path to personal success. It permits you to say 'no' to the distractions."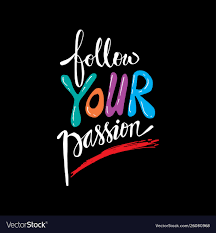 6–DON'T "TRY" TO FIT IN
Too often, we try to fit in with our environment because it will help us move forward. Still, the person who embraces their differences will stand out. Once you identify what makes you different, concentrate and develop those thoughts. To be successful, you don't have to change who you are; you have to become more of who you are and want to become.
 
7–DON'T CONFUSE HAVING AN OPINION WITH HAVING A THOUGHT
Assessing a situation can get in the way of learning. And having an opinion is not the same as having a thought. Think about that.
 
8–DON'T GET HUNG UP ON PERFECTION
Always do your best. Even if you have undergone a brain injury or life change, as I have, you must push forward! Excelling sounds like a good thing, but if you use this mindset in everything you do, you're spending a considerable amount of time on things that aren't important." Instead, identify the things worth the time and are gold to you.
 
9–BE SELFISH (not a shellfish)
To be healthy and grounded, you must be selfish and care for your needs. Be Self-focused but not self-involved. People are healthier, happier, have better relationships, and have better leadership skills when they are. Yes, you always come first.
 
10–DON'T FOCUS ONLY ON THE BIG PICTURE–OBSERVE EVERY STEP!
Remember, your road ahead can feel long and overwhelming. To alleviate some stress, focus on the breakthroughs. Successes are everywhere: the first semester of school, the first week of a new job, the first client for your business.
 
Instead of focusing on how far you have gone, work on going step-by-step. It will make the process feel much more doable. Concentrate on staying focused for an hour or a day instead of looking at everything ahead. Stay away from the big picture to see the little things, too. 
WHAT NEW STORIES ARE YOU READY TO WRITE?
********************
WORDS TO INSPIRE YOU! >>
Inspirational quotes and motivational sayings have a unique ability to change the way we feel about life and can change our thinking.
 
They are so interesting, challenging, and essential on our path to joy, happiness, and finding ways to inspire ourselves and others.
 
Inspirational quotes and ideas give us a quick and timely burst of wisdom to get our focus back, offering the inspiration needed for the day or occasion.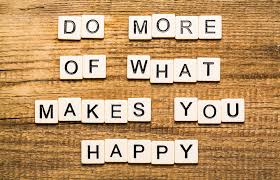 I hope to inspire you with my words.
Words have power.
 
Are you accomplishing what you want before your eventual death?
At any age, you can (and should) make changes to make your life better.
 
How you think and feel about yourself, including your beliefs and expectations about what is possible, determines everything in your life, and it all derives from your quality of thinking.
WHEN YOU IMPROVE THE QUALITY OF YOUR THINKING,
YOU CHANGE THE QUALITY OF YOUR LIFE—SOMETIMES INSTANTLY!
Just as positive words can make someone smile, and a well-timed amusing quote can make someone laugh, your thoughts react to the world in real-time. You have this control!
 
You have complete control over only one thing in the universe — Your Thinking —, and that's where motivational quotes come in!
 
To keep your motivation, you have to use each day as an opportunity to improve and get closer to your goals. It might sound like a lot of work—and with your busy schedule—next to impossible. But you can do it!
Self-talk is so essential—THINK RIGHT!
Motivational words, yes, they are just words.
But they are positive words; they will keep you on track.
EVEN IF YOU START LATE, ARE UNCERTAIN,
OR ARE DIFFERENT –
YOU CAN STILL FIND SUCCESS!
Don't forget that you are only as young as the last time you changed your mind!
 


Keep your thoughts and self-talk fun and productive, and always reach for more advancement.
REMEMBER, VERY LITTLE IS NEEDED TO MAKE A GREAT LIFE.
********************
I HOPE THE FOLLOWING WORDS INSPIRE YOU >>
 
1. "Your life is your story, your future.
    Write well, and edit often." Kit Summers
 
2. "If you don't design your own life plan, chances are you'll fall into someone else's plan. And guess what they have planned for you? Not much." Jim Rohn
 
3. "Create your life. Design your life." Anonymous
 
4. "Create a life that feels good on the inside, not one that just looks good on the outside." Anonymous
 
5. "You create your life." Anonymous
 
6. "Nobody sets the rules but you. You can design your own life." Carrie-Anne Moss
 
7. "She designed a life she loved.." Anonymous
 
8. "Design your life." Anonymous
 
9. "Learn from the past, live in the present, and create your future." Joel Brown
 
10. "Don't be a victim of circumstances and let life design you. Take an active role and be the one who designs your life." Anonymous
 
11. "We all have two choices: make a living or design a life." Jim Rohn
 
12. "Design your life so that you would never need a vacation from it." Boruch Akbosh
 
13. "Design a life that you are proud to live." ATGW
 
14. "Don't get too caught up in making money or having a job;
get excited about the fact that you can design your life." Darren L. Johnson
   
15. "Lead a life of your own design, on your own terms.
Not one that others or the environment have scripted for you." Tony Robbins
COMPOSE A NOBLE BOOK AND WRITE A BEST-SELLER.
YOU ARE AMAZING—PLAY YOUR PART!
********************
MY DAILY JOTTINGS >>
Each week goes by so quickly, don't you think?
And time is going faster all the time, it seems.
Do you keep track of what you do each day?
Do this for a few weeks, and you will see your time differently.
IS IT TIME TO "MAKE" THINGS HAPPEN AND LIVE A FULLER LIFE?
     
8/5–Driving anywhere is getting costlier. I had to go down to Augusta, GA (40 miles each way) to go to Costco for some items.
     
8/6–Up early again. I do not know if my lack of sleep will affect me in the future. What do you know?
 
I worked on projects throughout the day.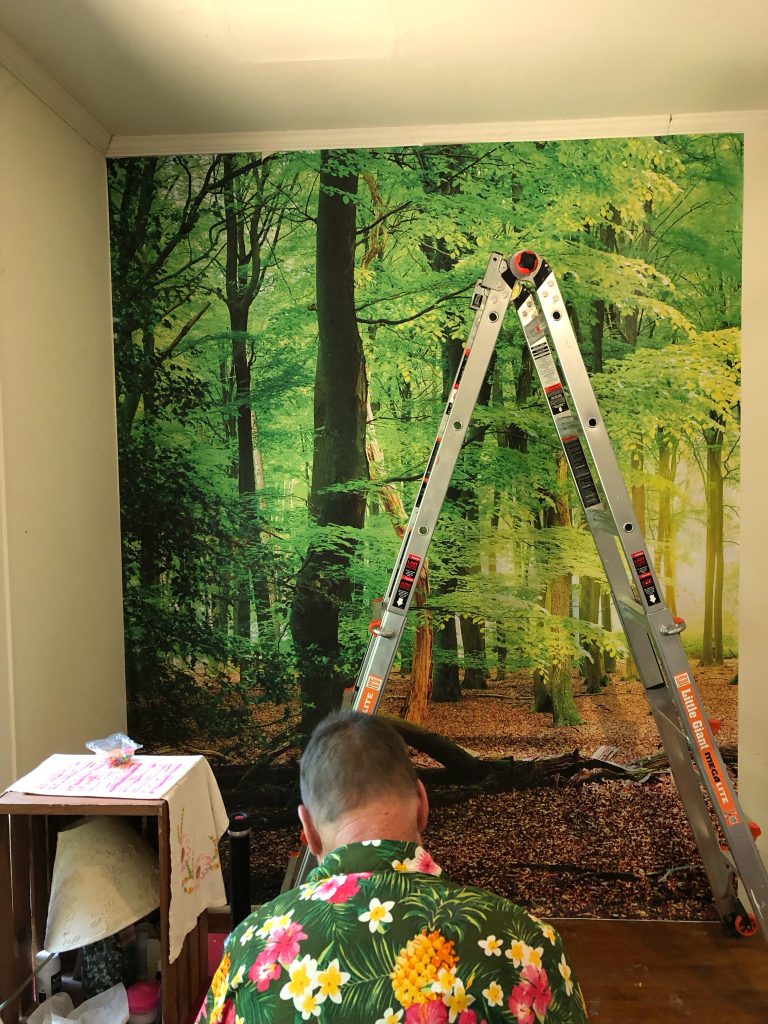 Always something else; that's a good thing. There were paint spots on the bedroom's wood floor so I sat down and scooted myself around the floor, scraping off the ones I could see. I aim for excellence in everything I do.
Do you?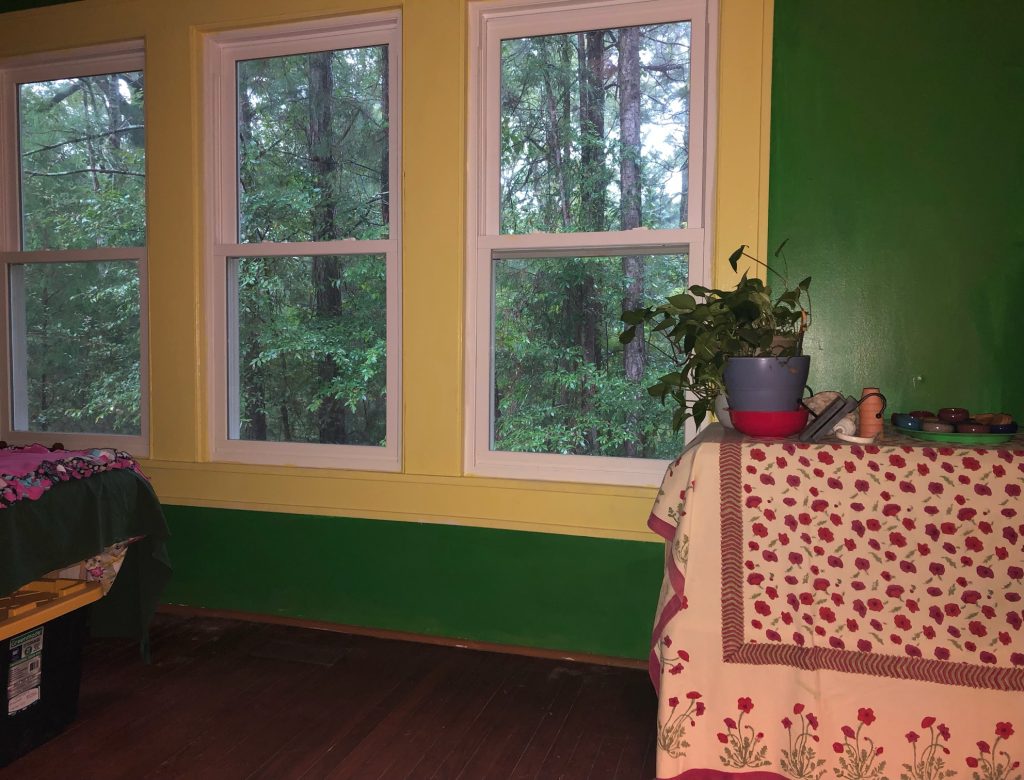 8/7–A bright sunny day is ahead; I will try and make the best of it.
Beth has taken to wearing hats, and I like it.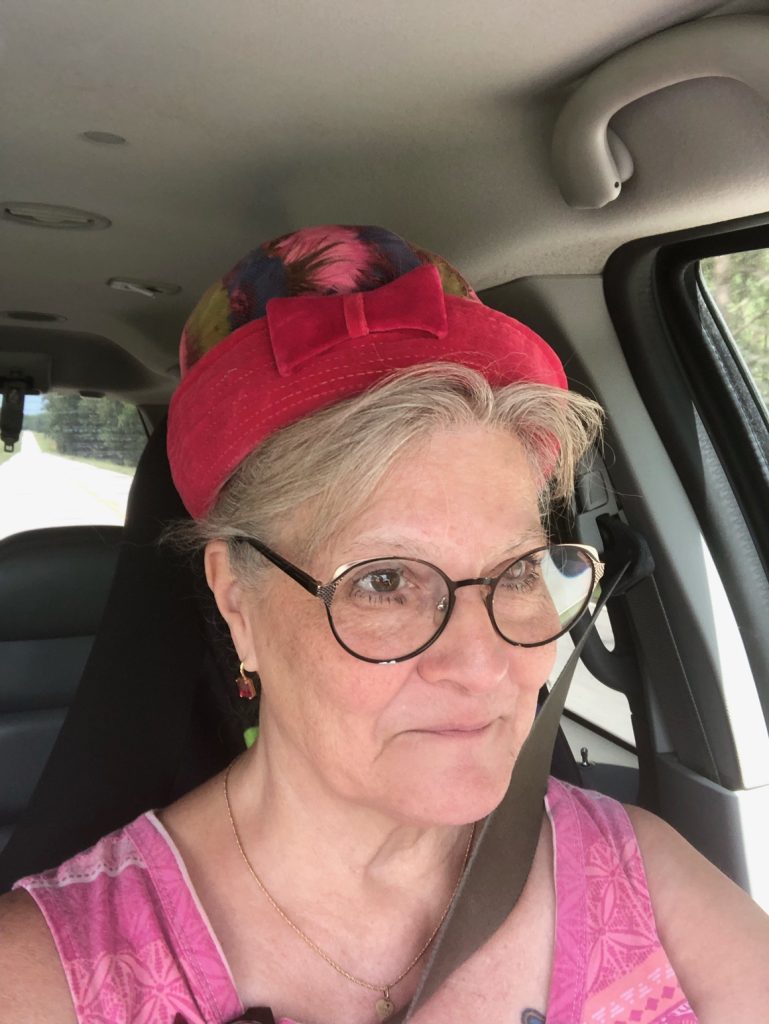 8/8–Down to Augusta to see Dr. Cook, my dentist. One of my teeth broke, so the remains must be extracted. I am sitting in the chair right now, waiting. It should not hurt too much, and I will let you know.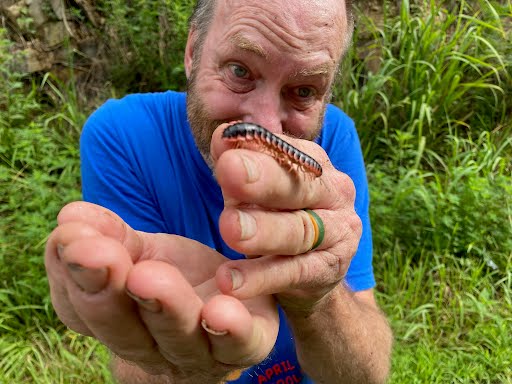 Catapillers and fun, see? 
It ends up that I did not get that tooth taken out. I will, down the road, have a tooth insert put in. Dr. Cook said I need
   
While in Augusta, a quick trip to Costco will be taken.
 
8/9–Working on the home and this blog today. We bought a tarp for over the shed since heavy rains are predicted. This is the best tarp I have found. You can see it here: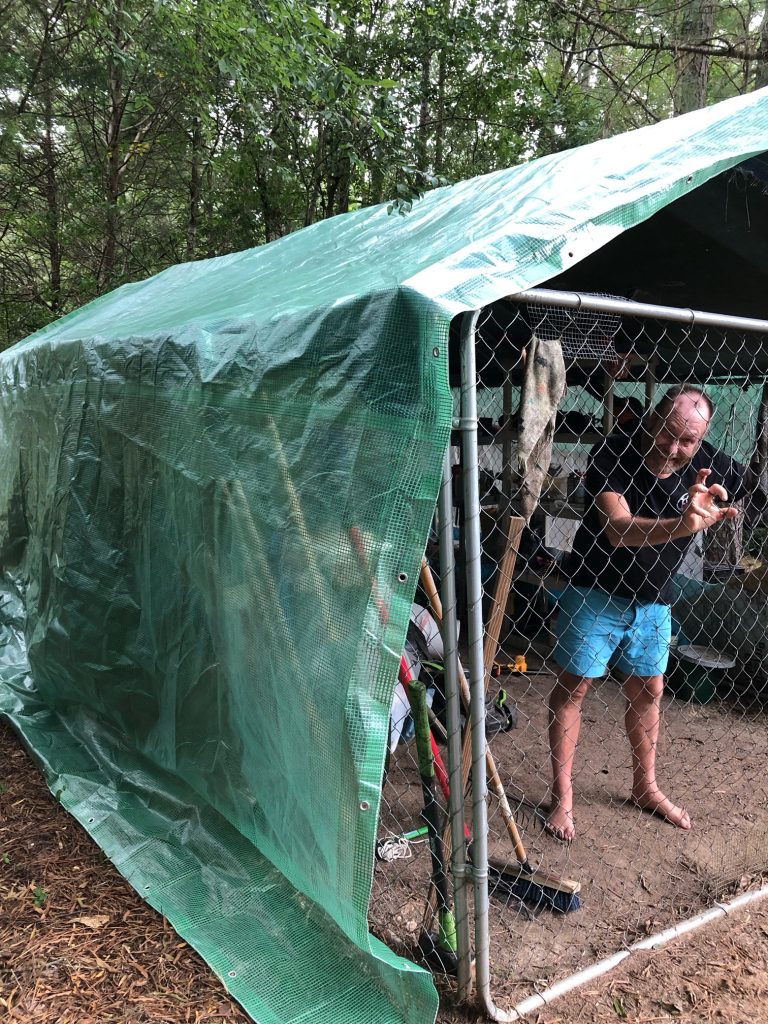 8/10–I Woke about 4am today; that's sleeping in for me!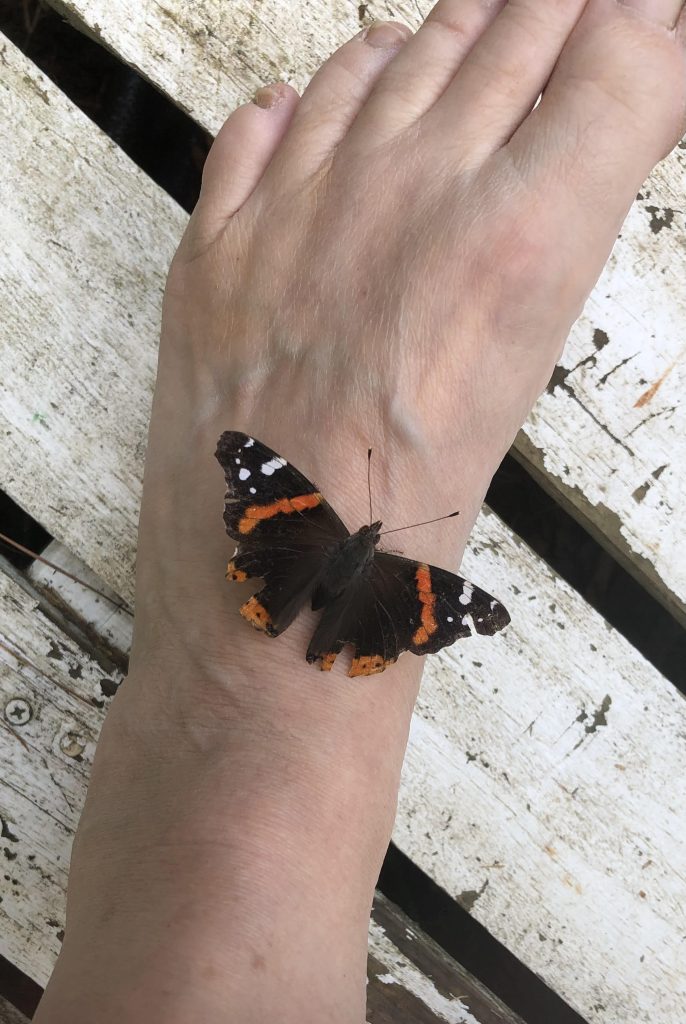 A butterfly on Beth's foot, nice. 

8/11–Before I send you this blog each week, I read it repeatedly, making minimal changes each time. This is like living; as you live, keep making tiny changes for the better. Your life can turn magnificent if you do this.       
******************
YOUR CHALLENGE FOR THE WEEK > >
Have you told your family you love them recently?
It's time.
Say the words a few times this week.
 
I feel sad that I am not hearing from my daughters.
Of course, I want to tell them I love them.
How bout it, April, Jasmine, and Leah,
will you connect with your dad?
   
Do something new daily, then keep doing it for the rest of your life.
*******************
NEXT BLOG >>
Alone time.
Do you have much?
For much of my life, I have been alone.
You will read the suggestions. 
AND WHAT ARE YOU PLANNING FOR YOUR UPCOMING WEEK?
*******************