With my words, I hope to throw some oblique light upon your life.
I want to inspire you to see life in a different and/or better way.
*** Remember, to read past blog posts, go to >> kitsummers.com/blog/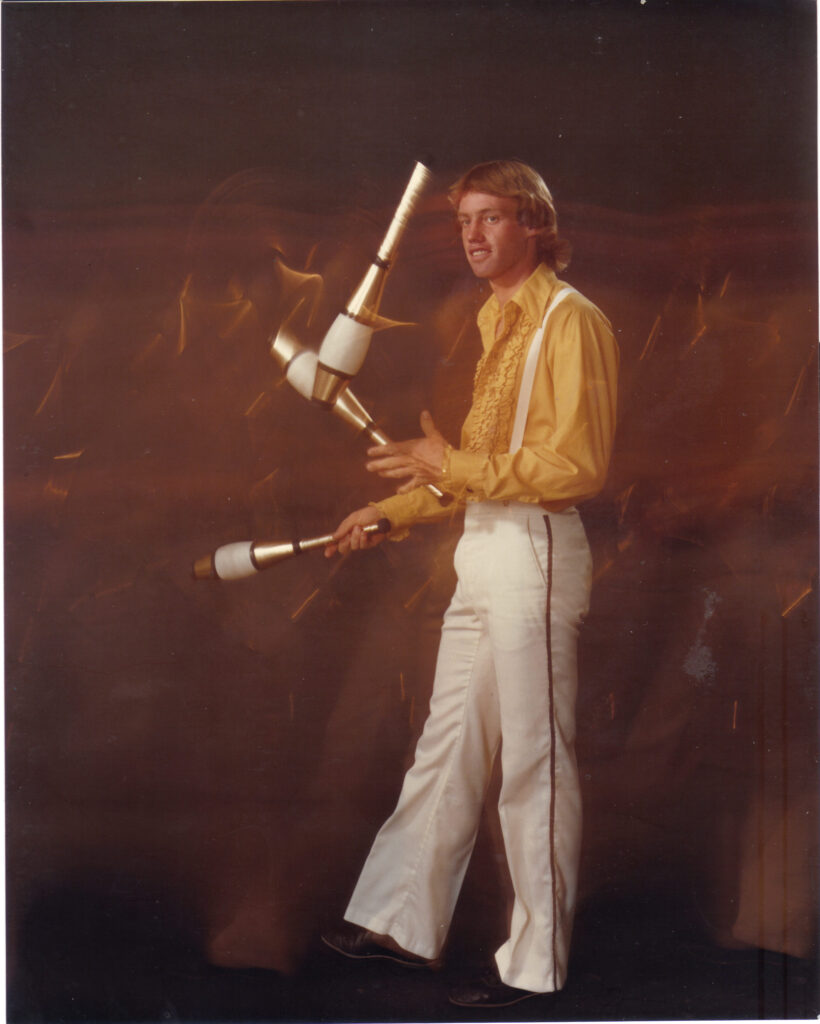 *** If you are reading this through Facebook, check out my blog on my website.
*** If you are not my Facebook friend, yet, please, befriend me.
*** The happiness I am experiencing in my life is a marvelous thing!
*** Going where I want, when I want, and seeing wonderful places and people, too. (But no longer alone, Beth is by my side.)
*** I will have places to show you and tales to tell.
*** Secrets to unfold and good news!
*** I want to thank my wonderful wife Beth for her superb editing and adding to the blog each week.
BE TAKEN AWAY WITH ME
ON WONDERFUL ADVENTURES!
********************
INTRO TO THIS WEEK >>
All my life I have approached life in a playful manner. Childhood play is one of the main reasons I became a juggler. Also, I believe, the skill of play is one of the main things that helped me come back from my accident and 37-day coma.
Curiosity is one of the main traits of playfulness that will make a better life for you. As humans age, they often loose their curiosity and playfulness, such a sad thing that is.
Play allows you to use your creativity while developing your imagination, dexterity, and physical, cognitive, and emotional strength. Play is important to healthy brain activity. It is through play that children (and adults) engage and interact in the world around them.
Play, for adults, is critical in our stressful busy lives. Play has been shown to improve brain functionality, release endorphins, and stimulate creativity. And it can even help to keep us youthful and feeling energetic. Play improves memory and stimulates the growth of your cerebral cortex.
So get out there and play some more!
You'll learn a new task faster and better if it's amusing and you're in a relaxed and playful mood. Play will also excite your imagination, helping you adapt and solve problems. It will improve relationships and your connection to others. Sharing laughter and fun can foster empathy, compassion, trust, and intimacy with others.
YOU MUST BRING PLAY INTO YOUR LIFE!
So many benefits of PLAY >>
Play Builds Imagination and Creativity.
Fosters Cognitive Growth.
Delivers Emotional and Behavioral Benefits.

Improves Literacy.
Encourages Greater Independence.
Promotes Physical Fitness.
Builds a Healthy Body.
Builds a Healthy Brain.
Relieves stress.
Improves brain function.
Stimulates the mind and boosts creativity.
Improves relationships and your connection to others.
Keeps you feeling young and energetic.
Develops and improves social skills.
Teaches cooperation with others.
Teaches Emotional Intelligence and Boosts Self-Esteem.
Play heals emotional wounds.
Forges a Healthy Parent-Child Relationship.
Builds Healthy Friendships and Romantic Relationships.
Teaches Cooperation.
Play Teaches Problem Solving.
It Stimulates Creativity.
Many people think playtime is just for kids. As a result, it's not always something that many adults intentionally schedule into their daily routines. Some of the many benefits of making time for playing include a reduction in stress and anxiety, increased social bonding, instant mood-boosting, and a way to foster creativity and problem-solving. Plus, it's just plain old fun!
Any fun, joyful moment where you forget about time is considered to be play.
You can choose to face everyday activities in a playful state of mind. As I've said before, don't be so seriness. So, you can choose to turn a challenging task or even a day on the job into something that is fun—you are in charge of that. You can make your job more playful simply by changing the attitude that you have towards it.
Or how about ice cream for dinner? Why not! That is something that Beth likes to do. Doing something that feels so out of the ordinary will produce loads of serotonin, the feel-good hormone.
Fly a kite.
Go for a bike ride in the afternoon.
Do the hula hoop.
Put together a puzzle.
Juggle 3 balls.
Go lay down on the grass and watch some birds.
Do a dance in your living room.
Use some play-doh to play with.
You did it while young, bring back the play.
LIFE IS HAPPENING ALL THE TIME – ARE YOU KEEPING UP?
********************
WORDS TO INSPIRE YOU! >>

Inspirational quotes and motivational sayings have an amazing ability to change the way we feel about life and can change our thinking.

This is why I find them so interesting, challenging, and important on our path to joy and happiness and finding ways to inspire ourselves as well as others.

Inspirational quotes and ideas provide us with a quick and timely burst of wisdom to get our focus back, offering the inspiration needed for the day or occasion.
I hope to inspire you with my words.

Words have power.
At any age, you can (and should) make changes to make your life better.

You see, the way you think and feel about yourself, including your beliefs and expectations about what is possible for you, determines everything that happens in your life. It all derives from your quality of thinking.

When you improve the quality of your thinking,
you change the quality of your life—sometimes instantly!


Just as positive words can make someone smile, and/or, a well-timed amusing quote can make someone laugh, your own thoughts react to the world in real-time. You have this control!

In fact, you have complete control over only one thing in the universe — Your Thinking — and that's where motivational quotes come in!

To keep your motivation, you have to use each day as an opportunity for improvement, to be better, and to get a little bit closer to your goals. It might sound like a lot of work—and with your busy schedule—next to impossible. But you can do it!

Self-talk is so important—THINK RIGHT!
Motivational words, yes, they're just words.
But they're positive words; they will keep you on track.
Remember, you are only as young as the last time you changed your mind.
Keep your thoughts and self-talk fun and productive and always reaching for advancement.
VERY LITTLE IS NEEDED TO MAKE A GREAT LIFE.
********************
I HOPE THE FOLLOWING WORDS INSPIRE YOU >>
Be inspired by these fun quotes >>
1. "I always wanted to be somebody, but now I realize I should have been more specific." – Lily Tomlin
2. "If at first, you don't succeed, then skydiving definitely isn't for you." – Steven Wright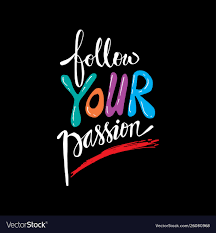 3. "I find television very educational. Every time someone turns it on, I go in the other room and read a book." – Groucho Marx
4. "All you need in this life is ignorance and confidence, and then success is sure." – Mark Twain
5. "If you don't know where you are going, you might wind up someplace else." – Yogi Berra
6. "There never was a child so lovely but his mother was glad to get him asleep." – Ralph Waldo Emerson
7. "It took me fifteen years to discover I had no talent for writing, but I couldn't give it up because by then I was too famous." – Robert Benchley
8. "Luck is what you have leftover after you give 100 percent." – Langston Coleman
9. "Opportunity does not knock, it presents itself when you beat down the door." – Kyle Chandler
10. "Don't worry about the world coming to an end today. It is already tomorrow in Australia." – Charles Schulz
COMPOSE A NOBLE BOOK AND WRITE A BEST-SELLER.
YOU ARE AMAZING—PLAY YOUR PART!
********************
MY DAILY JOTTINGS >>
5/7-8—My friend Gary DuTeau, every year, has a camp out on land he owns which is on Stevens Creek, where we got married! Gary is an excellent chef, having owned a great restaurant, The Plum, which, sadly, burnt down.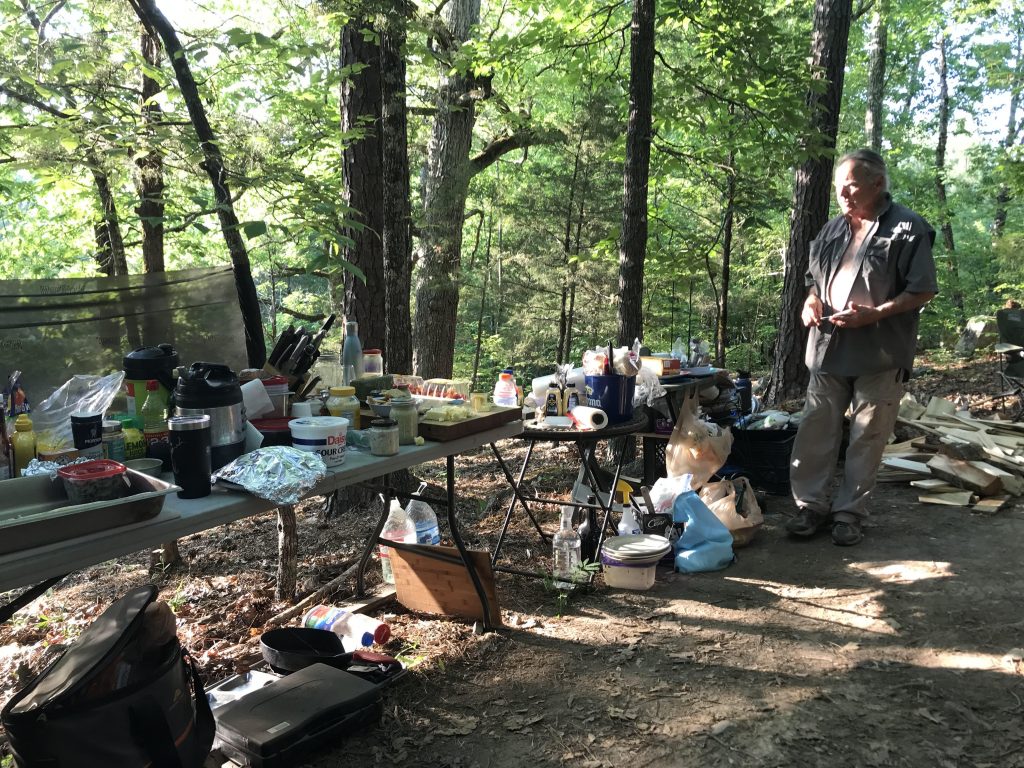 Along with Gary, another excellent chef was there, so we ate well, I must say.
I camped over with them, very nice.
5/9—Returned to join Gary to hang out and have dinner—quite nice it was.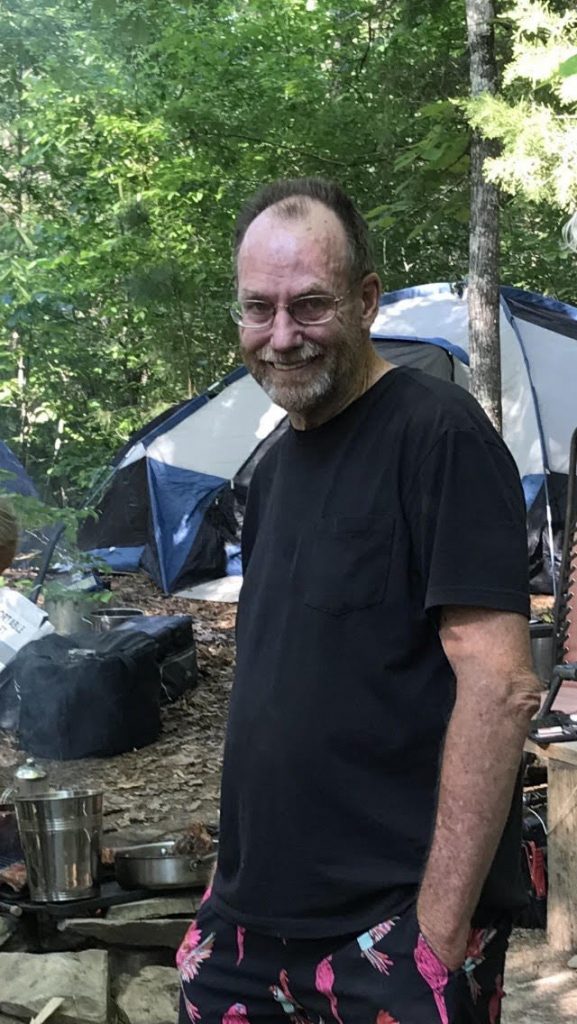 5/10—Back with Gary to help him pack up to get back home. Hard to believe how much stuff Gary had with him. It was easier to pack out because I have a cart that we used to carry his stuff.
5/11-12—Back to projects around here. I started on building a deck for the back of the house. These projects I think up, I have no idea how they will be accomplished, but each always turns out just right. Like me, I'm sure you can do more than you think you can.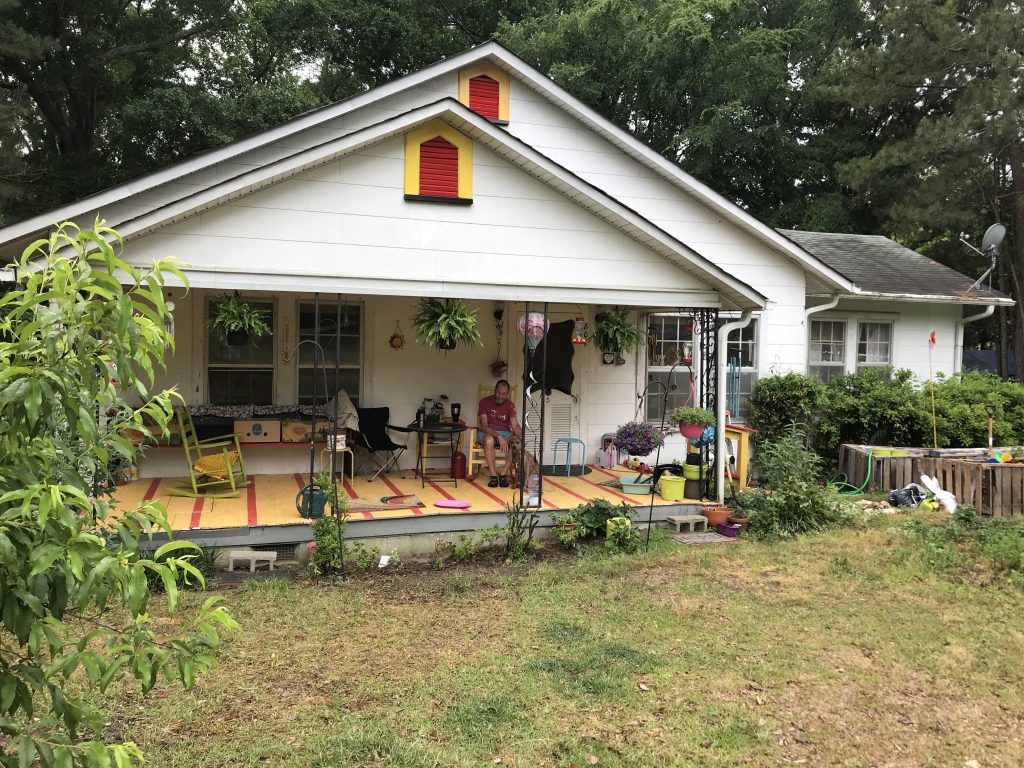 5/13—So close, yet we never even saw it. Sumter National Park is all around our area. We took a dirt road not having any idea where it would lead. As a deer pranced across the road in front of us, we knew we loved this area.
We drove down a road toward Long Cane Creek picnic area, no one around anywhere, we loved it. After a few miles we came to Clarks Hill Lake. All around was beauty, it was mythical.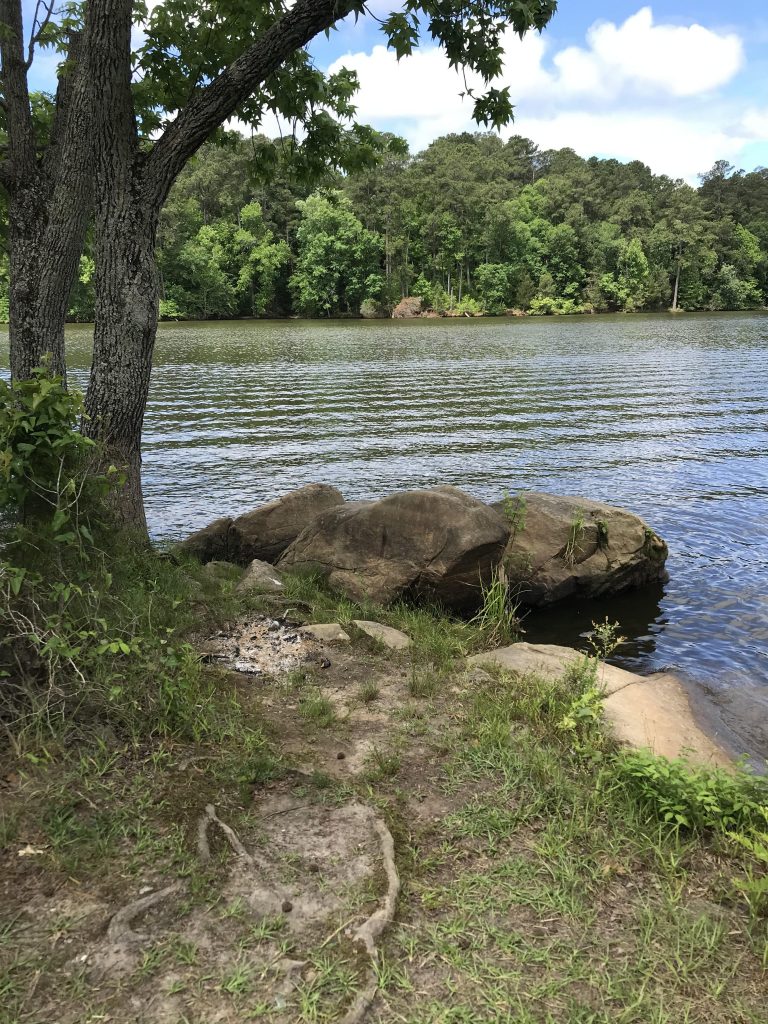 We will be going back to spend a night, then we will do it again and again.
When's the last time you camped out somewhere?
********************
YOUR CHALLENGE FOR THE WEEK >>
Look back to your childhood and think of some playful things you could bring back into your life that will bring you pleasant memories.
********************
NEXT BLOG >>
We will both find out then.
*******************
THIS WEEK, MAKE YOUR LIFE SOMETHING
THAT YOU CAN WRITE ABOUT!