By writing this blog I want to inspire you and show you that–
• Change your life at any time to make it more magnificent!
• Live with little money and still have an excellent life.
• Be able to live life getting very little sleep.
• Live ANYWHERE in the world and still make your life a fantastic event!
• See experiences that will add to and make your life better.
• I want to inspire you as to the wonders of the earth.
• Perhaps this is my new "gig", traveling the world doing the same?
• And, I'm not just, "Kitting Around".
Design the life YOU want to live, NOW, then live that life.
*********************************************
***Remember, to read past blog posts, go to https://kitsummers.com/blog/
***If you are reading this through Facebook, check out my blog in on my website.
***If you are not my Facebook friend, yet, please befriend me.
***The freedom I am experiencing in my travels is a marvelous thing.
***Going where I want, when I want and seeing wonderful places and people.
***I will have places to show you and tales to tell.
***I will have secrets to unfold and good news!
I'm glad to take you on my journeys with me!
********************************************* *********************************************
Waiting for some mail to be delivered, it has been nice and warm here in Arizona.
I had wanted a nice sunny day to take photos of the inside of the van where I live, and, I have no pictures of the wilderness right now. I am including photos, taken today, I hope you enjoy. I will take more photos of the inside of the van when I have more sunlight.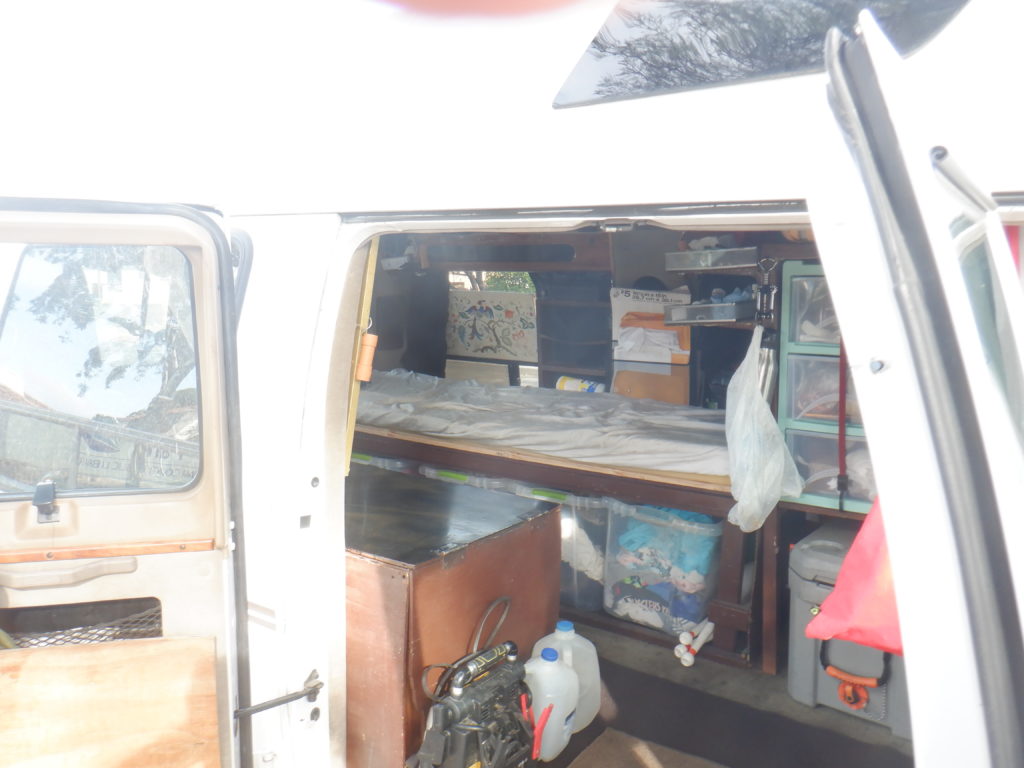 Much rain this week, not common for the state of Arizona. Also, on Thanksgiving and also the day after, libraries are closed. So, I am spending time at McDonald's along the way
1—Your limitation, it's only your imagination.
2—Push yourself, because no one else is going to do it for you.
3—Sometimes later becomes never. Do it now.
4—Great things never come from comfort zones.
5—Dream it. Wish it. Do it.
6—Success doesn't just find you. You have to go out and get it.
7—The harder you work for something, the greater you'll feel when you achieve it.
8—Dream bigger. Do bigger.
9—Don't stop when you're tired. Stop when you're done.
10-Wake up with determination. Go to bed with satisfaction.
11-Do something today that your future self will thank you for.
12-Little things make big days.
13-It's going to be hard, but hard does not mean impossible.
14-Don't wait for an opportunity. Create it.
15-Sometimes we're tested not to show our weaknesses, but to discover our strengths.
16-The key to success is to focus on goals, not obstacles.
17-Dream it. Believe it. Build it.
18-Creativity is applying knowledge and skills while having fun.
19-Optimism is the one quality more associated with success and happiness than any other.
20-There is no way to happiness. Happiness is the only way.
11/23—At the library in Tucson, tomorrow a juggling get-together happens and I will be there. So, I will not drive anywhere at all today, strange for me. I will be in the library on the computer and also out juggling and exercising. It should be a great day.
Emotionally, I go up and down, today I am so very happy. Remember, we are always in charge of how we feel, I must never forget that.
11/24—Spent the day mostly at the library. The Tucson Juggling Club got together at 10am right behind the library. It's strange, my juggling seems to be getting better, but Dave Kha and others say that I am still throwing strange with my left arm/hand.
I will continue to try and make advancements, but it is frustrating. From my perspective, it seems to look smooth in my eyes, but I am deceived.
11/25—Life can be hard when you awaken at 1am and can't get back to sleep. I laid there and tried for a time, but found I could not get any more shuteye.
I decided to go to a McDonald's and could get on their free wifi in the parking lot. Surprisingly, I found this one to be open 24 hours, so, I am in the warm typing to you online.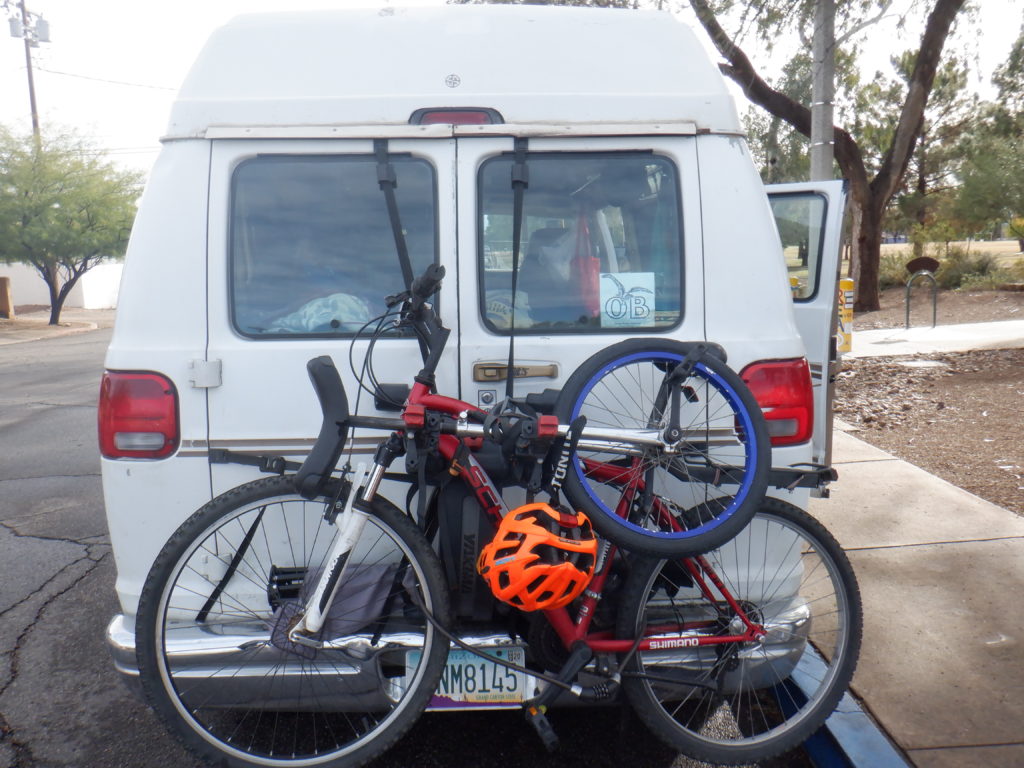 Feeling like a homeless man, yet, I am not.
I have my home with me, always, my van.
I just checked my blood pressure, which has been high. Recently I went to a doctor and she put me on a second medication. Even with taking this second one, I just checked and my BP was 188/102, which, I am told, is quite high.
I actually went to an Urgent Care place to have them check it. Their numbers were much lower. They drew blood and I will be going back in a few days for the results.
Also, when I go back, I had asked them if I could bring my BP checking machine to compare it with their results to see if it is reading correctly, I think it is on the high side.
The thing is, because of my loneliness and living such a strange life—I really don't care if I live or if I die. Yes, there will be a time you no longer hear from me. But, perhaps, you don't care either?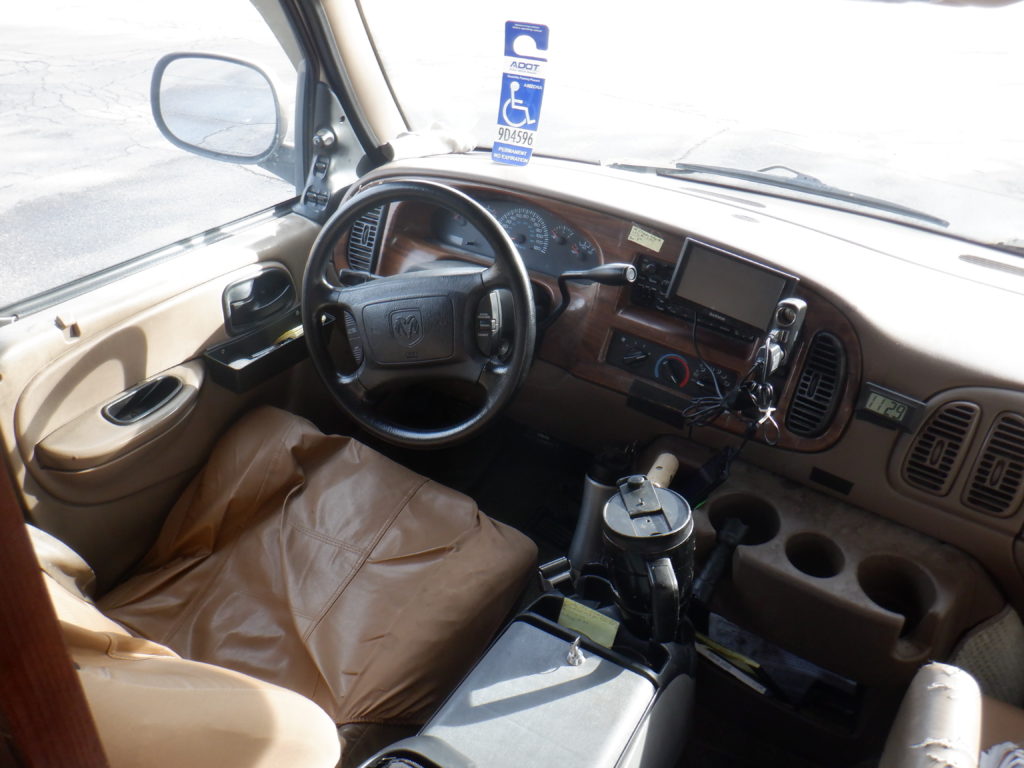 11/26—Getting some things done this morning, then I headed over to the library to get on their wifi. But, I was told it is not working right now, so I am typing to you offline, but plugged into their electric.
Before I came in I did some juggling while on the grass. Juggling does not seem like anything to me anymore. I have lost sooooo much of my skill, I can hardly juggle 3 objects.
It seems like a waste of time for me anymore to practice any longer. What's an ex-juggler to do?
I've been staying near the Himmel Park library, it is quiet, but I can park anywhere to sleep. I stay away from busy streets because of the noise. On GPS I can find residential or business areas that are away from main/busy streets, easy to sleep anywhere.
The cockpit, where I run the show.
Right now I am at a McDonald's at about 7pm. Do not know where I will park tonight. Now I am on a busy street, I will have to find a quiet and dark residential place to sleep tonight. It's kind of exciting not knowing where I will park to sleep at night, and also makes me feel homeless in a big way.
11/27—I have been in Tucson for a least a week, too long for me. I am awaiting some mail sent to me by my daughter, April. which should be here in a few days. I could not wait, I had to get out to the wilderness, so off I went toward Red Rock, AZ.
I ended up going to https://www.roostercogburn.com/ and found out they will charge twelve bucks just to go in and see the big birds. Then went by Picacho Peak State Park, where they want seven doll hairs to go in. I have gone to so many great places where I don't have to pay a fee, so I did not do it.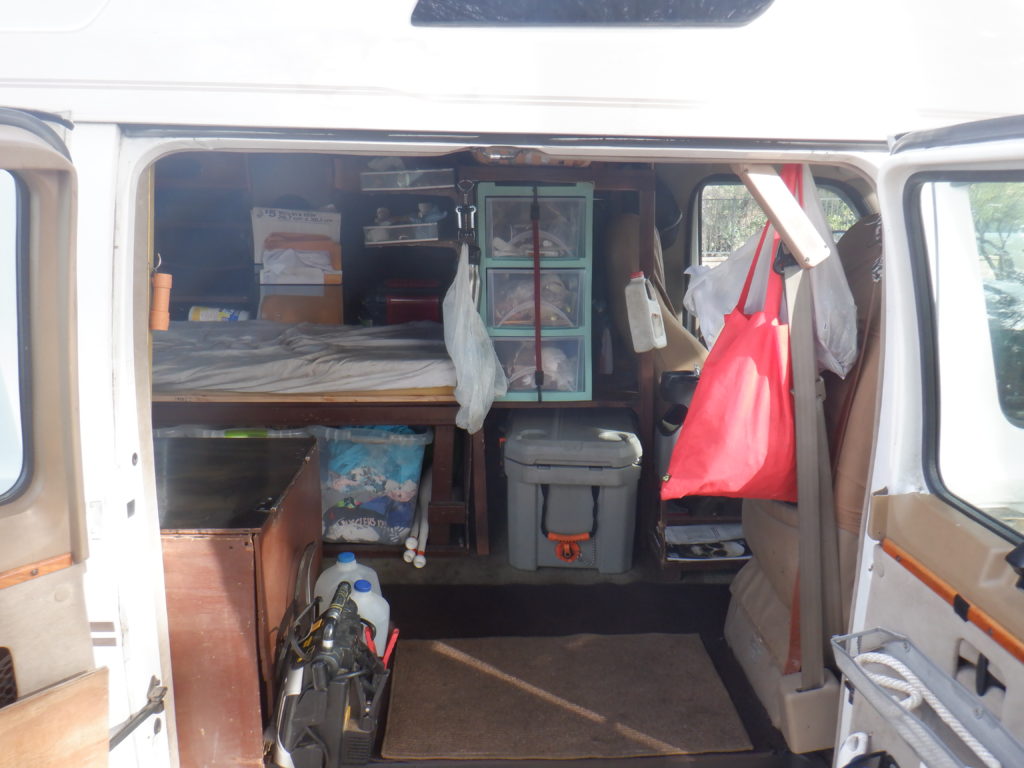 There are my cooler, bed and some of the storage. 
Of course, getting out of Tucson was much traffic, which I do not like. It got less and less as I went toward the west. As you know, there are McDonald's everywhere, so I popped into one of the way to write to you.
11/28/29—Happy Turkey Day to you. I went to a small town out to the west, but right on I-10. There is actually a McDonald's here that is open 24 hours a day, even on Thanksgiving, so here I am.
Arrival at about 3am (as you know, I do not sleep much) I will be on the internet for some hours. Later I plan to do some biking, unicycling and juggling. Just not sure how the weather will be.
Outside is cold, windy and rainy, so I am staying in McDonald's on my computer. Today I am feeling like I am wasting my life, a strange feeling. The view out the window is of I-10 going between Phoenix to Tucson, very busy it is. All these people have different lives they lead; as you do. What am I doing?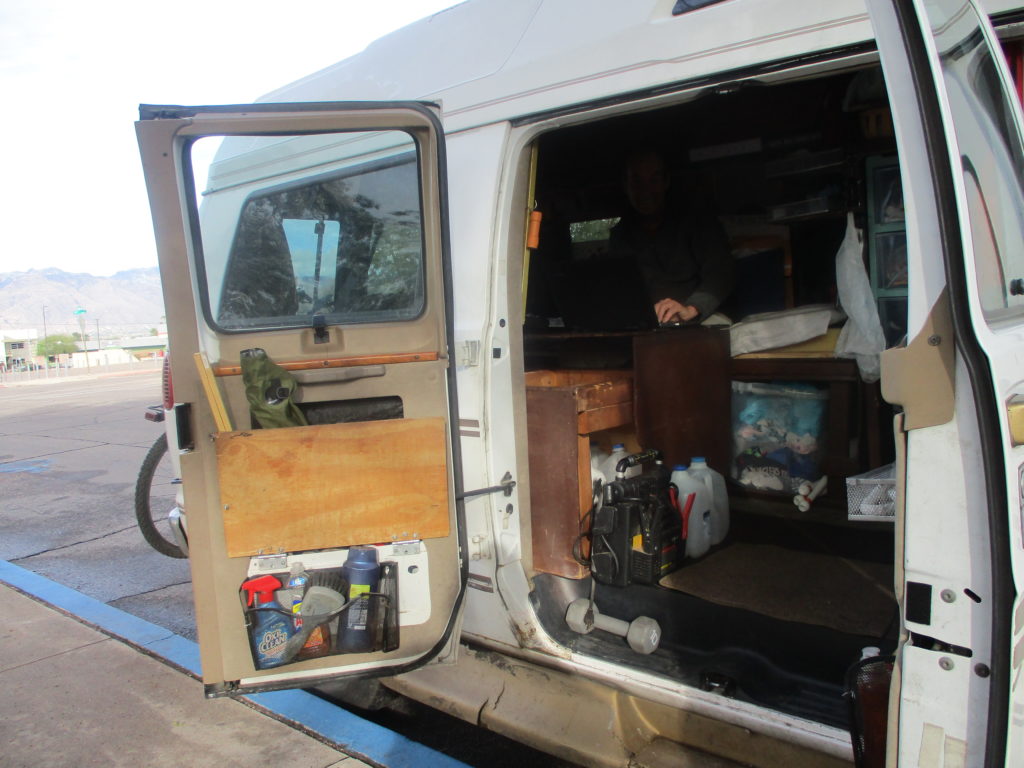 Hard to see, there is me while typing in the van. 
It was nice taking the 33-mile drive to get here. I am so looking forward to getting back on the road – but to where – I don't know. Am I trying to run toward something, or away from something? I love to live my life as a grand adventure, I need to get back to that.
I have to admit, I had a cry today. As you might know, Tina broke up with me some time ago. I just tried to call to tell her Happy Turkey Day, I discovered she is now blocking my phone calls. Am I that horrible of a person? Tina will always have a special place in my heart. Something else I discovered, she is engaged to Bob Henry, good for them. I hope they develop a great life together.
So, that, along with my loneliness, got me sad and brought tears to my eyes. A very gloomy and hard life lately. But, as usual, I will get through it. Perhaps you might send comforting words?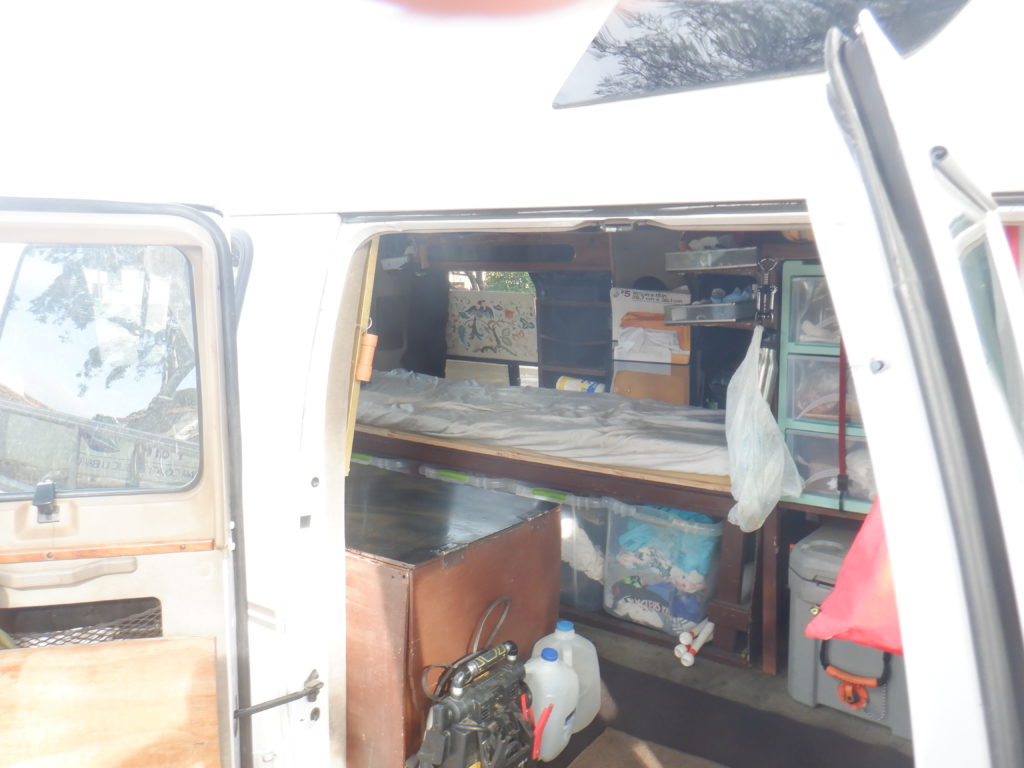 View of my bed, with the table on the other side, I can make this into two single beds,
or I have boards that go between to make a full-size bed. 
Just finished my three spicy chicken tacos, delicious, as usual. You can think of the chicken as a small turkey for Thanksgiving (and, by the way, thanks.)
I want to thank my sister,
Sandy
, and my daughter,
April
, for helping me in getting through these hard times I have.
Spent much time today at McDonald's on their wifi. I was surprised at how busy it was on this Thanksgiving holiday.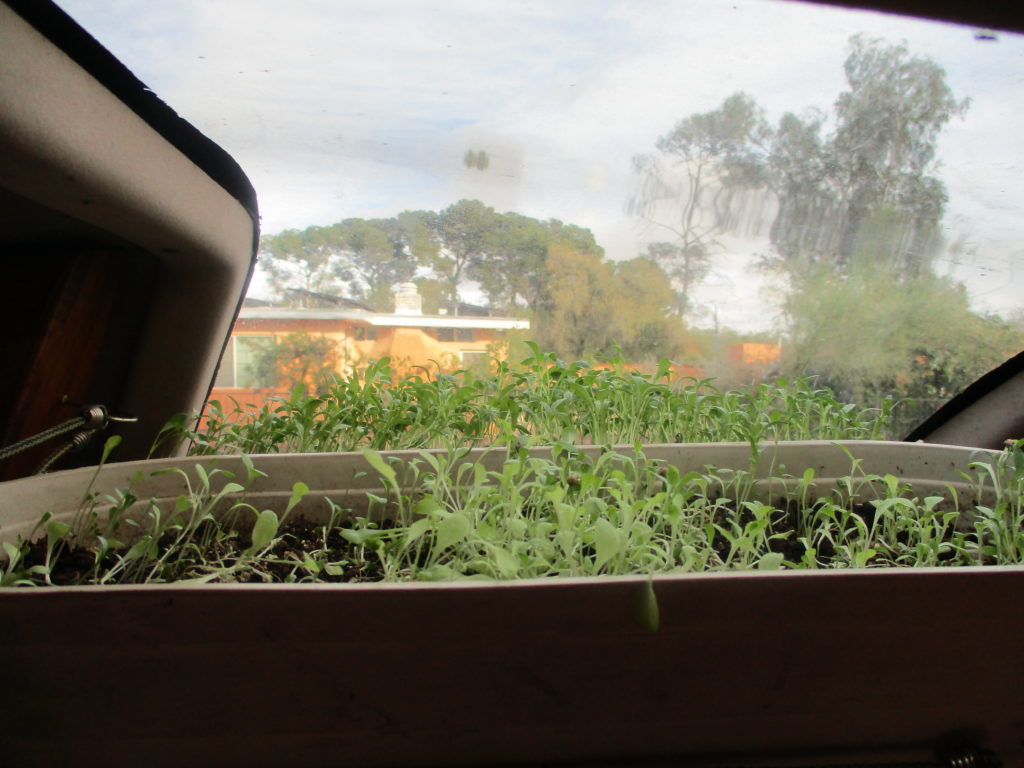 Growing my cilantro, lettuce, and spinach.
11/29—Last night I was parked and sleeping in a lot that locks the gate at night. Awoken by the cops at 11pm, they let me know of a lot close by where I could sleep. Surprisingly I did get back to sleep until about 6am, that's a long sleep for me.
Right now I am parked outside a food bank, which, I hope will open at 9am. But, because of Thanksgiving yesterday, they might be closed today. I will wait some more time and see. It's a little too cold also, may have to find a library soon for the warmth and the wifi.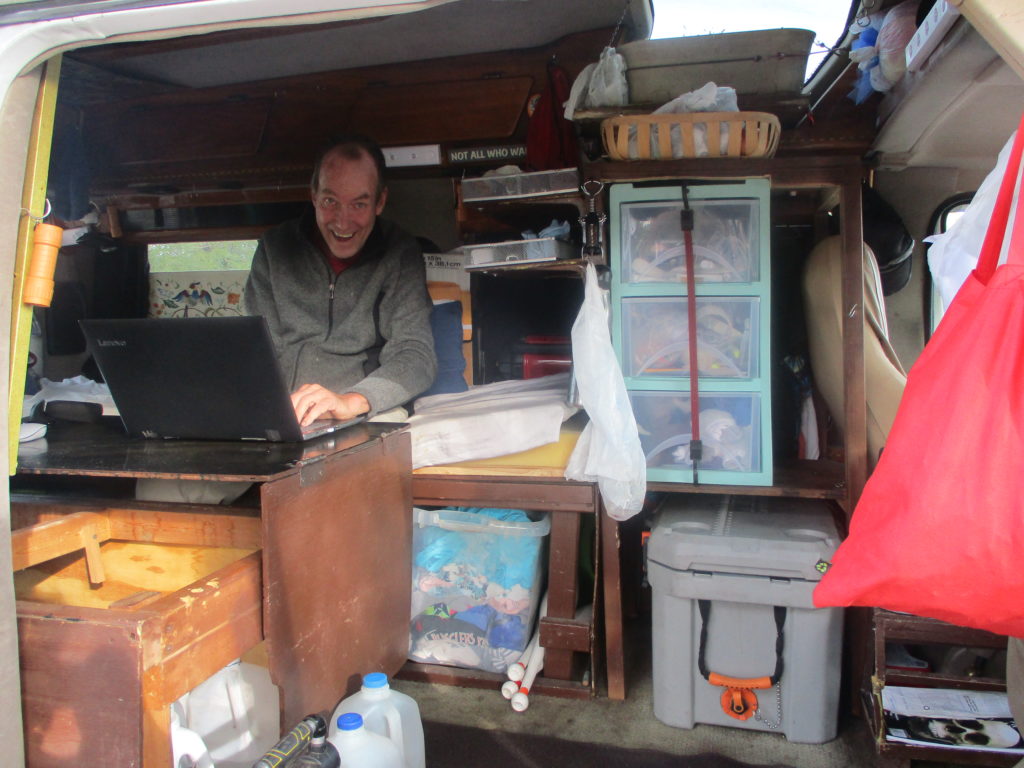 View of me inside the van typing to you.
Rain is coming down nonstop; a very wet day.
Drove back to Himmel Library in Tucson. They are closed today, I can reach their wifi from out on the street typing in my van.
I look forward to hearing from you, and to writing to you next week.
My Challenge for You this Week >>
Make yourself have a smile ALL week.
Next Blog >> Toward the west and south for me.
​