The Wanderings of Kit (Do you wander or just wonder?)
By writing this blog I want to inspire you and show you that–
YES—YOU CAN > >
Change your life at any time to make it more magnificent!

Live with little money and still have an excellent life.

Be able to live life getting very little sleep.

Live ANYWHERE in the world and still make your life a fantastic event!

See experiences that will add to and make your life better.

I want to inspire you as to the wonders of the earth.

Perhaps this is my new "gig", traveling the world doing the same?

And, I'm not just, "Kitting Around".
Design the life YOU want to live, NOW, then live that life.
*********************************************
***Remember, to read past blog posts, go to https://kitsummers.com/blog/
***If you are reading this through Facebook, check out my blog in on my website.
***If you are not my Facebook friend, yet, please befriend me.
***The freedom I am experiencing in my travels is a marvelous thing.
***Going where I want, when I want and seeing wonderful places and people.
***I will have places to show you and tales to tell.
***I will have secrets to unfold and good news!
I'm glad to take you on my journeys with me!
********************************************* *********************************************
Being out in the wilderness away from wifi and electric, I could not get my blog out to you last Friday. I am wondering if anyone noticed the weekly post missing?
Did you?
Be sure and let me know.
Spending time until I die? That is not how I want to do with my life. With this blog I want to motivate, to encourage you to reach a higher level with your life. Myself, not accomplishing much this week, that hurts. Spending time.
Yet, that is how I feel lately >>
Time cleaning my van.
Time juggling.
Time organizing meals.
Wasting my time????
And, the important thing, time writing to you.
With this limited time on Earth, currently, I do not feel I am doing enough.
Do you look at your time in that way?
I still picture myself as a talented young juggler, yet, now I am old and can hardly juggle. I did not like myself very much when I looked at the broad picture. I was a middle-aged (or higher) man traveling the country while I get supported by SSDI.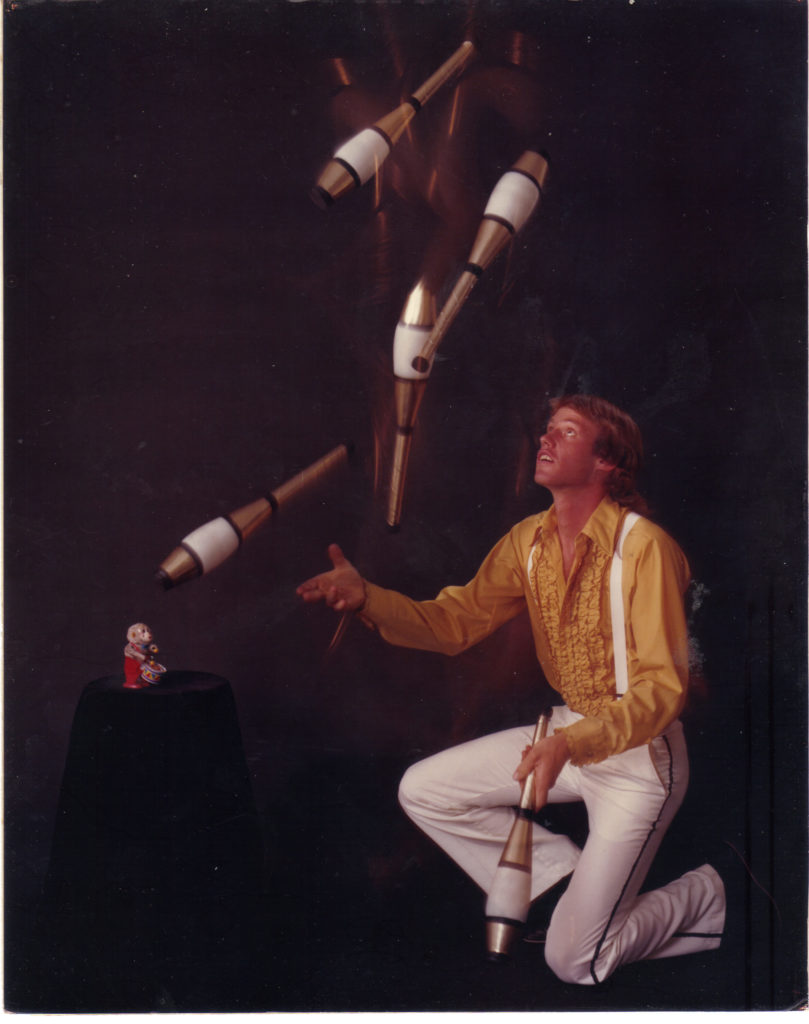 In fact, I had been working on my ball juggling while in the van sitting on my bed. It was going very good. I decided to work on my club juggling outside. It went terrible. I took so long to do ten throws from the right hand and my fancy finish.
I would mess up, I would say, "fuck you" to myself. Yes, self-anger. Like my believing my mom would never die, I always believe I will get my juggling back. What the hell am I doing, wasting my time until I die?
As happened last week, for some reason, when I email you the link to my blog, some come back saying the email was blocked. I try again from a different connection, and more go through. Do you have any idea why this might be happening?
If at any time you don't get a notification on the release of the blog, you can always go to kitsummers.com/blog to read the current (and older) blog. The blog comes out every Friday, except this one. As I wrote above, I was not near any wifi to get my blog to you on Friday, so, here I am.
Lately I have been writing of death and dying, something each of us will eventually go through, yet we seldom talk of death. With all my loses in life and mistakes made, it would be an easy way to not deal with things any more.
Yet, I have come to the decision that that would be a lazy and easy way out, I am up to continue the challenges that life brings upon us. My mom died a couple of years back, this made me realize that death is coming. She was dying in San Diego, I was near Allentown, Pennsylvania.
The whole time she was in the hospital I never imagined that the last of her days was coming soon. No one contacted me when she finally did die, I had called the hospital to talk with her, the nurse said, "Didn't you hear? Your mom died."
==================
Words to inspire you!
From my book series, Beyond Your Potential.
"After my big accident, when I loosened up and brought on fun and play in my life, I saw the most progress in my life. Let go of some of those adult feelings that hold you back in your life.
You can still be mature about your responsibilities on the job and with your life. By bringing back the fun, the curiosity, and the joy, not only will you have more delight in your life, everyone you deal with will loosen up.
We live in an age that requires change, innovation, clear thinking, and creativity. The factors involved in humor require similar skills – play, exaggeration, associative thinking, reversal, developing spontaneity and comic vision."
===================
MY DAILY JOTTINGS >>
11/30—Spent most of the day at the library. I worked on my juggling out on the grass, spent time on my computer, and more time thinking of you.
12/1—The day was spent doing some juggling and much time on the computer. It is now 6:14pm and I will go out soon to find out where I will park to sleep tonight. Feeling strange about that, feeling very alone and homeless, for some reason.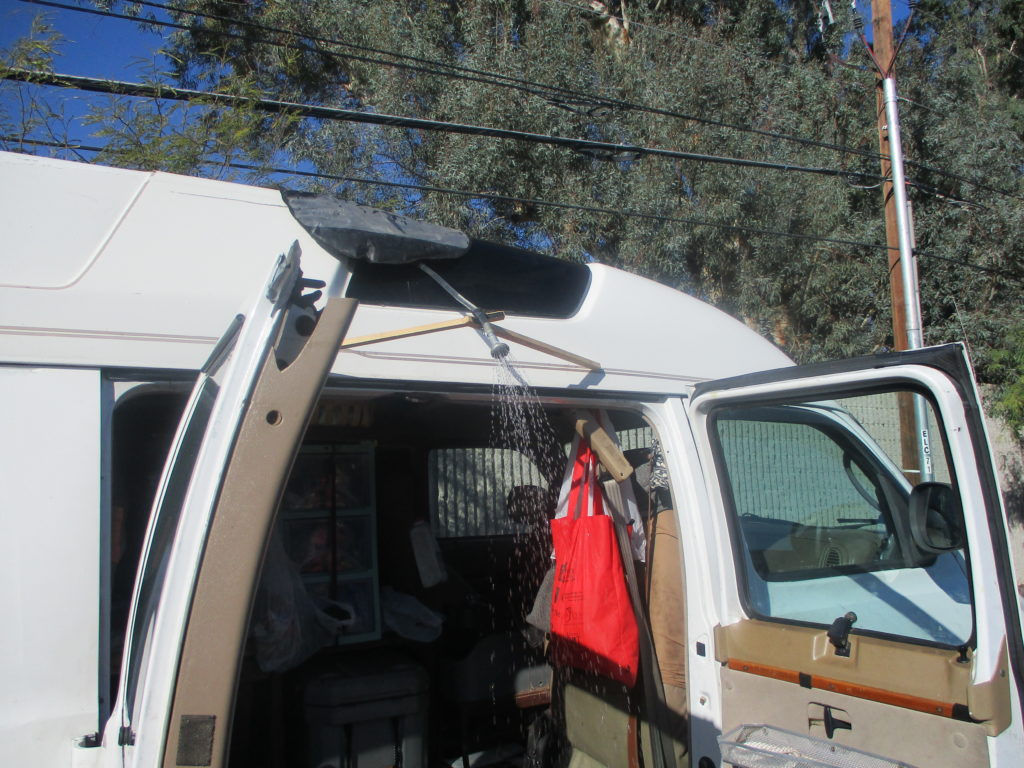 This is the shower system I set up
12/2—When you awaken at 2am and know you are up for the day, you have much time to spend doing "what"? Then my mind went toward a negative tilt, all kinds of dark thoughts came in. A hard thing to go through.
The last question in my mind – "What am I doing with my life?" Questioning life and my living lately. It seems so much easier to fad out and go away. But, I've said that before, I am still here (really.)
Strange, I have all day with nothing to do, just wondering how I will be setting things up. I am still in Tucson awaiting some mail, and on Wednesday I can go to the food bank to get some more.
I've thought much about Tina today. I am so happy her and Bob found each other, they will be marrying. But, my mind goes both ways, she has cut me off and will not connect with me on any channels, which hurts, much. I will always want the best for her, but I still cry.
Then I thought about all the people who no longer like me (yes, getting down on myself, much.) Some old friends who I thought were friends for life, no longer want to connect with me. Most of these people I do not know what it is that keeps them away. There I go again, downing myself.
I'm glad you are there and like me.
If fact, I do not even know why I am writing about my troubles, we all have them. I guess I am just letting my thoughts flow.
12/3—As you saw, yesterday I was way down-well-I'm back! My mind is getting back on track and I am thinking much better thoughts.
So, stay with me as I climb out of this hole I have dug myself into. You will be surprised as I climb higher and higher and get happier and happier. I hope my hope and climb out will inspire you to deal with your own difficulties in a good way.
This morning I used my wood burning stove to boil some water while in the van. I opened the side door to let smoke out, and I have jugs of water right next to the table. So, totally safe, and warms the van, too.
12/4—Feeling very strange today. I got my mail (thanks for sending, April. Thanks for catching, Dave) and I feel strange leaving the Tucson area. I've been in the area for a few weeks, I guess I will be on to new adventures?
I was going to head east and south, but I heard about a van get together for Christmas in Slab City, California. I just do not know what to do, I feel so lost. May I come to your house?
Still not happy about my life, but I am still seeing a bright future.
12/5—Stayed on a dirt road last night in the desert. Very quiet, calm and dark it was. I do love that. Drove into Gila Bend, Arizona, I like its name.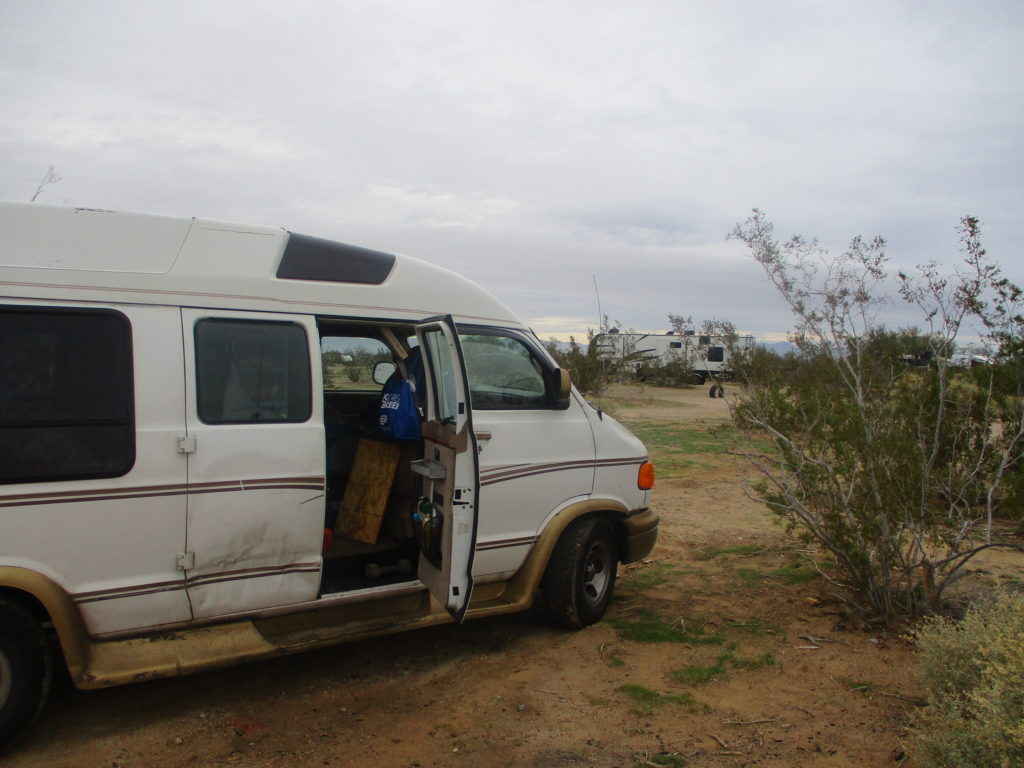 At the library now, working on some business stuff and writing to you.
And then on to Yuma, Arizona. At the library here, too, spending much time at libraries. As you would know, they are quiet and clean, a home away from home (wait, I bring my home with me.)
In fact, I will be spending the night here at the library. Good night for now.
12/6, 7 and 8—I've come to Slab City. I joined a group called Loners On Wheels, they have a get together during Christmas, so here I am. This place, Slab City, is unique.
The military had a base here in the '40s and all that remains are the slabs where the building were. The area is owned by California, but it would cost too much to have to clean up; no one knows what the military left underground around here.
There are parts of this place that are somewhat a mess, hippy type people often live in areas here. Quite large, this covers many acres. I am including some photos, have a look.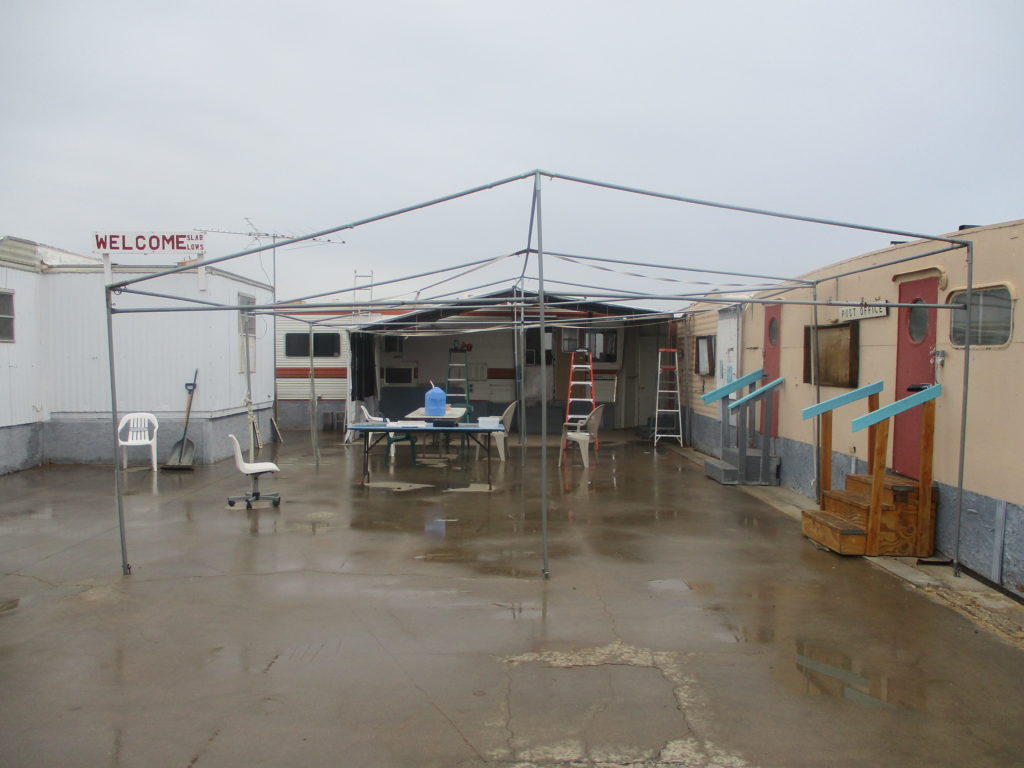 The other people here have motor homes or a rig on the back of a pickup. Satalight dish and a TV are common. There is no cost to stay here, that's a good thing.
Initially, I contacted John, who is a LOWs member and here for the season. There are about seven people here, including me, John, Jim, and Jane (all "J"s, boy.) At six in the evening we got together at the main meeting place and played "31", a card game I had not played before. I did win a few hands.
In the last week, I had gone by some food banks and acquired a lot of food. So, I brought it all into the main get-together place. Tonight, Jane will be making fish sticks and macaroni, which I brought tonight, and Jim will be using much to make our Christmas meal.
Today we went out to a local junk shop, much stuff on tables and the ground, very junky But, I found a rusty metal cookie sheet I want to use to support my new stick-stove while using it in the van. With a piece of wood to go underneath the metal sheet—one buck—I'm glad I found it. I have a gallon container of water within two feet, so it is safe.
This morning I made a batch of my salsa and I have a big bag of tortilla chips for us to consume. So, this evening at the get-together we will do just that. Today is Saturday, we had talked about having a Taco-Tuesday, so I guess we will be having that this Tuesday?
Let me know and I will send you the recipe for my delicious salsa. Quick and easy to make, you will love this tasty brew.
The rains have started. I am in the van typing, I like this. We are all getting together at 4pm, so looking forward to that.

===================
My Challenge for You this Week >>
Change one thing about your life that you do not like, no matter how big or small. We can all do that, and then keep making changes until life gets better and better. Make it a new habit—to get away from, or change, what you do not like in your life. This will bring on happiness and joy that will surprise you.
===============
Next Blog >>
I have no direction or plans after I leave the Slab, so, be surprised like me.