By writing this blog I want to inspire you and show you that–
• Change your life at any time to make it more magnificent!
• Live with little money and still have an excellent life.
• Be able to live life getting very little sleep.
• Live ANYWHERE in the world and still make your life a fantastic event!
• See experiences that will add to and make your life better.
• I want to inspire you as to the wonders of the earth.
• Perhaps this is my new "gig", traveling the world doing the same?
• And, I'm not just, "Kitting Around".
Design the life YOU want to live, NOW, then live that life.
*********************************************
***Remember, to read past blog posts, go to https://kitsummers.com/blog/
***If you are reading this through Facebook, check out my blog in on my website.
***If you are not my Facebook friend, yet, please befriend me.
***The freedom I am experiencing in my travels is a marvelous thing.
***Going where I want, when I want and seeing wonderful places and people.
***I will have places to show you and tales to tell.
***I will have secrets to unfold and good news!
I'm glad to take you on my journeys with me!
********************************************* *********************************************
The following is from my book series, Beyond Your Potential
The following are fifteen traits of you as the confident person you are:
If you don't already have these traits, they can be developed.
1 – You try new things. As you know, familiarity is the best teacher. Try new things all the time to allow you to evolve as a person.
2 – You accept change. You cannot get from it, change is the only invariable. As a highly confident person, you may not always like the changes occurring. Do your best to accept the changes and do your best to ride the wave of change?
3 – You have a strong sense of self. You have knowledge of what you like and what you don't. You have most likely built a strong sense of self by living a broad life and having a variety of experiences. Stretch yourself for more and new experiences all the time.
4 – You learn from your past without dwelling on the memories. The past will be a role in helping us move ahead in life, but not if we get fixed in your past.
5 – You go after your goals and dreams. Drive forward as you can toward your good future, always reaching for more toward your end results.
6 – You have a strong sense of individual limits. Don't attempt to satisfy others just to make them happy. You must see your results and keep yourself happy.
7 – You distinguish "mistakes" as learning opportunities. Don't beat yourself up for your mistakes; realize that every slip-up is a chance to learn ways to be more victorious the next time. As a juggler, when you drop the ball, pick it up, learn, and continue.
8 – You take risks. You make informed choices even if there is some risk involved. Know how to differentiate between a gamble and a risk. Get ready as much as they can and then go forward for those risks you feel are worth the effort.
9 – You refuse to be under self-pity. As a highly confident person, you refuse to let the difficulties make you feel victimized. Of course, you feel sorry for yourself at times, but it is important not to linger in self-pity.
10 – You can be alone with your own thoughts. Being on Earth can be quite a lonely place at times. Live your life without needing to fill every minute with the conversation with others or by use of technologies (cell phones, e-mail, texting, yelling really loud, etc.) After all, each of us is finding our own individual direction.
11 – You trust your instincts. Our mind will help guide us on our path to make the best decisions. Trusting your instincts helps you to make better choices; therefore, we have a better life.
12 – You take care of yourself. You must treat your body with esteem by giving it a high-quality diet in the form of healthy food, relaxation, fresh air, and activity.
13 – You enhance others, not degrade them. As a confident person, you don't feel the need to build yourself up by putting others down.
14 – You don't beat yourself up. Of course, you are not perfect. Even the most confident of us have frail moments. Dust yourself off and keep going.
15 – You celebrate your successes and the accomplishments of others. Truly confident people are not envious and backing away from other people's successes. They celebrate other's achievements. Now, it's time to get out there and do something incredible that you can rejoice in!
11/16/19—On the move south to Nogales. But, a slower go for me, there is no rush. Of course, warmer down there and very nice. I will go into Mexico, again, but leave the van on this side of the border.
On the way south I decided to see if there were any libraries, within two miles there was one in Sahuarita. A
very small library, I was able to plug in and use their wifi. Before I went in I cooked up the rest of the chicken tacos I had with me. Ummmm good, as usual.
On the way south again I saw a small sign of a park, Madera Canyon in the Coronado National Forest. I had to go, time for my wilderness fix. Going there was like going from Desert to Mountains, which it was.
Arriving about 5pm on a Saturday night, hardly any vehicles on the way, yet, I found that the campground was absolutely full. I saw a place to park for a picnic area, so here I am for the night.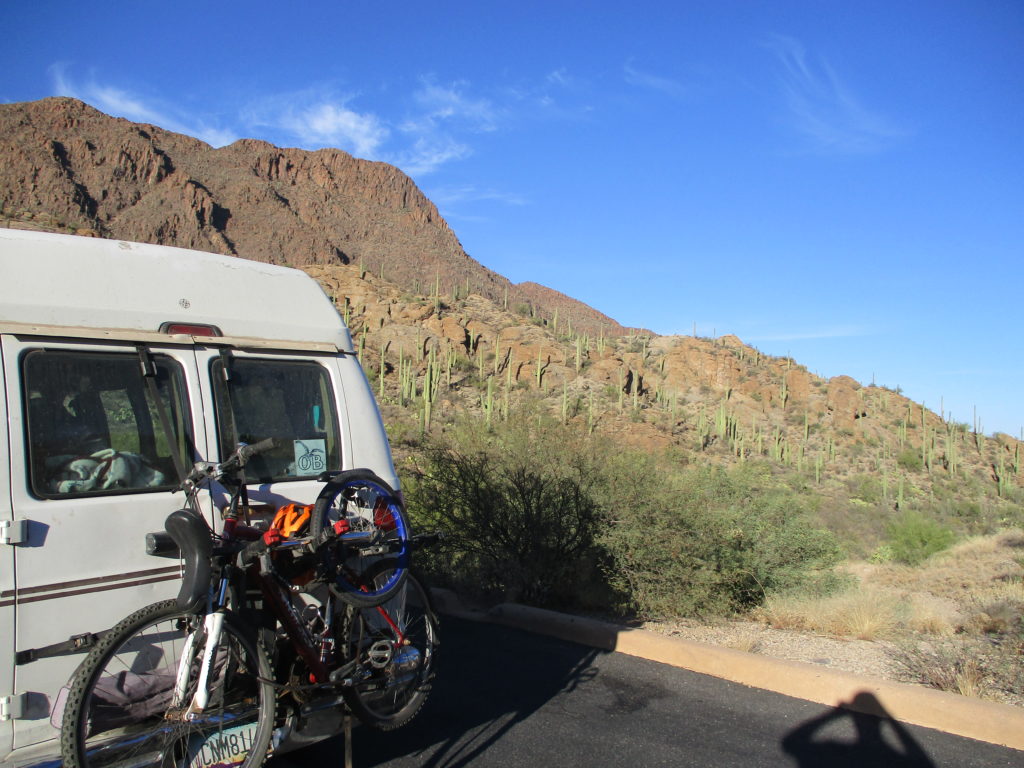 When I hit that deer it broke my front turn signal light. I found out to buy new from a parts store it would be able fifty bucks. I went to a used car part junkyard—ten bucks and there was a guy there who helped me to put it on. The van continues to run excellent, as I remain a happy man.
6pm, typing to you offline on battery power. I am finding that all libraries and most all McDonald's have outlets to plug in to charge my computer; a good thing. Dark and quiet, should sleep well tonight, as I hope you do, too.
11/17—What a wonderful night and day! I was able to cut my hair, shower, use my new Lixada stove, and exercise.
The stove is amazing. No more buying fuel to cook, take a look >>
https://www.amazon.com/gp/product/B00O6RRR3Q/ref=ppx_yo_dt_b_asin_title_o01_s00?ie=UTF8&psc=1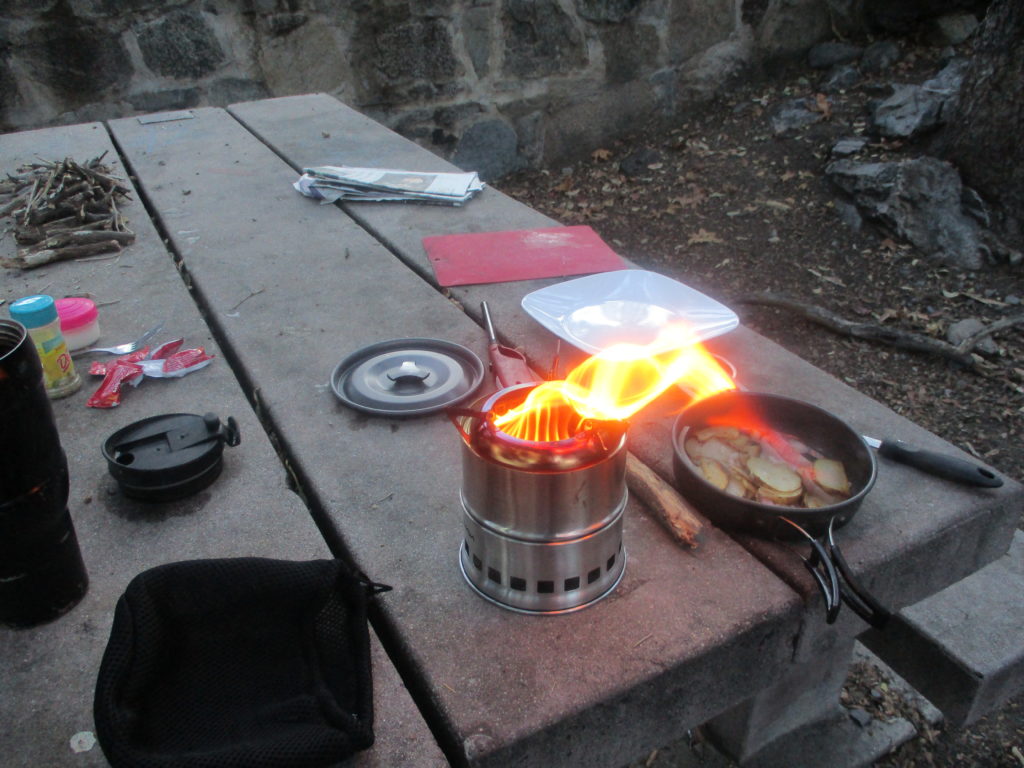 .
.
.
.
.
.
.
.
.
.
.
..
.
On awakening, I saw a deer. We starred at each other for some time. That made my day! Also, as I was packing up to leave I saw a boy scout troop who were camping. So great to see! From the age of 15 to 18, I was a boy scout and I think it added much to my life.
In driving in southern Arizona, I am so happy they have their signs in Metric, Kilometers, that is. The metric system is such a better way of measurement, all America should make the conversion to metric.
On the way south I stopped by Tubac Presidio State Park. Much history here, glad I went. This town of Tubac has so many touristy stores, it's a wonder so many can stay in business. Sunday today, I did not even see many people on the streets.
Here is my cracked windshield. The crack happens to be right in my line of sight. I will have to save up for a new one, but it might be a few months. 
Further south I go into the town of Nogales. It is like I am in Mexico, already, the common language is Spanish, and much of the look is like in Mexico.
I wanted to find a local park to stay for the night, and also that had some grass to do some juggling. Looked at a few, too small. Saw a very large one on GPS, it turned out to be a cemetery. Not quite the place for me, did you know? I am still alive?
Found a place with many baseball fields, perfect. Arriving early, about 3pm. I ate my salad and some chips and salsa, that will be enough food for the evening. Did some juggling out on the grass, the juggling is getting better and better; surprising me.
There is NO one around, should be quiet and dark here tonight, I like it. Still, light out, I will go out now and do some more juggling.
Just back from an hour of juggling. I see now that if I put in the effort I can get much back, feels so good. How about you, how is your juggling?
As my juggling is improving, I can feel my whole being improving, so good. Did you know of the benefits of juggling?
Take a look, you will want to start juggling >>
http://jugglefit.com/jf_benefits.html
https://www.lifehack.org/articles/lifestyle/learn-how-to-juggle-and-improve-your-brains-power.html
11/18—Alone in a park all night, very quiet very dark, slept well. At about 6 am I went to McDonald's to get online. Already busy here, this is the busiest McDonald's I have seen.
Both kids and adults, for a Monday morning, it is surprising.
All the people working here are bilingual, they have to be, the Spanish language is spoken more than English around here.
So, I took a jaunt over the border into Mexico for a couple of hours. Strange, I have been to Mexico soooo many times, this time I was extra careful everything went right, for some reason. Nice to be in a foreign country today.
I parked in a lot that charges three bucks to park. I thought it safer, that way. Weird, though, this part of the US looks just like Mexico looks right over the border. A walk over the border and seeing much tourist stuff. Did some walking around, didn't buy anything, but nice to visit.
After retrieving my van, I was off to Patagonia (I like that name) and to the library in town. Then, even further to another library in a very small town. These libraries only had a couple of people at them. So, hard to determine if all libraries are necessary. What do you think?
11/19—Cold and rainy in Arizona where I currently am, in the town of Benson. I thought it was always supposed to be nice weather down here? Stayed in the library on my computer most of the day.
Here is the border wall. It looks to be one of the older ones. Could you climb that? 
11/20—I've been spending some days down in Benson, Arizona. Needed gas so I am back up in Tucson. I went to Costco and filled up, also went to the store and filled up on samples of food. A cheap way to get a meal, I must admit.
I had a load, so I went to a laundromat today and everything is clean, even washed my bedding. Feels nice. But, I'm sure you don't want to read about me washing my clothes (or, do you?)
Then, just because I have to often, I took off for Coronado National Park. I took a road up, which turned into a dirt road, found a turn-off and here I am for the night. It's been raining some, so, no fire for me tonight.
In looking through my food, there is enough to last me for at least a few weeks. Oh, also at Costco I got a bag of ice (20 pounds, $2 – at Walmart 10 pounds, $2.) Along with that, I had wanted to get Corona Light, but they did not have any, so I got a case of Miller Lite, smiling as I type.
So, at 4pm, here I am up in the hills as I type to you on battery power and no internet for miles. I found a very level place to park, which helps with sleep. I hear raindrops falling on the van roof, I saw that it should go on all night.
A big salad for dinner, with lettuce, tomato, broccoli, mushrooms—very tasty.
Did some juggling today, not much though, hard to juggle with rain coming down. Also, unicycling or bicycling are out. I actually can juggle in my van while sitting on my bed and juggling over the table across from me. This was I do not have to reach down very far to get a dropped ball (yes, I admit, I drop sometimes.)
After my tasty salad I cooked up a can of Dolmas vine leaves stuffed with rice, comes in a classy can. Yes, I am eating quite well.
11/22—I've been back in the Tucson area.
Fixed a headlight that had a burnt bulb. I am keeping the van up to a high level.
Currently at a library. Friday, of course, preparing this blog for your eyes. Over the last couple of days, I have been feeling lonely. Of course, many people around me, but I am alone.
What does the future hold? But, then again, what does the future hold for anyone? It is what we make our future to be, yet, I am unsure.
My Challenge for You this Week >>
Spend most of this week with a smile on your face. You will make others feel better with your joy, and, more important, you will make you feel better.
Next Blog >> Staying to the south for the heat, do not have direction now (do you?)