With my words, I hope to throw some oblique light upon your life.
I want to inspire you to see life in a different and/or better way.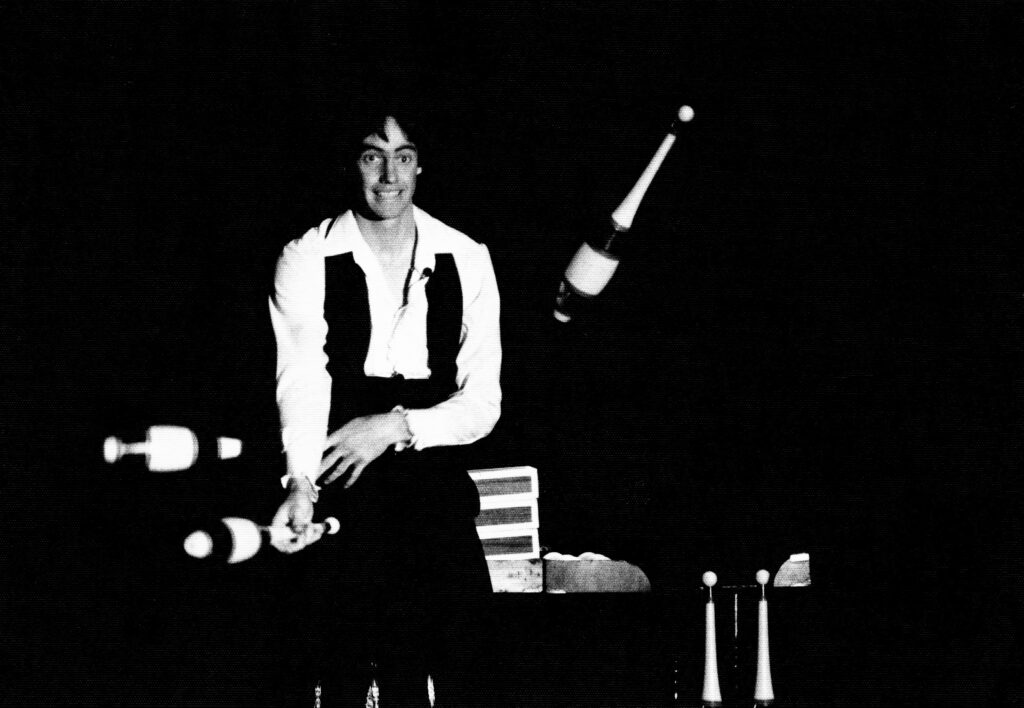 *** To read past blog posts, go to >> kitsummers.com/blog/
*** If you are reading this through Facebook, check out my blog on my website.
*** If you are not my Facebook friend yet, please, befriend me.
*** Thank you, my wife, Beth, for editing and adding to each weekly blog.
*** I was hit by two different trucks, one involving a 37-day coma.
*** The happiness I am experiencing in my life is a marvelous thing!
*** I will have places to show you and tales to tell.
*** Secrets to unfold and good news!
BE TAKEN AWAY WITH ME
ON WONDERFUL ADVENTURES!
********************
INTRO TO THIS WEEK
Not much happened this week.
In fact, I was not even going to put out a blog this week, but feel that I have to.
Next week I will work hard for you to put out some good words.
LIFE IS HAPPENING ALL THE TIME – ARE YOU KEEPING UP?
********************
WORDS TO INSPIRE YOU! >>
Inspirational quotes and motivational sayings have an amazing ability to change the way we feel about life and can change our thinking.
I find them so interesting, challenging, and important on our path to joy and happiness and finding ways to inspire ourselves and others.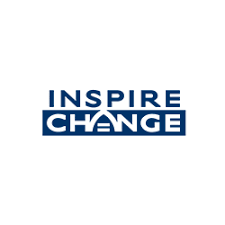 Inspirational quotes and ideas give us a quick and timely burst of wisdom to get our focus back, offering the inspiration needed for the day or occasion.
I hope to inspire you with my words. Words have power.
Are you accomplishing what you want before your eventual death?
At any age, you can (and should) make changes to make your life better.
How you think and feel about yourself, including your beliefs and expectations about what is possible for you, determines everything that happens in your life. It all derives from your quality of thinking.
When you improve the quality of your thinking,
you change the quality of your life—sometimes instantly!
Just as positive words can make someone smile, and/or a well-timed amusing quote can make someone laugh, your thoughts react to the world in real-time. You have this control!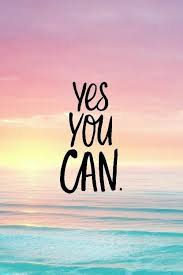 You have complete control over only one thing in the universe — Your Thinking — and that's where motivational quotes come in!
To keep your motivation, you have to use each day as an opportunity for improvement, to be better, and to get a little bit closer to your goals. It might sound like a lot of work—and with your busy schedule—next to impossible. But you can do it!
Self-talk is so important—THINK RIGHT!
Motivational words, yes, they're just words.
But they're positive words; they will keep you on track.
Don't forget, you are only as young as the last time you changed your mind!
Keep your thoughts and self-talk fun and productive, and always reach for more advancement.
Even if you start late, are uncertain, and/or different –
YOU CAN STILL FIND SUCCESS!
VERY LITTLE IS NEEDED TO MAKE A GREAT LIFE.
********************
I HOPE THE FOLLOWING WORDS INSPIRE YOU >>
Don't forget, you are the best.
Always remember that.
STOP MAKING EXCUSES—YOU'RE THE ONLY ONE STOPPING YOU!
COMPOSE A NOBLE BOOK AND WRITE A BEST-SELLER.
YOU ARE AMAZING—PLAY YOUR PART!
********************
MY DAILY JOTTINGS >>
10/1—The big storm turned out to be nil. This often happens with big storms; the media says the worst it could be, then it is small.
10/5—Beth took me out for Mexican food; how nice. But it was plain and did not have much taste. I have made Mexican, good Mexican, anyone can do it. It just surprises me that any restaurant would just serve food as we had.
It all goes back to reaching for excellence.
Tonight was a cast party for the show I was recently a part of. Great to see all the people I worked with to put on a superb show.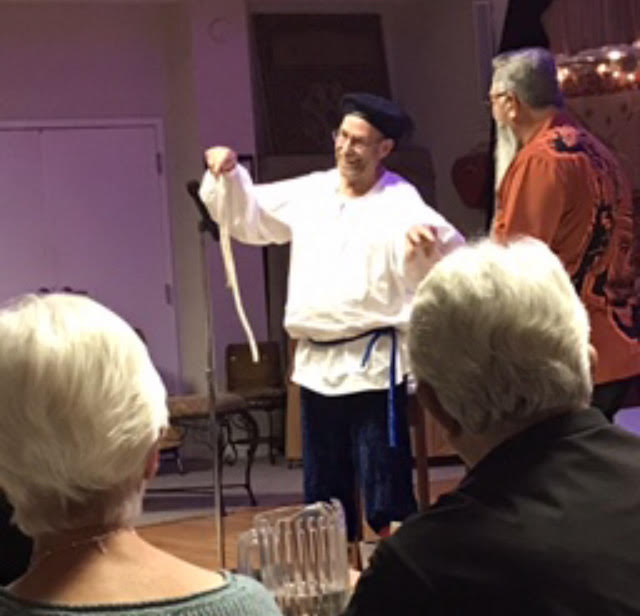 10/6—SHOWTIME for Kit. The show at the local library went quite well. It's been some time since I performed, and it felt good. A small audience, but they seemed to love it.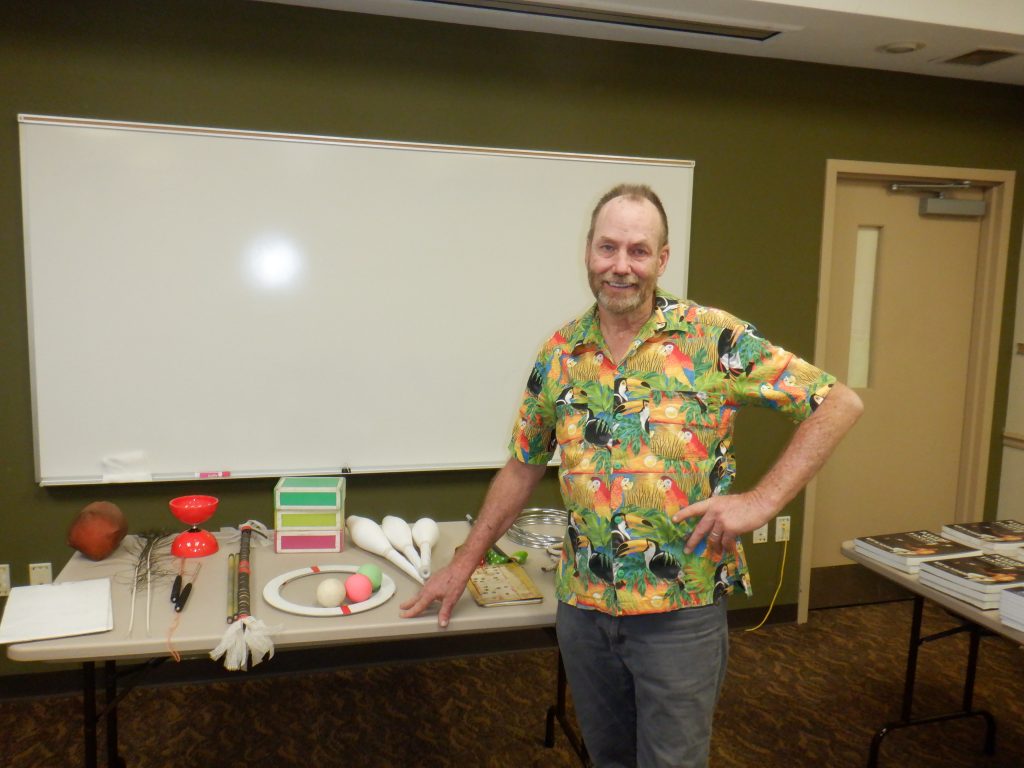 Beth wrote this for the local paper >>
"The McCormick County Library recently hosted local author Kit Summers, a motivational speaker who has had a most interesting life.
At 23 years old, Kit was headlining at Bally's in Atlantic City and was noted as one of the top 20 jugglers in the USA. He was one of 6 jugglers who could juggle 7 clubs, which at the time was a world record.
Kit entertained the audience with some magic tricks, some juggling, but mostly with his life story of being hit by a truck at the peak of his career, putting him into a 37-day coma. He had to learn to walk, talk, eat and juggle all over again, but with persistence, he proved that we all have what it takes to live a life of excellence. If you want something, you should set goals, plan your future, and love what you do. Kit's life has been spent trying to help other people realize their potential.
For the past six years, Kit has traveled the country living in his van and writing a weekly blog to inspire others. He stopped at all of the national parks in every state except Alaska, but he is saving that one to go with his new wife. (He visited Hawaii's national parks previous to his van travels)
As he traveled, he stopped at local libraries to use their Wi-Fi. Going from Florida to Texas, he came to McCormick to visit a new friend, Gary DuTeau, in Plum Branch, whom he met through his blog. Kit went to the McCormick Library to use their WiFi and met a librarian who was retiring in a week. They struck up a conversation, then a friendship, and they are happily married as of 2/22/22. Kit is now a resident of McCormick county and plans to share his story in other venues throughout the area.
Kit has published 3 books, which he made available to the audience. To learn more about Kit Summers, visit his website at >> kitsummers.com."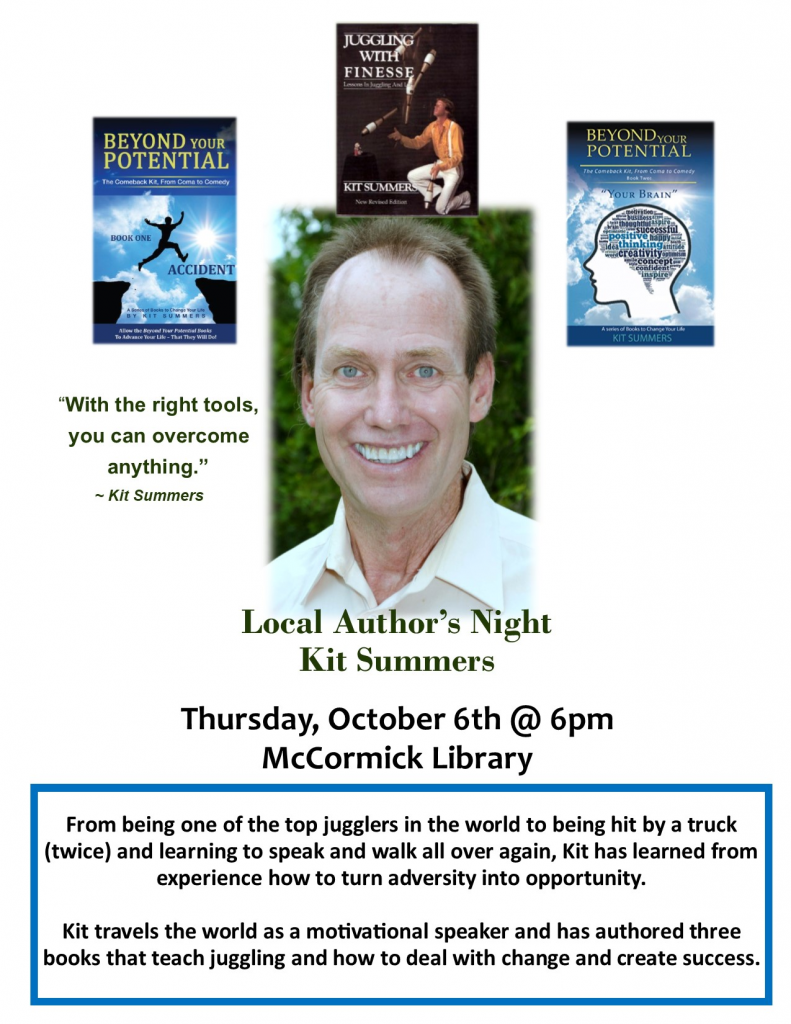 10/7—Today, I worked on the new bunny hutch. I will be building this to be able to hold 7 rabbits comfortably. As usual, with no directions, I am finding my way.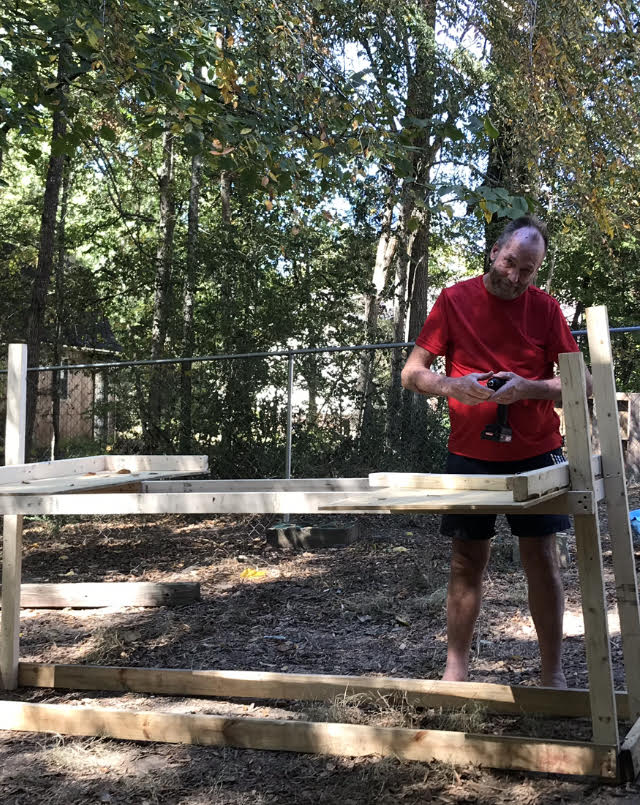 With various things I have built, I have metal screening with very sharp portions. I keep leaking (getting jabbed, blood flowing.)
******************
YOUR CHALLENGE FOR THE WEEK >>
For a few days this week, go for some long walks, preferably in the wilderness. This will be good for your body and mind.
*******************
NEXT BLOG >>
On Wednesday, I will be going in for surgery on my hand. About once a day I have some massive pain in just one small area in my hand. The pain is always in the same place. The doctor said it was a "mass", he will remove that.
*******************
THIS WEEK,
MAKE YOUR LIFE
SOMETHING
THAT YOU CAN
WRITE ABOUT!