With my words, I hope to throw some oblique light upon your life.
I want to inspire you to see life in a different and/or better way.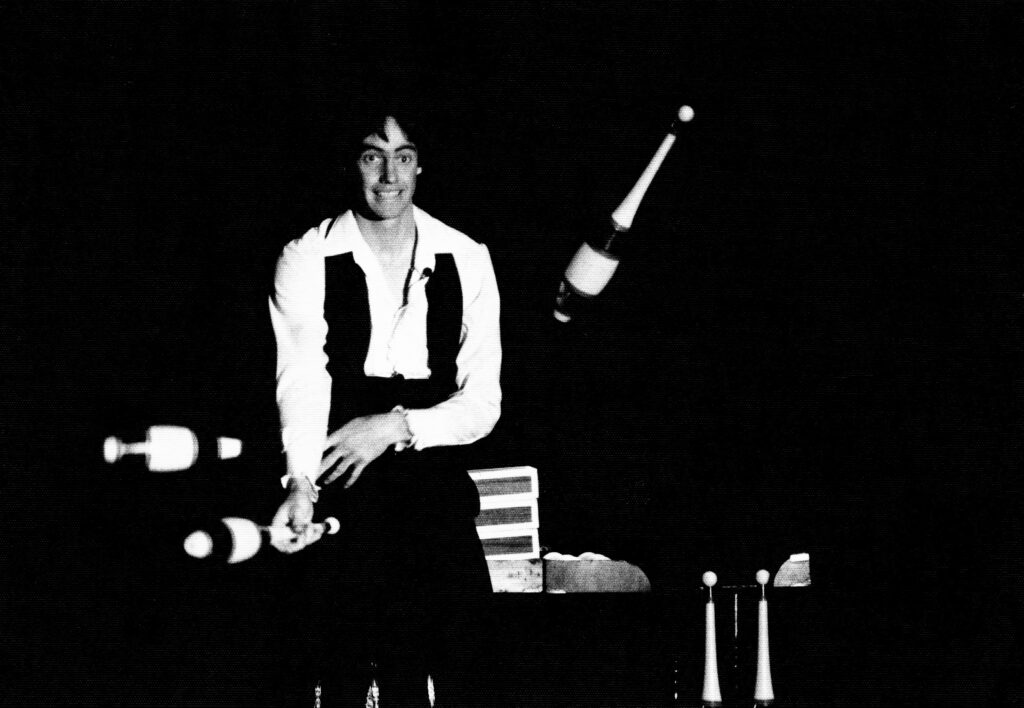 *** To read past blog posts, go to >> kitsummers.com/blog/
*** If you are reading this through Facebook, check out my blog on my website.
*** If you are not my Facebook friend yet, please, befriend me.
*** Thank you, my wife, Beth, for editing and adding to each weekly blog.
*** I was hit by two different trucks, one involving a 37-day coma.
*** The happiness I am experiencing in my life is a marvelous thing!
*** I will have places to show you and tales to tell.
*** Secrets to unfold and good news!
BE TAKEN AWAY WITH ME
ON WONDERFUL ADVENTURES!
********************
INTRO TO THIS WEEK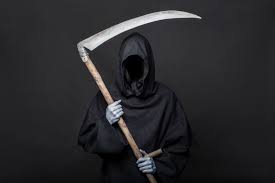 As I have heard before,
"I'm dying! – but so are you."
When I was young I never even thought about death and that it might happen to me. Although, because of some major accidents, I have been at death's door a few times. Of course, this made me think of my upcoming death.

Being older now, of course, I see death coming. More and more friends are passing away. This gives me the drive to push ahead and do all I can to make a better life for myself, as well as others.
How about you?
Do you ever think about your death?
Are you doing as much as you can now to add to the world?
It's a harsh reality, but there is no reliable evidence that anything happens to us after death other than returning our atoms to the universe for reuse. After death, there is nothing more, kaput you are.
Personally, I think cemeteries are a waste of space on our small Earth. And, I think cremation is a waste of energies. Billions of graves in the world, holding onto the memories is good, taking of space is not.
For myself, after death, I would like my body to be lay-ed out in the wilderness naked so that bugs and small animals can feast on my remains. First, though, any parts of me that can help someone else shall be taken from my body and used.

---
LIFE IS HAPPENING ALL THE TIME – ARE YOU KEEPING UP?
********************
WORDS TO INSPIRE YOU! >>
Inspirational quotes and motivational sayings have an amazing ability to change the way we feel about life and can change our thinking.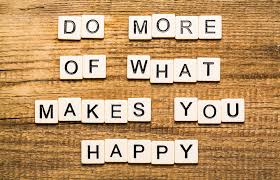 I find them so interesting, challenging, and important on our path to joy and happiness and finding ways to inspire ourselves and others.
Inspirational quotes and ideas give us a quick and timely burst of wisdom to get our focus back, offering the inspiration needed for the day or occasion.
I hope to inspire you with my words. Words have power.
Are you accomplishing what you want before your eventual death?
At any age, you can (and should) make changes to make your life better.
How you think and feel about yourself, including your beliefs and expectations about what is possible for you, determines everything that happens in your life. It all derives from your quality of thinking.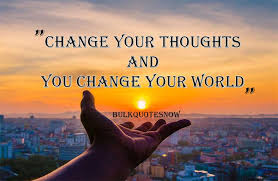 When you improve the quality of your thinking,
you change the quality of your life—sometimes instantly!
Just as positive words can make someone smile, and/or a well-timed amusing quote can make someone laugh, your thoughts react to the world in real-time. You have this control!
You have complete control over only one thing in the universe — Your Thinking — and that's where motivational quotes come in!
To keep your motivation, you have to use each day as an opportunity for improvement, to be better, and to get a little bit closer to your goals. It might sound like a lot of work—and with your busy schedule—next to impossible. But you can do it!
Self-talk is so important—THINK RIGHT!
Motivational words, yes, they're just words.
But they're positive words; they will keep you on track.
Don't forget, you are only as young as the last time you changed your mind!
Keep your thoughts and self-talk fun and productive, and always reach for more advancement.
Even if you start late, are uncertain, and/or different –
YOU CAN STILL FIND SUCCESS!
VERY LITTLE IS NEEDED TO MAKE A GREAT LIFE.
********************
I HOPE THE FOLLOWING WORDS INSPIRE YOU >>
Think of your death as a motivation to get as much done as you can in the "ONLY" life you have. If you have not done anything to add to your legacy (even helping desperate people), you should not be allowed to die. — Kit Summers
STOP MAKING EXCUSES—YOU'RE THE ONLY ONE STOPPING YOU!
COMPOSE A NOBLE BOOK AND WRITE A BEST-SELLER.
YOU ARE AMAZING—PLAY YOUR PART!
********************
MY DAILY JOTTINGS >>
9/25—Beth's Happy Birthday Day! Dunkin Donuts is on the list for Birthday joy.
Yet, they were out of one of Beth's favorites, no more custard filled. We have to drive a distance to get to any donut shop, so this is a special treat. For me, spending time with Beth is a joy.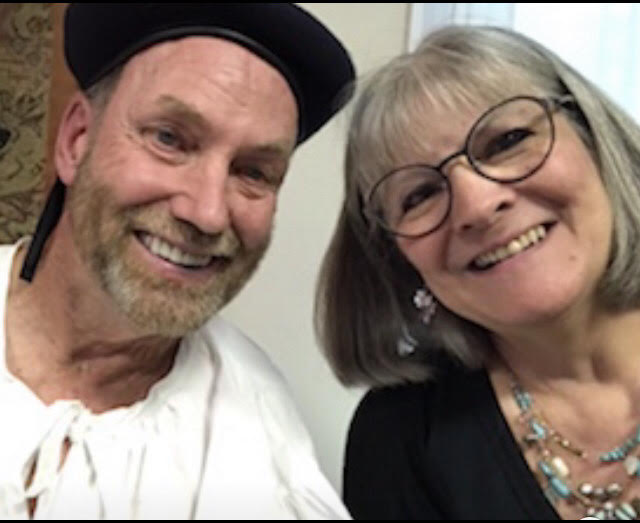 9/26—As I was out doing stuff, I was wearing shorts that had small pockets. My wallet was in one of them, but that didn't last. Somewhere it fell out and, once again, I started planning to replace it and all the stuff in it.
This happened not too long ago, so, perhaps, I am used to it? In the morning on the following day, I got a call from Rusty—he had found my wallet! We met up, and I got all back, including the $65 bucks inside.
I gave Rusty a copy of my book and Beth had just made some chocolate chip cookies, which he loved.
Rusty did the right thing, as I would do.
I hope you would return a wallet with everything in it, too.
Beth continues to enjoy quilting.
Here is a display of Beth's quilt collection >>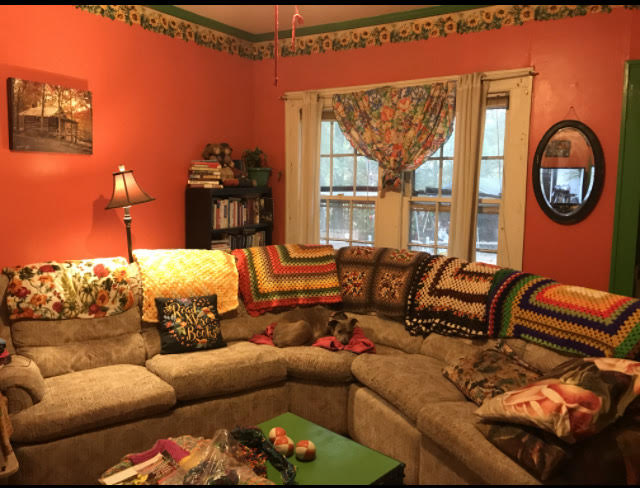 9/28-30—I am performing!
Juggling, magic, and comedy for the three nights at this church dinner theater. All three nights were sold out; great audiences are there. I love performing and would like to go back to doing more.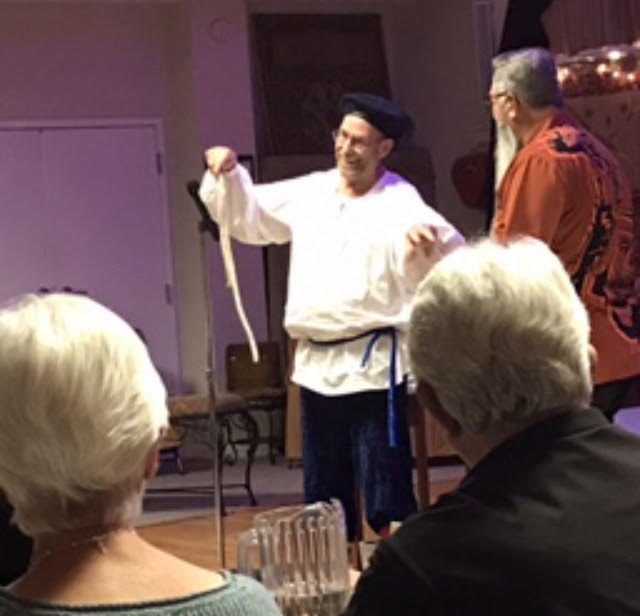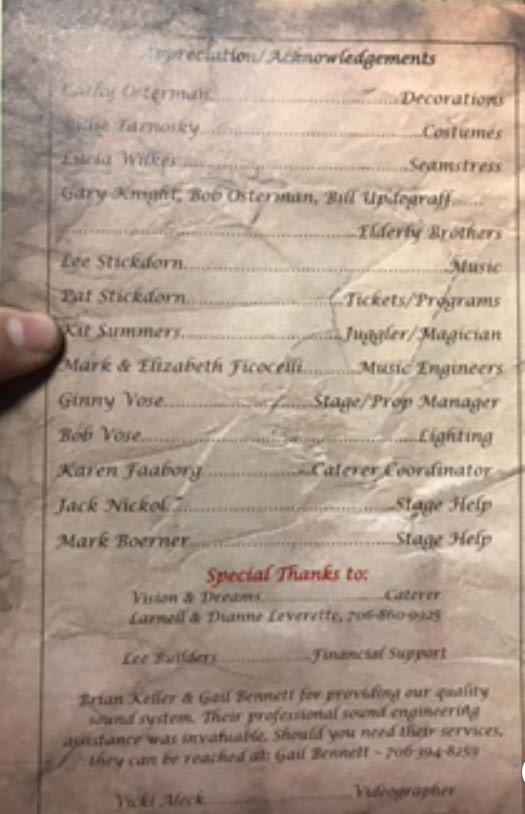 Here is more about the event >>
https://www.facebook.com/events/good-shepherd-catholic-church-mccormick-sc/renaissance-romance-play/469943297980327/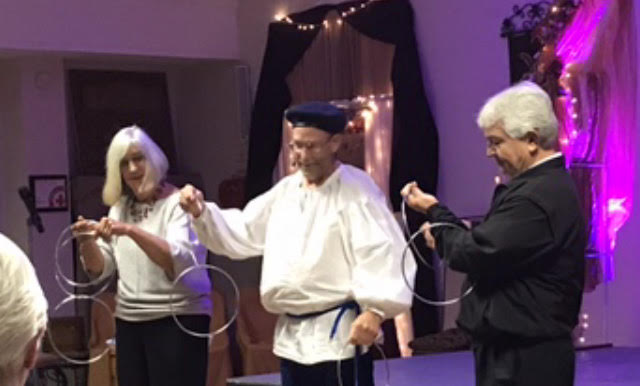 The storm has struck. Today we are expecting a lot of wind and rain. We have battened down the hatches and are ready.
So, today I prepared things for the upcoming storm. There is a chance that power will be out, so I set up two camping stoves to heat food when needed. As you know, for about six years I lived in and traveled in my van all over the US. I was totally off-grid, so I know how to handle things.
*******************
YOUR CHALLENGE FOR THE WEEK >>
The other day I was out walking and, ahead of me, I saw some trash on the sidewalk. Knowing there would be a trash can in the route ahead, I picked up this trash and deposited it into the can as I passed.
If everyone did something small like this to clean up the world, we would have a better earth. Please do.
*******************
NEXT BLOG >>
You will read the result of what happened to us through this massive storm that is predicted.
*******************
THIS WEEK,
MAKE YOUR LIFE
SOMETHING
THAT YOU CAN
WRITE ABOUT!