The Wanderings of Kit (Do you wander or just wonder?)
By writing this blog I want to inspire you and show you that–
YES, YOU CAN > >
Change your life at any time to make it more magnificent!
Live with little money and still have an excellent life.
Be able to live life getting very little sleep.
Live ANYWHERE in the world and still make your life a fantastic event!
See experiences that will add to and make your life better.
I want to inspire you as to the wonders of the earth.
Perhaps this is my new "gig", traveling the world doing the same?
Design the life YOU want to live, now, then live that life.
*********************************************
REMEMBER, TO READ PAST BLOG POSTS, GO TO*** >>
***https://kitsummers.com/blog/
***If you are reading this through Facebook or at my website,
I can send you the blog by email, which can have more photos.
Sent me an email and write "email blog" as the subject.
kitsummers@gmail.com
*** If you are not my Facebook friend, yet, please befriend me.
***The freedom I am experiencing in my travels is a marvelous thing.
***Going where I want, when I want and seeing wonderful places and people.
***With this blog I want to help open your mind to more of the splendor of the world.
***I will have places to show you and tales to tell.
***I will have secrets to unfold and good news!
I'm glad to take you on my journeys with me!
*****************************************
Hope you'​re​ enjoying my photos, and I desire that my words truly inspire you and help you move forward. Well, I need your help, now.
Awoken the other night by the park police because I was simply parked in a lot and sleeping. I said, "but I am not harming anything." I looked for my driver's license and could not find it, I keep an old one with me and they excepted that. Yes, they "have" to do their job.
​
They said I would have to go to the campground, so I did. Trying to get to sleep, I knew of the 700 miles I would have to drive over the next few days to meet up with my friend, Daniel Powell. I got back on the road.
Then, driving today I was about to pass a sign saying the speed limit was 80 (yes, they drive fast in Texas.) I wanted to take a photo for you to see, but I could not find the camera, anywhere.
Then I remembered I had the camera case at the last McDonalds to download photos and, I thought I was going into Mexico the next day, so I had put my driver's license and a twenty dollar bill inside with the camera.
You may remember this happened before, someone made off with my camera. I take a moment to go use the bathroom and boom. I trust people too much, expecting goodness. From now on I take my stuff with me.
The first camera was about $150. the second about $100 (all I could afford), all gone. Today I went to Costco for gas and also checked out their cameras. I found a good one there (well, you be the judge when you see future photos) but expensive.
I guess I expect people to be better, am I too positive?
I don't know what it will take to replace my driver's license, might be quite an expense.
As I've written before, I am able to do this because I receive Social Security Disability Income, only about nine hundred bucks a month, but with food and gas the only expenses I have now, I am able to do it.
But, with these new expenses and others, I need your help. Any financial support you could help with will be great. If you have a Pay Pal account, you can send an investment to me at kitsummmers@gmail.com.
Or, if you want to mail a check, please send it here (my daughter, April's house) >>
Kit Summers
136 North Cedar Street
Lititz, PA 17543
Thanks so much for any help you can give me.
******************************************************
4/25/19—So, I decided to head 50 miles north to Guadalupe National Park. Yet, it was Friday and I had a blog to publish and get out to you. The nearest Walmart (for their free wifi) was a little further north and a little west. Hope you enjoyed the read and photos.
​​The Walmart was in Carlsbad, New Mexico, so I even went to a different state. I looked on the map, what was between me and Guadalupe National Park? Why, directly on the way was
Carlsbad Caverns National Park!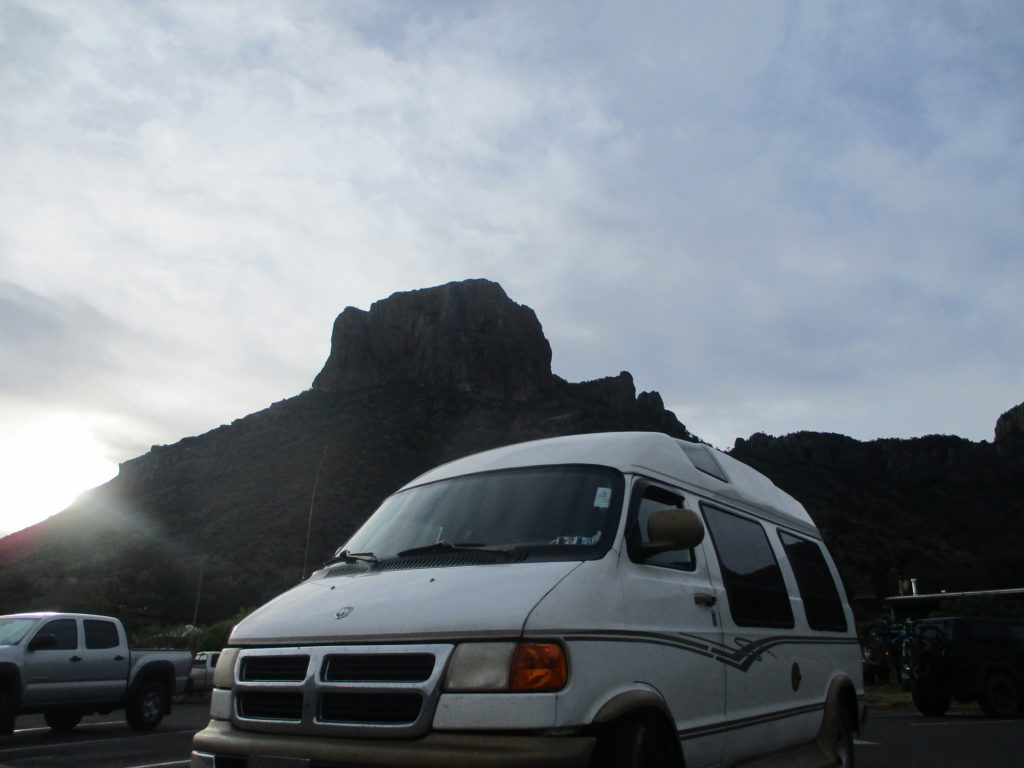 Arriving at about 4:33, the office was going to close at 5. I was told of a place off park grounds where I could park from free for the night for sleep. There I will be later.
Before that though, I was told that at 7pm a ranger will be taking a group down in the caverns to see bats exiting the cave for the night (the bats, not me, exiting for the night.)
7/26—And what an interesting night it was last night. About 30 people gathered at the entrance to the big cave to see the bats take off for the night. Before that, though, there were many sparrows flying around the same cave. I learned this sparrows nest right inside the cave for protection.
There was a forest ranger there describing things and answering questions. Very knowledgeable she was. A few things I learn was the bats take off sometimes 30 miles away. They have no idea how the bats find their way back to their cave.
Also, these bats fly south for the winter, they also do not know how they return home again from down south. The ranger said the bats are too small to put a tracker on. How about you, could you find your way home if you flew south?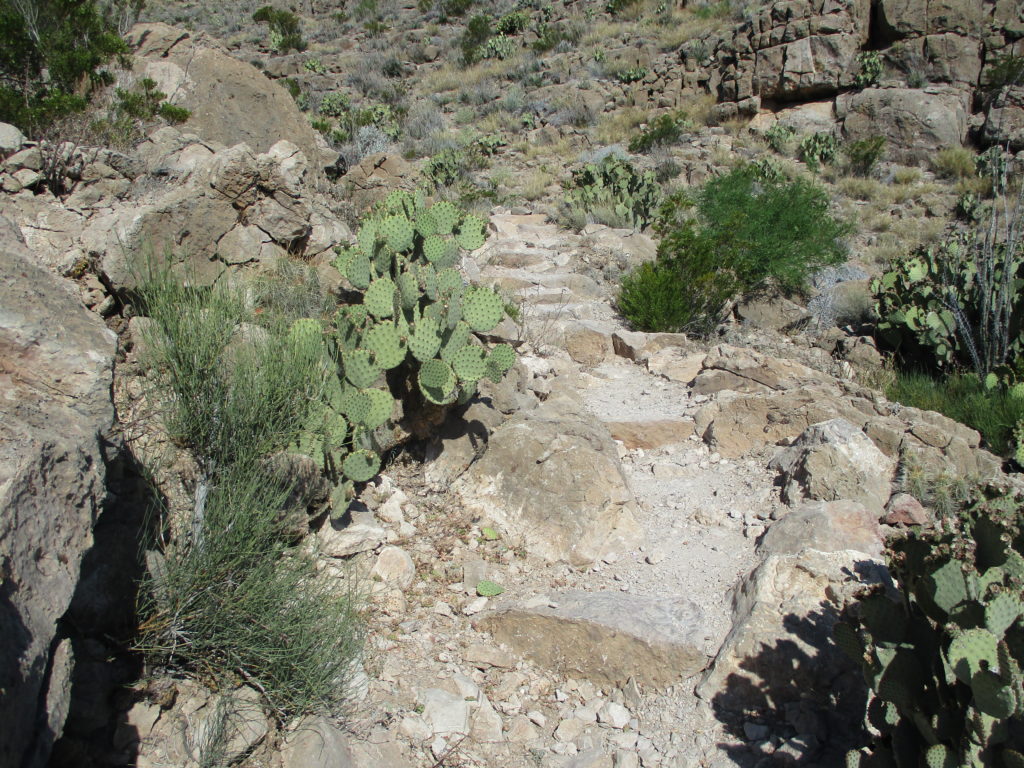 Hard to see, for me, the bats. I did see and meet Patti, a lovely lady who could see things better than I. We talked for a bit, she is a traveler like me, enjoying life. Her husband died not too long ago and she is enjoying her life on the road, with kids on each coast.
Yesterday a ranger told me of a road where I could park for the night about five miles away and won't be bothered, so I did. Slept well, until 4 am, at least, that makes a good sleep for me. I guess I could have just stayed parked in the parking lot of Carlsbad Caverns but might have been bothered.
Then I drove back to the park and did just that, "Parked." Once again, the English language is a strange beast—you can park your car to go see trees in the park? For breakfast, fried potatoes and onions, and a delicious breakfast it was.
5:50 now, the sun is making her appearance. Now, you tell me, is the sun a he or a she. Sun—Son, looks like "men" made it a guy I guess. I went down to the cave entrance. I think I saw a couple of bats going back into their home, harder to tell now as individual bats return. Now, these guys are tiny. (Patti, I wish you were here to help me see the bats.)
Also, right now I hear something over in the bushes. Hard to make out what it is, making a weird "cluck" sound. Have to tell you again, I love the wilderness.
Went down into the caverns this morning – quite amazing. I took some photos as you will see, but watch this video for more details >>>
https://www.youtube.com/watch?v=JSetTULlmcg
I walked for many kilometers, after a while it all looked about the same down there—stelag this and stelag that, so my brain said, "OK, what's next? There was an elevator to return the 850 feet to the surface, so I did. Going down and then up my ears popped from the pressure difference. Also, you can walk all the way down, but not me, this time.
At Guadalupe NP now, sitting under a tree at a picnic table writing to you, so nice. There are some hikes to go on, perhaps tomorrow morning. As you might be able to tell, I do like writing to you. Trying to think about what I might be doing instead? Well, here I am.
Dinner was can of chili with left-over Parmesan cheese, quite good, really. Topped off with a glass of wine, made for a superb evening.
4/27—This morning I went for a hike up to Devil's Hall Trail. Sorry to say, I didn't see the Devil, but I saw a lot of beautiful wilderness. The rocky climb was somewhat difficult for me, I did slip and fall as I stepped on some small rocks and they rolled under my shoe.
As I was on my way to the visitor center early morn, I came upon a mule deer, so good to see.
Photos or words from me could not tell enough how nice this place is >>
Watch >> https://www.youtube.com/watch?v=3rPuCEaxWAo
Driving many kilometers through Texas today, I was in the heart of oil country. Oil rigs on the right, oil rigs on the left.
I ended up in Midland, Texas, where I will spend the night. Perhaps I am spoiled from being in the parks, but I could not find ANYWHERE that did not have the sound of traffic. I found a small public park where I could sleep, at ten PM I was awoken by a cop who said someone called in and that I couldn't park there. Found a semi-quiet residential place where I got some shut-eye.
I needed some strapping tape, so I went to Staples to get some. Yet, I was an hour and a half early. It had been a few days and I was getting itchy, shower time. I have plastic covers I made to cover the side doors and no one can see me when they are open, so I did. Feels sooo great to be thoroughly clean, happy I am.
4/29—In Alpine, Texas. Last night I parked for the night in a park, yet, I soon discovered there is a train track nearby. Trains through the night, not for me. So I checked on GPS and found another park on the other side of town. As I went into the large park right away I saw a big rig RV, so I knew I could park there for the night. Quiet, dark, perfect.
When I awoke it was back to Big Bend National Park for me, a fabulous place. Dinner was spaghetti, delicious. In the evening I went for a nice hike.
Camping was full, no open spots. But, it doesn't really matter. It's only seven bucks, but that adds up. I simply picked a place in one of their parking lots and here I am for the night. Quiet, dark, who needs a campsite?
Also, you know how I love a big fire? I guess there were too many "big" fires in Texas, you cannot build one. That is the main reason I stay at campgrounds, to build a fire.
They do have wifi available, so here I am.
4/30—Slept well in the parking lot for the lodge. Like I've written before, why pay for a place to park and sleep in my van when I can park and sleep for free? Your eyes are closed anyway and you do not know where you are. Although I do like a big fire, that is why I pay for a campsite now and then.
Looks like today will be clear and sunny. I plan on going for some hikes today, I will let you know. And, that is what I did, some hiking around was nice.
Found a very quiet parking lot for sleep tonight. It is off the main thoroughfares, I do not expect any traffic. Should sleep well.
5-1-19—Last night was very comfortable, nice sleep. I've come upon a few people today who, like you, want to receive my blog.
Stayed around Chisos Basin area today hiking around and seeing this magnificent place. It is Wednesday and on Friday I can walk across the Rio Grande river to Mexico. Fri, Sat and Sun are the last days you can do this. They close much of the park because of the heat in the summer. Watch this for more about Chisos >>
https://www.youtube.com/watch?v=lkqgjEQ0Cyc
Yesterday I met Marty Reemer, who is also a juggler. Marty and his wife, Carol, had brought Carol's parents, Frank and Jane, out to this wonderful wilderness. Mostly a juggler back in college, Marty did some performing around Texas, I would have loved to see the show.
After talking for a bit, I was able to join them in going out to http://www.thestarlighttheatre.com/. This place is amazing – So hidden away, part Mexican, part cowboy—the food is magnificent. Marty, Carol, Frank and Jane, thank you for an amazing evening with you. I just have to say, it was a magical evening for me.
5/2—Am still at Chisos Basin, went to the campground and filled up my six one-gallon water containers. I just parked in a spot in the parking lot and slept. The campground had no shower, which I need so I will be using some of that water in my portable shower thing to get clean later.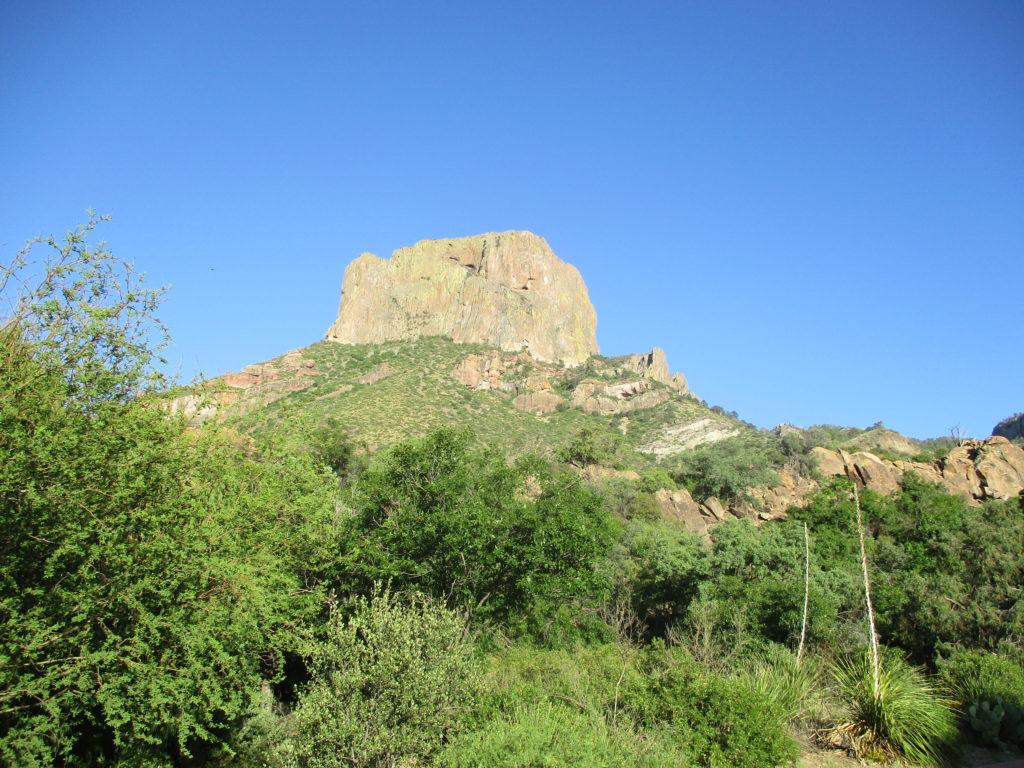 As you know, I like to find a deserted place where I can get naked and get very clean. And, no, no photos. I actually like to shower, next to the road naked, then in a bathroom.
Every day I am meeting new people who want to receive my blog. As I think, new friends. I saw Gabby Blomlie at her mini-van, where she is living. Another person loving the freedom of a home-on-wheels. Gabby is a remarkable young lady who is living the life that "she" wants (and quite pretty, too.)
Also, today I met Kathy Pickrell and her husband. More wonderful people who are on the list to receive my weekly blog.
By the way, I made sure I had plenty of gas before I came into the park this time.
Today I drove down to Rio Grande Village. I will sleep in the parking lot tonight, saving seven bucks which I would have to pay to be in the campground.
(I MISS YOU, TINA.)
Here is a video on crossing into Boquillas.
https://www.youtube.com/watch?v=s41O7tt8j8w
5/3—It ended up I didn't do the crossing. I've been to Mexico, I've crossed rivers, and I had to drive 700 miles in the next two days. So, off I went, I had connected with my friend, Daniel, and he wanted to meet me down the road at Saguaro National Forest in Arizona, currently my aim (I do hope he shows up.)
Driving into El Paso, Texas was awful. I have been spoiled by the park – so nice it was. Now – cars, people, traffic – YIKES. Then I moved into Las Cruces, New Mexico, much calmer. I think I will be here tonight.
Looks like I might be crossing the whole US, again, over 40 times I have gone east to west or west to east.