The Wanderings of Kit (Do you wander or just wonder?)
By writing ​​this blog I want to inspire you and show you that–
• Change your life at any time to make it more magnificent!
• Live with little money and still have an excellent life.
• Be able to live life getting very little sleep.
• Live ANYWHERE in the world and still make your life a fantastic event!
• See experiences that will add to and make your life better.
• I want to inspire you as to the wonders of the earth.
• Perhaps this is my new "gig", traveling the world doing the same?
• And, I'm not just, "Kitting Around".
Design the life YOU want to live, NOW, then live that life.
*******************************
***Remember, to read past blog posts, go to https://kitsummers.com/blog/
***If you are reading this through Facebook, check out my blog in on my website.
***If you are not my Facebook friend, yet, please befriend me.
***The freedom I am experiencing in my travels is a marvelous thing.
***Going where I want, when I want and seeing wonderful places and people.
***I will have places to show you and tales to tell.
***I will have secrets to unfold and good news!
I'm glad to take you on my journeys with me!
********************************************* *********************************************
The north rim of Grand Canyon National Park
Glen Canyon National Recreation Area
The Vermilion Cliffs National Monument
Wupatki—Sunset Crater Volcano National Monument
Each unique, amazing and beauteous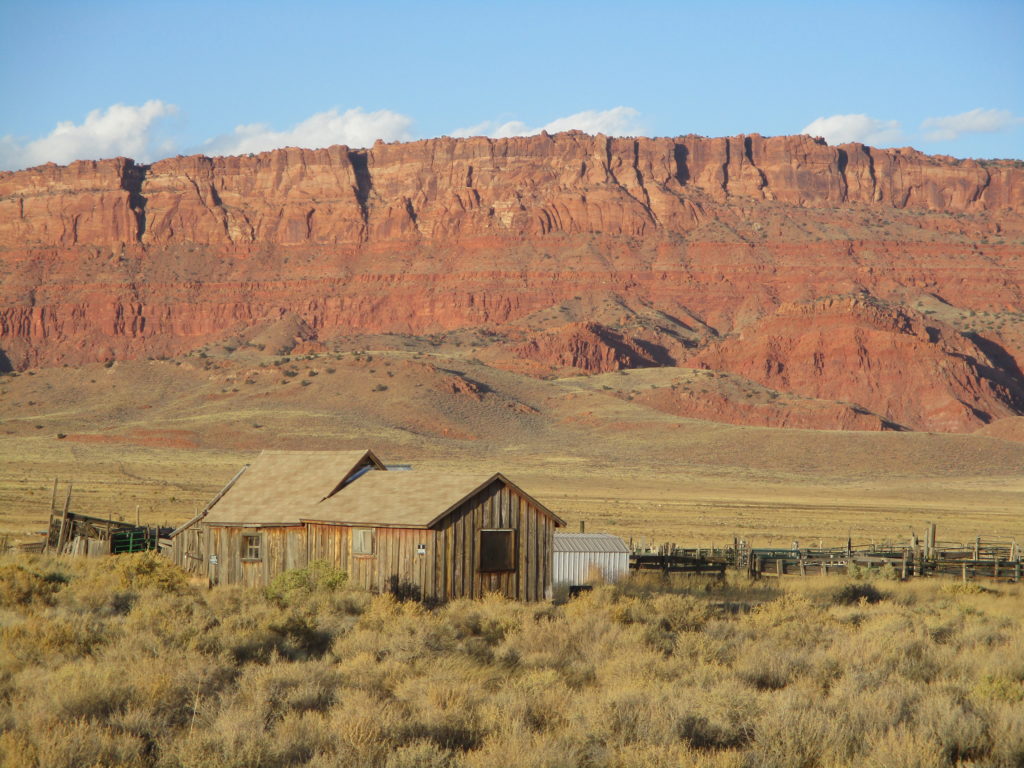 Too much Vegas, too much city. You know how much I like cities—none. So, to the south, I go, first to Costco to fill up on gas, then on the road. As you know, because I go to food banks and eat for cheap, there is not much cost there, my only costs are for fuel (and van repairs.)
Brand Hunt
, I want to thank you again for allowing me at the circus center and spending time.
The first stop, the town of Mesquite, toward the south. I am liking smaller cities, along with wilderness, of course. Arriving at about 4pm, I will be here for the night.
I went to a McDonald's to use their wifi, this place is so nice.
Over the years McDonald's has upgraded their fast food shacks much, you may have noticed? This one has wifi, electrical outlets, a maitre d', waiters, juggling entertainers, a sauna, a bar, a Jacuzzi, a dance floor, a dance band, and free burgers (well, outlets and wifi, anyway.)
Mesquite is more to the east, you see, my plan is to go to the north rim of the Grand Canyon, somewhere I have not been before. You will learn of it as I do.
===========================
From my book series, "Beyond Your Potential."
The power of your brain is phenomenal. You have the power to do things well beyond whatever you could ever imagine.
Your brain is a vast, largely mysterious source of energy and power; and when used correctly, you do wonders. You can alter your life at any time.
You can change your reality. We are continually learning new things about the brain and how it works. 
Because we know so little about how the brain works, many people dismiss the potential of their own mind. When they do limit themselves in this way, they diminish their power and their success in life.
People often don't know how to pull up these good thoughts.
In this book, I will show how you can pull from the deep parts of your mind and take full advantage of your brain to help you go beyond your potential. You can reach the success that you yearn for.
The more you use your mind for innovative thinking, the better and longer you will be able to use your intellect.
Some of the most successful people in the world have believed in the power of their mind and tapped into that power to stretch toward their best, bringing inconceivable riches, success and comfortable life. This has been documented in numerous studies.
Over time, there have been many books and studies on the power of the mind. It still amazes me how little we know about the brain. You have power, learn to release yours.
What will it take to release the potential of your incredible mind? You must believe, without any reservation, that your mind can fulfill all your desires, dreams and plans.
This stretching must consume you, taking over all parts of your attention. Emotionally picture yourself having or doing whatever your desire is and you can have anything in life. To help toward this end, you will need to increase your learning and increase your studies.
In my studies for this book, I learned that our brains are constantly changing and can keep growing with new knowledge all the time. The more you use it, the better your brain will become.
Allow your mind to take off with your deepest wants and desires in an intense way.
This intense thinking and confidence must be focused in a way that creates a new world for you.
History and many books have shown that if you truly reach for the deepest recesses of your thinking you can achieve astounding results. Open your eyes and your mind to examine
10/26/19—So great to be back on the road. I was actually driving with a smile on my face, as I got through the Vegas traffic and onto fewer cars and fewer lanes. Smiling I am still.
10/27—I will be here in Mesquite for the day, Sunday. You see, there some food banks that are open tomorrow and I need lettuce, fruit, and vegetables. I will let you know later what is it I am doing.
I was planning to do some juggling today at a park, as well as go bicycle and unicycle riding, but the winds are strong and cold. So, not today after all.
Noon and still windy. Today is shower time, so I found a local park where no one would see me and showered up nice and clean. I also cut my hair, use a clipper and cut my head while I bend forward, head upside down, getting all the hairs the same. Never had any complaints about my looks, what do you think?
Then, since I had a bag-full, off to the laundromat for me, from where I am typing to you right now. Plugged into their electric and using their wifi, I could just move in and live here, yes?
Now it is 5:27 in the evening and I am feeling, for some reason, very scared and wondering what I am doing. Questioning everything I am, tears feel like they could appear easily. I know I will get through this, but what next? Back and forth I go in my mind.
10/28—At the library, most of the day, waiting until 3pm when I can get some food. After, I will be on the road toward the north rim of the Grand Canyon, somewhere I had wanted to explore for a long time.
A full tank of gas, enough food to last me for a few weeks. My portable power station is full when and if I need to charge my battery on my computer, phone, or other electronics. Wish you were here with me, though.
At times I get a sausage biscuit at McDonald's in the morning. And/or, get a taco from Taco Bell or a McChicken from McDonald's for dinner. It is only a buck or two a day, but, I must consume the food that I have on board.
Off I went, taking I-15 north before I went south. As I was getting away from Las Vegas I hit less and less traffic. Then I came south as I got into St. George, Utah. Getting on 59 south, less and less traffic again. Then, about 5pm I found a dirt road off of 59 where I will be for the night. Very quiet, very dark, I expect a good sleep tonight.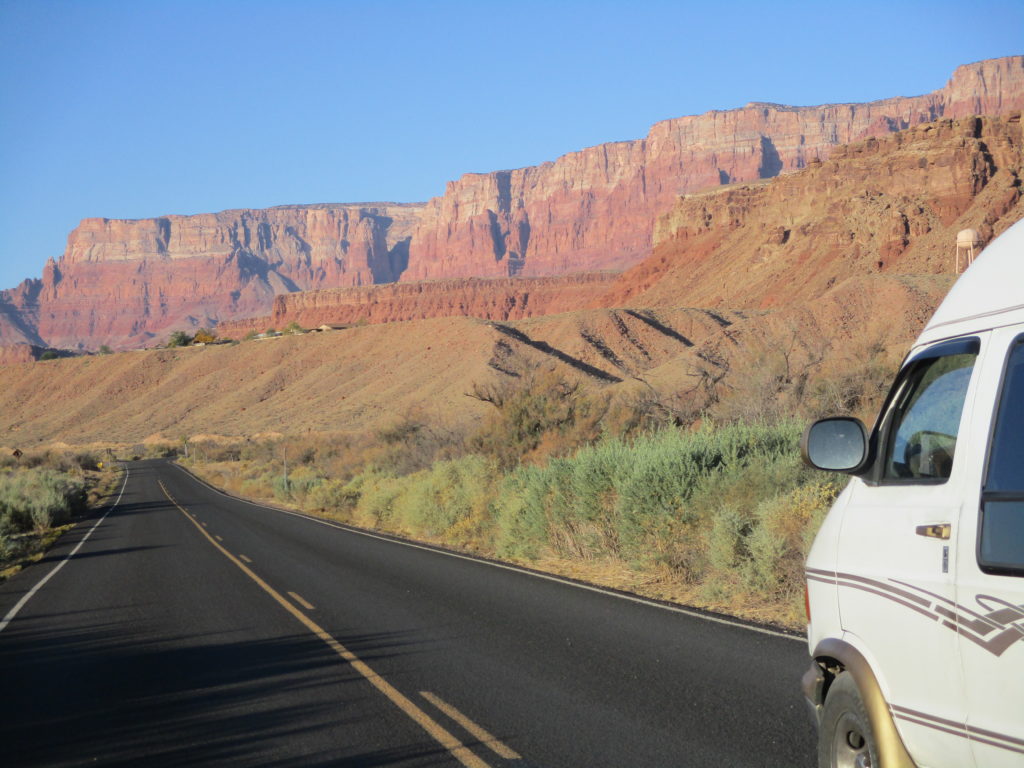 Looking through my food, it seems that I have too much. Salads and chicken must be eaten, but the canned stuff and some other items can wait. I keep writing about a week-long fast I want to go on, I must stop eating, though. Soon, soon.
I like where I have turned off for the night. In a canyon off any main roads, just me and the coyotes. I do like it when I don't have to cover the windows to keep light out, the natural darkness is so nice.
As I wrote, I am wondering what you think of my writing, I hardly hear from anyone.
ARE YOU READING THESE WORDS RIGHT NOW???
As I already wrote, I am aiming for the north rim of Grand Canyon. Most people go to the south rim, as I have a couple times. I always wanted to go to the north rim, which is higher, on my way, now. There is no direct route to get across the Grand Canyon from rim to rim, I will have to retrace my steps north and then head south.
Of course, writing to you right now offline on battery power, I do like this. Sitting in my van with the table up, very nice (and, don't forget my glass of wine.)
Usually get to sleep between 9 and 10pm. Awakening, often, between 2 and 3am, I get four or five hours of sleep a night. It seems to be enough for me, I function fine. Tonight, though, being away from everything, I should get better sleep (is it really better to sleep more or is it a waste of time?)
10/29—Last night a cold-spell came in. The winds were to the level of hurricane strength. The van even rocked some with the pushing of the wind. From about midnight to 3am they persisted, no sleep for me. Eventually, I did get some shut-eye, up about six this morning.
First on the agenda today—I dove into Grand Canyon NP north rim (not literally), so much to see (as you will see from the photos.) I've been to the south rim a few times, always wanted to go to the north rim – today was the day! Being here on a Tuesday there is not (or, should that be "are not"?) many people around.
https://www.youtube.com/watch?v=iw5cDIskqBw
Cold and windy, too. It looks like they are setting up many areas to close down for the winter. Glad I made it on time.
Surprisingly, there is snow coating parts of the landscape in some areas. But, we are up above 2438 meters (8000 feet).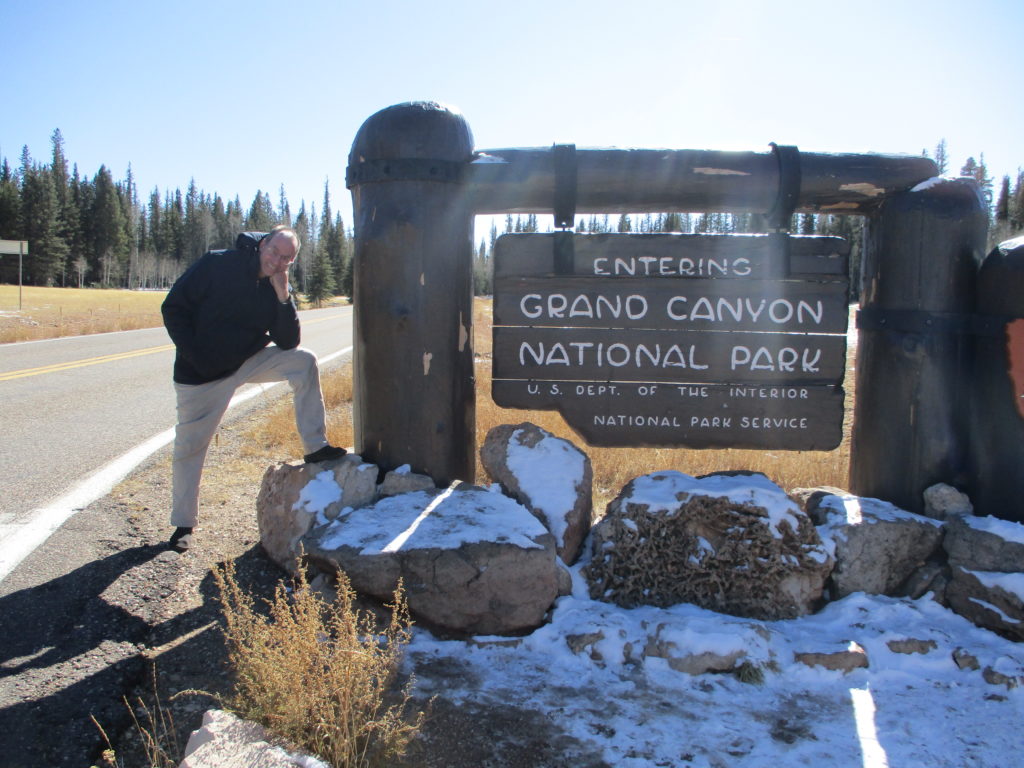 Of course, cold it is. Last night I awake quite cold, I got down the other blankets and stayed asleep until about 5:33am, that is a late sleep for me.
Along with being an amazing canyon, the Grand Canyon National Park is a magical place. Did not see any animals, sad about that.
After some time at the canyon, I headed south. I had wanted to stay for a few days, but, in that it did become quite cold, I headed south. But, surprises awaited me.
10/30—Still so pleased with what I saw at the Grand Canyon yesterday, but today was more amazing sites.
Onward to Glen Canyon—amazing sites, I must say. You might think it is named after, "Glen", you are wrong. The canyon is named after the lush green growth along the Colorado River and inside canyons. Another fantastic drive.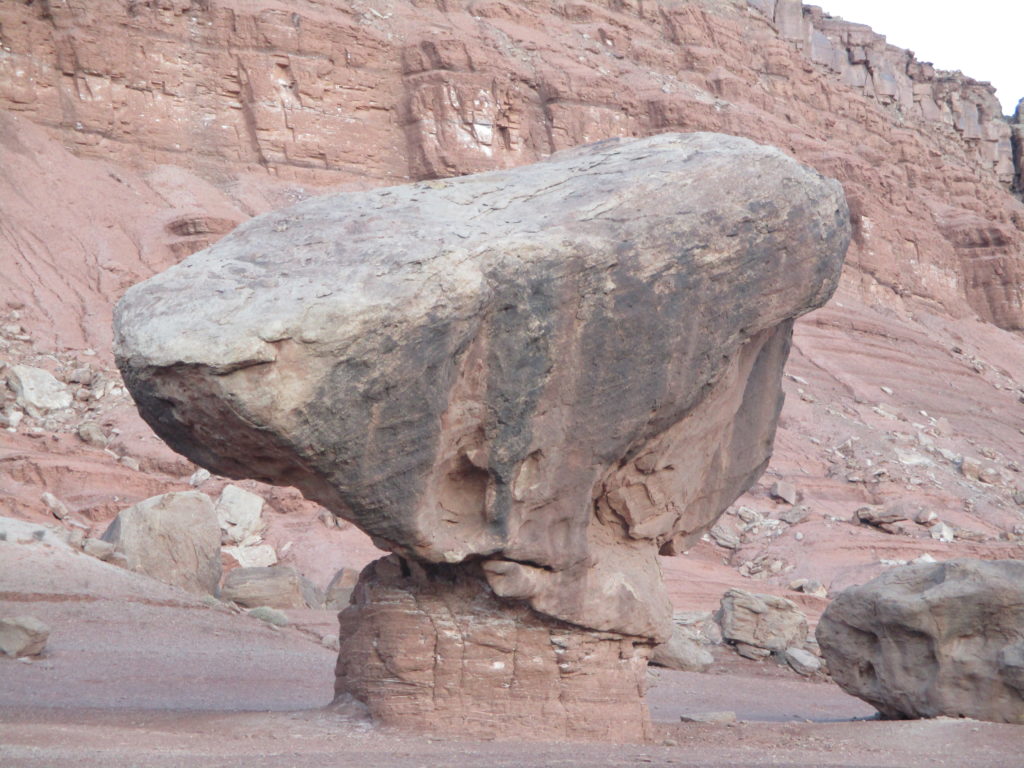 https://www.youtube.com/watch?v=o87zW2BWCUo
Driving south on 89, I slipped into an another amazing canyon. The Vermilion Cliffs I saw (and you will, too.) They just kept going on and on getting better and better. I remember seeing this phenomenon in westerns on TV. Enjoy the photos.
Take a look at this fantastic video >>
https://www.youtube.com/watch?v=tqGemcZ-lPA
Then, in route to the city of Flagstaff, I saw a small sign saying, Wupatki National Monument. It was approaching 4 in the afternoon, time to look for somewhere to park for the night.
I thought the road went in and then I would return on the same road. Yet, it was a 20 mile circle so that I would end up down the road further south.
Here it is, take a look >>
https://www.youtube.com/watch?v=Rr4duwSZ4OM
I went to the visitor center to learn about this area. Native Americans did much building around here, which is preserved. Pueblos and villages were once plentiful. Until the big volcanic eruption hundreds of years ago.
There is no campground here, but there is plenty of dispersed camping (which means you park where you can for the night.) I found a lovely place where I can get back on the road easily tomorrow morning. Should be very dark and quiet, I should sleep well tonight, how about you?
10/31—Very cold last night, that is why I am heading south. As I thought, very quiet and dark my sleep was.
Drove an amazing drive in Arizona from Flagstaff to Sedona on Highway 89a. As you know, I have driven all over America, this was one of the most scenic and wonderful trips I've taken.
https://www.youtube.com/watch?v=RYJkUXXoPAU
11/1—Right now I am typing to you while sitting in the cold van. You see, my Little Buddy Heater stopped working. I awoke at 2am and I was warm under the covers. Then I turned on the heater and got up after it warmed. Later it stopped working.
Right now I am soooo cold and have to wait until 8am when Big "O" Tires opens, they will be repairing my van today.
Another expense, too many, yikes. If I did not have this van I do not know what I would do.
I just heard, it will be $365.63 to get my breaks back in line. So, I guess that is my rent for the month? You have to remember, I am in a very expensive town, Sedona, Arizona, I believe another car place would be much more expensive.
This leaves me questioning my life once again. If I lost the van, I would have nowhere to live and I would be homeless. That scares me, much.
At another library further south in Cottonwood, Arizona. I like this town, too. It is now 1:23 in the afternoon and I believe I will be here for the night.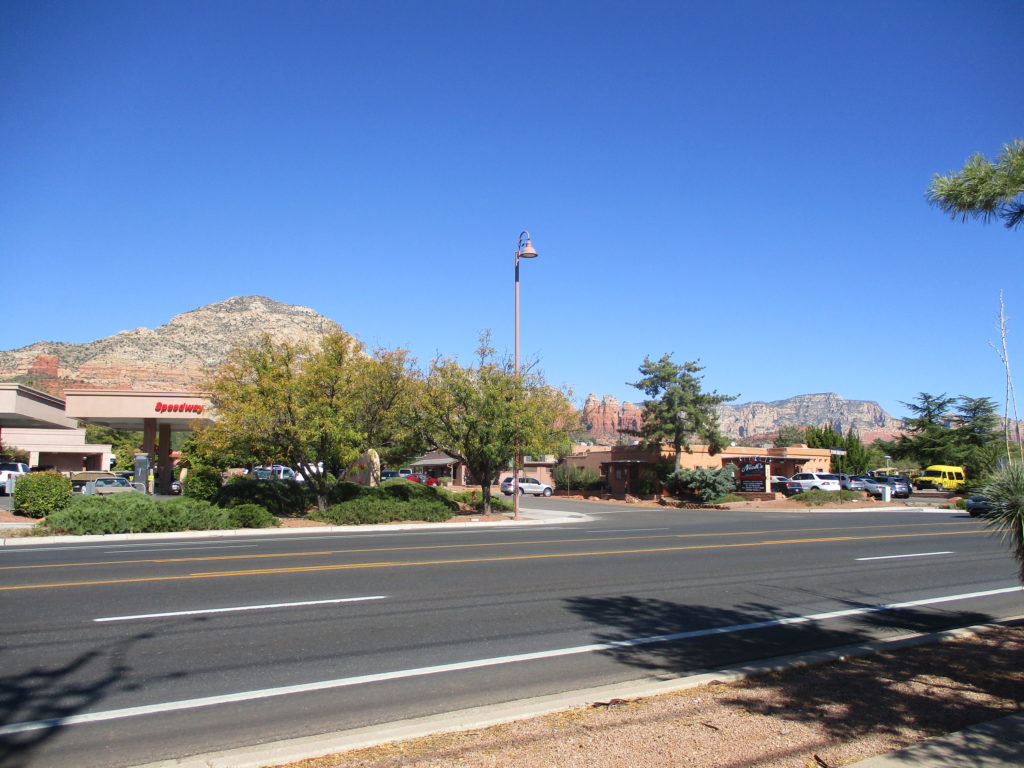 Nice how they do not have many lawns in Sedona, more natural landscapes.
I wrote before, all my life I have been go-go-go. I have to spend more time and explore more. I will be doing that and you will hear results.
My Challenge for You this Week >>
Tell three people who are close to you, "I love you", and mean it.
Next Blog >> Warmer weather near Tucson here I come!