The Wanderings of Kit (Do you wander or just wonder?)
By writing this blog I want to inspire you and show you that–
Change your life at any time to make it more magnificent!
Live with little money and still have an excellent life.
Be able to live life getting very little sleep.
Live ANYWHERE in the world and still make your life a fantastic event!
See experiences that will add to and make your life better.
I want to inspire you as to the wonders of the earth.
Perhaps this is my new "gig", traveling the world doing the same?
Design the life YOU want to live, now, then live that life.
***************************************************
REMEMBER, TO READ PAST BLOG POSTS, GO TO*** >>
***https://kitsummers.com/blog/
***If you are reading this through Facebook or at my website,
I can send you the blog by email, which can have more photos.
Sent me an email and write "email blog" as the subject.
*** If you are not my Facebook friend, yet, please befriend me.
***The freedom I am experiencing in my travels is a marvelous thing.
***Going where I want, when I want and seeing wonderful places and people.
***With this blog I want to help open your mind to more of the splendor of the world.
***I will have places to show you and tales to tell.
***I will have secrets to unfold and good news!
I'm glad to take you on my journeys with me!
*****************************************
Just sent the blog off to you. Hardly hearing from anyone about my words. I am Facebook friends with many authors and writers. How could I improve my prose? I do know that good writing is a matter of heavy proof-reading and editing. I go over my material numerous times to get the best words to you.
I have many new people receiving this blog, I wanted to let people learn of my background >>
And, I thought getting hit by a truck back in 1982 and resulting 37 day coma was my big life-change. Little was I to know that things would start getting worse and worse beginning in 2009 –changes were on the way.
There were many hard lessons learned through these things that happened.
>>> The changes in my life started piling up.
>>> My trust in and respect for people was diminished.
>>> My future looked bleak once again.
>>> I was leading a lonely life.
>>> Finally, in 2011-12, magnificence came back into my life.
You will see that I went through hard and tragic times, but also took a five-month trip away, first driving across the country, then going to Australia for a month then New Zealand for a month. That brought joy to my life, which made all the bad all right again.
Also, I met Tina; we connected very well and are both happily in love. Additionally, my mind focused on finishing this series of books to help you in your life.
Right now, I must say, this book is written to advance your life, not to tell you the difficulties I have gone through. As you read this book be open and looking for ideas to benefit you.
I am hoping to pass some lessons learned on to you. I chronicled the following as things were occurring. The ensuing list of events is unedited, written at the time it was happenings.
April 3, 1982 – Performing as a headliner at Ballys Casino in Atlantic City, I had hit the big time! After nine months of performing there, I was crossing a street while in a terrible rainstorm and I was hit by a truck. After going through a 37-day coma, I had to relearn to do everything physical again. I knew what today, I had to retrain my body again. No, I am not "back", I will never be as I was. Can things get any worse?
The end of June 2009 – Over the summer of 2009, my wife of 23 years took my two daughters and left: the death of my marriage and family was around the time of Michael Jackson's death. A comparison I have thought much about. I've been devastated at the break-up of my family. Still crying daily and it's already been a year out.
Cannot understand why I cannot deal with this change. Actually, it seems much more devastating to me then getting hit by a truck. We were good together for many years, then, when our daughters entered the picture, my wife's focus seemed to go totally toward them. I found out that a relationship can be one of the most difficult things that a person does. Can things get any worse?
August 3, 2009 – Driving while crying, not a good combination. I was thinking about my family loss and crying a lot when someone was suddenly stopped right around a curve in the road in the middle of the road directly in front of me. I could not stop, and my van hit the back of their car. I later checked into it and the people in the other car did not get harmed; I cared. My van was totaled, and I have not had a vehicle for some months. I've learned never to drive when I am in that state of mind. Can things get worse?
April 8, 2010 – With no van I was commuting by bicycle. With a smile on my face as I rode down Chichester Avenue, I saw a truck coming toward me as I was approaching an intersection that had a light. He got in the left-hand turn lane, thoughts flashed in my mind, "No, not again." I saw him crushing me as my clavicle, my knee and three ribs were broken; and, as a result, more operations. First, my knee was put back together with two pins, and then a plate had to be placed in my shoulder. Some months in the hospital and rehab, again, oh the food . . . Once I got home, it was difficult because I was alone at that point, with no vehicle. Can things get worse?
The middle of June, 2010 – Made payments toward the purchase of a van owned by Mohamed Elmani in the amount of $1,670, then he sold the van to someone else and disappeared. The DA tells me he left the state. Can things get any worse?
End of June, 2010 – CJ and Michelle Jones, who were renting a room at my home, sold me their van for $600, I have signed receipts. Also, I had loaned them $300, I have receipts for this loan, too. They took the van and hit the road and never paid me. Can things get any worse?
June 27, 2010 – Had some other unscrupulous people renting rooms from me (boy, I really pick-'em), I did not see that coming. My wallet was taken from my house. I had gone to a debit machine with a renter because he wanted to borrow some money; I guess he witnessed me entering my pin number for the card. My two debit cards were used totaling an amount of $3,058.86. Police could not find the guy. Can things get any worse?
August 16, 2010 – At 1:30am someone was in my house, I caught them, looked them in the eye. I went into the other room and called 911, the police could not find the perpetrator. Here is what was taken:
Desktop computer, value $600
Laptop computer, value $300
32′ LCD Sharp television $500
Philips DVD player $49.95
Cost to replace bedroom screen on the window where the thief entered my home $40
Because of all I have been doing through, I didn't care anymore if I got injured. I was going to go to the kitchen and get a knife to hold this guy until the cops came. Yet, I didn't do that. When the cops arrived they did not find this perpetrator. Can things get any worse?
August 28, 2010 – I was out watering my plants at about 7am. The guy next door, Craig, approached the fence and started telling me I could not talk to him ever again. He went on and on and on – I remained silent. Then he started threatening me and said, "How about I pick up this big rock and throw it at you?" – which he did throw at me. He hit me in the right clavicle area where I had surgery in April after getting run over by a truck. Of course, where he hit me in the clavicle area with the big rock hurt tremendously and hurts me still today, Monday. Perhaps it is re-broken? The throwing of the rock was witnessed by Richard Rodriguez, who lives across the street, and he called the police. The police came, and a report was written. Also, this "Craig" made a threat against Richard's kids, asking Richard, out of the blue, "So, where are your kids now?"
There is past history with Craig. An ex-marine, he leads a strange life. We used to, somewhat, get along with each other. I've always tried to be friendly with him. Then he changed. Very angry, has no friends and lives alone, except for two dogs, in a house that has all the windows covered. A few weeks ago he threatened to jump the fence and come over, and, his words, "really mess you up". I had hardly said a word to bring it on. I called the Trainer, PA police and they filed a report on this incident. Can things get any worse?
September 2, 2010 – Just last night at 11:30pm I was awakened by a noise. They were very quiet, but I could tell that someone was in the house. I was silent while waiting to hear where they were, then quietly checked the other bedroom. In the morning, I found that they had entered through the window in the other bedroom, and then exited out the back door. If I had seen them I would have jumped them, at this point I don't care what happens to me, I am sick of what has gone on. Can things get any worse?
September 20-October 19, 2010 – The person who lives next door to me, Craig, had called the cops and told them I had threatened to shoot him with a gun (I did no such thing.) The police were at my door to escort me to see a judge. I was reeling with all these events, sent into a sad abyss. My mind and heart were looking down a path that was very sad.
The judge read the charges:
1) Terrorist threats with intent to terrorize another
2) Harassment – subject other to physical conduct.
3) Disorderly Conduct Hazardous Physical Offense.
Shocked at these charges, there was nothing I could do; I was not allowed to say a thing! The judge announced that I was to go to jail for a psychological examination. Handcuffs were placed on my wrists and I was taken away in a van used to transport criminals. I had to suffer being in jail for a full month. You will read more of my jail time in chapter 27. Can things get any worse?
November 5, 2010 – Out of jail now and having no vehicle currently, I rode my bike out to the bank and Wal-Mart to take care of some business. On the return, just a few blocks from my home, I somehow lost balance while riding slowly and fell to the side. My shoulder was hurt badly, but worse, my head hit the street when I went down. Right away I started hearing it—a sound in my ears like when you listen to a seashell. I later found out I would have this ringing in my ears for the rest of my life. I laid there for a time wondering what to do then slowly got up and continued the ride home. The next day I had someone take me to the hospital for an x-ray of my shoulder, which did not seem to be broken. Then, one week later I went to see my personal doctor. He suggested I get an MRI of my shoulder and a brain scan. It was just today, as I am writing this, that I saw him. The ringing in my ears continues, but, getting used to it, never having any silence is quite strange. Can things get any worse? – NO!
Not a good couple of years, I guess things can get worse?
>>> So far, total ​​financial loses for the year is over $10,000.
>>> Mentally, this year has drained me a great deal.
>>> Feeling sorry for myself?
I don't think so, but learning how terrible some people and life can be.
Every change and challenge I went through I told myself, "Oh, good, more material for my book", but, a guy can only take so much. I do not live my life in fear of the next bad circumstance coming up, I live with joy about what I was experiencing and learning.
A good life is a matter of how we deal with circumstances that come up, face those challenges, and then use this knowledge to deal with future changes. I'm actually glad I went through all these challenges because I can now use this knowledge to help you.
My aim in life is to bring you to the next higher level in your life by applying and using the ideas from this book series.
************************************************************
***********************BACK TO THE TRAVELS OF KIT >>
In the last blog post, I mentioned that I came upon some financial trouble and could use some help. The only people I heard from were Chris and Dena Myers, such good friends they are. Thank you for sending the financial help that you did, that helped.
Kind of surprised me that I did not hear from more of you, at least to let me know that you could not help right now. Maybe no one is reading my posts?
5/3/19—Did much driving today, might have been 455 miles. Heading to meet up with my friend, Daniel Powell, in Tucson. Which will be a quick and easy drive for me tomorrow, having put in so many miles today.
Tonight I have found a quiet dirt road to park and sleep on. No one will disturb me (unless you come by, of course.) Will be quite dark, no lights anywhere around. I will sleep with a smile on my face.
Had lunch today with my Facebook friend Roberta Dolana. A sexy 82-year-old beauty, such a good day. Roberta has a teaching system for young people to learn faster and better. I gave her some ideas to get her ideas to the right people to have it take off—hope it does.
Daniel Powell and I went to and graduated high school together in 1977. Daniel has done very well in real estate, becoming a millionaire in his 20's. He kept up with my travels through this blog and decided to meet up with me on his way to Philadelphia to see his daughter.
He drove his hundred thousand dollar travel van out to Tucson and we met up at a Walmart.
I had an appointment about the van for Pep Boys at 10am. When I went on dumpy dirt roads my passenger side front sounded like something was loose or something.
While the van was being looked at off Daniel and I went to the weekly meeting of https://sites.google.com/view/tucsonjuggling. Great to meet new friends who juggle, a few of us already knew each other. Sold a number of books, a good thing.
Back to the van to find out the bad news, I was told to fix everything would be over $4,000. Yikes! I made sure that was nothing that would harm me, and off I went after discovering that. There is nothing urgent, I will eventually get the repairs I need.
Next—Saguaro National Park is in southern Arizona. Its 2 sections are on either side of the city of Tucson. The park is named for the large saguaro cactus, native to its desert environment. In the western Tucson Mountain District, Signal Hill Trail leads to petroglyphs of the ancient Hohokam people. In the eastern Rincon Mountain District, Cactus Forest Drive is a loop road with striking views of the desert landscape.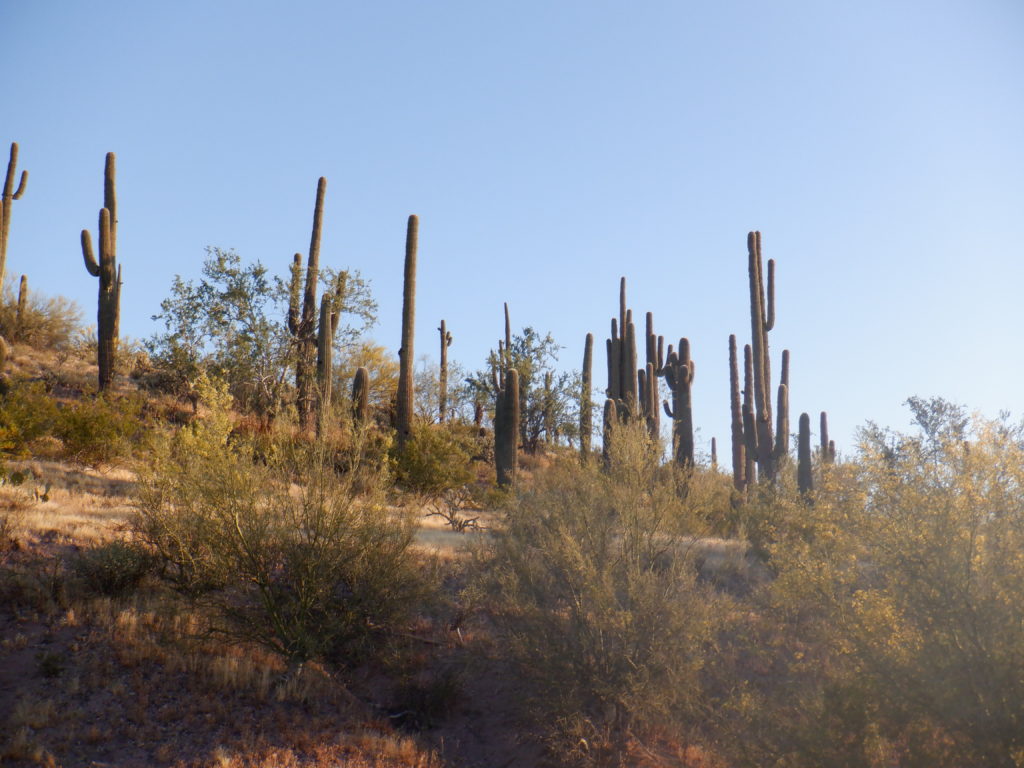 Found only in a small part of the USA in the Sonoran Desert, the giant saguaro has a slow growth cycle and long lifespan – studies show that the cactus grows between 1 and 1.5 inches in the first eight years, flowers begin production at 35 years of age, and branches, or arms, normally appear at 50 to 70 years of age.
An adult saguaro is considered to be about 125 years of age, and may weigh 6 tons or more and be as tall as 50 feet; a saguaro's lifespan can be up to 250 years! Taking all of this into account, seeing the saguaros up close is even more impressive; and there are another 24 species of cactus found within the park as well!
5/6 – 5/7—Was with Daniel, so I did not write the last few days. The camper/home he drives is different from mine, his is a Mercedes Sprinter van he paid $100,000 for. Inside is much bigger and he has everything. Yet, I like my home on wheels better that I purchased for $3,000 and fixed up myself.
So, there are two Saguaro National Parks near Tucson, one to the east and one to the west. Yesterday
Daniel and I went through the east park, today I did the west park by myself. Both are quite different.
The east is much more hilly, the west is more desert-like. You can see from the photos from last week and this.
For tonight I had found a Walmart to sleep at, but I am sick of sleeping at Walmarts. So, I did a search and found a local park. Looks to be that it is very quiet and will be dark. Should sleep well, if not awakened by cops. I will let you know.
Awoken by a cop at 1am, wondering what I was doing there. After I explained things he allowed me to stay the night and I was able to get back to sleep. That is surprising because I can hardly ever get back to sleep and awakening.
5-8-19—So, what to do today? There is a Phoenix juggling club that meets tonight. I have a location, but the source is quite old. I will let you know later.
Went to Best Buy to have some things done to my computer and learning from them. I love improvements, as you know, received some today.
The juggling tonight is in Encanto Park, which is in Phoenix. Before that though, I could not stay any longer in any city. I found South Mountain Park and here I am now. Typing and editing while at a beautiful park is much better than any city place.
Desert all around me, I love it. I will do some hiking, some bicycling and take some more photos for you. Sounds like a good day to me.
Right now I am at Encanto Park waiting for jugglers. I started the ten-mile drive over here in the afternoon. Right away there was much traffic, much like every other big city. One big traffic jam—YIKES! And, need I tell you, seems that every big city has massive road and bridge construction, it's never-ending.
BEING WITH AND IN NATURE IS WHERE I BELONG!
5/9—On my way to Vegas I was passing Lake Mead, a national recreation area, so naturally, I had to stop. A large man-made (and mame-made too, I'm sure.) Not much to see here, I was just there briefly.
Many of the parks I go to look too human designed. Or, there are too many humans there. That is how Yellowstone is—TOO many people and too "designed". Old faithful was, well, faithful. But, I could have simply seen a video on the occurrence. Many videos of all the national parks, but some you do have to "experience" and take part in.
Big Bend NP was that way for me. I went to this park a few times and loved every time. Each time was different, too.
Every city I have to stay in I type into GPA "park" and find one away from traffic. Sometimes I get awakened by cops, but I just move on. Most of the time I can get good sleep even in a local park.
The contrast in the landscape between Tucson and Phoenix is much. Tucson is very dry, no one had a front lawn—rocks and pavement served the purpose. As I got into Phoenix I noticed many homes with lawns, and the parks, too.
Perhaps you know of my dislike of huge lawns that soooo many Americans have. Upkeep, chemicals, dead lawns—YIKES!
If every person grew vegetables and fruit in their front and back yards we could have an abundance of food. And, it would not be much more work than a lawn. You pay someone to take care of your lawn, you could pay the same to have someone take care of your vegetable garden.
Tomorrow is Friday, the day I publish my blog. I often wonder if what I am typing makes any difference in the world. Am I just wasting my time and no one is reading my words? Yet, I also do this for me to bring back great memories and experiences.
Found a park to park and sleep in last night. YES, I was awakened at midnight – not by cops, but by a bit bolt of lightning and the resulting thunder sound. Then the rains started, kept me awake. Tina always slept great with the sound of raindrops dancing on the roof of the van, I had trouble, but eventually got back to sleep.
My van needs some work, and, Dave, who I have gone to for many years for my auto work suggested going to Counts Kustomz in Las Vegas to get the work accomplished. I will let you know later how things turned out.
It ended up that they could not help with my van, ooog. There I was, sitting in my van, ready to go, but where and would the van make it? At this point I almost had tears appearing in my eyes. Then I remembered I had looked up Las Vegas Circus Center and wrote down the address.
Michelle and Brand Hunt are wonderful people, and their place to teach circus is huge. We have set up to have me teach at the next juggling meeting, next Wednesday. Until then I will be seeing other friends here and might head up to the local wilderness—I have to have my nature.
For the weekend I will be headin' for the hills. Can only stay away from nature a few days at this point. Find me here >> https://www.google.com/maps/place/Lovell+Canyon+Campground…./@36.0852919,-115.0045288,4172m/data=!3m1!1e3!4m5!3m4!1s0x80c8a3f94bf5968b:0x661e7363c01510db!8m2!3d36.0597596!4d-115.5618941?authuser=0
So, make your week a fantastic event!