(Do you wander or just wonder?)
With my words, I hope to throw some oblique light upon your life.
By writing this blog I want to inspire you to see life in a different and/or better way and find joy how you can.
*** Remember, to read past blog posts, go to kitsummers.com/blog/
*** If you are reading this through Facebook, check out my blog on my website.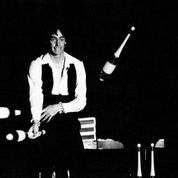 *** If you are not my Facebook friend, yet, please befriend me.
*** The freedom I am experiencing in my travels is a marvelous thing!
*** Going where I want, when I want, and seeing wonderful places and people.
*** I will have places to show you and tales to tell.
*** I will have secrets to unfold and good news!
I WANT TO TAKE YOU AWAY WITH ME
ON WONDERFUL ADVENTURES!
************************* **********************************************
INTRO TO THIS WEEK >>
You know I often write about joy and happiness. Finding it for yourself can add so much to your life. Happier people are healthier and often live a longer life. They are more productive at work and around the home. Are more creative and tolerant in hard times. Overall, they lead a happier and more productive life. This should be your aim!
If you build up your joy and happiness in the world, it will spill out and add to others, too.
For some reason, I had trouble downloading photos for this post. Go to my post on Facebook and you can see all the photos.  https://www.facebook.com/isityou
Through Facebook, I met Kimberly McCoy. She has also had to deal with the changes of brain injury. I hope our friendship keeps growing.
Another friend, Jessica Taylor, sent me these words after my last blog post. Good to hear that I am adding to someone's life.
****
Hi Kit,
I have been feeling down in the dumps since finishing the writing and editorial work re 'Jewels in the Mud: Science of Spirit'. I sent the work to 'Llewellyn' in hopes of a positive answer. Fortunately, they do not require agent representation. No idea what my change of mood is all about, especially as it led to feeling really depressed.
Perhaps this present bad feeling is due to not having a project to keep me occupied along with the problems related to Covid 19.
Anyway, when I read all your news, it helped me a great deal and made me want to get cracking on some project again. Your energy is fantastic and mine really low at present, so I am going to look at your post more than once in order to be livened up!!!
Thanks for being you,
Love and Light.
Jessica
Jessica E Taylor: Author and Activist: Vancouver Island.
Never limit yourself and never allow others to limit you.
=========================
WORDS TO INSPIRE YOU! >>
Inspirational quotes and motivational sayings have an amazing ability to change the way we feel about life and can change our thinking.
This is why I find them so interesting, challenging, and important on our path to joy and happiness and finding ways to inspire ourselves. Inspirational quotes provide us with a quick and timely burst of wisdom to get our focus back, offering the inspiration needed for the day or occasion.
I hope to inspire you with my words.
Words have power.
At any age you can (and should) make changes to make your life better.
You see, the way you think and feel about yourself, including your beliefs and expectations about what is possible for you, determine everything that happens in your life. It all derives from your quality of thinking.
When you improve the quality of your thinking, you change the quality of your life—sometimes instantly!
Just as positive words can make someone smile, and/or, a well-timed amusing quote can make someone laugh, your own thoughts react to the world in real-time. You have this control.
You have complete control over only one thing in the universe — your thinking — and that's where motivational quotes come in!
To keep your motivation, you have to use each day as an opportunity for improvement, to be better, to get a little bit closer to your goals. It might sound like a lot of work—and with your busy schedule, next to impossible.
But the best part is, the more you accomplish, the more you'll want to do – the higher you'll want to reach! So, as long as you have the hunger for success, you will always have the power within you to achieve it.
Self-talk is so important—THINK RIGHT!
Motivational words, yes, they're just words.
But they're positive words; they will keep you on track.
I hope the words I pick do help you.
*************************
BE INSPIRED BY THESE WORDS>>
Happiness and joy are not just off the shelf.
This joy comes from your own actions.
A few times I have come face to face with mortality. At only 23 years of age, I got hit by a truck, the first time. At that point, before the collision, I felt my life was just beginning. A featured performer at Ballys in Atlantic City, I was taking off.
Every day we are faced with stories that remind us of our own mortality as human beings, but when you lose part of yourself to a brain injury, that is a huge change. 
The everyday drama we allow into our lives falls away and suddenly seems insignificant. We find ourselves reaching out and opening our hearts to let others in. We start to notice the simple pleasures.
We become acutely aware that we never really know when our time might be up, and we make a pledge to let joy into our life.
That was the pledge I made. To search for joy no matter what.
I can't bring back my past life, but I can ensure that my journey is filled with people and experiences that make my heart sing; by letting my emotions and intuition guide me toward finding joy; by choosing freedom over fear; and by remembering that I am the only thing that can stop me from making those choices.
What dreams, desires, feelings, or needs of your own have you pushed aside? And if you follow your own dreams and bliss and joy, how would your life change for the better?
You are the driver of your own life, and as you journey through, you have choices about which paths to take. The people you pick up along the way can influence your life, but you still remain in control.
Now, it's time to get out there and do
something incredible that you can rejoice in!
=================================
MY DAILY JOTTINGS >>
3/12—Spent most of the day at the Marco Island Library. Only a few people in there, quite comfortable. While I was there, earlier, I sent my blog out to you. I hope you enjoyed the read, please let me know.
I haven't for a while, I found a Walmart parking lot to stay the night in. This company allows people to sleep in the vehicles in the parking lot, which is nice. I came here because I have a couple of things I needed from Walmart.
3/13—I returned to Collier Seminole State Park. Along with being a fantastic location, I have a lot of work to do.
Enjoy the video — https://www.youtube.com/watch?v=JbNMTYq5Xdc
I'll be building a new shelf for books, I will take everything out of the van to clean and organize, it is getting warmer so I will plant seeds in dirt in my containers, and some other work on the van, too.
It is Saturday the 13th and I'm at Collier Seminole State Park. The temperature in the van right now is 93, a comfortable Heat. There is a lake here in a while I will go for a swim, care to join me? But, I went down and looked into the lake, too dirty for me. I will just jump in the shower later.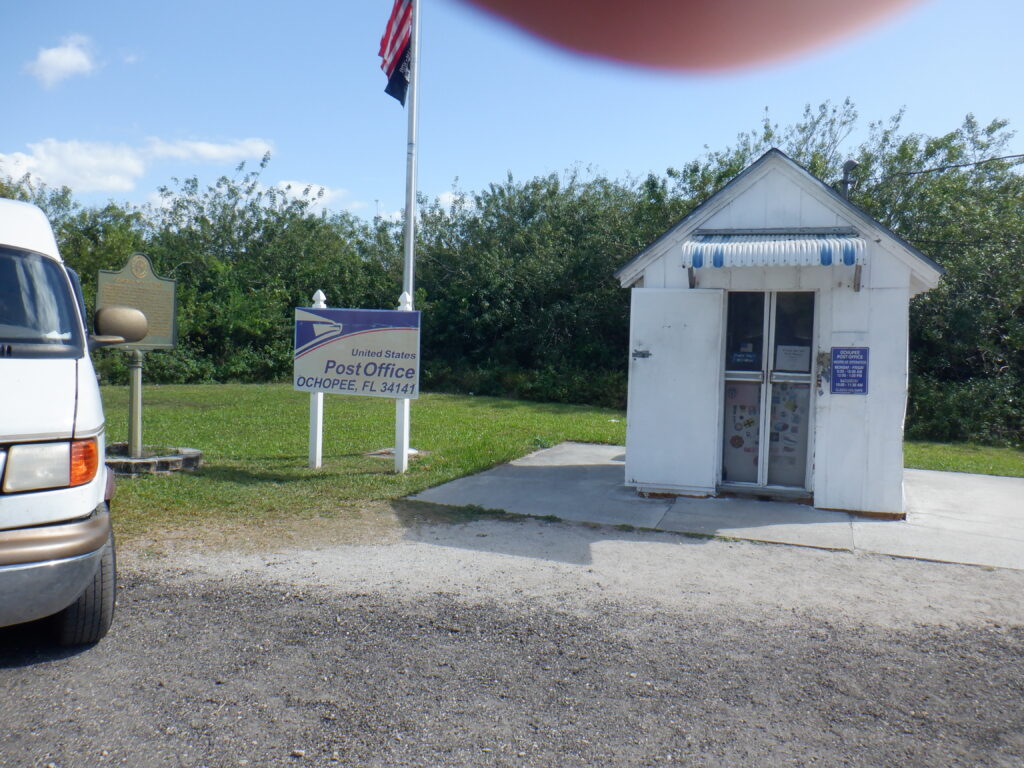 Along the drive today is the smallest Post Office in the US. 
I came this morning at 10am, paid the five bucks to get in, I'll be here until I have to leave at 6pm. That's less than a buck an hour to be in this paradise.
3/14—I've returned to Marco Island library. Here I can get online and also plug-in outside. Tomorrow I'll be going back to Everglade and Big Cypress parks. I've driven all over the US, now I'm getting bored with it, but National Parks always have new things to offer.
Here is about Marco Island, a fabulous place.
https://www.youtube.com/watch?v=iBcJcxdrLzM
Where am I going, what am I doing, so many questions come up in my mind.
Certain questions on life again and what the hell I'm doing.
As I do every couple of weeks, I took everything out of the van, cleaned well and put everything back in and more organized way. When's the last time you took everything out of your vehicle, cleaned, and then put everything back in a more organized way?
Spent the night at Marco Island Library. A big place, I like it here. There are no mask Nazis as there has been at other libraries. In the past I have been at libraries where they act like they are always watching; scary, yes.
3/15—Now it is getting on 1:10 and I will be heading out soon. As usual, not having an aim, I am just going to go. Kind of exciting it is, yes?
I've been pretty much all over southern Florida, I will look for new places to explore, though. I am glad you are with me.
Did my good deed for the day. It was a roadside Park next to Route 41 with picnic tables and look quite nice. After I pulled over I saw that a bear or animal got into one of the trash cans and made a mess of it.
Some of the trash where empty bags so I used these and cleaned everything up. Left it nice for the next people who will stop by. The grounds look much better.
No one would know I did this except myself and you. See all that trash was very upsetting for me and I knew other people we also be bothered. So I know, and now you know. Do you clean places up to leave them nice for other people?
Going Southeast on route 41, I passed by 10,000 islands National Wildlife Preserve. I never really looked around the area before. I had to, it was calling me.
Enjoy this great video >> https://www.youtube.com/watch?v=8qA9IegRGzw
Now, did someone actually count the 10000 Islands?
I took a turn-off for Marsh Trail that goes into the Preserve. The path was around four or five miles round trip and I started walking. But, after walking in about a mile I suddenly remembered the excellent bike I have on the back of the van. So, after I did a U-turn, I got my bike off the back and jumped on.
What did joy ride this bike, I love this two-wheeled transportation. In my ride, I saw many of the birds in this video. Watch this, it will tell you all >
https://www.youtube.com/watch?v=pqm0oxTLmqc
Along with the large water birds, my ears picked up on the numerous songbirds in the area. What a delight.
This 35,000-acre refuge was established in 1996 to protect the refugees unique estuarine ecosystem.
Getting on dinner time now. At the last food bank I went to I got to package of two pounds of ground turkey. I just cooked up the whole thing, used some for tacos tonight. There is enough for spaghetti sauce for tomorrow and if I want tacos again, too.
As you can see, my free turkey meat went far.
The thing is, I seldom get hungry. I mainly eat because, as a human, I know I have to nourish myself to continue to get this blog to you. Yes, I live for you!
I parked and slept by some fishing docks kind of in the wilderness. Should be a good sleep tonight period hope you usually well.
3/16—My sleeping place turned out to be quiet and dark, nice. In the morning I did some reading in the van, then off I went to the library in Everglade City. I took the bike off and went for a fast ride; my legs and getting in better shape with my riding more often.
Then I let clubs fly into the air. My juggling is improving daily at this point, which feels really good, by the way.
By the way, it's about 5 PM and I am parked on the side of the road with water on both sides of the road. This is in Everglades Park. Planning to sleep here tonight, hoping cops don't come by later, I'll let you know period.
Dinner tonight was—on top of Angel hair pasta, I had a topping that I devised myself. I had a little container of marinara sauce, I had a little container of Buffalo-style sauce dip. To this, I added fresh-cut red onion (fresh-cut red onion adds so much to spaghetti sauce—the crunch—the taste, you must try it.)
It is warm, and I will sleep here tonight. I have the windows open and I can hear the ocean currents lapping up on the shore. This will make for good sleep tonight, with that sound through the night.
3/17—A strange night last night. It seemed that I heard some chewing or gnawing (why is there a "g" in that word?) in the upper cabinet where I had put some milk recently. I get the kind of milk that you only refrigerate after it's open.
This morning, I looked more carefully. I saw that something chewed off the corner of 3 of the milk containers. I cleaned everything up and that varmint is still on the loose.
I will have to reorganize my food so this creature cannot get to it. Eventually, my friend the varmint will die and, hopefully, the smell won't be too drastic. Eventually, that smell will go away, too.
From Everglades city, I went further down to the town of Chokoloskee. Such a beautiful area this is.
I spent the night and morning at the Smallwood Store. Ted Smallwood lived here in the 1930s until 1941 when he died. He had this store, and also had a post office and an Indian Post.
Take a look >> https://www.youtube.com/watch?v=jPEhbI0iVmw

Then it was back to Everglade City and their very small library. Just a little room that is part of the government building. In fact, when I've been here I am the only one to use the library.
The one librarian takes a lunch break from noon to 1pm, so right now I am in the van working on this post to get it to you next Friday.
I find myself torn between research and reading on my laptop at a library, and being out in the wilderness. I've been mixing the two, which has worked out well for me. I do like being in the wilderness much much more, though.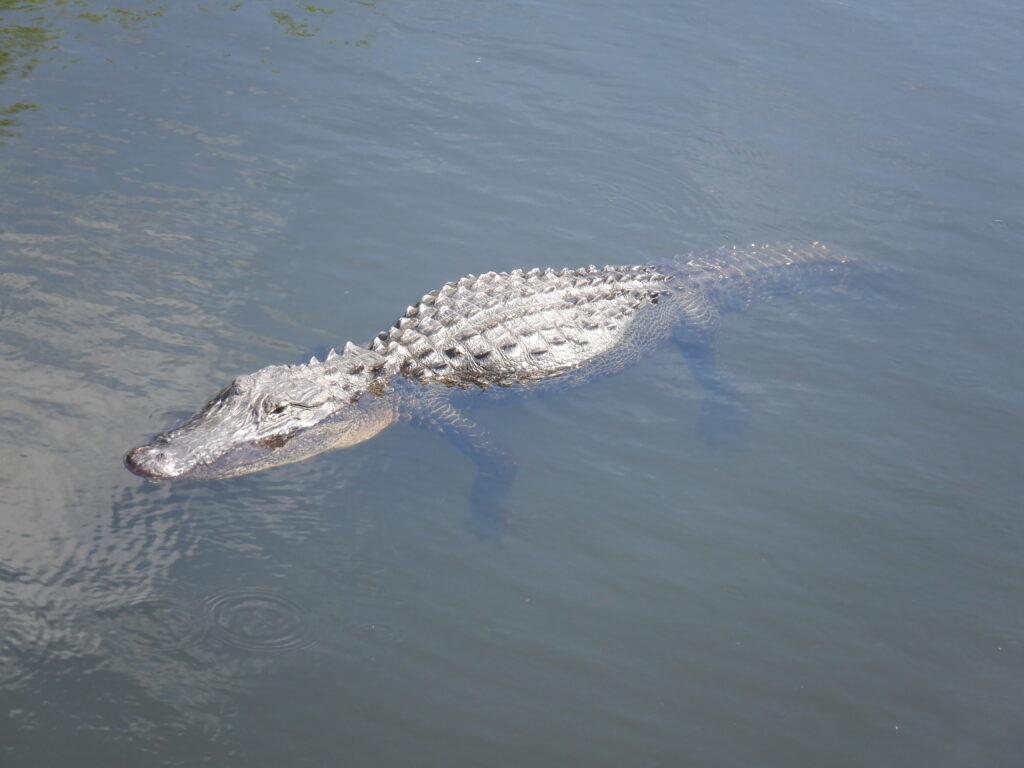 Driving along Route 41 I saw a campground for big rig travel trailers. Then I saw they had a hose for these big rigs to fill their water tanks with drinking water.
I only had two containers that were empty, I carry seven gallons with me. Then I started to drive away. Suddenly I thought, I was going to shower later anyway, I could do it here with the hose.
With my shorts on, I do like I always do. I got myself wet, wash down with soap and using a scrub cloth thoroughly, and then rinse off completely. It leaves me as clean as any shower, as I've said before.
Moving down the road I saw a turn-off for HP Williams Roadside Park. A couple of alligators and a couple of turtles and then some fish, a nice stop for me. I actually spent a couple of hours at this Paradise. As you might know, on my woodstove, it has a little grill and they can fire up chicken or other delights.
In my cooler, I had chicken from a recent food bank. I have fried it up, which was kind of fun. Got a tortilla and made it taco with chicken, cheese, and red onions, it was quite delicious.
Down the road, I went, beyond the campground. I found a place deep in the woods where I won't see any lights or hear any sounds of humans. As you would know, this is how I like it. I will sleep well tonight comma I hope you do too.
6:45 Now. Very quiet and very far away from everything here, quite nice.
7:30 The sun is just going down. I'm in a forest, I went to gather some wood for my wood stove. I can get fuel for my fire just about anywhere. I like my no-cost way to cook.
It's been warm, so I've been sleeping with my windows open. I've heard of monkeys climbing in car windows, I hope it doesn't happen to me.
3/18—My day started by returning to Shark Valley (where there are no sharks and there is no Valley) I arrived early; they open at 8 a.m. Right away I got on my bike and rode out on the road to see the early morning animals. Since I was the first one out to see them, there were more to be seen before the humans interrupted.
I saw a couple of alligators fairly quickly. Then the assortment of waterbirds was astonishing. I took a number of pictures, I hope you like them.
Also, this morning I had to go into Miami to take care of some business. Every few months I like to get my alignment checked. I paid for a lifetime alignment for the van, so here I am. I've waited here for about four hours, though.
Then Costco for a gas fill-up and some other business, then I found a library off the beaten path and worked on stuff while plugged in and on their wifi.
3/19—Slept at the library last night, nice and quiet. Now I am inside the library to get this blog off to you before I head to Flamingo to dance or look at big pink birds. 
I'm lonely out here, I would love to hear from you.
Either through Facebook or email, kitsummers@gmail.com
*************************
MY CHALLENGE FOR YOU THIS WEEK >>
Bring joy to at least three people this week, as you are finding it for yourself.
***********************
NEXT BLOG>>
I decided to head back to Flamingo, Florida. This is in the Everglades National Park. It is still south, so that's a good thing.
=========================