The Wanderings of Kit (Do you wander or just wonder?)
By writing this blog I want to inspire you and show you that–
YES—YOU CAN > >
Change your life at any time to make it more magnificent!

Live with little money and still have an excellent life.

Be able to live life getting very little sleep.

Live ANYWHERE in the world and still make your life a fantastic event!

See experiences that will add to and make your life better.

I want to inspire you as to the wonders of the earth.

Perhaps this is my new "gig", traveling the world doing the same?

And, I'm not just, "Kitting Around".
Design the life YOU want to live, NOW, then live that life.
*********************************************
***Remember, to read past blog posts, go to https://kitsummers.com/blog/
***If you are reading this through Facebook, my better blog in on my website.
*** If you are not my Facebook friend, yet, please befriend me.
***The freedom I am experiencing in my travels is a marvelous thing.
***Going where I want, when I want and seeing wonderful places and people.
***I will have places to show you and tales to tell.
***I will have secrets to unfold and good news!
I'm glad to take you on my journeys with me!
********************************************* *********************************************
Once again, sorry for the mix-ups in sending my last blog. I will take more time in the future and now to get things right before sending you my post. There were two people who wanted me to stop sending the blog, oh well, I am glad you are still there.
Still having a fantastic time out here.
The freedom I am finding is one-of-a-kind.
Words to inspire you >> Anything about your life you have the power to change, no matter what your age is. Make your life a magnificent journey, I am here to help. 
My daily jottings >>
8/17/19—Toward the north now, in Vista, CA. Stopped by to see Noe, who did some excellent work on the van when I was in the area last time. Just having him check everything to make sure it is in place and tight.
But, he did say the transmission was slipping. I do not feel that, hopefully, the van will be alright. Noe told me the cost might be over $4,000 to repair the transmission, I would rather get a new van. He said the van might go ten miles or 10,000, hard to know.
I will just keep driving and writing to you. I've almost been killed a few times, yet, I made it. So, if the van stops going, I will find a way. Hope you will be there for help, though.
Then it was up Route 1, Pacific Coast Highway. I wanted to go all the way up on this road, but it would be too slow. Back in 1976 myself and two friends took a bus up to San Francisco, along with our bikes, and then rode back to San Diego, about 500 miles. The route, these days, has so much traffic, safer for a bike back then.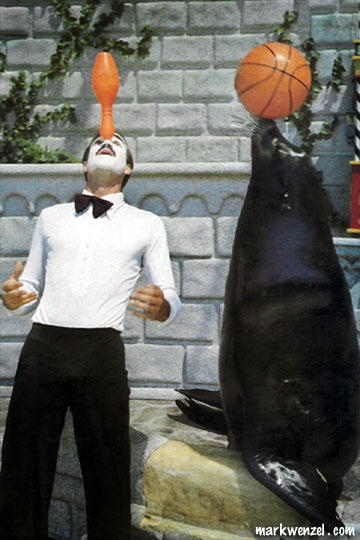 Then, further north, I went to see my old friend, Mark Wenzel. When I was first starting juggling and performing in 1976 I saw Mark doing a mime act at the beach. It ended up that he liked my juggling and unicycling and we teamed up with a few other performers and did performances around San Diego.
Mark has done well with his performing. Many years ago he moved from San Diego up to Los Angeles, he ended up buying a small house in the Hollywood hills, yet, this house has much land and it is at the end of a dead-end road – Perfect. In the 4800 block of Wicopee Avenue, the best place you could live in LA.
After a short visit with Mark, it was to the north I drove on freeway 101. As you now, I do not like traffic and too many people, the route had both. I kept saying to myself, "Get me outta here".
LA is like 100 miles from bottom to top, so I just kept driving, sometimes I was even stopped on the freeway in traffic. It was the weekend so it was not as bad as it could have been.
Have you seen this about LA? >>
https://www.youtube.com/watch?v=HKCfu4UJQiQ
Finally hit the Oxnard area and the traffic was less. Found a Walmart where I spent the night in their parking lot. If you don't know, most Walmart's allow people to park in the lot for an overnight stay.
8/18—Strange, today I am feeling kind of lost, wondering if I am doing the right thing by living and traveling in my van. Planning to head toward the north along the coast, but, in a way, I want to get back to the mountains.
Also, I'm not hearing from you, wondering if I am wasting my time writing these words.
Today I called Karen, we used to have a very nice romance back in 1980-81. I was passing through the area where she lives with her husband, Edward. In fact, I was the one to first introduce them.
In 1981 Karen and I had been traveling when I got a call from an agent in Hollywood. I was told that my act was booked at Ballys in Atlantic City and would start in ten days. I chose juggling over being with Karen, this choice has affected me to this day.
I called Karen about visiting, Karen basically told me to never contact her again in my life. I was hoping we could at least be friends.
The same happened with Tina, she will not even be my friend, she put a big distance between us. Seems as though they both hate me now. And, I am not seeing the reason. What could I have done that was so hideous that now they totally reject me?
I want so much to find someone I can love with all my love, as they love me. I am wondering if I will ever find such a person again.
And, I was married to Mary Ellen for 23 years. We are still connected, through our daughters, and are still friendly.
I'm very caring and loving in a relationship, can't tell what it is that set these ladies against me. I will always have fond memories of my time with this special ladies.
Does this happen often in relationships, or is it just me? Questioning myself much today. What is there to live for if not love? I am even questioning if some other lady who might have interest in me could read these words and they will chase her away?
For sleep overnight, I drove down a road and parked right on the cliffs next to the ocean for some shuteye. So nice to hear the gentle waves hitting the shore as I was going to sleep. It was not until the morning when I read the sign, "No overnight parking"–too late. This fantastic drive was on route 1 from LA, yet, it was in the evening, so sorry, no photos.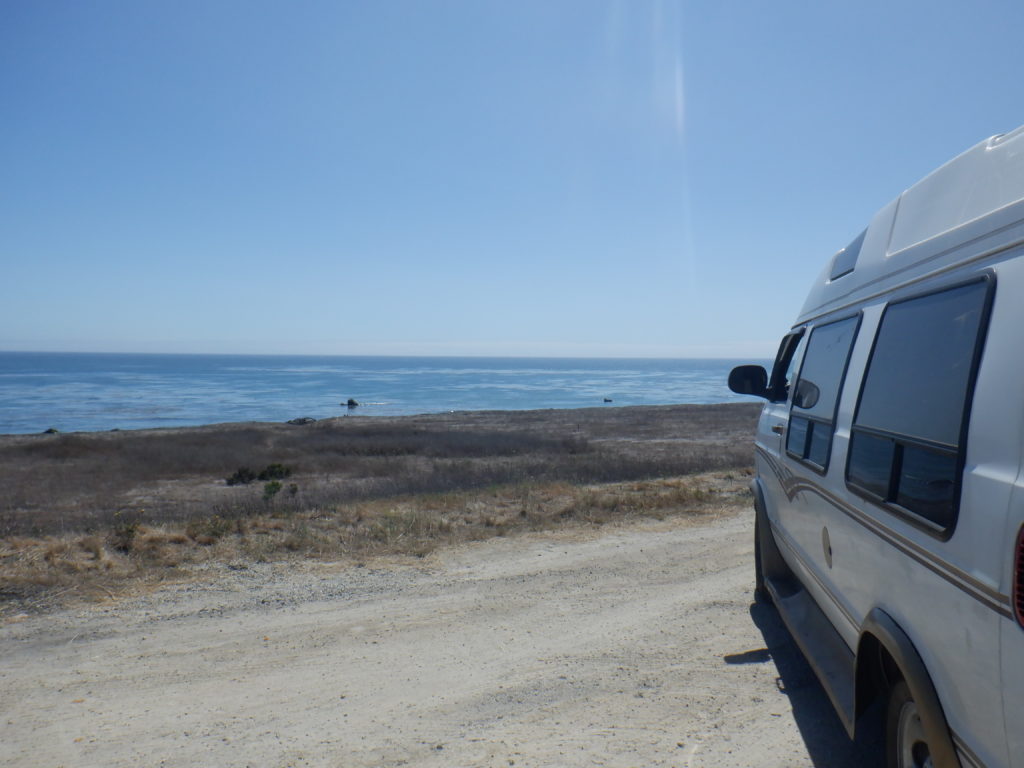 8/19—Of course, awoke to the nice sound of waves coming to shore. The road then lead me from sea level to and was very high was very steep back and forth, with no guard rails – a scary drive. If I were to make an error and went over the side (at least a forty-foot drop-off), it would be the death of Kit, and no more blog.
6:30 on a Monday morning, only passed three other vehicles on this drive. The drive I am on is Nacimiento-Fergusson Road, a beautiful drive. There are even videos on this scary drive >>
https://www.youtube.com/watch?v=j0yJzBQN3Y4
Then, as I was climbing higher and higher, to make matters even worse, I drove up into the fog/clouds and it was so hard to see, things were getting more precarious every moment.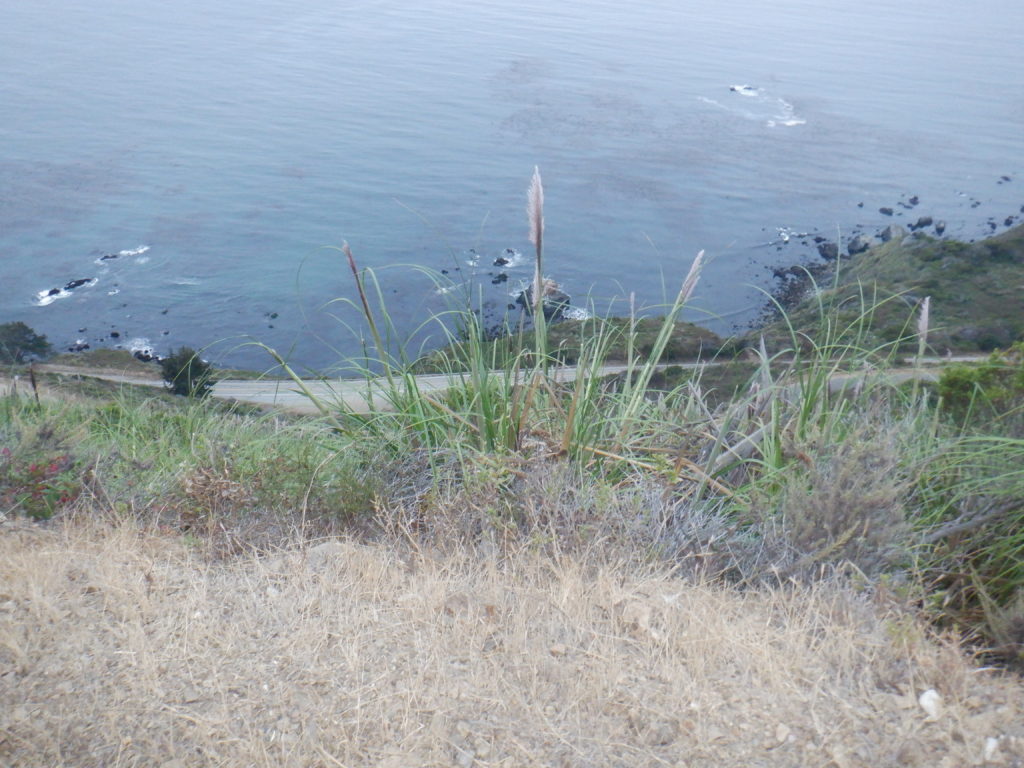 Also, driving toward the west in the evening, the sun was just going down and in my view, yikes! I had to pull over for a bit until the sun got lower and I could see. This is a drive I will never forget.
On the drive, I went from sea-level up to about 3,000 feet in a very short time. Eventually, the road went into Los Padres National Forest. Overall a very scary but lovely drive.
As I was driving through Los Padres National Park I saw a turn-off for Ponderosa Campground. I seldom get "hungry", I mainly eat because I know I have to keep living. I pulled off to fry up some potatoes – umm good.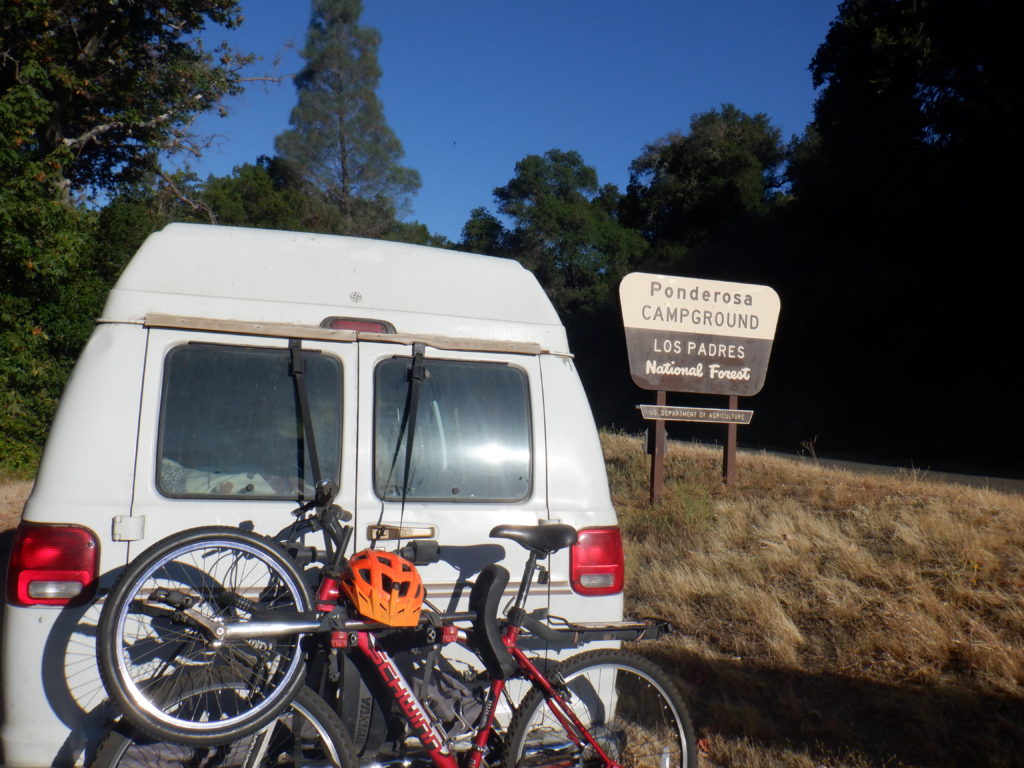 At Pinnacles National Park now, away from the people and traffic, what a relief. Back to the woods. For ten bucks I was able to get online while here to write these words.
In the office, I met Pat Lillejon and Aja Woolley, who helped me to set this up. Two more people who have joined you to receive my blog.
Like much of California, there is dry grasses and bushes much. The green trees are good to see. Rain no longer comes to this barren state, as plants and grasses wither away. Because there a few people here, I like this park, much. You must come and see, a splendid park.
At this campground there is even a pool, I will be going for a swim later.
Take a look at Pinnacles >>
https://www.youtube.com/watch?v=EZFkEsIsZi8
I had just written that I was questioning my traveling and living in a van. Well, this shows me why, back to the natural forest where I belong.
Today I did some hiking on trails and seeing the magnificence, a great place this is.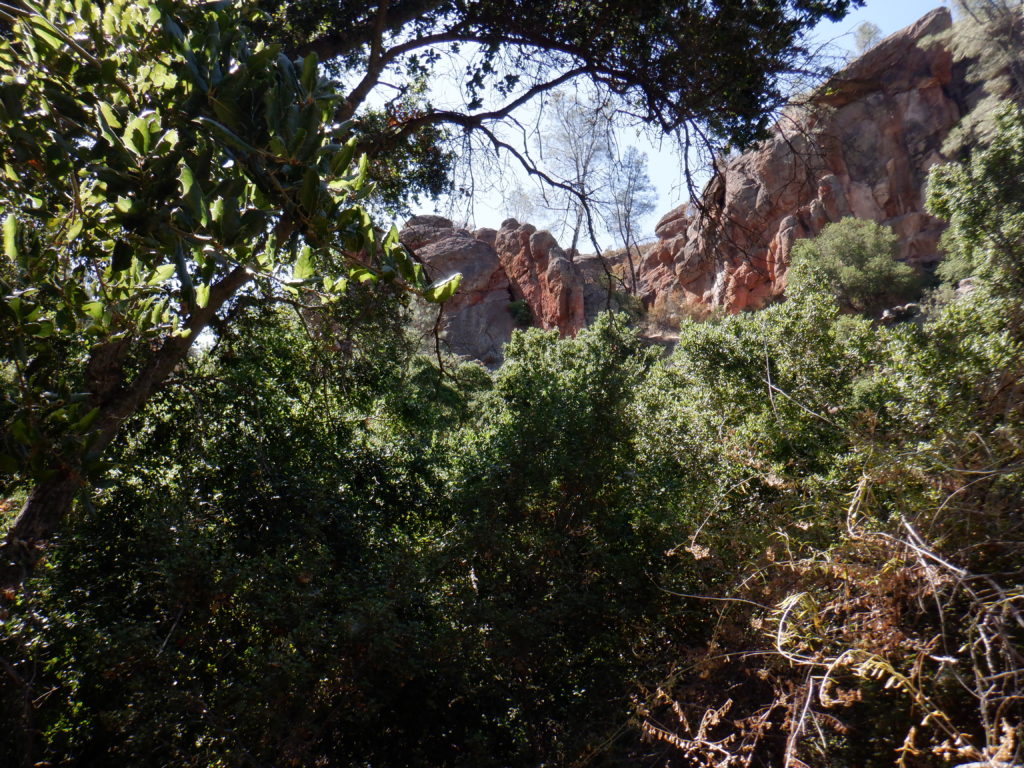 8/20—Had a good sleep last night in the dark and quiet. Cleaned the van out today, much better. In the afternoon, I went for a swim in the pool. The water was very clean without strong chlorine, I can't stand too much chlorine.
When I go into a pool I often bring a washcloth with soap on it. I use a 3in1, body wash-shampoo-conditioner. So, in the pool I get thoroughly clean, feels very nice. Clean for a few more days.
To the north for me. I got in contact with a Facebook friend in Mountain View, up by San Fran and will be stopping by for visit tomorrow.
I got to the town of "Gilroy", and, because there are so many cars, people, and I don't like the name of the town, I had to get away. I was at a Walmart where I was going to spend the night, but, having so recently been at a splendid national park, I could not get myself to stay.
On GPS parks are in green. I saw a big green to the north so I pocked on it. This lead me up Hicks Road to the Almaden Quicksilver County Park right on Guadalupe Reservoir. Actually, the road just goes next to it, I don't know how you get into the park.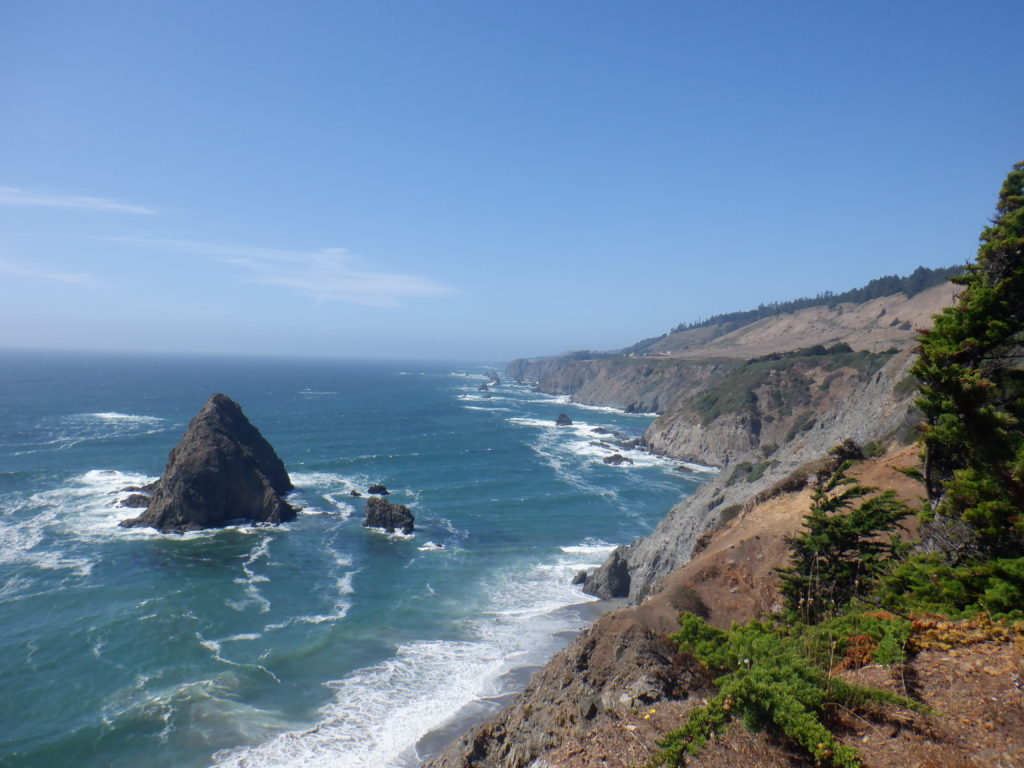 I drove off into a turn-off and here I will be for the night. Hardly any cars are driving by, so it should be quiet, dark and peaceful for the night.
8/21—Yes, did get a good sleep. Without cars driving by and/or people around, very comfortable.
Then I drove to a McDonalds to get on their free wifi. I look out the window and see a constant stream of cars driving by. Everyone is different—in life and in looks.
Many of these people do not like their work or their life. With this blog, I am aiming for people like that to let them know they can change their life for the better.
One change I helped with is my Facebook friend, John Hammink. We connected through the book (with a face) and met up in his town, Mountain View. He has had many achievements in his life, worldwide, yet, right now he is kind of stuck.
Here is about John and some of his music >>
https://en.m.wikipedia.org/wiki/John_Hammink
https://archive.org/details/iuma-john_hammink
https://soundcloud.com/johnhammink
I gave John some suggestions and ideas to get back on track, and believes he will find his aim again. Also, I suggested, for the freedom it provides, getting a camper-van like mine as his new home. He likes the idea, I am here to help all I can, as I will be with your travel-van.
John was impressed with how I keep the van very clean and organized; always good to hear. I told him, "Living in a small space like this, it is a necessary requirement.
After our time together (thanks for the bagel, John), it was off toward San Francisco. I had an address for SF Circus Center. Once I found a place to park, which took a while, I went up to the office.
The person I talked with did not have any phone numbers for jugglers or did not really know what goes on local people who throw stuff. She said they have a juggling club that meets on Sunday, but, it being only Wednesday, I was not about to wait around.
Back in the van. I typed into my GPS (a real GPS, not a smartphone) "Pier 39", where often juggling acts are performing. Only a few miles, but, at 1 mile an hour sometimes, it took a while to get there. As you know, I hate traffic, so this was very painful.
Only 9am, a massive traffic jam (or is it jelly?) I know there are thousands (millions) of people who have to deal with these daily traffic troubles, I hope you are not one of them. Hours and hours of wasted time in traffic.
Maybe it is good I did not stop by San Fran, have you seen? >>
https://www.youtube.com/watch?v=IQDahwFhBW0
Arriving where my GPS sent me, it looked like downtown San Francisco, not pier 39 as I remember it. Of course, still heavy traffic, so again I said out-loud – "Get me get outta here!"
San Francisco is doing worse all the time. Take a look >>
https://www.youtube.com/watch?v=IQDahwFhBW0
On departure, I got to go over the Golden Gate Bridge again – a joy. To the north as quickly as possible. There were still many many cars, and this was only the afternoon.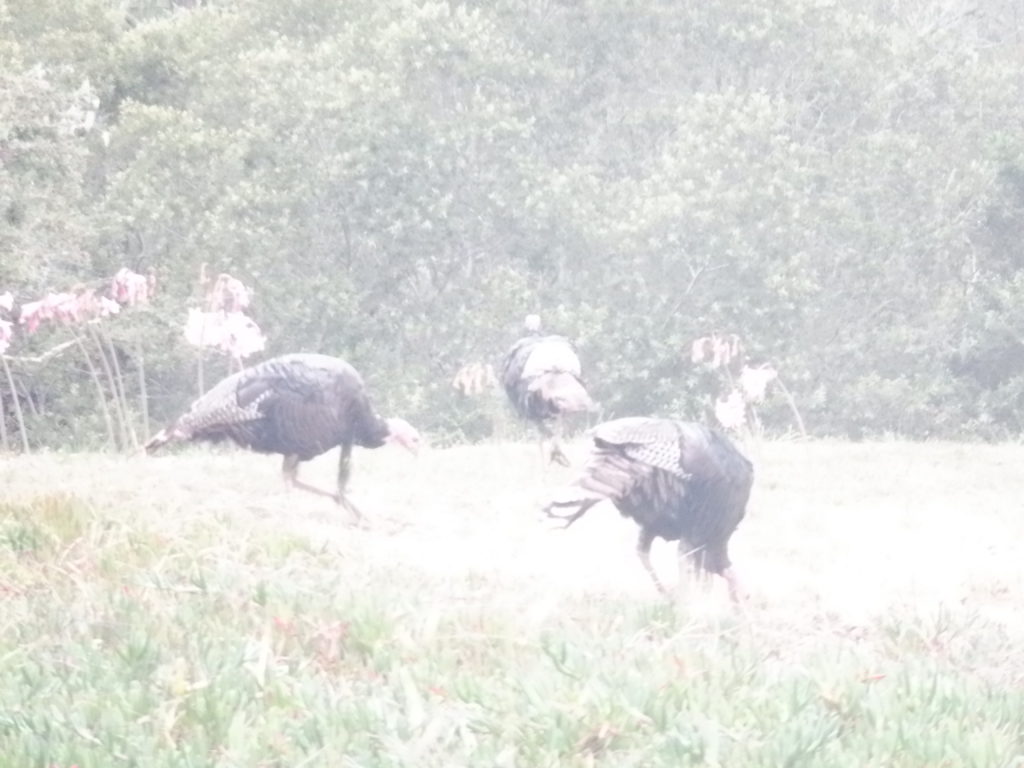 I stopped on the way at Point Reyes National Seashore. I was told of a place where I could see Elk, but it was a 45-minute drive to get there. And, they had no campground, so off I went out of the park and further to the north.
Parked near Bodega Bay, this is where I will stay the night. I found a turn-off and the bay is only about ten feet out from the van, should sleep well tonight. So, sipping wine and typing to you, with a smile on my face.
I do hope my words help you to open your mind and your to make a future that you love. Do not settle for ANYTHING! Make changes and improvements all the time to make your life better and better – you have hat power!
Yes, I am brushing my teeth every night, thanks for asking.
8/22—Right now I am typing to you while parked at the cliffs overlooking the ocean. As you know, I have a seat and table in the van as an office. Hearing the waves coming to shore is magnificent. Cloudy now, the sun should burn off the fog soon.
If you ever get the chance to drive along the coast from LA to Oregon, make the drive. There are exceptional views the whole way along – you will love it! This drive along the shore is breathtaking. Careful though, many drop-offs if you are not careful.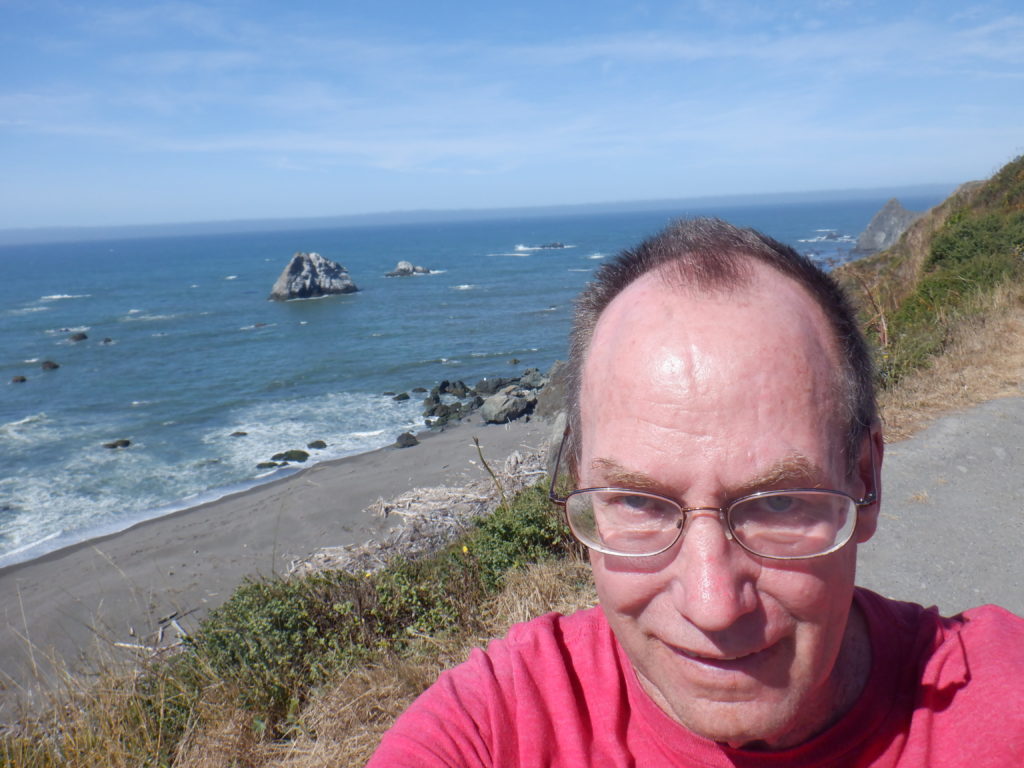 I often do not wear a seat-belt. On this drive I did. That is how my younger brother died, he was driving off-road, drinking beer, having fun, no seat-belt, they rolled. Gary and Josh, my older brothers son, both died.
My challenge for you this week >> With a smile on your face, take a homeless person out for lunch.
Next, I am on to Lassen National Park
https://www.nps.gov/lavo/learn/photosmultimedia/videos.htm
You will learn more next Friday.
Until then, make your life an amazing event.