The Wanderings of Kit (Do you wander or just wonder?)
By writing this blog I want to inspire you and show you that–
• Change your life at any time to make it more magnificent!
• Live with little money and still have an excellent life.
• Be able to live life getting very little sleep.
• Live ANYWHERE in the world and still make your life a fantastic event!
• See experiences that will add to and make your life better.
• I want to inspire you as to the wonders of the earth.
• Perhaps this is my new "gig", traveling the world doing the same?
Design the life YOU want to live, now, then live that life.
***************************************************
REMEMBER, TO READ PAST BLOG POSTS, GO TO*** >>
***If you are reading this through Facebook or at my website,
I can send you the blog by email, which can have more photos.
Sent me an email and write "email blog" as the subject.
*** If you are not my Facebook friend, yet, please befriend me.
***The freedom I am experiencing in my travels is a marvelous thing.
***Going where I want, when I want and seeing wonderful places and people.
***With this blog I want to help open your mind to more of the splendor of the world.
***I will have places to show you and tales to tell.
***I will have secrets to unfold and good news!
I'm glad to take you on my journeys with me!
*****************************************
Just sent the

last

blog off to you. Hardly hearing from anyone about my words. I am Facebook friends with many authors and writers. How could I improve my prose?
I do know that good writing is a matter of heavy proof-reading and editing. I go over my material numerous times to get the best words to you.
By losing my wallet and by going through my accident some years ago, I came to realize how much I had lost, and then, how much I have gained. Every change we go through, good or bad, we learn from.
That is, if we look for the learning that can be gained from the experience. I am almost glad the accident happened; I have grown and learned so much through every accident and damaging thing that has occurred.
Life is a series of endings and new beginnings. Many people get stuck at an ending, get depressed, and find it very difficult to let go and move on.
My juggling and past life were gone, time to get on with other things. We have to learn from what happens and then move on to better times. You can do this; I'm here to help. See change as a good thing.
Make the Change—We can all change; many of us (like me) have to. It is even possible for a cigarette smoking, out of work, overweight, fifty-three-year-old man, who is not physical and doesn't work out, to change, dramatically. We have to face it, change is good for advancement.
Yes, you can change. Not changing or challenging ourselves is a way of not growing. Each of us in this world has to see that change is good for us. Help others, as much as possible, to get through their changes. See that, everyone, at times needs help, we are all the same.
In going through my big change, some people around me were unsure of how to act toward me. These people didn't know how different I might be. They didn't seem to know at what intelligence level I might be or what emotions I might have at the time.
People who have suffered brain injury are as different from each other as people are who have not suffered a brain injury, don't classify everyone the same. Also, many people are afraid that what has happened to others might also happen to them.
Some people are uncomfortable with hearing about our loss and particularly the anger of our change. Help these people learn about you, as you learn about them. Help people move forward toward their success.
Challenges and changes are a way of life. From when I first attempted to ride my 14-foot unicycle to pole vaulting over 18 feet to juggling machetes to walking across a 15-foot bed of hot coals, I've welcomed challenges in my life.
Many people try their hardest to avoid challenges and change.
They don't take any chances, so that way they avoid any change in life. These people like to play it safe and just stay within their comfort zone. The people who have really accomplished much and excelled in life have taken chances and continued to advance throughout their entire lives.
Along with success, these people who have also had a tremendous loss. Your risks and chances can be controlled though; don't just try something without doing some research. Growth is an ongoing process. Change is good for advancement.
Some of the most successful people in the world have gone through a terrific amount of change. In order to change, we have to see what is holding us back, see what keeps us stuck, and then we have to get out of our comfort zones. We can't worry about things that "might" happen, but deal with them as they do come up. You make your world, be it a heaven or a hell.
===================================
Now on to my daily journal of the excellent trip I am on.
5/10/19—Just sent my blog off to you, and a long one it was. Did you read the whole thing? Or did you just look at the pictures?
After one day, I had enough of Las Vegas. After all, just another big city. So, I looked on freecamping.org for somewhere to get "away". I was sent to Lovell Canyon Road, and lovely it is.
(I'm glad you like my blog,

Liisa

, as I like you.)
I took Route 160 west out LV and turned right on Lovell Canyon Road. Did not see anything for some time, then I started seeing campers pulled a ways off of Lovell, their campsite for the night.
I saw on a sign that there was a campsite in five miles (not that I need a campsite to camp.) The road started to get a little dicey, with the rains last night making puddles, so I picked a spot and here I am.
It is Friday, I have until Monday when I told

Brand

I would be back to Las Vegas Circus Center (LVCC). Brand owns and runs this fantastic place. The reason I am staying around is LVCC has a juggling meeting on Wednesday night, I said I would teach a class on 3 ball tricks, so I will.
I just wonder how long I can last up here in the woods. As you might know, I get bored easily. But, I have weights to lift, bicycles and unicycles to ride, shoes to run, juggling stuff to throw, things to work on on the van, and, of course, we can't forget the beer and wine. So, how long will I last?
I must say, I love being out in the woods where I don't have to put up the window covers to block out the light, at, for instance, a Walmart. And, the quiet right now is amazing, yet, I would rather here birds and animals (especially, elephants.)
I still keep the van very clean and organized, with a home this small it is something that you MUST do. Dishes get washed as soon as they are used. Everything is kept in its place and expertly clean.
Also, I floss and brush every night (no, not my toes, my teeth.) And, I shower every few days, too (
BTW
, how do you "take" a shower? Where do you take it to?) I know it is awful to smell like yourself, seems kind of dumb that people think that. Do you want to smell my feet?
5/11—Stayed laying in bed until the sun was partially up, nice.
My favorite, potatoes, and onions with ketchup for breakfast, nice.
As the sun is just coming up, already getting warmer, nice.
Typing to you this morning, nice.
Well, should be a "nice" day, yes?
Lovell Canyon was a good get-away for me. Did some biking, juggling and unicycling, a good time. Overnight and some of the next day was a fantastic getaway.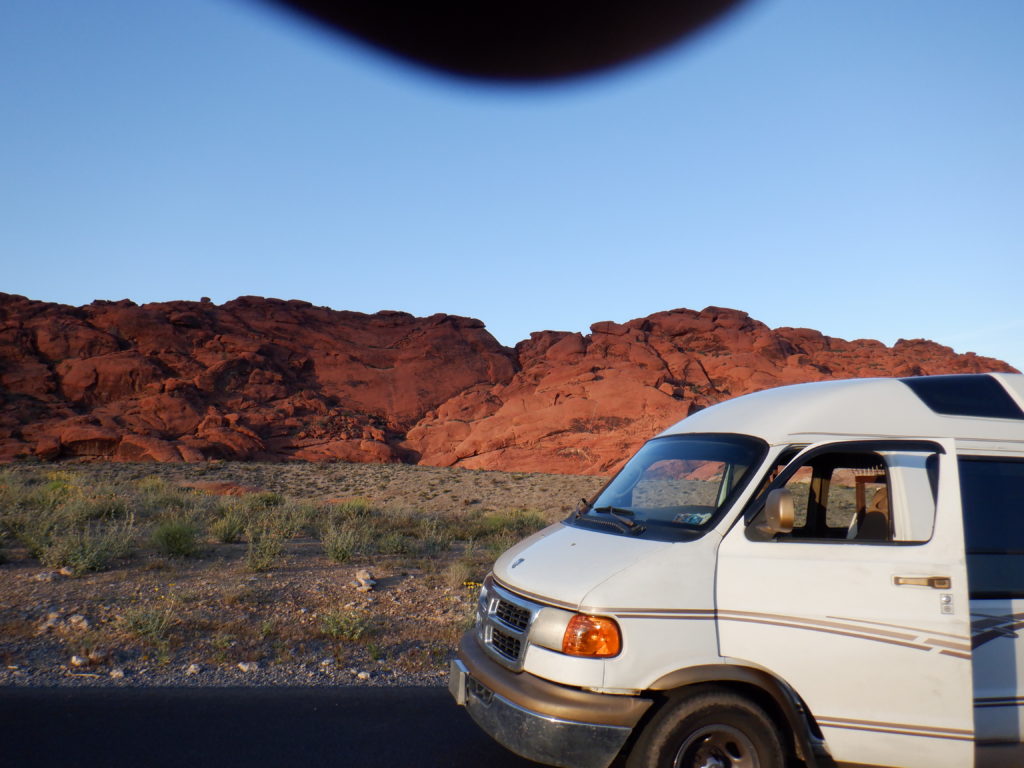 5/12—Found and stayed at a Walmart to the south and west of Vegas. There is somewhere I can plug in and charge my things. Writing to you at 4am, now.
Met today with

Rejean St Jules

, another excellent juggler who changed careers, like

Anthony

Gatto. For a time Rejean was in real estate, not he is buying, fixing up, and selling furniture and special things. Enjoy Rejean's old "excellent" juggling act >>
Kind of a slow day. Basically, I am just waiting for some mail to arrive from New Orleans mailed by my friend

Kyle

. And, of course, teach the juggling class Wednesday night.
I found out that they do not allow overnight sleeping at this Walmart. But someone told me I could park overnight at Lowes. I will do that or simply park in a residential area. I'll let you know.
So many people around me, and, of course, you are my friend. But felt very lonely and sad today. Still getting used to this new life on the road.
Last night I drove out to the wilderness yet again. I can only take so much in any city. It was evening and starting to get dark and I went to Red Rock Canyon. So close to Vegas (about 15 miles), yet so different. Wish I had more time to explore, I may have to return. Take a look >>
5/13—Today I met with

Dick Franco

for breakfast at the Circus Circus casino. We talked for three hours, a great talk.
I first met Dick in 1976 when he was in San Diego to practice in the nice weather before his first big "gig" as a juggler in a circus tour. He practiced daily, I was there practicing every day alongside this magnificent juggler.
You jugglers might now know, Dick had the last name of "Francis" at birth. He changed his last name because "Franco", which sounds more European and also because there is that guy who writes books who uses his original name.
At age 67, Dick is retired from juggling, after advancing the juggling world much. He has developed many companies, one of which he buys and sells classic cars all over the world. A happy guy is Dick.
Here is Dick, enjoy his work >>
Like Anthony Gatto and Rejean St. Jules, Dick is very inventive and has taken his drive toward juggling success and gone in other directions. I guess that is like me and my company, summerssalsa.com
5/14—As you might remember, I had taken my van to a Pep Boys about the front end, when I drove on bumpy dirt roads something didn't sound right. That Pep Boys gave me a quote of over $4,000, I could not believe it. They wanted to change many things—shocks, struts, my underwear and more.
Today I went to a different Pep Boys and let them know my circumstances. They come back with a quote around $300—I was so happy. They repaired/replaced the Moog Idler Arm and the van is back to being excellent.
These guys also let me know I need to replace my tires. So, I went to the place where I bought the tires, Costco, and was told the tires are good for another 5,000 miles, that news also made me happy.
Right now it is 7pm and I found a place to park a half-hour ago. I do not like to park in a residential area because it might scare people, unless I find a place with few homes. What works better is to find a business/office area, where I am parked on the street.
In Vegas, there are freeways going all around the city. Because of noise, I find a location away from busy roads for a quieter night. There are a few vehicles passing by, but it will become less and less and night falls (boy, I hope it doesn't fall on my head—that would hurt!)
I remember Las Vegas back in the 1970s and 80's, there was just one main road going through – Las Vegas Blvd. Yet, the town has grown in size by at least a factor of ten.
5/15—Slept well last night, not the usual for me.
Wondering where I will be going next?
Should I come and see you?
Then I connected with my Facebook friend who lives near Yucca, Arizona. So, going to visit

Cole Wagner

.
5-16—Last night I was at the juggling club at the LVCC. There were about ten jugglers there and things went very well as people advanced. Yes, new friends were made. I sold books, that made me happy.
This afternoon I met with my old friend

Vladik Miagkostoupov

. An excellent juggler, watch him here doing a new "goulish" act, you will see some amazing juggling >>
His two daughters were with him when we met. His 3-year-old was cute, his 7-year-old could already juggle and do other circus things.
Vladik's father is a performer who I met many years ago. Vladik still speaks Russian and is teaching his daughters, it's kind of cute. Here is more on Vladik, an amazing man >>
Still out at LVCC awaiting a package in the mail. Should be here tomorrow, or the next day.
5/17/19—What a day. I heard much about The Valley of Fire near Las Vegas, I finally had to go. About 70 miles away, I had made most of the drive last night.
Kept looking for a turnoff to take to get off the main road, but could not find. I ended up at a big truck stop, with a lot of trucks there. You may not know, many truck drivers keep their engines going all night as they sleep, I guess they are hard to start up. Yet, the noise.
It was hard to find a place in the back where I would not hear the noise. Eventually, I found a place and parked for the night. Got some sleep.
TROUBLE>Before I left I reached in to get my wallet where I keep it in the van, it was not there! I checked many more places, could not find—oh no.
As I have written before, when something bad happens, I don't get upset, I search for solutions, first thing.

I just know that I will always find a way to make it.
I keep minimal cash in my wallet, most is keep in the van. I only have one credit card in my wallet, others I keep in the van. I keep a record on my computer of each thing that is in the wallet, with account numbers, expiration dates, and the code for the card, and the phone number to call about the missing card. This is something I suggest you do, too.
Driving into the valley early, being the only one there, was intriguing. The whole park is kept very clean and nice, had a great drive through. Took many pictures, included are a few. But, I could not capture the true magic of the place, watch this film to see. 
This film captures the true beauty of the valley >>
Back and LVCC again, this is an incredible place. As word spreads, I know that more and more and more people will be here to do circus and to work out.
My Challenge for you to meet by next week >>