The Wanderings of Kit (Do you wander or just wonder?)
With my words, I hope to throw some oblique light upon your soul.
By writing this blog I want to inspire you and show you that–
YES—YOU CAN > >
***Change your life at any time to make it more magnificent!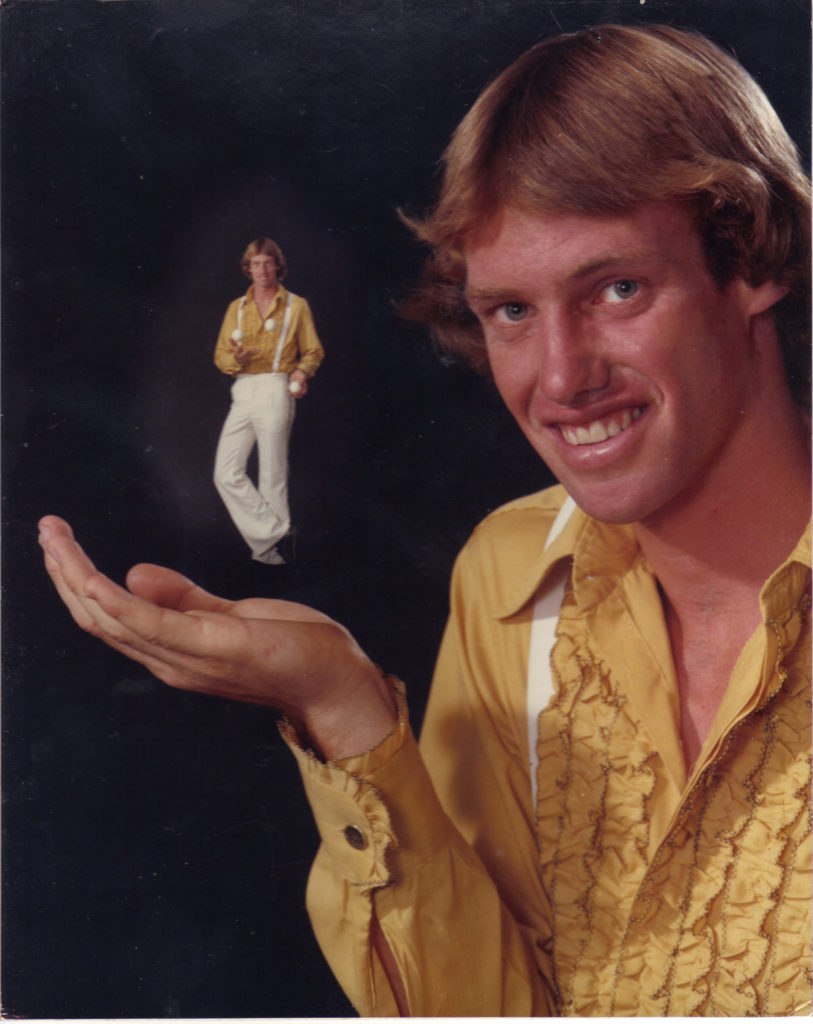 ***Live with little money and still have an excellent life.
***Be able to live life getting very little sleep.
***Live ANYWHERE in the world and still make your life a fantastic event!
***See experiences that will add to and make your life better.
***I want to inspire you as to the wonders of the earth.
***Perhaps this is my new "gig", traveling the world doing the same?
***And, I'm not just, "Kitting Around".
Design the life YOU want to live, NOW, then live that life!
*****************************
***Remember, to read past blog posts, go to kitsummers.com/blog/
***If you are reading this through Facebook, check out my blog on my website.
***If you are not my Facebook friend, yet, please befriend me.
***The freedom I am experiencing in my travels is a marvelous thing.
***Going where I want, when I want and seeing wonderful places and people.
***I will have places to show you and tales to tell.
***I will have secrets to unfold and good news!
I'm glad to take you on my journeys with me!
*****************************
*****************************
As you know, I published my blog yesterday, hope you enjoyed the read. Each Saturday I wonder what will be coming in the upcoming week.
*****************************
Words to inspire you! >>
From my book series, Beyond Your Potential
The attitude you hold toward your future will determine your life.
Your income is directly related to your attitude and the approach you take toward your future. A positive attitude will take you far. A pessimistic approach to life will hinder you.
If you expect to be successful, then there is a good chance you will do just that. If you expect failure, then you are on your way.
If you expect to fail, that's where you will end up.
*****************************
MY DAILY JOTTINGS >>
2/8—Last night I did a special juggling/magic show for the LOWs people I was here with. People seemed to like it, much. Sold some books too, a good thing. Did you see >> https://lonersonwheels.com/index.html
What a wonderful day today with the LOWs group. In the morning Micheal Weldon took me and six lovely ladies out on a boat ride on Canyon Lake, which is part of the Salt River, and part of the Tonto National Forest. I saw such great views, you will see from the photos.
.
.
.
.
.
.
.
.
.
.
.
.
.
.
.
.
.
.
.
.Take a look >> https://www.youtube.com/watch?v=kg1YLQzoFPo
People had damned up the lake, so, a man-made (and, mame-made, too, I would think) lake.
Last night the coyotes were howling and such, great to hear. Then, on the boat ride today we saw four big-horned sheep and 3 mountain goats up on the precipice, as well as an eagle soaring by the face of the side walls. Seeing these wilderness happenings reminds me of why I am doing out here—I love it.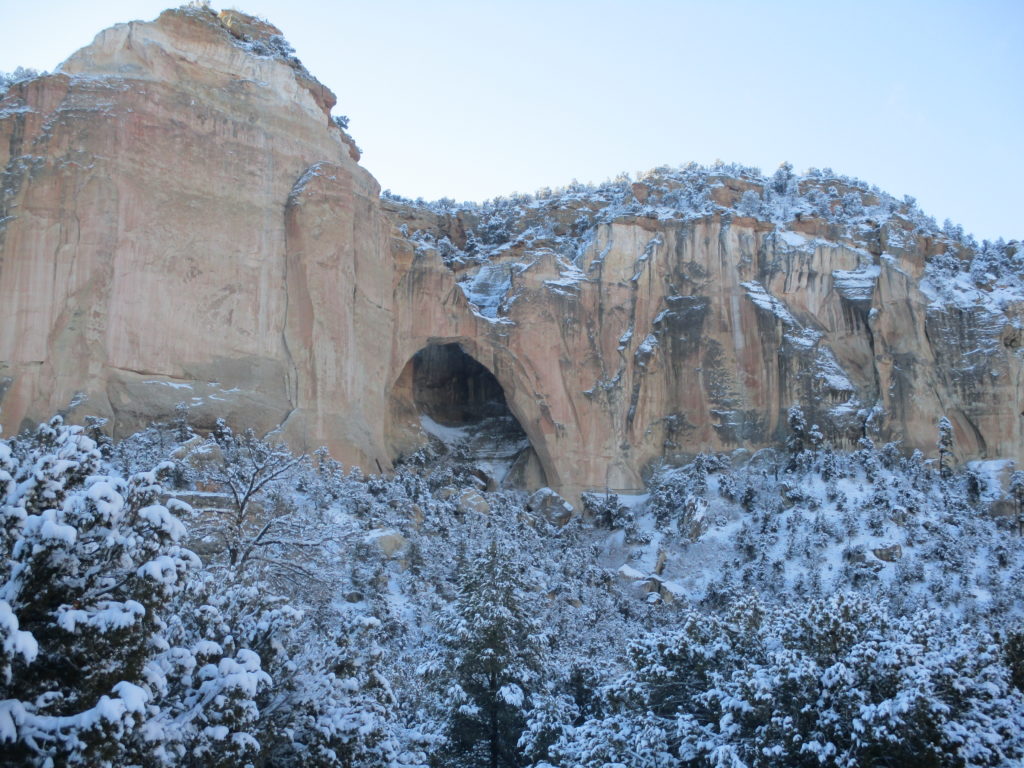 Later, as a group, we went to Goldfield Ghost Town, which started in 1893. What a fun place it truly is. We went to eat at the Mammoth Saloon (http://goldfieldghosttown.com/saloon/ ). They mainly have steaks, which many got at a cost of over twenty bucks. I settled for a quesadilla, and had them put fresh onions inside. With the draft beer, my bill came to $16; I hardly ever spend that much for a meal for me. There was enough quesadilla left for breakfast, too, so that was good.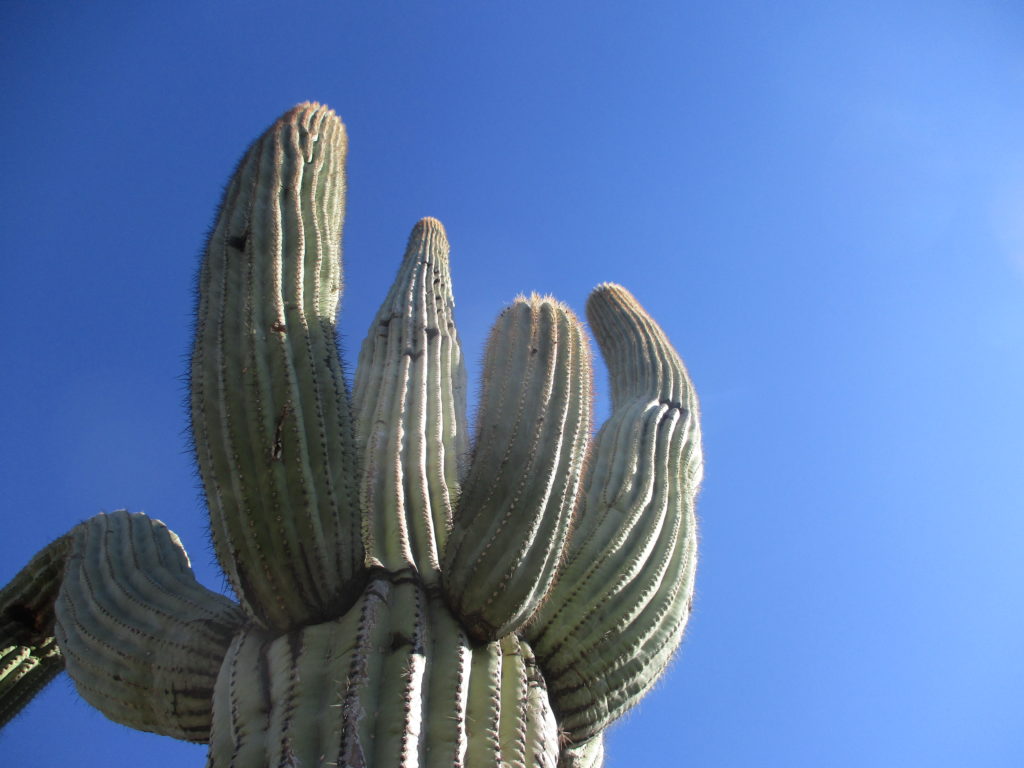 Enjoy >>
https://www.youtube.com/watch?v=m2_twa-gXeI

Back at the campground, a wonderful group to be with. There are rules, generators can only be used from 8-10am and 3-5pm; many have them. Seems that, with the growth of solar, that would be quieter. I think solar is a better way to find power and fill batteries. Generators make SOOO much noise, as you would know, I much rather want to hear the wilderness.
2/9—I bid adieu to the group and off I went.
Thanks so much for having me, Trish.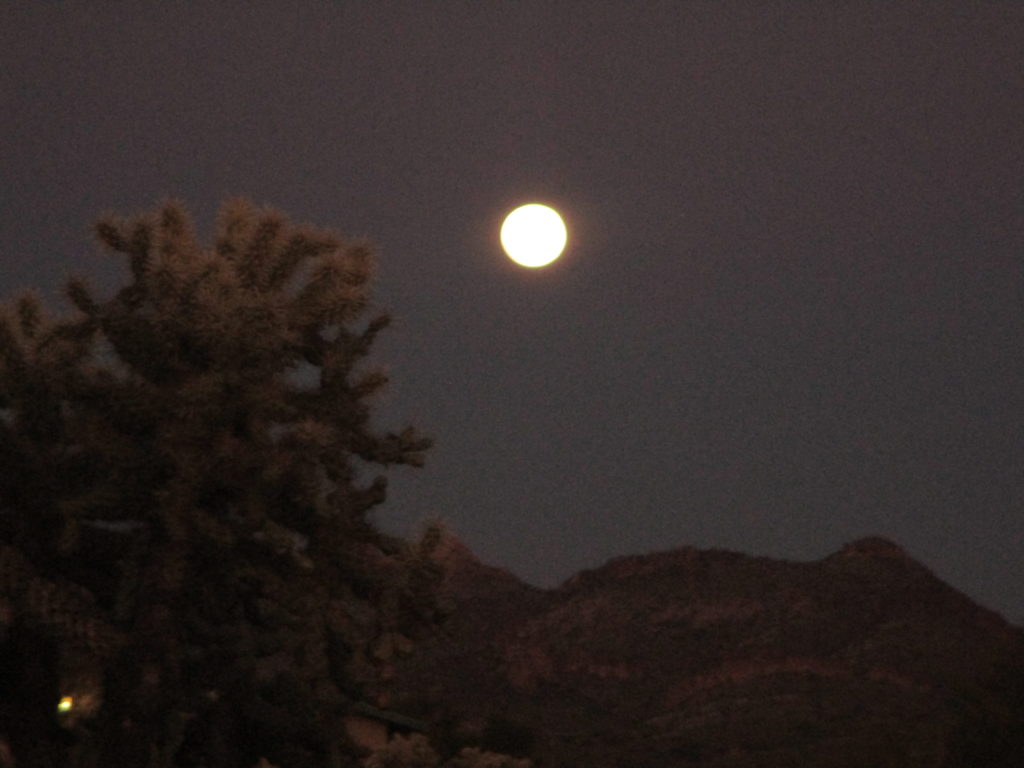 Great memories of my time with these people.
A special day for me, my mom was born on this day many years ago. As you might know, she died a few years ago, which was very hard for me. And, my friend, Larry Zeiger, was born on this day, too, happy birthday, Larry! (Are there too many commas in that last sentence? Or did I do it right?)
The last day of being with the Apache LOWs group. Made many new friends and had a great time for five days. Then it was on down the road, as usual, not knowing my destination.
On the map, I saw the town of Tortilla Flat looked quite interesting, which it was. I was planning on continuing on this road to the town of Roosevelt, but there had been a flood and the road was washed out. So, back I went to take a different route.
60 East through the town of Superior, then toward Globe. On the way, I saw a turn-off, still in Tonto National Park, for Oak Flat Campground—and here I am. Very quiet, very still, I will be staying the night.
See this about Oak Flat >>
https://www.youtube.com/watch?v=8u5MD4nwT2o
9/10—Here is part of the way I drove today, a good film >>
https://www.youtube.com/watch?v=Sxpo1rwCh8o
There is so much to explore in the state of Arizona, take a look >>
https://www.youtube.com/watch?v=SbzvksnJ8S4
I am at the Show Low, Arizona library and, right now I am a little scared. Rain tonight and tomorrow morning (turned out to be snow.) The temperature tonight is going down to 25, and then tomorrow night to 18. I will let you know how it goes in my van.
Also, I have somewhat of a toothache.
What to do, what to do . . .
At a Jack in the Box restaurant plugged in and on their wifi. They keep this place quite cold, but still warmer than sitting in the van. I will hang out in here until about 9pm (they have no customers coming in, I ate one taco.) Then I will drive the van over by the library, where it will be quiet and dark. Hope you sleep well tonight, I will let you know how cold it gets. Goodnight.
2/11—The cold was tolerable, I got some sleep. I have a warm sleepy bag with two blankets on top, fully clothed in balmy coverings, too. I was prepared for the night, but quite surprised at what I awoke to.
I AWOKE TO SNOW! Good thing I was staying at the Hampton Inn. Well, I parked in their parking lot and slept in the van. Parking in a motel parking lot is a good thing, it is quiet and safe.
Upon awakening I set my GPS for the nearest McDonald's (they are everywhere these days), they open early at 5am, so I got going. The snow was still coming down pretty heavy, so I had to take the mile and a half drive slow. Another vehicle passed by me and I followed his lights and got here safe.
It was a whiteout! Very had to see.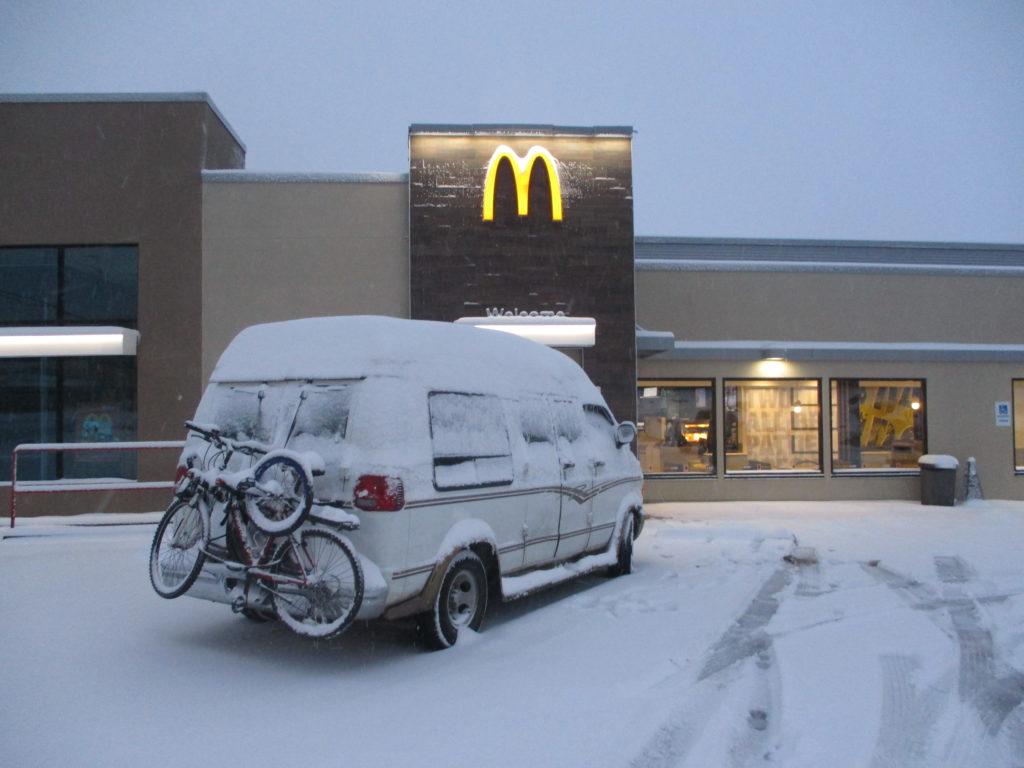 Inside McDonald's and warm, in looking out the window, I still see snow falling pretty steady on the van, I think I will be here for couple hours, drinking my tea and eating my sausage muffin. I am the only customer here, by the way. Well, the library is less than a mile away, so I will be there when they open at 9am; it is 6am now.
The library opened at 9am, so here I am. Dry and warm and will probably spend most of the day here. Worked on writing and watched videos. But. at about 1pm the wifi in the library stopped working, they don't know why. So, I await re-connection when I can.
I ended up driving further east to Springerville, Arizona. I found a McDonald's and got online, it is 6:30pm. I will sleep nearby and return in the morning when they open at 5am. Later I will go to the library in Springerville, which opens at 10am.
I was planning on going up to Petrified Forest National Park. Somehow, in all my travels to so many national parks, I missed that one, and will miss it again. If I went now I would just see coatings of snow on everything. When it is warm I will return, want to join me?
2/12—What a scary drive this morning. Started driving at about 5am in the dark. Foggy/cloudy, hard to see. Some snow coming down as well. I was the only one of Highway 60 going through Arizona. Some snow squalls came in, too. At times is was driving at 15mph not even seeing the centerline. Eventually, the sun made an appearance and things cleared up.
Got into Albuquerque safely. I spent time in yet another library. I like this town, I think I will spend a few days here.
In Albuquerque, I got to meet my new friend, Rose Williams. Such a lovely lady and a good person she is. Rose did a radio interview of me, hope it turned out good, Rose.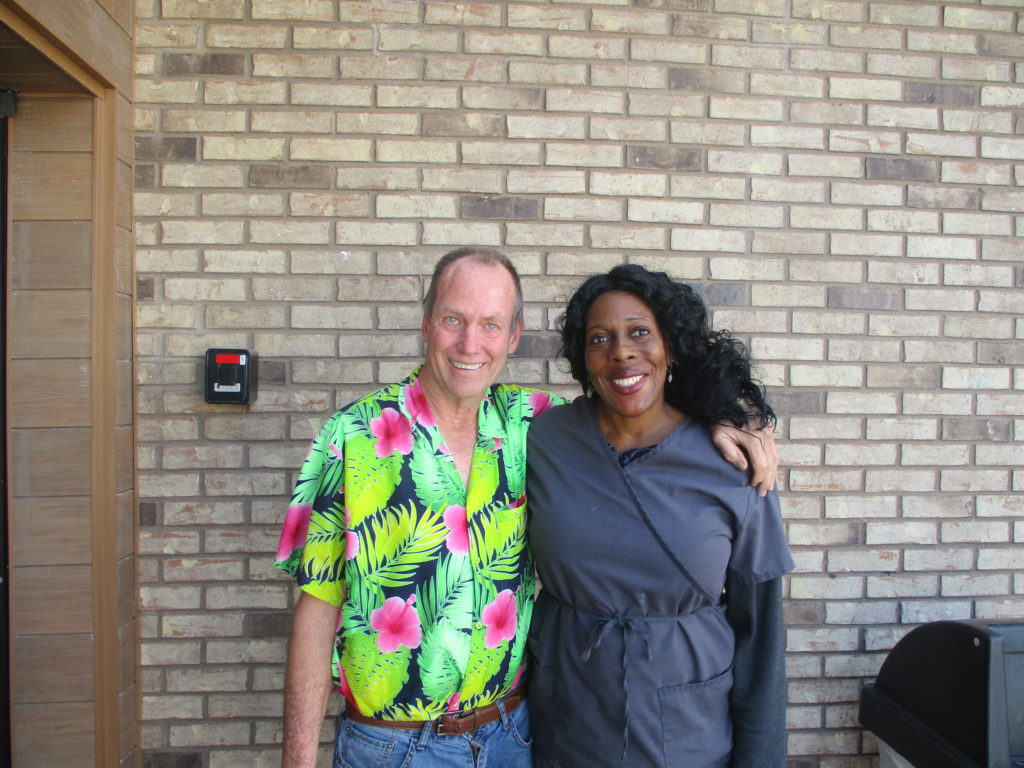 2/13—The temperature last night got down to -8.33c (17f). I remained warm in my sleepy bag with blankets on top. I often worry about being too cold, but have not experienced that. I woke, as usual, at about 2am. In the past I would just stay up for the day, I have been forcing myself to just lay there until I got some more shut-eye. It is working.
As I awoke and set my GPS for McDonald's, there was one within a mile (they're everywhere now.) They open early, at 5am, so here I am.
Later I went to the nearest library, having to drive through much traffic, backed up on the freeway. As you know, I hate traffic and big cities, so I will be leaving soon to head toward the east, stopping at small cities which have libraries.
At the library now I am charging my computer, my phone, my electric razor, and my power station. I like libraries.
I just have to make sure I can get online on Fridays, so that I can get my blog post to you. My main aim right now is to head to Amarillo, Texas to see Kat Pledger, I had some mail and Amazon orders sent to her house. Thank you so much, Kat, for allowing me to do that.
And, my daughter, April, mailed more of my books, Juggling with Finesse, which will arrive about February 20 (thanks, April Du.) So, about one week to drive 285 miles. I will stop often and try and find wilderness areas.
While I am in the library I hung my shower bag on the roof of the van to warm the water. It's been about five days with no shower, I am starting to get itchy, so it's time. I am never too close to someone to have them smell me, so I am not stinky to anyone.
Another big city—Albuquerque—had to get out. To the east and Santa Rosa, a small town. I went right to the library, cooked up three delectable tacos, opened a beer, and, with a smile on my face, I was loving life. It is 5:26pm now, I will be staying in this town tonight, maybe a few nights. Care to join me?
In fact, I will just stay parked at the library and sleep. I am parked out front and can still get online using their wifi, I like that.
2/14—Last night, I somehow lost my clock, so, when I awoke I had no idea what time it could be, so I laid comfortably once again. I awoke again, still had no idea what time it was. I often get limited sleep, still did not know what time it was. It ended up being about 6am; I was surprised at the good sleep I got.
So, I had a number of days to spend before I get my mail of boxes at my friend's house in Amarillo, Texas. I had wanted to stop by to a friend in Roswell, NM for some time, now was the time to go and see Cheeta Wortman, about one hundred miles south.
Cheeta and I met in Balboa Park, San Diego, when I was performing there. We were together and had a romance for a time in 1977 during high school until I was off to juggle somewhere. Because, like me, she has a unique name, I looked her up on Facebook and we connected. Perfect that I came to see Cheeta today—Valentine's day.
****************************
My Challenge for You this Week >>
How many friends do you have?
How many close friends?
This week, get close to three of your friends.
*****************************
Next Blog >>
Heading to Amarillo, Texas, then to the south—to the warmth once again.
=====================