The Wanderings of Kit (Do you wander or just wonder?)
With my words, I hope to throw some oblique light upon your soul.
By writing this blog I want to inspire you and show you that–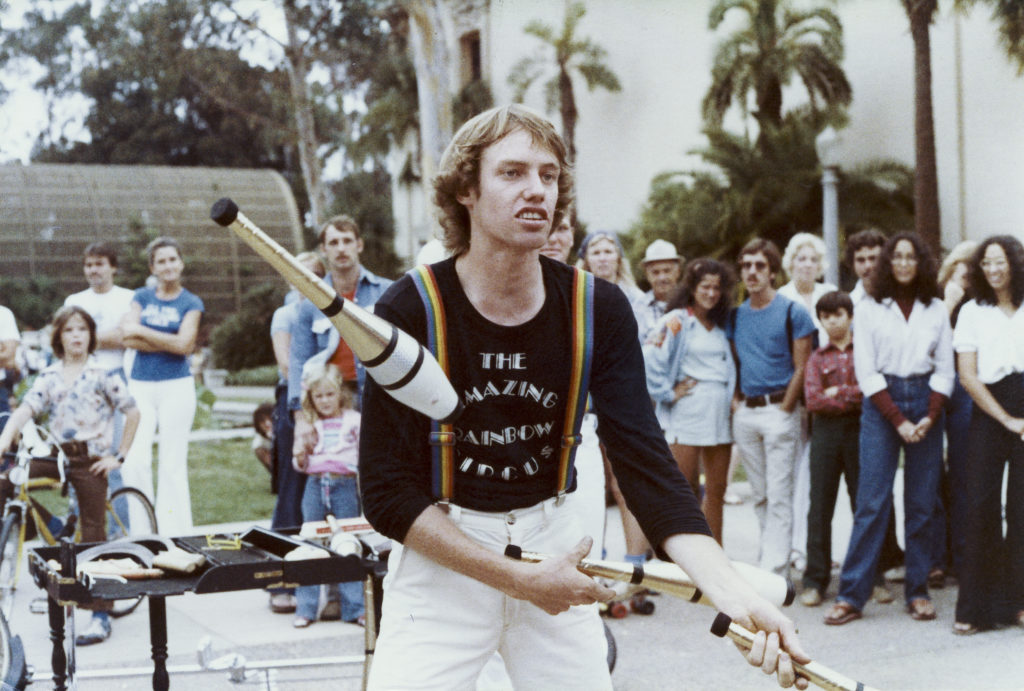 YES—YOU CAN > >
***Change your life at any time to make it more magnificent!
***Live with little money and still have an excellent life.
***Be able to live life getting very little sleep.
***Live ANYWHERE in the world and still make your life a fantastic event!
***See experiences that will add to and make your life better.
***I want to inspire you as to the wonders of the earth.
***Perhaps this is my new "gig", traveling the world doing the same?
***And, I'm not just, "Kitting Around".
Design the life YOU want to live, NOW, then live that life!
*****************************
***Remember, to read past blog posts, go to kitsummers.com/blog/
***If you are reading this through Facebook, check out my blog on my website.
***If you are not my Facebook friend, yet, please befriend me.
***The freedom I am experiencing in my travels is a marvelous thing.
***Going where I want, when I want and seeing wonderful places and people.
***I will have places to show you and tales to tell.
***I will have secrets to unfold and good news!
I'm glad to take you on my journeys with me!
*****************************
*****************************
INTRO TO THIS WEEK >>
Sorry I could not get my blog out to you yesterday, Friday, my normal day of publishing. I was busy with some stuff and could not make time. And, with limited places (McDonald's and Libraries insides are closed), I've not been able to write much.
Trouble—over the weekend I spilled some tea on my computer and the monitor stopped working. So, what could I do? I did go to a Best Buy, they are not doing any repairs at the moment. In fact, I could not even go into the store, there was a line of cars of people who wanted to buy something.
They had employees outside taking orders – so I ordered the guy to bring me a new computer. He took my card and came back with the same kind I've been using.
Good thing I have a Google account which saves all the details of your computer; I hooked in easily. But, I had already written a lot for the next blog, so I am going by memory at this point. I synced in and can now write to you, I was worried I would not be able to.
And, another problem, I had a cup of boiling water and I spilled some on my foot, I quickly ripped the shoe and sock off, but, too late, the top of my right foot got burnt very badly.
Such a strange world right now, massive change everywhere. I hope you are getting through things well in your own changes.
*****************************
WORDS TO INSPIRE YOU! >>
Successful people don't become that way overnight. What most people see at a glance—happiness, wealth, a great career, purpose—is the result of hard work and hustle over time.
To be successful, you have to use each minute of every day as an opportunity to improve, to be better, to get a little bit closer to your goals. It might sound like a lot of work—and with a busy schedule, next to impossible.
But the best part is, the more you accomplish, the more you'll want to do, the higher you'll want to reach. So as long as you have the hunger for success, you will always have the power within you to achieve it.
Use your ambition, drive, and desire—along with these 17 motivational quotes—to make it happen.
1. Your limitation—it's only your imagination.
2. Push yourself, because no one else is going to do it for you.
3. Sometimes later becomes never. Do it now.
4. Great things never come from comfort zones.
5. Dream it. Wish it. Do it.
6. Success doesn't just find you. You have to go out and get it.
7. The harder you work for something, the greater you'll feel when you achieve it.
8. Dream bigger. Do bigger.
9. Don't stop when you're tired. Stop when you're done.
10. Wake up with determination. Go to bed with satisfaction.
11. Do something today that your future self will thank you for.
12. Little things make big days.
13. It's going to be hard, but hard does not mean impossible.
14. Don't wait for an opportunity. Create it.
15. Sometimes we're tested not to show our weaknesses, but to discover our strengths.
16. The key to success is to focus on goals, not obstacles.17. Dream it. Believe it. Build it.
*****************************
MY DAILY JOTTINGS >>
3/22/20—I road on a ferry boat, I loved the experience. In fact, I was transported by ferry two different times this week in my touring. Yes, my van on a boat. I took a few photos, enjoy! Both ferry rides were no-charge, and I really enjoyed the experience. One of the workers told me the boat will make 48 trips in a day.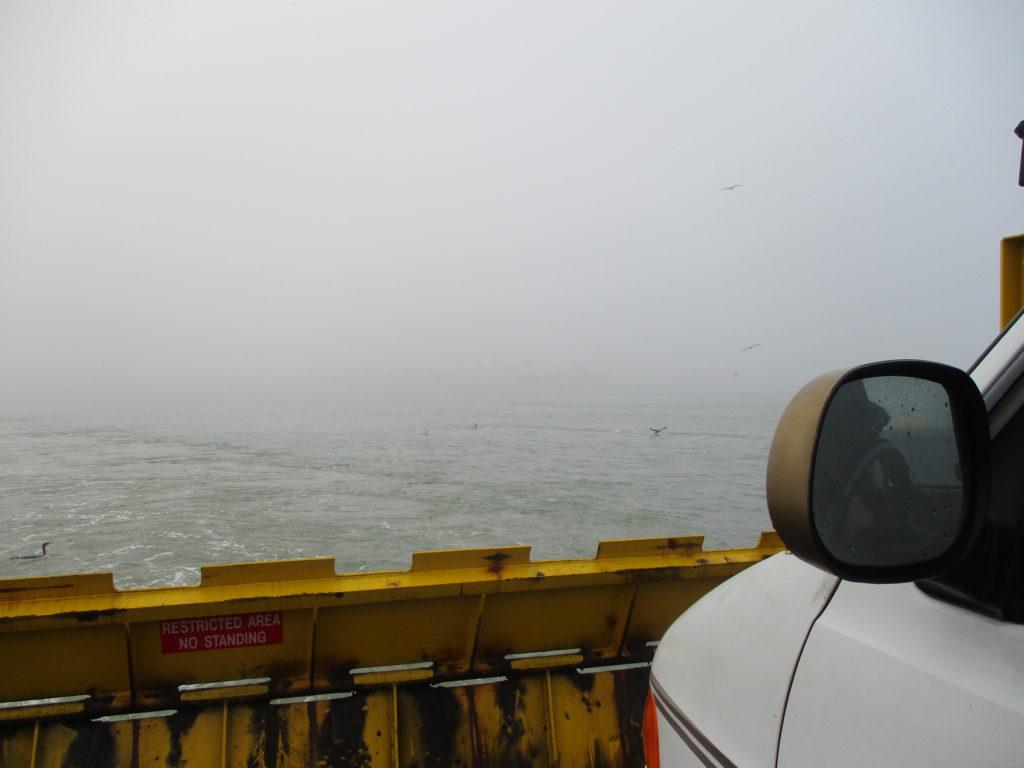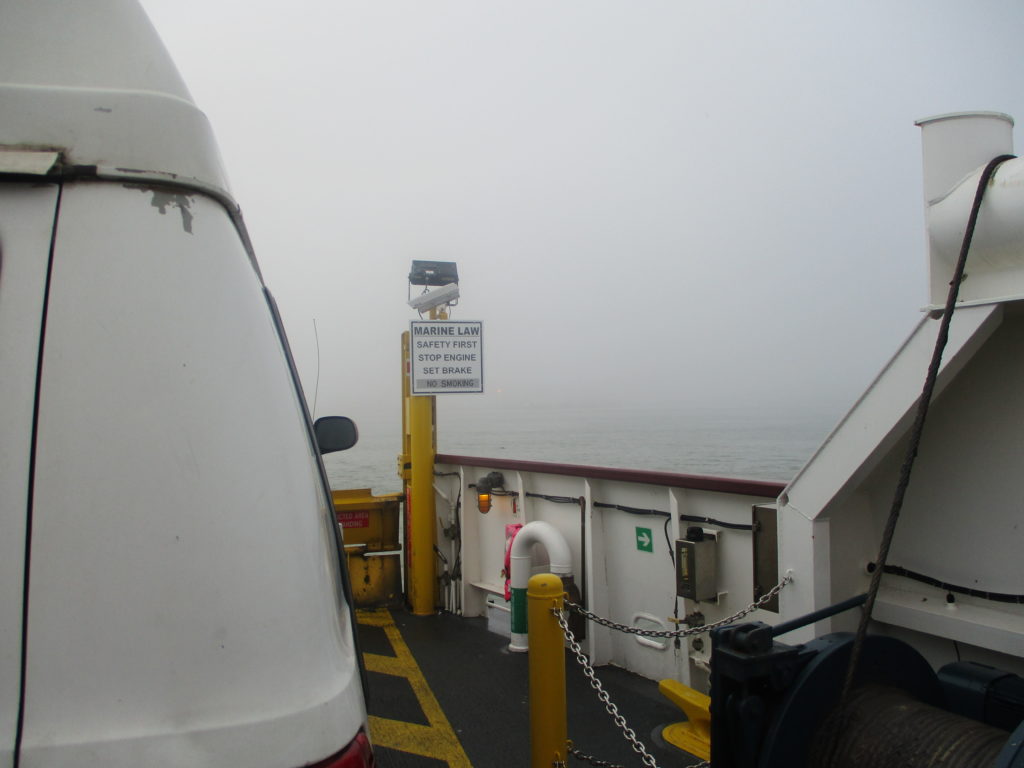 3/23—After purchasing my new computer I needed to plug it in and connect to the internet. All the McDonald's and libraries where I normally go were closed, what could I do? Jim and Julie were headed over there to take care of things. I stayed the night in the van parked outside. Thanks so much, Jim and Julie.
Went for a long bike ride today. I saw and got eaten by a whale, though.
3/24—I actually followed a sign saying, "Beach Access", and what a great find I found. Miles away from any other people, I was able to park right on the beach and spend the night. Arriving in the afternoon, I went for a walk looking for driftwood for my fire-stove.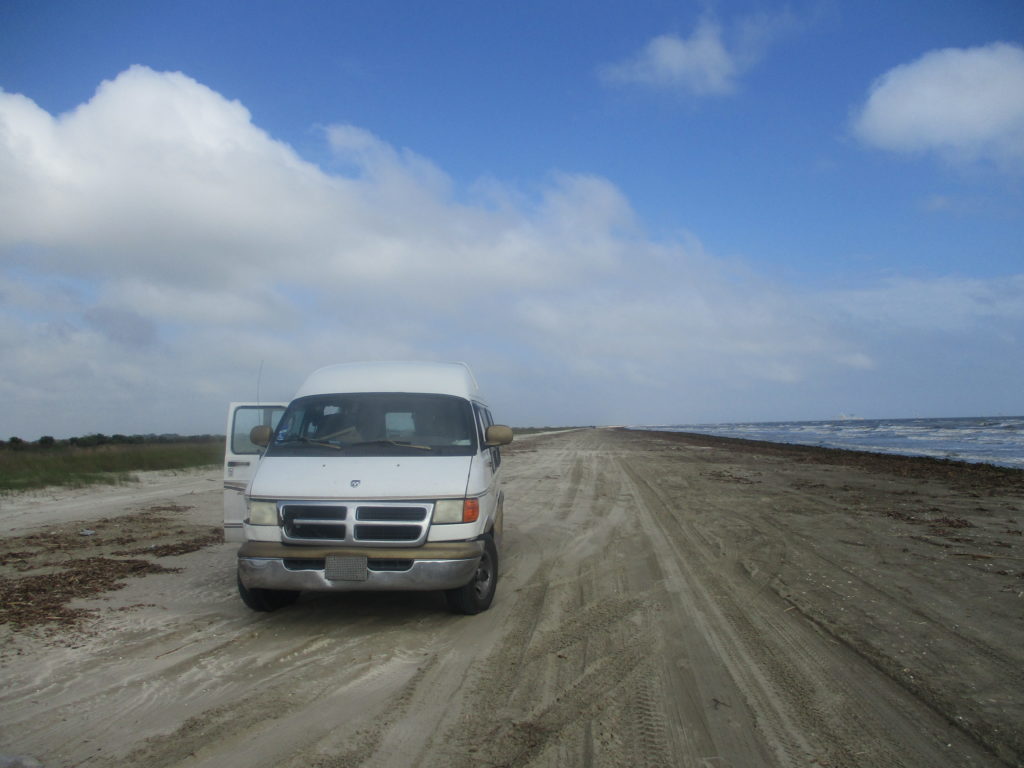 So nice out here. I have enough food and drink to last me at least a few weeks, I should have stayed. But, it is important to get words off to you each week.
3/26—Stayed last night at a Walmart parking lot, was quiet, slept well.
Later I stopped by Palmetto Island State Park. With absolutely no one around, this place was fantastic. I spent some time looking around and admiring the beauty of nature.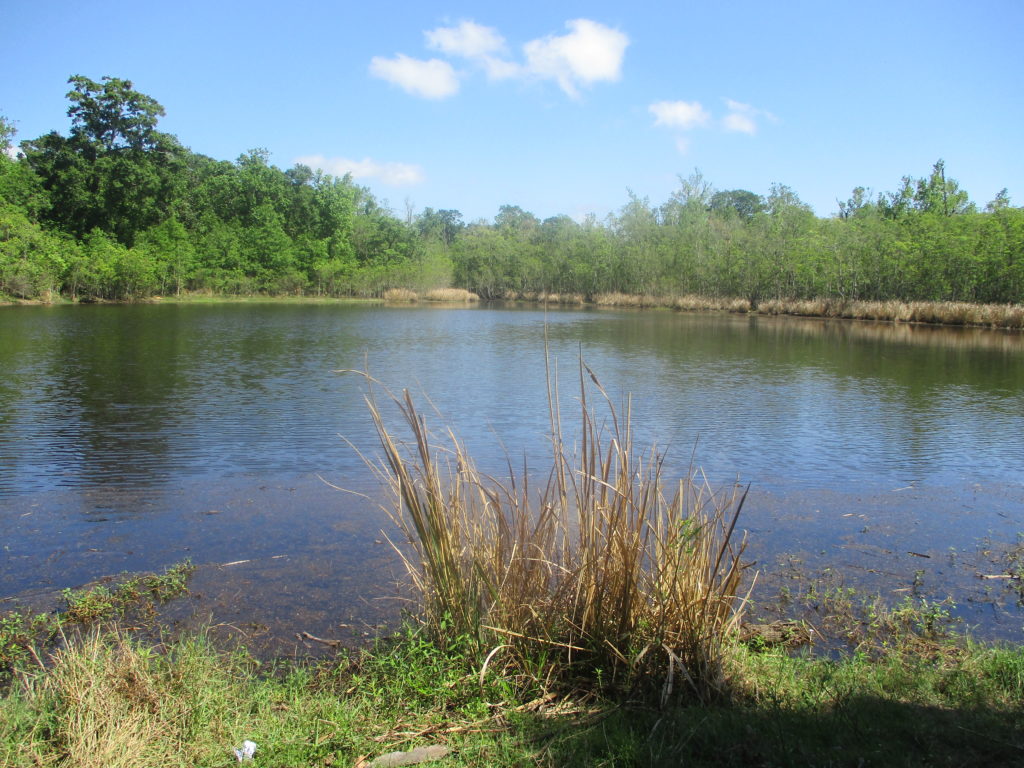 I saw a sign on one building saying, "Wash House". I went in planning for a shower, all I saw were toilets! The place should have said, "Toilet House".
This was a very nice area and I would have loved to stay the night, but, I saw another sign: "We lock the gates at 5pm." So, down the road I went. Hard to think that anyone even comes here – AND IT IS SO NICE~!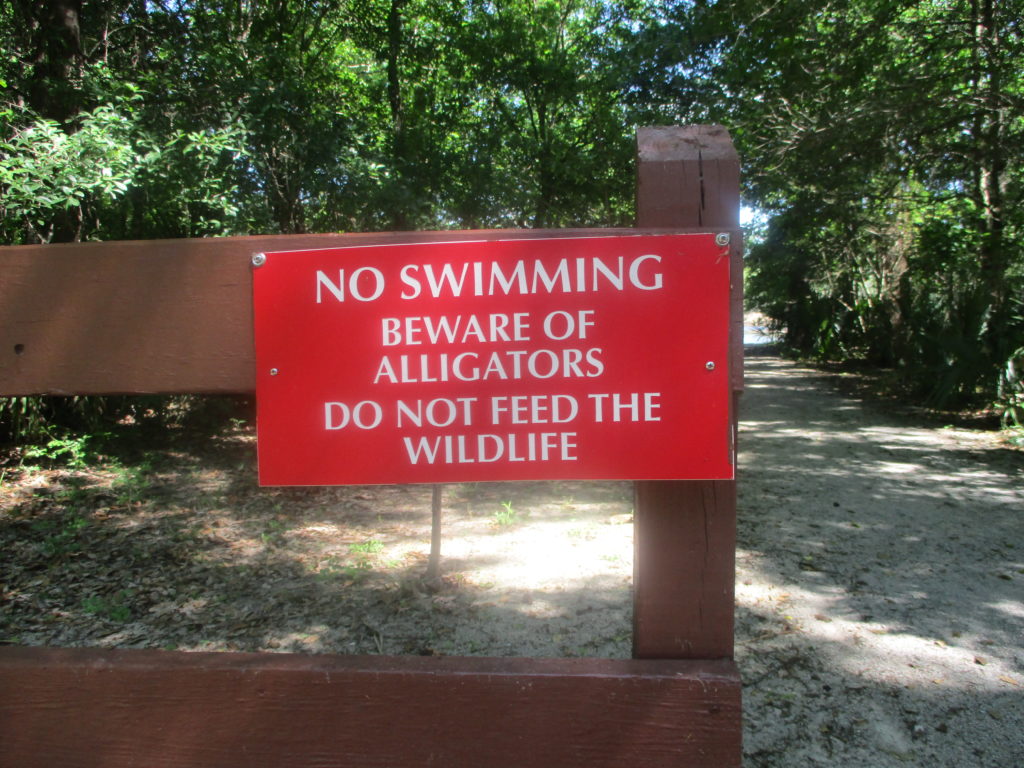 On my way out I stopped in another forest and gather, broke, and cut wood for my wood-stove. Hard to imagine I went through so much so quickly.
3/27—I hooked up with my Facebook friend, Trea Cleaves and stopped by for a visit. So nice here, she lives with her daughter and her daughter's wife in a forest area, I love it here.
****************************
MY CHALLENGE FOR YOU THIS WEEK >>
Look at the way you look this week, with clothes, with expressions, and how you deal with people. How could you improve these areas?

*****************************
NEXT BLOG>>
Don't know what direction to wander, any suggestions?
=====================