The Wanderings of Kit (Do you wander or just wonder?)
By writing this blog I want to inspire you and show you that–
YES—YOU CAN > >
• Change your life at any time to make it more magnificent!
• Live with little money and still have an excellent life.
• Be able to live life getting very little sleep.
• Live ANYWHERE in the world and still make your life a fantastic event!
• See experiences that will add to and make your life better.
• I want to inspire you as to the wonders of the earth.
• Perhaps this is my new "gig", traveling the world doing the same?
• And, I'm not just, "Kitting Around".
Design the life YOU want to live, NOW, then live that life.
*********************************************
***Remember, to read past blog posts, go to https://kitsummers.com/blog/
***If you are reading this through Facebook, my better blog in on my website.
*** If you are not my Facebook friend, yet, please befriend me.
***The freedom I am experiencing in my travels is a marvelous thing.
***Going where I want, when I want and seeing wonderful places and people.
***I will have places to show you and tales to tell.
***I will have secrets to unfold and good news!
I'm glad to take you on my journeys with me!
********************************************* *********************************************
Words to inspire you >> From my book series – Beyond Your Potential
Other people, though well-meaning, placed limits me
-told me I could never return to my former way of life
-told me I would never ride a unicycle or juggle again
-and consequently, I began to place limits on myself
But then I discovered a secret: limits are rarely anything real; they are fabrications of our own minds, reflections of our fears and doubts. Gradually I discovered that I could do anything I wanted simply by doing away with all my imagined limitations.
What I did was formulate an overall game plan, just like a football coach, knowing that the game is constantly changing. To win the game I had to take it one play at a time, knowing that I would go forward, maybe slightly back at times, but always pressing forward with confidence toward my goal. Not going for the touchdown every play, but making sure I was always gaining ground. When it seemed that I was losing a little yardage, I would regroup, consider my options, take a different approach on the problem and start gaining again. You see, it is only those who have gone to far who know how far they can go. You have to stretch yourself beyond what you think you can do, then you can look back and see where you really went.
If setting goals helped me to return to juggling I feel that contrarily juggling played an important role in my recovery. From juggling, I learned self-disci­pline, concentration, and patience, all of which sustained me in my long struggle to reaffirm myself as a whole person. By writing the defini­tions of how to do the various tricks in this book I could feel myself doing them once again, which was great for me. This is not only a manual to learn juggling for I have tried to include many ideas that can help you with your entire life. Through juggling, I was able to improve my strength and dexteri­ty, and this did wonders for my self-confidence. Combined with the natural drive I have always had juggling provided the specific motivation I needed for recovery.
When I was in the recovery stage, I knew I was going to have to retrain my muscles again to perform all the tasks necessary for a normal life. I tried to work on having a permanent smile. My body had to be trained again to perform all the tasks necessary for a normal life again. Personally, I like to see people that are smiling. I thought that if I worked on it from the beginning I would keep it with me.
Being asleep in a coma with a blanket over my toes had straightened my feet so that I could not stand flat-footed. From my years running track, I knew exercises that I could do for myself that would make my feet and ankles more flexible. I asked one of my therapists to place a board on my bed that I could use to push against as I was lying down to try and loosen up my muscles. This seemed to help. When I was alone in my room before I could walk, I would steady myself by holding onto the side rails of my bed, then stand and do stretching exercises on my own. I'm sure that my nurses would not have liked the idea of me doing this. You have to learn to push yourself beyond what you think is possible. We are the person that is in charge of our life, at times you have to do what you think is best for yourself. This decision has to be made so that no one else will be hurt or troubled by it.
********************************************
HERE ARE MY DAILY JOTTINGS ENJOY –
Are you liking the new way I am getting my blog to you through my website? I am not hearing from anyone. Please let me know. I need to get better acquainted with the program, it offers much that I am not using.
August 10, 2019—I've written before about the day after I send out my blog, this being Saturday, and wondering how I can gather enough material to put my blog out by next week. Yet, as you know, it happens each week, the material somehow appears. I am glad you stay with me.
Strange not to have any set schedule on where to be and/or what time. In fact, with my only costs being for gas and some for food, the longer I stay at one location I have hardly any costs. So, can I come and park at your house for a few months?? ha!
8/11—Today I did something I have not done before—went to the horse track and bet. Daniel and I bet on the horse – it came in second to last. But, only lost five bucks on the deal. But, at the track, there was a lot more going on.
There were many booths set up to sell stuff or let you know about their products. SOOOO many pretty ladies, hard to take, I must say. I often wonder, "Will I be alone for the rest of my life? So, a good time was had by us at the track.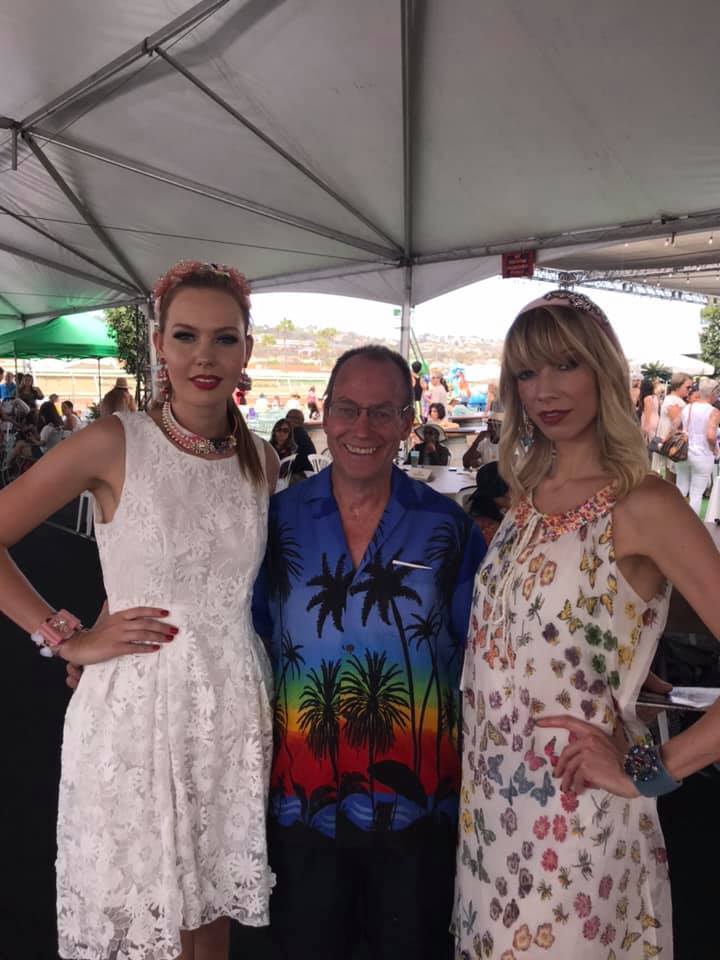 Then, later that evening, we went to a party that Daniel's friends were having. One person I had a long conversation with is Michele Rooney, who works with kids, some of who have dealt with brain injury. Her knowledge of the subject was substantial. Great to speak with someone who really knows her stuff.
8/12—Daniel is packing and cleaning up his house and vehicles in that he will be leaving for Italy tomorrow for some weeks. Must be nice being able to go where you want for as long as you want.
8/13—Did not know what to do next. Then Lynn Montague and I connected with each other via Facebook and I suggested I come by for a visit. Lynnie Bear graduated Point Loma High School a year after me. I remembered her, and she remembered my unicycling and juggling around the high school.
So, off I was for a visit with Lynn, yet it was about 70 miles east, out in the high desert. At first, I was questioning whether it was worth the long drive, but the cost means nothing, really. I am so glad I went out to visit Lynnie Bear at Boulevard, California.
I knew it was a long drive out there, but, as I have written before, "experiences" are much more important than any cost for anything.
As I drove out there, I passed the turnoff for Kitchen Creek Road. I remembered from back in my teens, we used to go there in boy-scouts to camp. I remembered that I loved the place. Yet, after visiting Lynn and on my way back I could not find the campground. I will have to return. Here, take a look >>
https://www.cheersnature.com/free-camping-in-secret-san-di…/
Arriving on a very hot day in the desert, we ventured off to visit the local gambling hall, and air conditioning, cheap and good food, yet, neither of us gamble, their loss.
There is not really a central town in Boulevard, it is a town that is kind of spread out. We did drive a couple of miles to the Mexico/America border, which was just a couple miles away.
There is a dirt road all the way along the fence, yet, I crossed and walked up and touched the fence. I'm thinking I should have climbed the fence and then I would be illegal in Mexico?
As we were there, a border patrol vehicle started slowly driving our way. I am sure there are video cameras everywhere and they knew of us being there, but it was fun.
I guess the biggest thing about Boulevard is http://wisteriacandycottage.com/. Lynn and I stopped by, but they were closed at the time. They do have a storefront, but, Lynn says, most all their sales are through mailing, they send their candy worldwide.
8/14—On return, I had to go and visit my old friend Lorna Paris. I've known her family since the 1970's—many years. I saw Lorna and her brother Joel grow up and also learn to juggle. I had a tryst with their mom for a time—good memories.
Some years ago Lorna developed Multiple Sclerosis. Affecting her dramatically, she is having trouble walking at this point. Basically, her body is falling apart. Learn more about MS here >>
https://www.webmd.com/multiple-…/what-is-multiple-sclerosis…
Then, there is Lorna's mom, Charlotte. Charlotte I were close for many years. Some time ago she started forgetting things, and, as she developed Alzheimer's, her brain disorder became worse and worse. Lorna tells me she does not even know her own daughter these days. Must be so hard to go through for Lorna and her brother, Joel.
After a short visit with Lorna, I was off to see my old friends, Joe and his mom Eva Ramirez. One year after I had my accident and 37-day coma, Joe had gone through the same. Yet, we were each hurt in a different part of our brain; Joe is still having much trouble with, basically, everything. While I was there I made suggestions on some things.
8/15—This morning I was back at Joe's place. I had remembered I had two ten-pound weights which I gave to Joe. I let him know that he has to stop being lazy and get in better shape. He and his mom do not even have a computer, the TV is on all day. I told Joe, every time he watches the television, he has to be lifting weights. Hoping he will.
Then I went to a couple of my favorite places –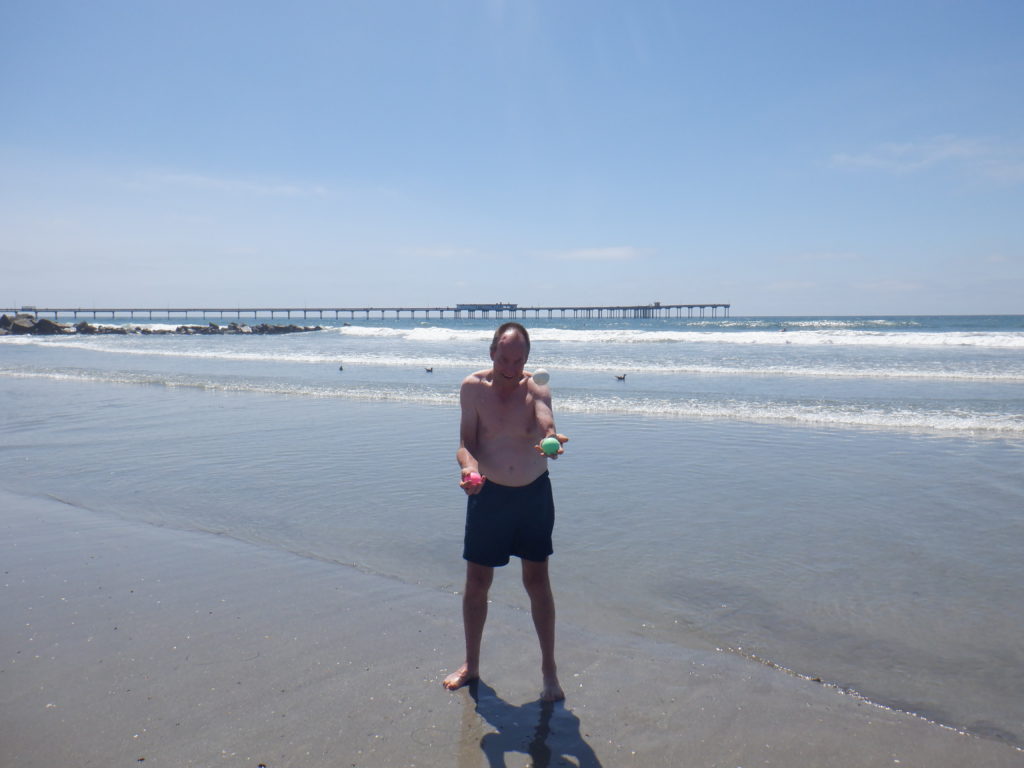 https://www.youtube.com/watch?v=USeiZiJkMdk – for Balboa Park.
https://www.youtube.com/watch?v=6me7_gZd7Ic – for OB.
The beach was calling, I had to answer.
Living in OB, my friend Chris Bayly, had to stop
to see.  Also, had to go to the beach.
California prices are just too high. Gas costs about twice as much as other states I have been through. And, often in the morning, I go to McDonald's to use their free wifi. Usually, I feel like I should buy something to justify my hooking into their wifi, I often get a sausage-biscuit. This is also about twice the price. Time to move on.
I had been awaiting something in the
mail (thanks for sending it, April), so, I have seen friends and time to move on. Planning to go north from here, yet, I do want to get out of California, so I am not sure what direction I want to go in.
8/16—This morning I went to see my old friend, Sabel Aguilar. I first met him when I lived by the University of San Diego on Via Las Cumbres Road. At that time Sabel had two locations where he ran his business, then it went down to one, a big place.
I went by and saw the business was no longer there, so I called Sabel and found out he had moved, but just a few blocks away. At the old place, the rent went from $4,000 a month to $10,000 a month – so high he could no longer afford it.
Now things are very tight, he says, with the internet and people doing their own printing. So, he says it might be time to retire. I suggested he get a vehicle and start traveling like I do, but he says he hates to travel.
If you have printing needs, turn to Sabel at Kings Printing >>
https://www.kingsprinting.com/
You will be happy you did.
As I was about to depart Sabel told me to wait a second. He went in and got some money to give me to help with gas costs, so very kind of him. Of course, I could use all the help I can get. Thank you also to my Facebook friends, Fran Fahs and her husband, who sent me a check to help. So many kind and good people out there.
From there it was off to Vista to go to see Noe, who had worked on the front end of the van. I just want him to check everything and make sure it is alright. He was quite busy today (a good thing for him), so tomorrow at 10am I have an appointment.
Take a look >>
Kit Summers It's lonely out here.
Does anyone want to join me in my travels?
**************************************
My challenge for you this week – Go to a local hospital and volunteer to help for a couple of days.