The Wanderings of Kit (Do you wander or just wonder?)
By writing this blog I want to inspire you and show you that–
YES—YOU CAN > >
Change your life at any time to make it more magnificent!

Live with little money and still have an excellent life.

Be able to live life getting very little sleep.

Live ANYWHERE in the world and still make your life a fantastic event!

See experiences that will add to and make your life better.

I want to inspire you as to the wonders of the earth.

Perhaps this is my new "gig", traveling the world doing the same?

And, I'm not just, "Kitting Around".
Design the life YOU want to live, NOW, then live that life.
*********************************************
***Remember, to read past blog posts, go to https://kitsummers.com/blog/
***If you are reading this through Facebook, check out my blog in on my website.
***If you are not my Facebook friend, yet, please befriend me.
***The freedom I am experiencing in my travels is a marvelous thing.
***Going where I want, when I want and seeing wonderful places and people.
***I will have places to show you and tales to tell.
***I will have secrets to unfold and good news!
I'm glad to take you on my journeys with me!
********************************************* *********************************************
There are so many small towns and city's, I need to take the time to explore more and see these human habitats and not just quickly drive through. That is the plan anyway.
Yes, things have been warming up. I really do not like the cold and the snow. Better and better as I am going toward the south. Yesterday hit 86f, back where I was living for so many years it was 43. I think I like this better.
================
Words to inspire you!
From my book series, "Beyond Your Potential."
Each of us is in charge of designing our own show, which is designing our own life. But, we do not have to face things alone.
People are here to help, yet, you are the one who must take control of that design that your brain brings. And, no matter what your age and/or your status in life; you can start now to design your dream life.
Start designing now, you've got this fantastic thing to think with, but learn to use it right. As you know, after my accident I had to build and design a new life and a new future. I got to examine my upcoming life and see where I wanted to go. I had to change. (I got to change?)
Changing your life into the life you truly desire is something anyone can do. In my past design, juggling was such a central factor; in my new life, I eventually had to see that juggling would be a much smaller part of this new design.
Learning to juggle again was a painful process for me, after having been robbed of my skills. It was boring and frustrating to rehearse outwardly what I already knew inwardly how to do. I had once mastered the art of juggling with considerable finesse, now the skill is difficult.
The neurological pathways from my brain to my limbs had to be rerouted to obey the messages from my mind. As I have said, in my mind all the procedures of juggling were clear; I knew how to move, but my body had to learn once again to comply with that knowledge.
Retraining my brain was a vital part of my come back.
When I returned to juggling, I had trouble juggling 3 balls. I dropped them, I fumbled, my body was undisciplined, and I got angry, but I set goals for myself and thereby step by step overcame the obstacles and ultimately changed the course of action from failure to success.
It was like I had a new body to train, but really, a new brain. Eventually, my juggling became good enough again to perform, yet it was far below the skill level of what it once was. A new show had to be developed.
Basically, I had to put together a new show with my life.
I had knowledge of the old ways but had to go in new directions for my future, which was difficult because at first, my mind could not think as clearly as I wanted. I knew I was in charge of the direction of my thinking and that I could direct my thoughts in the best way for my life.
We have so much dormant power resting in our brain; we will never be able to use all of it.
Remember, you are in control of your brain and how you use it. You run your brain and make your life happen—good or bad. Remember that we can control our brain; it doesn't have to control us. Use your brain right.
================
MY DAILY JOTTINGS >>
11/1/19—Just sent out blog 40 for you, I hope you liked the read. After, I went out to the van and made chicken tacos, need I say? Delicious.
I am sort of out of the mountains so it shouldn't be as cold tonight. But, I will prepare well and stay warm. One thing I did discover—when I have the window coverings on, that blocks out the light, it also keeps the van warmer inside.
11/2-3—In Prescott, mainly at the library and seeing sites. Yes, much warmer down here. Warmer last night, very comfortable. As I am going south things will get better and better.
11-4—So, I did go south, into Prescott National Forest. I landed at White Spar Campground at about 1:33 in the afternoon. At a cost of seven bucks a night, a comfortable cost. An early time to arrive for me to arrive at a place, but I will find things to do. A nice place, they are in the process of closing down for the winter.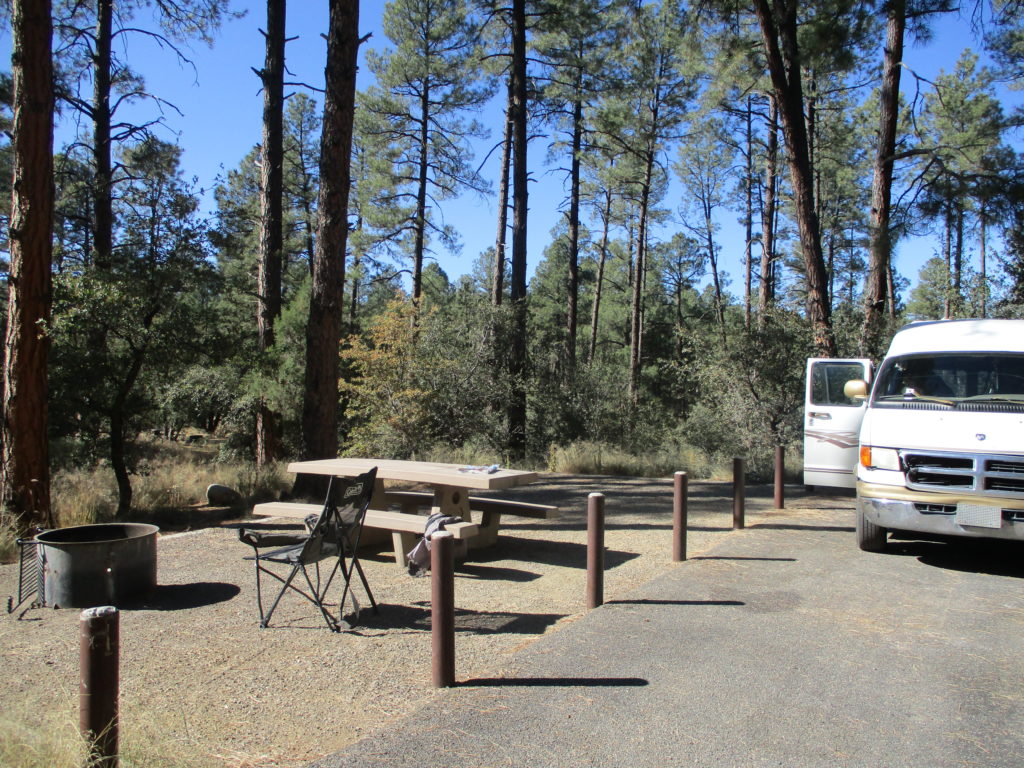 I went out, as I always do, searching for fuel for the fire. Cut my arm up pretty bloody on the branches, but, surface injuries. Did gather enough fuel for the fire for tonight and also a fire in the morn. How I like it.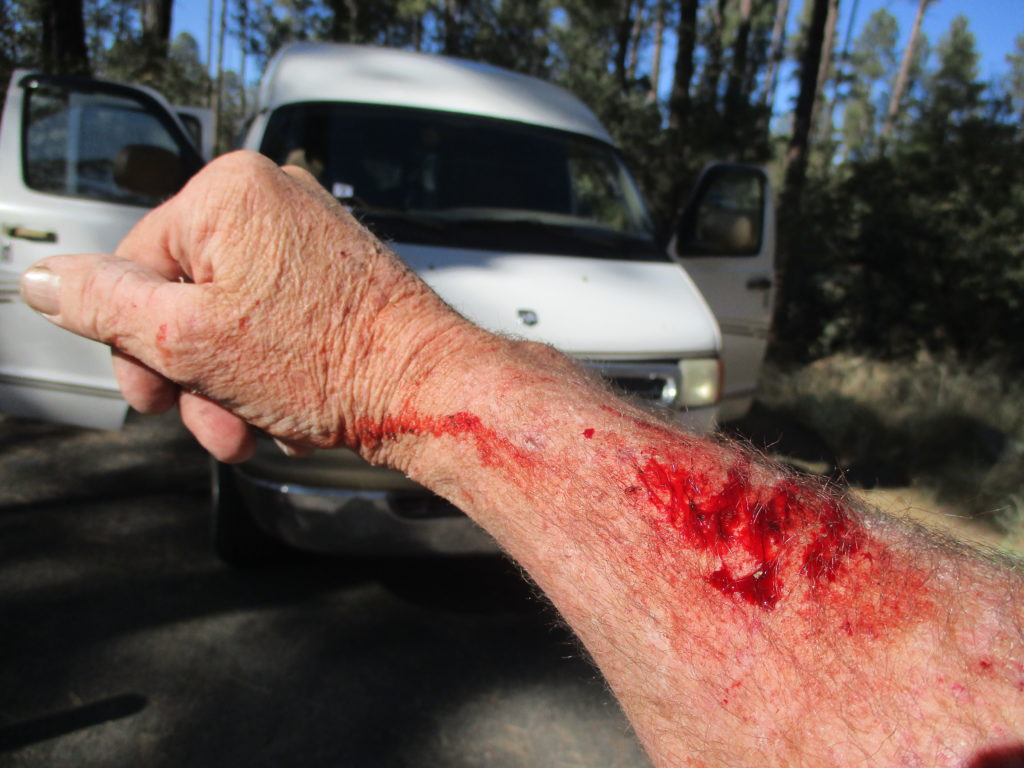 A TRUE SELFIE.
3pm, no one around, what a perfect time to shower and clean my body. It's been about three or four days. Because I am at an end of the campground where I am pretty much alone, there is naked Kit in his shower. Feeling much better now.
Eventually, more people showed up at the campground.
An older couple pulled into the campsite right across the road from me. They have a nice camper on the back of their pickup. So, they pulled in, both went into the back, and I didn't see them again for hours. They could have done that in their driveway. Perhaps they are watching a video of the wilderness in their camper so they can enjoy the out-of-doors?
So, while they were inside, I was out at my roaring fire, on which I cooked up dinner and enjoyed the out-of-doors. Good thing I took my shower when I did, with all these people showing up.
11/5—A good night last night, great to be back in the forest. Early morning fire, on which I boiled water for my tea, then fried up my potatoes and onions for breakfast.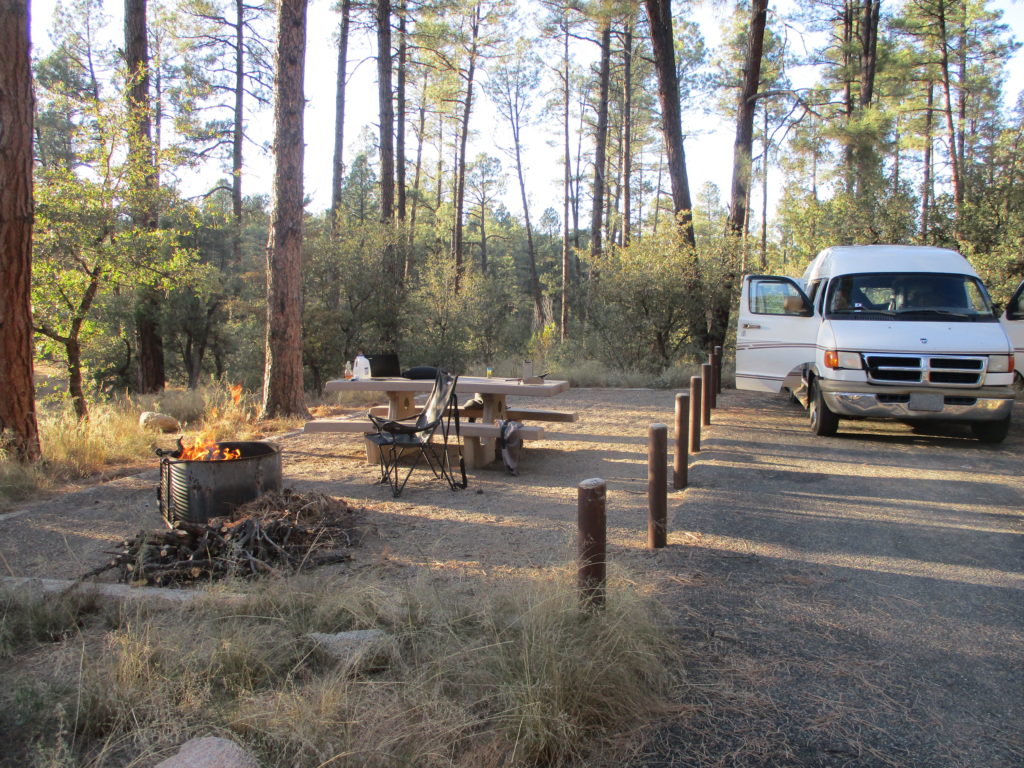 The sun just showed his/her face. A bright clear sky, will be a fantastic day. That is, of course, if I make it a glorious day. My mind is feeling fit this morning, I hope to continue these good feelings throughout the day.
I've written before, it is how we face things and how "we" make things happen. I have been somewhat down over the past week, but, in looking back, I see that it was I who manufactured much of these negative thought patterns. Control your thinking and you control your life.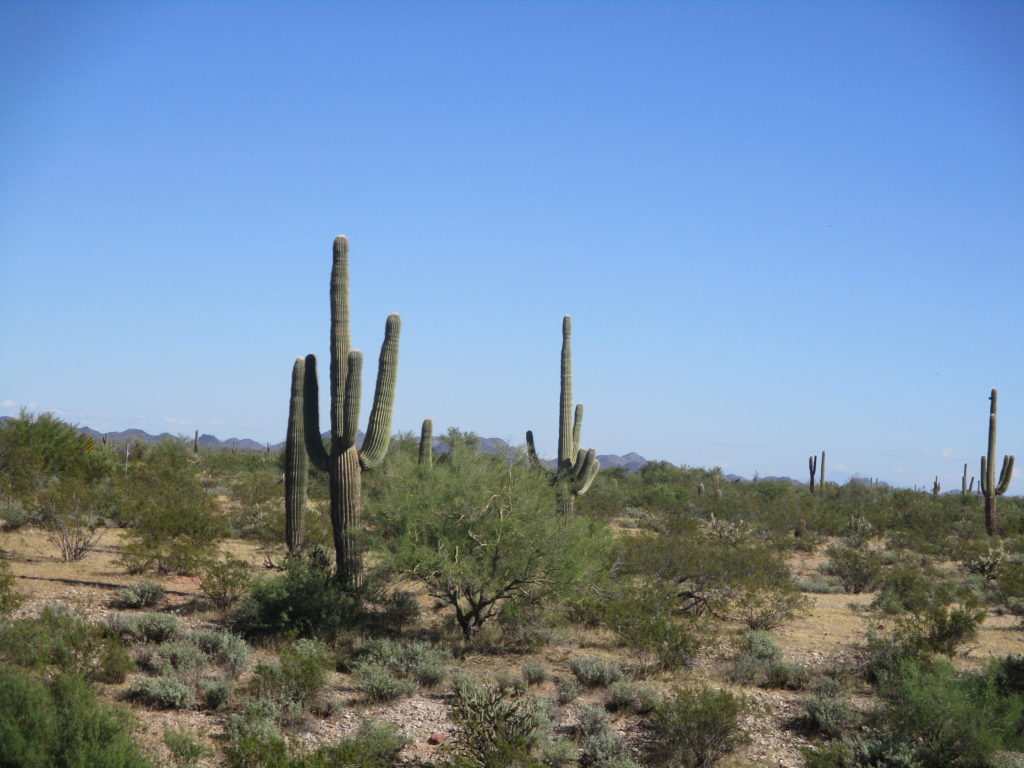 It's' about 9am and I will be making my departure soon. Those people in the camper across from me have yet to show their face this morning; hidden in the camper like some criminals. I want to go say, "Why don't you just stay home parked in your driveway and do this?" but I won't.
Right now I am in the Phoenix area. Much cost with van repair over the last few months. I will have to stay in one place for a while, might as well be here. The temp today was 86 degrees, so, comfortable it is. I will be saving on gas costs right now.
If you can and might help me with my overhead right now, please send a donation to me by PayPal to kitsummers@gmail.com. Or, if you can mail a check send it to >>
Summers
305 East Meadow Valley Road
Lititz, PA 17543
I thank you for any help you might give.
If you've enjoyed my posts, please do.
So, I plan on being in this area for a month or so. Time to change my life. My plan is to do more exercise and get on my bike and unicycle more. If you could change your life, what would you change?
11/6—At a McDonald's right now typing to you. So, I have every day, all day, like you do, to do stuff. I plan to get in better shape with my time, will you join me and make your body better like I will be doing?
It's funny, I look out the window and see so many cars and lives moving by. Each as a different life, as you do, and has troubles and successes—it is life. I've felt somewhat down the last few weeks, but we are just living our lives.
Came to Phoenix for their juggling get-together tonight. I have no idea if anyone will show up, but I will be there. I've been to their gathering before, just a few jugglers, but, they are friends.
If the Phoenix library now, I am going to a different library daily it seems. I was thinking that, because of the internet, libraries were getting less and less popular. But, at each I go to, there are many people.
I arrived at where the jugglers meet in Phoenix at about 4:33 in the afternoon, the juggling meeting will not start until 7pm. I was going to work on writing, do some reading, and do some juggling, but the noise of traffic and people got to be too much for me, so I started on the road south.
Slow bumper to bumper driving for at least twenty miles going south—yikes. I know there are millions of people in the world who fight with traffic for hundreds of hours a year; I hope you are not one of them.
I aimed GPS toward Red Rock, a small town that looked to be right next to Ironwood Forest National Monument. I had to get far enough away from the freeway to not hear the noise. I found a dirt road turnoff and that was my sleepy place for the night.
11/7—Awakening early, as usual, I remained in my sleepy bag until the sun started showing. Then it was south to Marana, where I found a McDonald's, from where I am writing to you now. I will go to the local library later.
As I am now in the warm weather, I will start to slow things down. I want to take more time to ride my bike and unicycle, to juggle, to work out, and to meet people.
Speaking of a bicycle, I was just at that McDonald's and there was a guy there who I briefly talked with. His bike was parked outside and he was inside on his small computer. He told me he has been traveling and living by bicycle for three years now. If I did that I would have NO expenses. Hmmm, it makes me think. What do you think, should I?
I just heard from David Kha, who runs the Tucson Juggling Festival, which will be happening on April 2,3,4. I let him know I plan on being there. April 3 will be the anniversary of my first big accident.
He wrote me back right away letting me know there is a juggling festival (the first one) to be held to the south of Phoenix at a farm. Perfect timing – I will be there!
11/8—At the dairy farm of Misty and her family. I arrive at about 10am on Friday, things will get going this evening. So I helped how I could with things.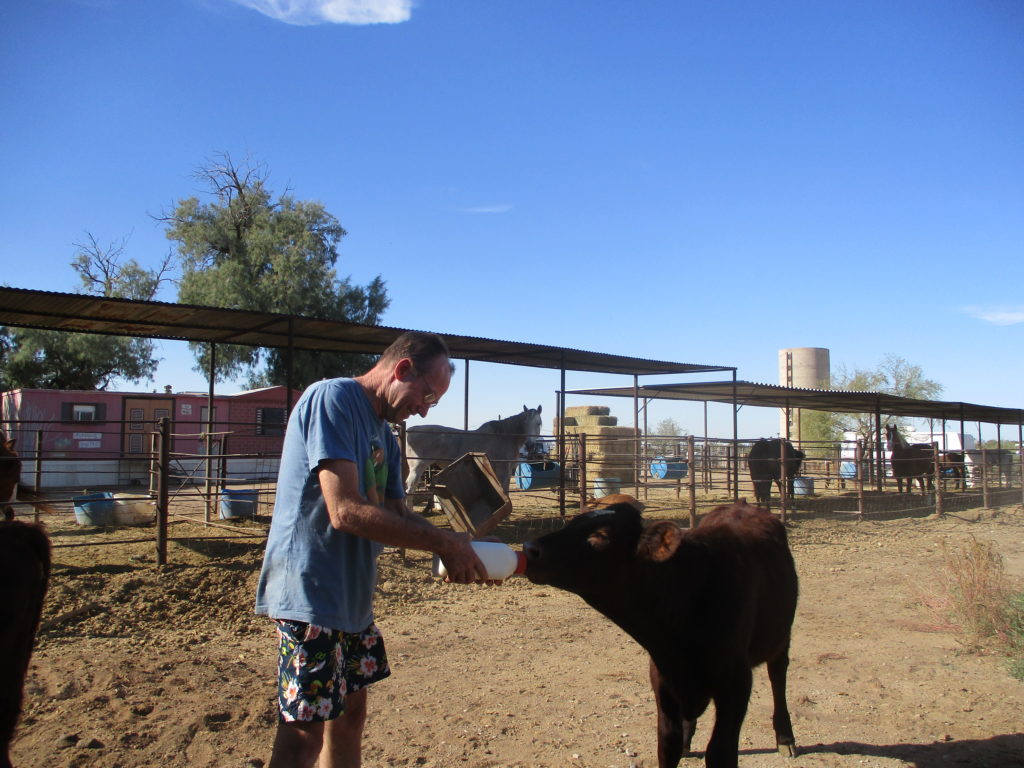 Something strange, I am able to juggle today, unlike how it has been through the last months. 3 clubs fly right, the hands stay low, but high enough. I am most more comfortable throwing and catching stuff for some reason. Even believing I can return to performing?
Today I made a big bowl of salsa for the juggling event running the weekend. The salsa always turns out great, from when I made it here, to in Australia, and in between. If you want my recipe, send me an email asking – kitsummers@gmail.com
====================
My Challenge for You this Week >> Get out into the wilderness how you can. Even a few hours at a local park will work. While you are there, clean up and improve the place.
================
Next Blog >> More for you about this juggling weekend.