The Wanderings of Kit (Do you wander or just wonder?)
By writing this blog I want to inspire you and show you that–
YES—YOU CAN > >
Change your life at any time to make it more magnificent!

Live with little money and still have an excellent life.

Be able to live life getting very little sleep.

Live ANYWHERE in the world and still make your life a fantastic event!

See experiences that will add to and make your life better.

I want to inspire you as to the wonders of the earth.

Perhaps this is my new "gig", traveling the world doing the same?

And, I'm not just, "Kitting Around".
Design the life YOU want to live, NOW, then live that life.
*********************************************
***Remember, to read past blog posts, go to https://kitsummers.com/blog/
***If you are reading this through Facebook, my better blog in on my website.
*** If you are not my Facebook friend, yet, please befriend me.
***The freedom I am experiencing in my travels is a marvelous thing.
***Going where I want, when I want and seeing wonderful places and people.
***I will have places to show you and tales to tell.
***I will have secrets to unfold and good news!
I'm glad to take you on my journeys with me!
********************************************* *********************************************
Words to inspire you >> There has never been anyone on earth ever like you. You must play the part well and add as much as you can to your world.
********************************************
HERE ARE MY DAILY JOTTINGS ENJOY –
7/27-30—Hard to remember when you have not written for some days.
8/2-4—Spent a few days with my Facebook friend, Roberta Dolana. At age 83, such a joyful person and acts as if she is 23 (a personal joke between us.) We talked about old times, about current times, and about her joining me on the road – I hope it does happen, Roberta. A lovely operatic voice, she has written books that teach and help kids learn to read easier and more concrete. She still has much to offer the world.
8/5—Off to a small park, Organ Pipe Cactus National Park. I thought Organ Pipe was another name for the saguaro cactus. Turns out it is a totally different cactus. The saguaro with arms or branches that grow out of it. The Organ Pipe grows straight and tall in a single plant.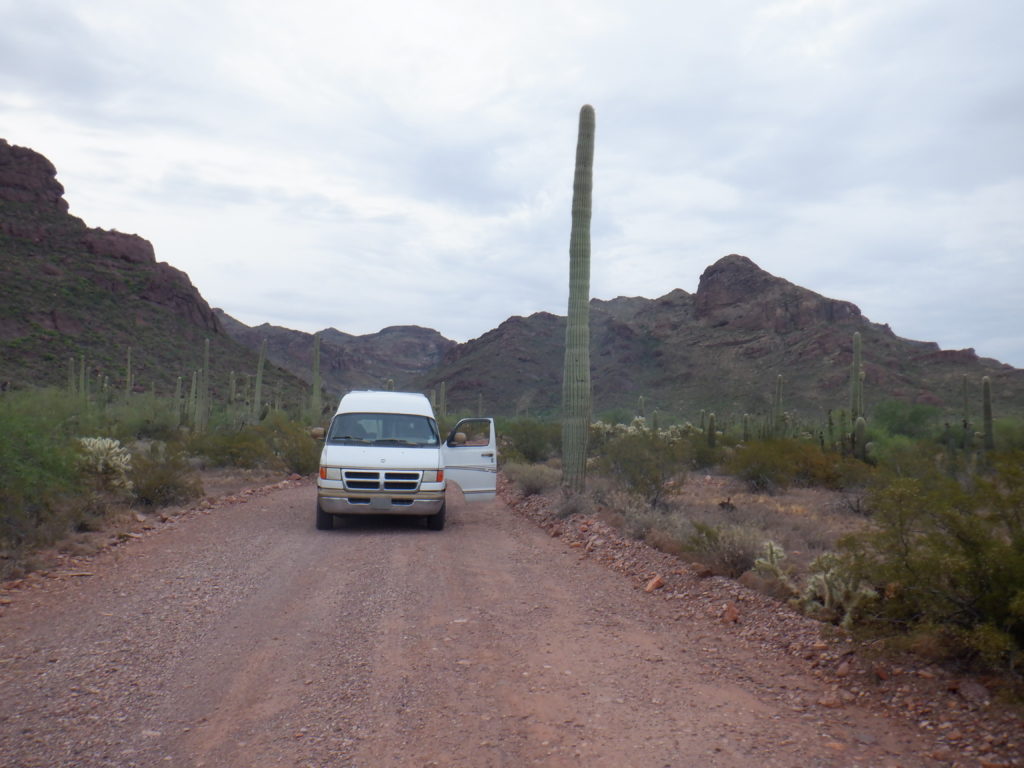 Again, strange that they have a whole national park for just one cactus. It is like that national park I wrote about before that is just for that one bird, I forget which. Seems like a waste of mamepower to just celebrate one cactus or one bird.
On the way, I went through the town of Why. I thought the town was named that just because they could not think of anything and simply called it, "Why", as a question. It turns out this town is located at the "Y" junction of highway 85 and 86. They could not just call it a single letter, "Y", so they make it a complete word of Why, Arizona.
Very hot here, and I have no air conditioning that works. So, I keep my windows open and just keep smiling. Heat does not affect me until it get above c (150f.)
I was going to stay at the campsite by the visitor center, Twin Peaks Campground, but there are 208 camping sites and you might know how I would like that.
I drove a way and got to Alamo Canyon Campground. Much more like it, with only six sites available. Off the beaten path, without even a sign on the road on where it is – I took a road and guessed.
Of course, I am the only one here while writing to you on this Monday. They say there are no fires allowed, but I gathered some rocks together and built a fire-ring. Please don't tell them, later I will have big fire. No one will come out this far to check on anything.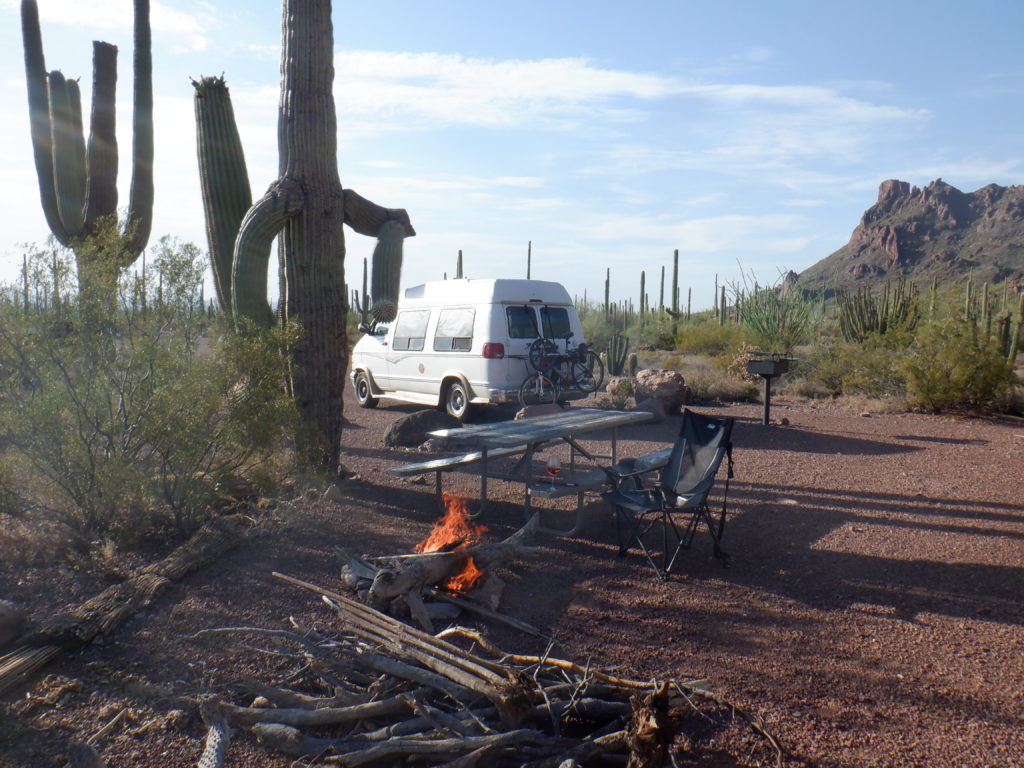 Sitting in the van typing to you. At 4:41 in the afternoon, it is still warm, but cooling down now. The van windows are open and the side doors are open, a cool breeze is blowing through, very nice. Being a Monday and still the only one here, looks like I will have my fire tonight.
Always nice when I am parked in the wilderness and do not have to worry about blocking any light from street lights or parking lot lights for sleep at night. Out in the desert alone, tonight will be one of those nights. I will think of you as I drift off to sleep.
9pm, sometimes I cheat, took a couple AdvilPM pills to help me sleep. They keep allergies in check and help you sleep through the night. Just came out to the van, laid down, and said to myself, "Nice". Hope you sleep well.
8/7—Yes, did sleep well, the sun is just making appearance and already becoming hot.
Passed a casino in the middle of the desert with no houses or anything around. Yet, there were some cars there. Anything to get people's money (but not mine.)
From Organ Pipes National Park I would have to drive way up north to Gila Bend, which would be far and a waste. I saw that Route 2 going west from Sonota in Mexico would be a much more direct route. One hundred miles to drive through Mexico – had to do it.
Knowing my car insurance might not work down there, I was extra careful in the drive.
The road was pretty good, not as flat and smooth as some roads in the US, but had to do. A one lane road most of the hundred miles. Many trucks were on this route, most everyone would move to the right, the shoulder, when we passed each other. Very courteous they were.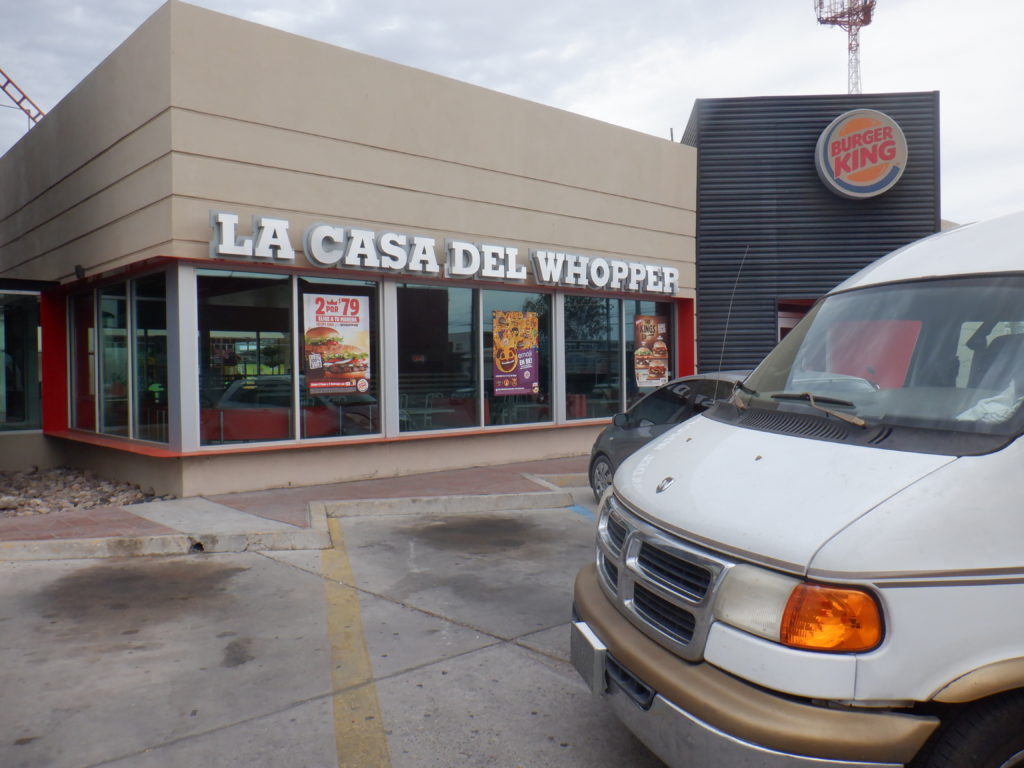 Everything went extremely well, until I got to the end, to get back to the US side of the border. They pushed me into secondary inspection and told me they would have to inspect my whole van. I had to wait as least one hour until this was completed.
You have to remember I did not even make a stop in Mexico. I had two mangoes and small bag of oranges in the van. Found out this was a big no-no. Then they discovered the plants—lettuce, cilantro and spinach—which I grow while traveling. You could tell they had been growing there for some time, but, once again, confiscation.
They left my van somewhat of a mess, but easily straitened out. The following day, today, I will be replanting seeds. But, when they threw the dirt out, there was a mettle support piece for each of the three planters that they threw away with the dirt. Should be OK, though.
One strange thought came to me: As I was driving into Mexico I had some flies onboard that I brought into Mexico. Do they even know the language? Then when I returned to the US I had Mexican flies onboard. Perhaps the flies are bilingual?
After I crossed the border I checked out freecanpsites.net and was directed to a place. As I was driving there was a dirt road that had a bridge out. I saw there was a dirt road around the bad bridge, so I went that way. Finally got to the campsite, Painted Gorge Road in Ocotillo, CA,
I looked at the temperature inside the van at 6pm – yikes – 106f. I saw there was a Walmart 21 miles down the road. I could hang out inside in the air conditioning, then come to the van when it got colder.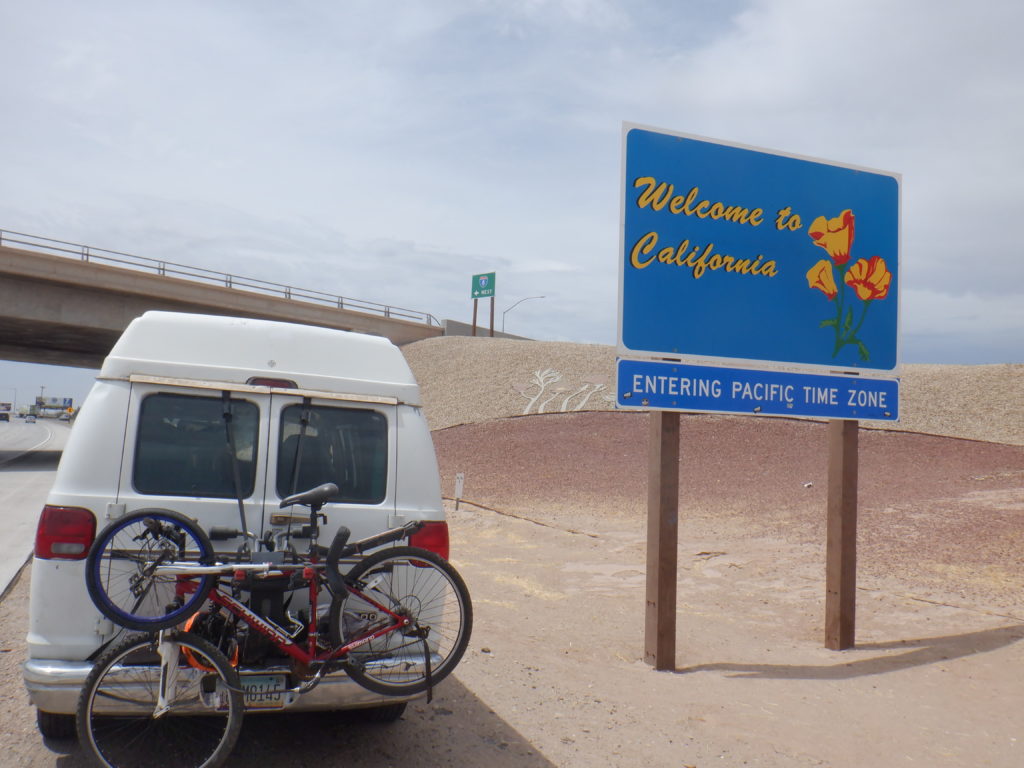 I ended up pulling off into Pine Valley, CA (Daniel) and spent the night parked at a Mountain Market, dark and quiet.
The next day, today, I drove into San Diego. I grew up here but don't feel I belong anymore. I drove to Robb Field and that is where I replanted my plants.
I drove to the beach where I spent much time in high school. As I was coming into the very crowded parking lot someone was just leaving from a space facing the ocean – perfect. But, a cloudy and could day.
It's been a few days, so, after going in the ocean, I immersed myself into the shower.
Right now I am typing to you from the library that is across the street from the elementary school I graduated from, Ocean Beach Elementary. I spent much time at the library as a youth, now it is serving me as a wifi provider.
8/8—Called my old friend, Daniel Powell, we graduated high school together in 1977. I will be spending so me time with him, at his superb estate. After high school he went into commercial real estate and has done extremely well.
A millionaire by the age of 30, right now I am looking out his front window toward the west at the ocean. He travels extensively and has and is able to live the life that "he" wants. 
8/9—Today we went to the beach. I had forgotten how many beautiful ladies the San Diego area holds. And, the beach, with bikinis—a man could go wild (I am already.) So, having a fun time with my friend Daniel Powell.
My challenge for you this week – drive toward doing the "best" in everything you do. Make it a habit and live the rest of your life aiming toward excellence in everything that you do.