The Wanderings of Kit (Do you wander or just wonder?)
By writing this blog I want to inspire you and show you that–
YES—YOU CAN > >
Change your life at any time to make it more magnificent!

Live with little money and still have an excellent life.

Be able to live life getting very little sleep.

Live ANYWHERE in the world and still make your life a fantastic event!

See experiences that will add to and make your life better.

I want to inspire you as to the wonders of the earth.

Perhaps this is my new "gig", traveling the world doing the same?
Design the life YOU want to live, NOW, then live that life.
*********************************************
***Remember, to read past blog posts, go to https://kitsummers.com/blog/
***If you are reading this through Facebook, my better blog in on my website.
*** If you are not my Facebook friend, yet, please befriend me.
***The freedom I am experiencing in my travels is a marvelous thing.
***Going where I want, when I want and seeing wonderful places and people.
***I will have places to show you and tales to tell.
***I will have secrets to unfold and good news!
I'm glad to take you on my journeys with me!
********************************************* *********************************************
Words to inspire you >> There has been no one like you — ever. 
Make the most of your life — starting right now!
****************************
HERE ARE MY DAILY JOTTINGS ENJOY –
7/26—Here I am at Black Canyon of the Gunnison National Park. A couple years ago Tina and I were here, I like it so much I had to return. Such a beautiful place, if you can come see, you must.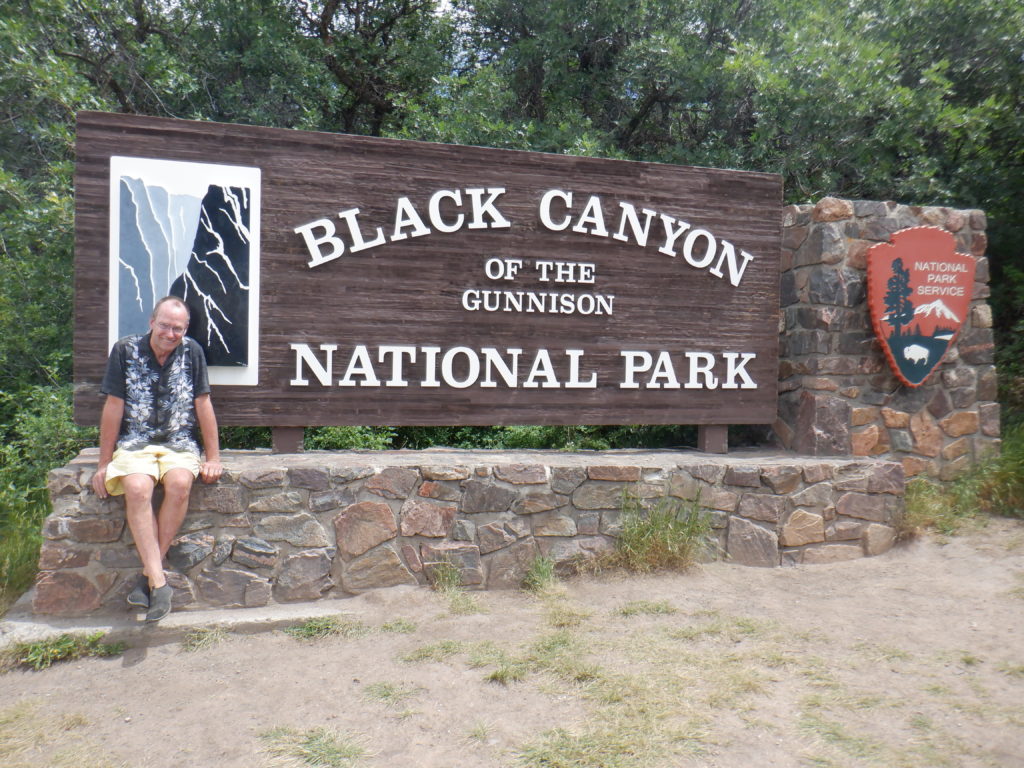 The Gunnison River has been carving this canyon for eons. The walls are an average of 2,000 feet in height (or, would that be deep?) The walls being mainly vertical, along the edge is not a place where you would want to do any dancing.
Twenty years ago, Congress declared 14 miles of Colorado's deepest canyon worthy of national park status. If you've stood along the edge of Black Canyon of the Gunnison National Park you understand why—yet the Black Canyon is still the state's least-visited national park. I suggest you go before that changes.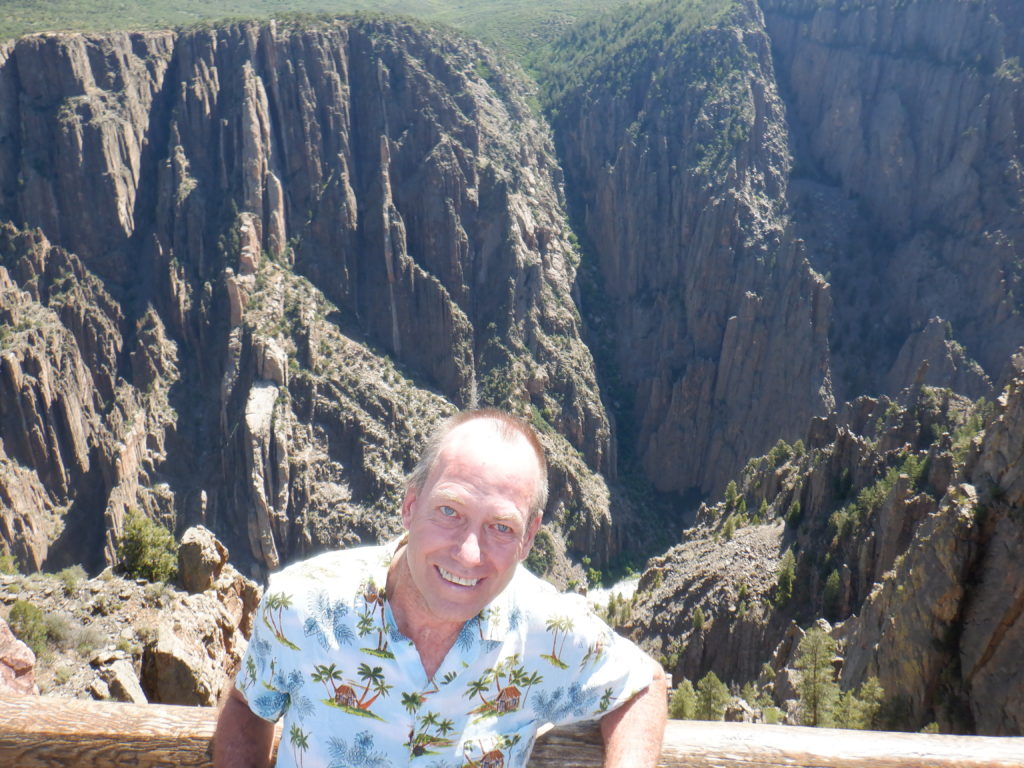 President Herbert Hoover first established this national park in 1933. In 1999 the pristine nature of this place resulted in legislation converting the area to the Congressional-designated wilderness it is.
Something that Tina and I did not do, I drove the road down to the bottom of the gorge, at the river itself. There is a campground down here and I'm here for the night. Only 15 campsites, cozy that way. Only one other person staying – the way I like it.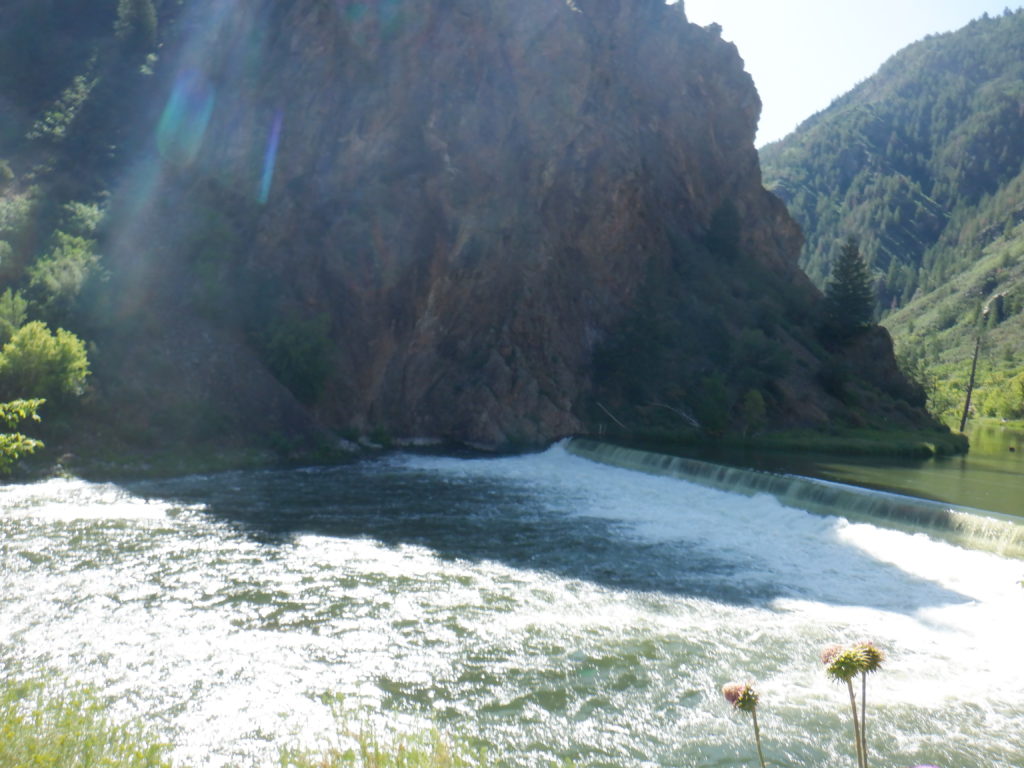 National parks such as Yellowstone and Yosemite draw too many people. I've said before, it is like a zoo and you are just trying to fit in. I like Gunnison much better, less people and more private. Yet, the splendor speaks for itself.
6:04pm now. Interesting how you can simply stare at a campfire for what seems like hours. Wondering what direction the fire is going to go and how strong. Have you done such? Yes, I know, you have better things to do with your time (but, then again?)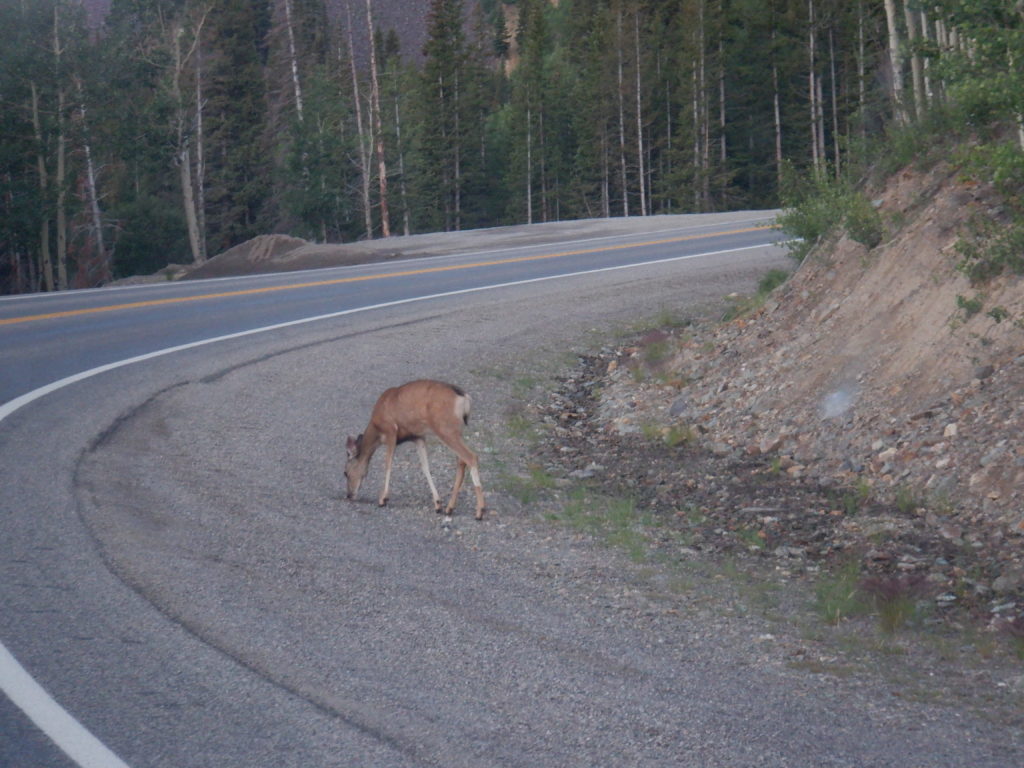 Just met my next door neighbors, an older couple (now wait a second—I'm an older couple—I keep forgetting about my age, 60 last birthday.) Jim and Dora Cash, they have a new camping rig they are trying out; a camper on top of a pickup. Looks quite comfortable. Like always, I am trying to talk them into living on the road for good. Yet, their older cat (15) holds them back for now.
Stopped on the way to pick up fuel for the fire. I have never paid for wood, I am always able to find much out in the wilderness.
7/27—Slept surprisingly well. I stayed in bed until past 6am. Usually I am up before the crack of dawn. When I have something I can work on, like when I lived with Tina and could get on the internet early, I often awoke at 2am, then up for the day I was. Now, with no reason to awaken, I can stay longer in slumber.
Overnight there was rain, but a gentle and light rain. I thought the wood I brought would be too wet for a fire, but it started right up. Once again, I got a huge roaring fire going.
It still surprises me – I had a huge pile of would that went into the fire – now it is nothing but a small pile of ashes. Where does it go? I guess up in the air as smoke?
My favorite for breakfast – fried potatoes and onions with a large cup of green tea—as usual. Don't tell Ronald, but I sometimes grab a bunch of his napkins to clean up stuff. Now, "That's my kind of place."
Along with getting on their free wifi at McDonald's, many have electrical outlets and I use those to charge my electronics, including my extra charger which can later charge things, later.
It's sometimes difficult whether to tell you what I am planning on doing (which can, and often does, change) or tell you after it has occurred. Hmm, I guess I will make you wait.
Slept well at East Portal Campground. In the morning, went for a walk down to see the river, so nice. With no one around, I set up and took my shower next to the van.
Then, the drive down South Rim Road, how spectacular it is! There are ten view points with parking then you walk a ways to the rim. Did not see each one, but many, as you see from photos.
At one view point I walked out toward the edge. A French couple noticed I was not balancing well, so they came and gave me "a hand". Nice of the to notice and to help. Negotiating rocks can be trouble for me, while younger I would dance on rock surfaces.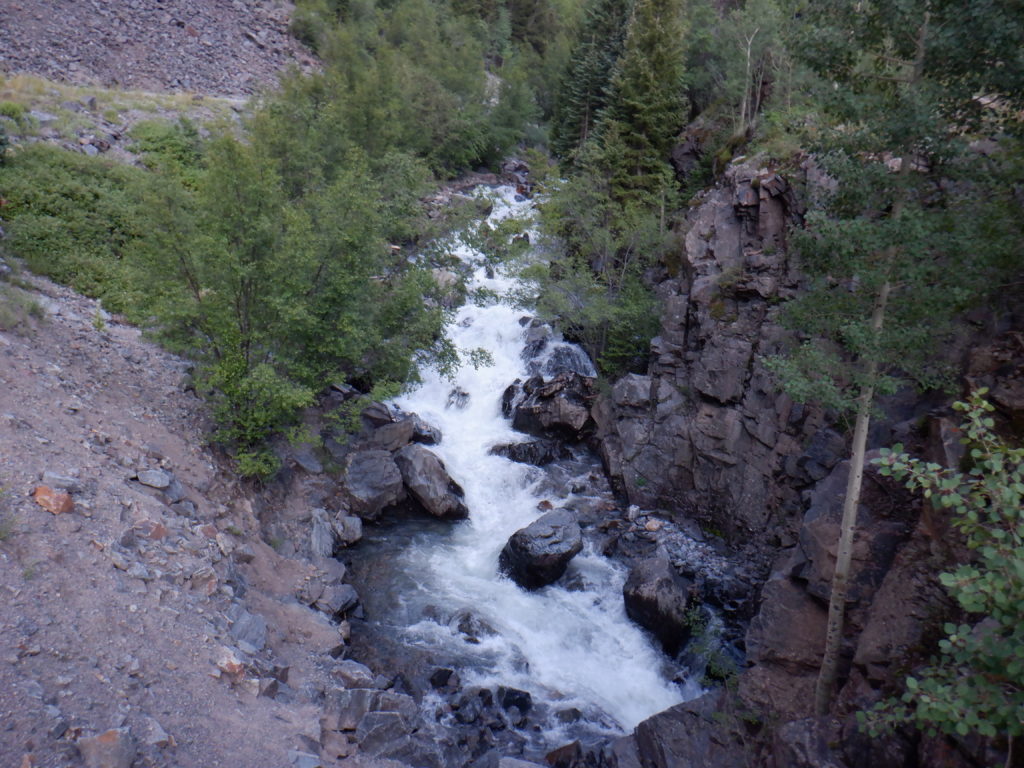 I got to the end at High Point. I was about to take the five mile round walk to the end, Warner Point, then the black clouds rolled in. The rain started, slow and first, then big drops. Then the winds starts, so quick they came in and very strong, must have been over 30 mph. Good thing I didn't take the walk out there, might have been blown off the cliffs.
Take a look, impressive Black Canyon of the Gunnison is >>
https://www.youtube.com/watch?v=F2VN1-PyL5A
7/28—Going south from Montrose, Colorado, and almost to Ridgway, I saw a sign that said National Park access. So, off I went.
The dirt road started out nice, but as I got further down it got scarier and scarier. Tighter it go, and the drop off on one side with as least 15 feet. Steep uphills, as well as downhills. A narrow road, there was no where to turn around, so I did all I could do, go forward.
Finally, seven miles in, I was able to turn around. On my return, seeing the terrain, I wondered how I made it. Went into Ridgway, a nice small town, I like it here. I am parked at a park (there's that strange word again.)Very nice, big trees, grass covering most of it, kids playing. A tourist mecca.
Planning to stay the night here, it was only the afternoon, so, further south I went. The town of Ouray I have been to before, love this town. Another small tourist mecca town.
Just out of town I was going to stay in a large parking lot with trees, then I looked on GPS and found Amphitheater Campground in Uncompahgre (can you pronounce that name?) National Forest. Soooo much nicer here.
As I was driving in I saw many departing, it being Sunday after all. Less people, the better the campground. You might be sensing that I do not like people, and you are incorrect. I like you, after all.
I won't be taking a camping site because I am not going to build a fire. I will just park in the parking lot for the night and save on the cost of a campsite. And, yet, this is in the trees and as nice as a campsite would be.
Yet, a move again. I was not tired and took Route 550 into the national forest. What a beautiful drive. I took some photos but it is getting dark, 7:14pm. I saw some gorgeous waterfalls and the forest is breathtaking.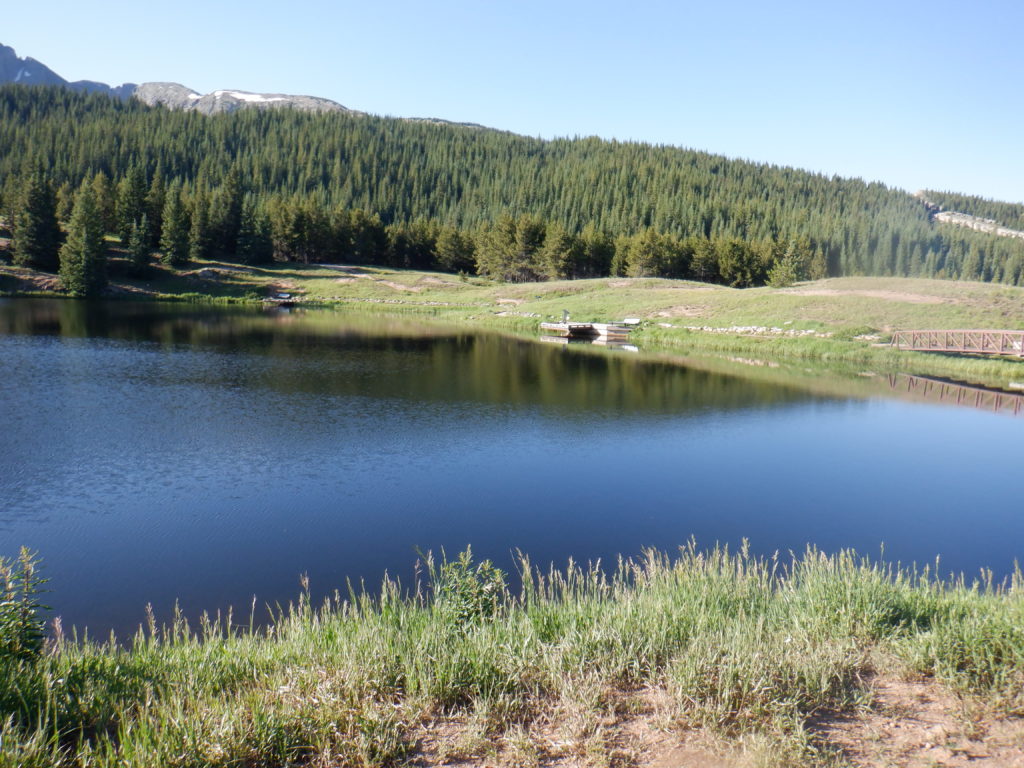 Found a turnoff and went down the dirt road. There were others parked for the night along here. And, how nice it is – a stream along one side, the forest on the other. Only a little ways up there is snow on the peaks.
I will be in my warm sleepy bag tonight smiling as I sleep. Quiet and dark, perfect setup for a great sleep. Towns and cities work out for sleep, but being in the wilderness to sleep makes you sleep so much better.
Planning to stay in this spot until the sun is up high enough for photos (see, I think of you.) I seldom think about sleep, I just do it because I know my brain needs it. But, I think I will love my sleep tonight. Hope yours is good.
A guy just road by on his motorcycle, slowly. He had one kid in front of him on the seat, and two behind holding on. A scary site if you ask me (so don't ask.)
Whoops, just got a message on my computer that my battery was getting low, so I hooked it up to the charger I have and will be good for another 11 hours (I will be charging it up again before then.)
Everything seems to be going right for me, a smiling I am.
Writing to you like this brings me joy, it makes me think back on all the great things I am seeing and discovering on my journey. I hope you are enjoying reading my words as much as I am in generating the events to write about.
7-29—Thinking about my superb day yesterday, I should have stayed in the Uncompahgre National Forest more days, in that it was absolutely fabulous.
From Mountains with snow at the peaks, I drive south into the desert and the heat.
Saw a little one on the map, Chaco Culture National Park. And, here I am for a couple days. I had no idea what to expect, from what I've seen so far, some very old things to see. The ranger said they do not know why, but this area was settled over 1,000 years ago.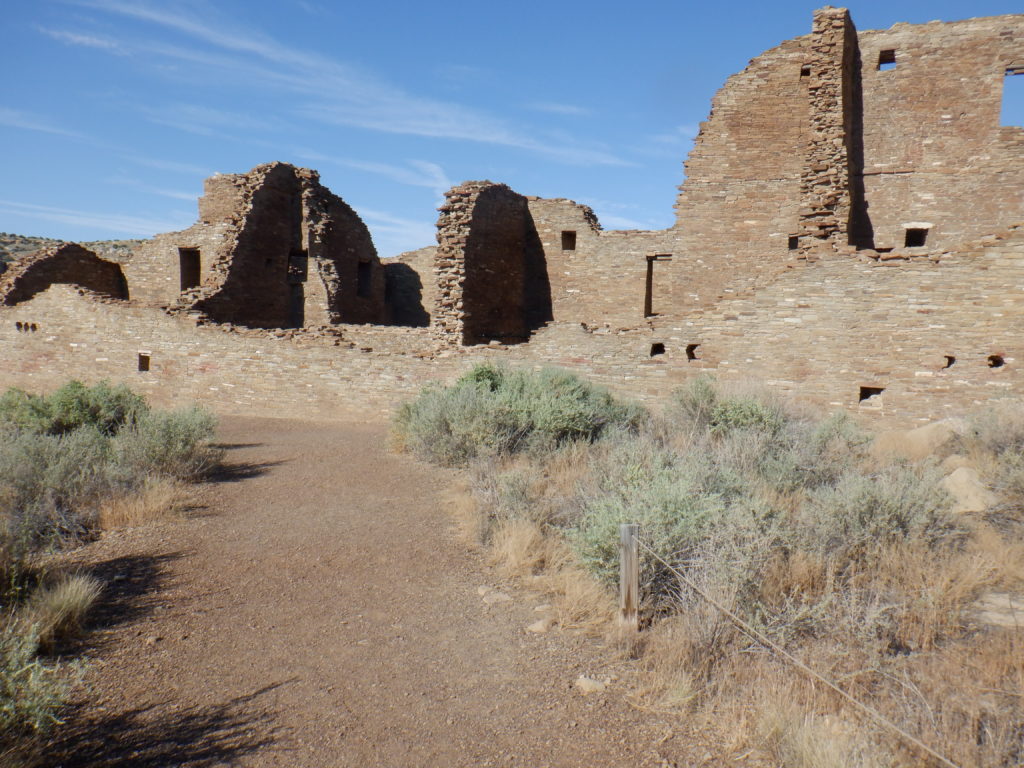 Route 550 is called, "Million Dollar Highway", and I can see why the views are worth big bucks. I took some photos along the way, hope they came out for you.
On this early morning drive, I saw six different deer in different locations along the road, that made my day in itself.
Take a look >> https://www.youtube.com/watch?v=wte47AEZzwA
The drive took me up to about 12,000 feet, up by the snow and closer to God?
A sixteen-mile drive on a dirt road to get to the park, parts were quite bumpy, things in the van got tossed around, nothing was broken, though. Arrival at Chaco, not much to see, at first. My plan is to go to the campground and then explore the park tomorrow.
Take a look >> https://www.youtube.com/watch?v=vutG2vUqFBA
No trees in the whole area and I needed carbon to have a fire. Yet, it was Monday and I knew that people who were here over the weekend would have left any extra wood they had, so exploring I would go. Found much left over wood, enough for a fire that night, then in the morning.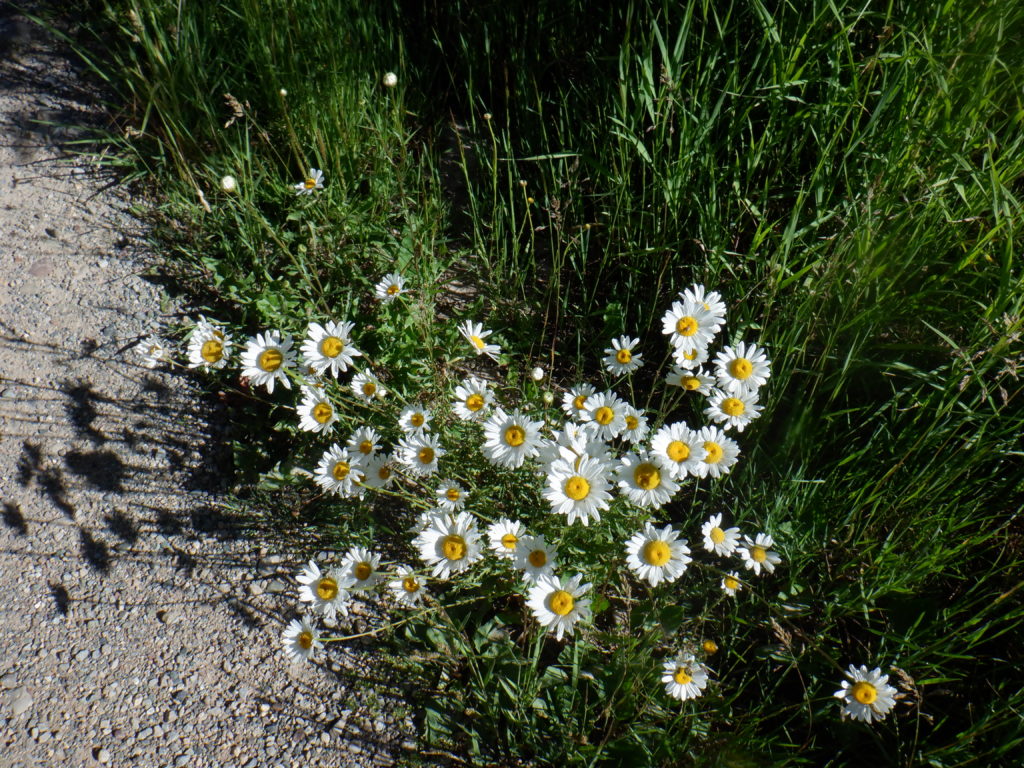 In walking from campsite to campsite I heard it start small, then get stronger and stronger—a snake who likes to play a rattle. Then I saw him, coiled up under a bush smiling at me; as I backed off I smiled back. I thought of you, of course, and scurried back to get my camera.
By the time I got back he could not be seen, and no, I was not about to start searching and feeling around the brush for him to get a photo. Next time you will get a shot (and I won't get a bite.)
I saw him looking around the area (no, not the snake), our friendly camp host, David Whitfield. He is semi-retired and is here for a few months. His wife is back home still working as a neurological nurse. I talked with him about him and his wife traveling as I do; he liked the idea.
As we got to know each other I taught him to juggle with scarves, and he bought a copy of my book, "Juggling with Finesse." I should have let him know how he and his wife could go on to their new career in juggling, performing in Vegas?
Built between AD 1150 and 1200, These were homes for farming families. There are many small communities like this in the Chacon existence. Also, many different languages were spoken the Chacon peoples.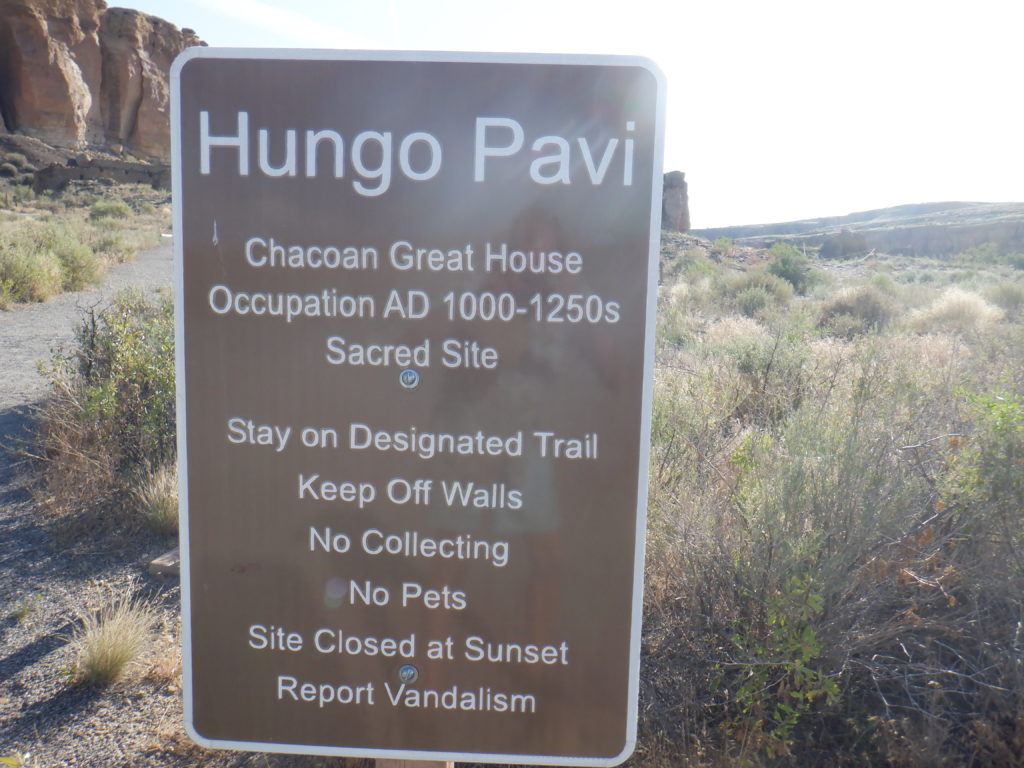 Created in 1907, Chaco Canyon National Monument became became Chaco Culture National Historical Park in 1980, and, in 1987, a World Heritage Site. Much history here.
These ancient Chacon went on to become the native American people we know of today—Hopi and Navajo to name a couple. Personally, I do not like the name "Indians". These peoples should be named by their native names.
You see, when Columbus sailed he thought he discovered a back way to India, therefore he called the people, Indian. Sad thing, the name stuck.
There are many left over memories of the Chacon. Pictographs on many of the rocks. Yet, many have vandalized the area; writing on the rocks and carving things. One thing cost taxpayers over $7000 to fix.
Took a long walk today, that felt great. Before I departed the campground I filled my water containers and cleaned up the area as best I could. Today being a Tuesday, I was the only one at many of the sites.
For me, the Chacon peoples remind me that they could be the ancient Rome of the Americas. And, this place where they lived is HUGE.
In driving out I said to myself, "Good thing these these ancient people had these terrific paved roads to drive on, that would make their life a lot easier" (that was a comedy attempt, by the way.)
Over 400 miles of prehistoric road networks carried goods and linked Chaco to outlying communities and resource areas. One of the longest roads heads north towards the prehistoric communities of Salmon and Aztec.
These are not merely foot paths, but carefully engineered roads, labor-intensive to build and maintain. These roads were important for the Chaco people, as was travel. Seashells, macaws, copper bells, cocao and chocolate was traded as far south as Mexico.
7/30—6am, humm, awakening the whole camp, someone's car alarm went off. He had to search around for awhile until he found the keys. I had been up for over an hour already, up with the sun, as usual. Made me laugh, but I'm sure the people who were awakened did not laugh.
"Oakley" (I like that for a first name), came over later that morning to apologize for the morning alarm clock that went off.
As I let him know that I had already been up for a couple hours, after I told him about my blog, he wanted to join my list of people I email to, like you. Welcome, Oakley, I hope you like the read.
And, about the sun, a beautiful bright sun coming up on a clear blue sky, should be a great day. As I thought I would, I developed a big fire and am enjoying that.
After I washed dishes I didn't just dump the water on the barren ground. I went to find a bush
who could use the water. As I walked away I glanced back and the bush was smiling at me.
7-31—After I left camp I ventured off to see my sister, Kath, in Santa Fe, NM. She was not home at the time, and I was not liking being in another "city", wanted to get back to the wilderness right away, so I jumped back on the road south.
Kath got my message so I did a U-Turn and headed back. We will be together for a few days.
She has two trees that are producing an abundance of apricots. These are very small ones, perhaps two centimeters round (one inch.)
We had not been speaking to each other for some months, I wanted to reconnect and be comfortable together again.
8-1-19—Today she is having a fumigator come and spray for recluse spiders and other varmints. She says it is organic and should be alright, but we both question that idea.
Within twenty miles was Black Canyon campground in the Santa Fe National Forest. Kath suggested we get out away from the insect killer for one night. I came early to get a site, only one campsite left in the campground, I grabbed it.
Kath stayed behind to let the bug-killer in. She will be driving up later in her own camping vehicle. She has traveled much and lived in her own RV. So, we will be parked next to each other, each sleeping in our own vehicle.
Currently it is 2:45 in the afternoon, I thought she would be here by now. I stopped on the way and gathered up plenty of wood for the fire. As usual, I break the wood into about two foot lengths, sorting kindling, small, large, and huge pieces.
Kath arrived about 3:33 at Black Canyon Campground. We are each so independent we tend to clash. Yet, we still get along alright. Also, she is totally against President Trump, and, as you might know, I think he is doing good in the world. So, differences.
We got along alright, but toward the evening she started harping on my family and friends. Such vile and hatred, so had to take. In fact, I could not take it and went for a long walk in the forest. She had said she was leaving and I stayed on the outskirts until she did.
8/2—Right now it is 7:18am and I already had my big fire and potatoes with onions. The green tea flowed down well today.
A hummy bird just buzzed by my head, I love nature so much.
Have no idea where I am headed at this point. I am sort of thinking of returning to San
Diego, but gas is so expensive in California. What do you think I should do?