The Wanderings of Kit (Do you wander or just wonder?) 
By writing this blog I want to inspire you and show you that–
YES—YOU CAN > >
Change your life at any time to make it more magnificent!

Live with little money and still have an excellent life.

Be able to live life getting very little sleep.

Live ANYWHERE in the world and still make your life a fantastic event!

See experiences that will add to and make your life better.

I want to inspire you as to the wonders of the earth.

Perhaps this is my new "gig", traveling the world doing the same?
Design the life YOU want to live, NOW, then live that life.
*********************************************
***Remember, to read past blog posts, go to https://kitsummers.com/blog/
***If you are reading this through Facebook, I can send you the blog by email, which can have more photos. Sent me an email and write "email blog" as the subject and write your name. Send email to >>kitsummers@gmail.com
*** If you are not my Facebook friend, yet, please befriend me.
***The freedom I am experiencing in my travels is a marvelous thing.
***Going where I want, when I want and seeing wonderful places and people.
***I will have places to show you and tales to tell.
***I will have secrets to unfold and good news!
I'm glad to take you on my journeys with me!
********************************************* *********************************************
Words to inspire you >>
Success isn't easy, and that's a good thing—at least in business. If it was easy, everybody would be doing it and your competition would be outrageous!
While these inspiring words may make you smile, be thankful that success is not easy. Next time you feel face difficulties – remember this inspirational quote!
Never let your past decisions determine your future outcome. Mark Dudley, Morning Inspirations I
Our character is not defined in the good times, but in the hard times. Paul Brodie
Adversity, challenges, life issues that is where our character is built!
Words can inspire, thoughts can provoke, but only action truly brings you closer to your dreams. Brad Sugars
Motivational words and thoughts can be inspiring, but until you take the first step, you must motivate yourself, otherwise, your dream will just remain a dream.
If you want something out of life you have to go out there and get it, because it is not just going to be given to you. Kelvin Waites
If you want something out of life you have to go out there and get it, because it is not just going to be given to you. Kelvin Waites, Hit'em Before They Hit You
No one is going to climb the stairs for you, you must start one stair at a time. None of us are entitled, we all must work for what we want in life.
No one can give you your goals. No one can dig for you. This is your journey. Warren Philip Gates, Success and the Powerful Introvert
Having a specific meaning and purpose in your life helps to encourage you towards living a fulfilling and inspired life. Vic Johnson, Goal Setting
If life has no meaning then what is the purpose?
****************************
HERE ARE MY DAILY JOTTINGS ENJOY –
7/20—Was heading south to go to Arizona, then I remembered I had told my juggler friend, Colin, that I would use my big van to help him move on Tuesday. Only about 40 miles out, I returned on route 6, a nice drive that goes the path of a lovely stream, but, of course, traffic was much.
7/22—So, new tires, I love it. To make sure they do not wear unnecessarily, I went to Breaks Plus, a recommendation from Malcolm. They did an alignment, but the van was still now driving smooth, and, when going slow, I heard a noise that wasn't right.
I returned to Breaks Plus. They had my van for four hours. I expected a huge bill – there was NO bill. At one point I saw five guys under it looking and fixing.
So, I feel really good about my van now, should last me another 200,000.
7/23—Hanging out in Boulder for a few days. Colin returns later today and then I will help him move. At the Pearl Street Mall I coached and helped juggling acts as I could.
https://www.facebook.com/johnstork28/photos/a.539782986101460/1546922702054145/?type=1&theater John did a fully and technically magnificent show. I gave John ideas to improve what he does. Yet, he seems quite bored with his show. I let him know he needs to add new material so it does not bore him.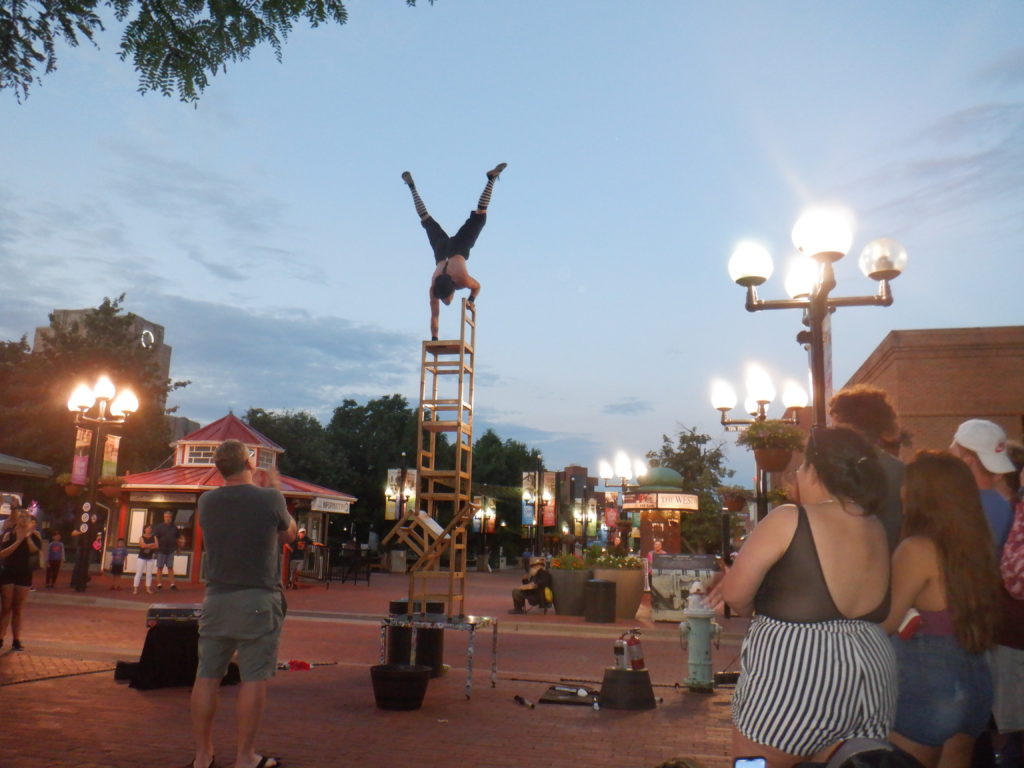 =====================
Here is what John wrote to me in an email to me >>
"You're a very inspirational person but you still know how to sit down, have a beer, and crack a joke. That's a cool combo. : )
Really enjoyed your casino performance! You were a beast!!!!! : ) I liked the cigar boxes in particular. A guy I really looked up to in the circus, Adam Kuchler, had a terrific cigar box/comedy routine, no talking. Maybe you've met him?
Anyway, thanks for hanging out last night. Looking forward to hearing about your travels/seeing you down the road."
=====================
I told him that back when I was performing at Ballys I was kind of getting bored with my show. I let him know how I would add or change something to keep it interesting. Have you seen my show from the old days?
https://www.youtube.com/watch?v=SZALVajgH6Q
Helped Colin with his move to his new/different apartment. Up three flights of stairs, we moved him all in. So, Colin just changed apartments in the same apartment building, from a two-bedroom to a one-bedroom. But, he went from the first floor to the third, so, some steps to deal with.
I think he said he was paying $1450 a month for rent in his old place, which is lower with the one-bedroom. I live comfortably off of just about $900 a month through SSDI for everything. And, last month I had a $1300 repair on the van. So, I am doing OK.
For at least 40 years my mom lived in an apartment building in Ocean Beach, San Diego. I lived with her for a time after my accident back in 1982. I can't stand apartment buildings. I am so much more comfortable living in my van.
Later Colin took me out for an excellent Italian dinner, at a place he has been meaning to try. Quite delicious it was, each and every dish.
After, he had needed some liquids to drink in his new place, like soda and such. He bought me a big bottle of wine, which I plan on trying this evening. No, I am not going to drink the whole bottle tonight. Thank you so much, Colin, for the superb dinner and the wine for the road.
Then, with all my tasks complete in the Boulder area, to the south I headed. There were some more things I needed to do to the van, so after about twenty miles, I found a quiet parking lot where I stayed for the night.
7/24—Why, lookie there, Pike National Forest was on the way south! I found a dirt road that meanders through the forest to Colorado Springs – so off I went. After traveling through for a bit and not seeing any cars, I saw a campground and pulled in.
There were a number of people set up to camp here. I pulled in a flat campsite and was going to stay the night. As I opened my door I heard it – a running generator – yikes. For me, that noise ruins the forest experience. So, further down the road I headed.
As I drove, I saw vehicles just pulled off the road and they were set up to camp. Then, I found one for myself, from where I am typing to you on battery power at 9:31 in the morning. I will be here for the night.
This is called, dispersed camping, basically free a free place to park and sleep for the night. All national parks allow it, you don't have to be in a campsite where you have to pay. I like this much better.
What to do, what to do? I will hav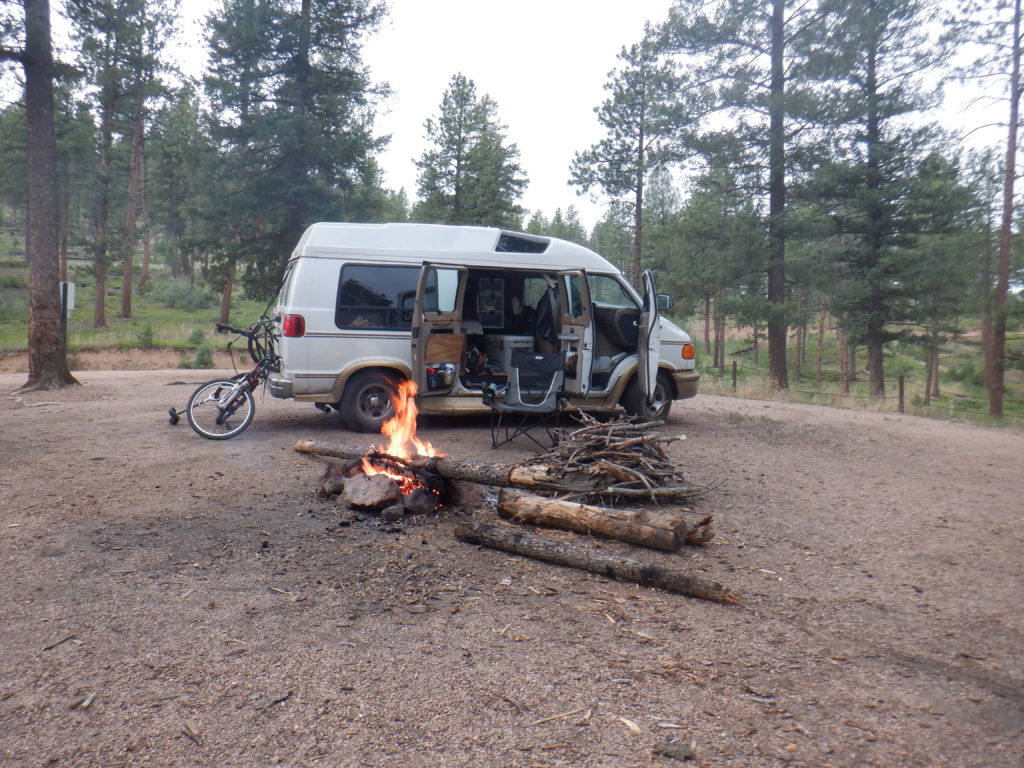 e to gather firewood, of course. And, right now I am typing these words to you. There are always projects with the van to make it better and better. Constant improvement is what everyone should aim for in their life.
As you know, I cannot sleep during the day, but some rest will do me good.
It's been a few days. I shower just when I get too itchy. I am not that close to people to stink (and I don't—ha!) My shower bag hangs from a hook I put on the roof of the van. Then a clear plastic tube leads down to a shower-head that has an on/off control.
I made it so, with the van side doors open I have a blue plastic sheet that goes on the outside with Velcro. I have more plastic sheet to protect the inside. So, a totally self-contained shower.
But, when I know no is around (I like that, know no, the English language is interesting), like now, I am naked to the world with the van doors closed and standing outside the van getting clean and happy. I'm so glad I did not stay at that campground.
A selfie with a naked me in the picture showering—naaaw–might get the camera wet. And, don't look, but right now I am typing to you in the van while naked.
So, I get wet with the shower hose then turn it off. I soap up and scrub my whole head and body. Then I rinse off. Takes less than a gallon of water and only takes a few minutes. I get as clean as any "real" shower.
I know there are many people who spend an hour in the shower and gallons and gallons of water—yikes.
Yet, even clean, flies are a problem. In the van I had three. I do not kill anything, even flies. I tried to direct them to the open door, but they didn't go. So, I captured them with my fingers and threw them out the door, still alive.
Then, sitting down outside, the flies found me. Some are big biting flies. I keep some bug repellent in the van, so I did, and they aren't bugging (there's that word again) me any more.
Once again, the English language.
Fly is what they do, couldn't anyone think of a better name for this bug? It's like the letter "W". Why would someone not think of a better name for this letter? It follows the letter "U" and then double "U"–W. Quite lazy if you ask me. Who can think of a better name for "W"?
Why, just the other day I saw a special bug. In the dirt about five feet in front of me. It is called a "walk", which it was doing.
Finally, why are all numbers one syllable except for s-e-v-e-n? Why would they not just make it sev? I want to change it throughout the world to "sev", are you with me on this? How can we make it happen?
Good thing I have my Stanley Power IT-1200 so I can power up my computer! the battery was way down. Now, happily, I can continue to write to you.
As I wrote before, all my life I have always been – GO GO GO. Strange to spending then entire day in this one campsite with no one around. You know, I could get a full body suntan (sunburn) while walking around this place unclothed, but I think you would look, so, no.
When I am writing my blog out in a forest I am more focused and think I write a better blog. What do you think? I like to bring you with me in my travels and inspire and bring joy to you with my words. Does it work?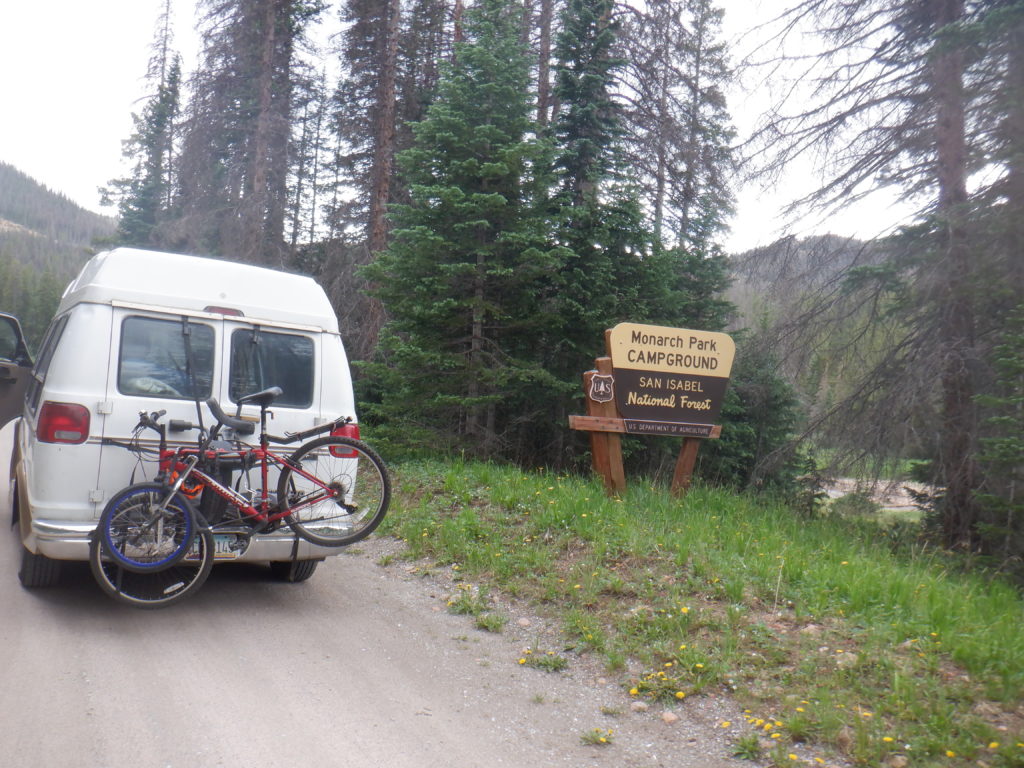 Whoops, I accidentally opened a beer, so it looks like I am going to have to drink it down, darn. Why does this always happen to me?
Drinking beer while getting wood, I amassed quite a collection of firewood—from kindling to small trees. Should be enough for tonight and then in the morning. If not, I will gather more. I gather, yet, carefully.
You see, if a piece of wood looks like it is already turning into earth again, I will leave it. Also, I picked up one piece and it looked like there was an ant nest inside, so I carefully put it back where it was.
2pm—now and clouds came in. It was so bright and clear. I hear thunder in the distance. I hope it does not rain, after I had gathered all that firewood.
So quiet here, although now and then I hear a bird singing or calling. Should have a good sleep tonight.
I do like the Riesling, Colin, goes down smooth.
Thanks again.
Still floss and brush every night, a good boy am I.
Just put the plants out to soak up some rain, hoping they will.
6pm now, signing off. The day was nicer than I imagined.
Hope yours was, too.
7/25—Some raindrops fell last night, I thought the wood might be too wet for a fire. But, I built an even bigger fire this morning. I like when I can go out to the fire pit and use a stick to bury some newspaper and the coals from the night before start the new fire.
I awoke to a bright blue sky and the sun is just making her appearance (or, is the sun a he?)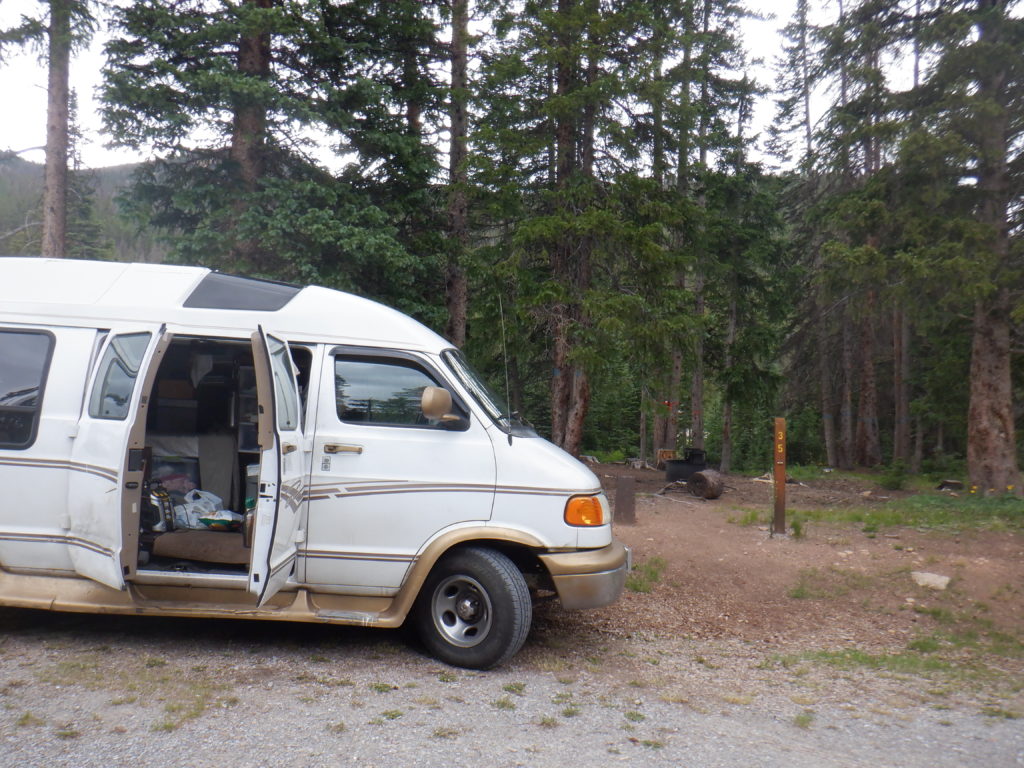 So, burning up firewood this morning. Part of me wants to save some of the wood for the next person, I try and be a nice guy that way. Another part says, "Burn it all." Well, what should I do?
Earlier I ate some peach and mango, I read once and like the idea of eating fruit first thing. Then, of course, I brewed up some of my green tea and I use organic maple syrup as a sweetener. Now I will fry up some potato and onion.
Can't leave until the fire burns down, shit. Sorry to use the fowl language, wait, do birds talk like that, they are fowl, after all. (or, is it, foul?) I made sure all the big pieces brunt down small enough to fit into the fire-ring, so it is safe. And, it did end up that I was able to leave some wood for the next people, so I feel good.
I'm on a mountain, I have a mountain bike, so, of course, had to go for a ride. I had a choice to go to the left and go downhill or turn right and hit the uphill. Of course, I choose the up, that way I was going down on my return.
I've set my life so that I do the most difficult first, or the part I do not want to do, but know I have to do it sometime. Get the worst out of the way first, and it can make your life easier and more pleasant.
24 hours at this campsite seeing no people. I was hoping to see some animals out here all alone for 24 hours at this one campsite. I did see one squirrel, and I thought I heard a hippopotamus off in the distance, but I may be mistaken.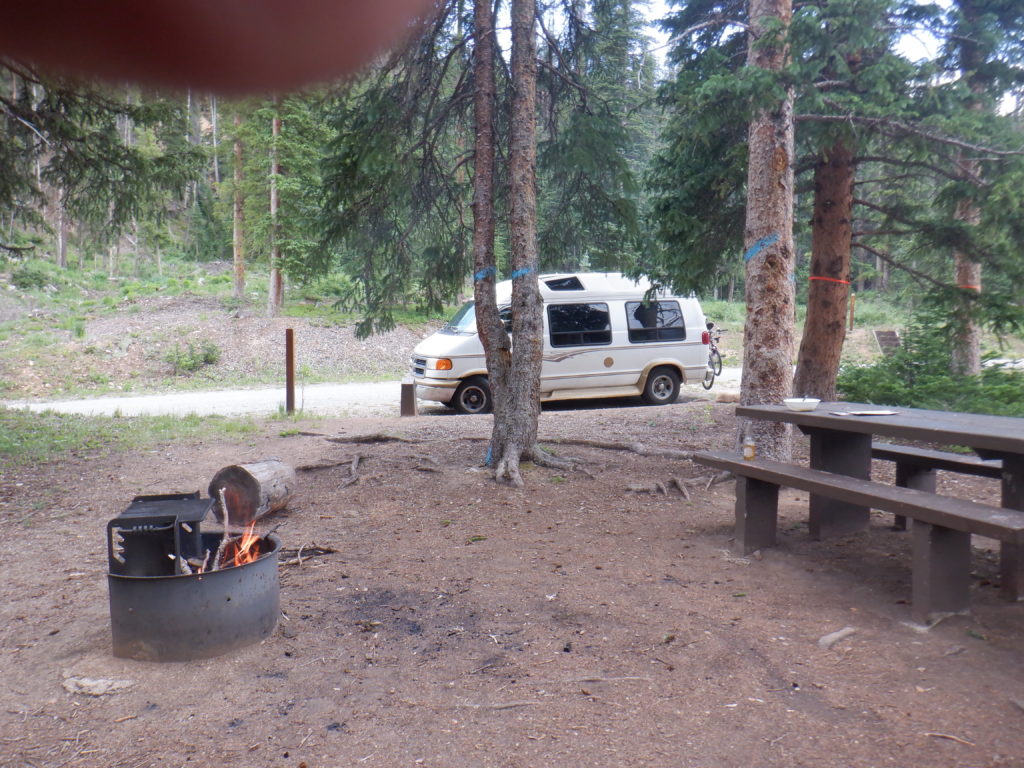 The road out was a bumpy dirt road. Glad I have the alignment and the suspension checked thoroughly before I left.
So pleasant to be back in the wilderness, feels like home to me.
Then, on to Salida Circus to see Jen, she is the owner. Too many things going on and too busy, missed her this trip. Take a look >> 
https://www.facebook.com/SalidaCircus/
Down the road I go, heading toward Gunnison National Park. Tina and I went here before, it is so fantastic I have to take you there, too.
On the way, traveling through, I saw a turn-off for campground in National Forest – I had to go. Being the only one in the entire campground, I had a choice of any of the sites. Of course, I choose the best (I think.)
Dinner was Fettichini Alfredo, which I love. The Resling went well with that, Cole, thanks again for the suggestion. We all hate doing it, washing dishes after the scrumptious meal. I got that done with, then the rains started. A sprinkle at first, then more. I packed everything away and got in the van to write words to you.
But, I moved. On the drive in a saw a gentle lake with parking next to it. So, here I am now for the night. For me, much better than a structured campground. Only 6:53pm right now. I will do some reading, some writing and then some sleep. I hope you sleep well tonight.
Sometimes I take AdvilPM to help me sleep. It helps with a funny, I mean runny, nose and breathing. So, I should sleep good tonight. Good nighty night.
I don't take them every night, I don't want to make a habit of it. I hope you haven't, Tina.
7/26—Friday, the weekly blog must go out. I am at a McDonalds where I am working on their free wifi. Enjoy the read, I would love to hear about your doings.