With my words, I hope to throw some oblique light upon your life.
I WANT TO INSPIRE YOU TO LIVE DIFFERENTLY OR BETTER!   
*** The joy I am experiencing in life is a marvelous thing!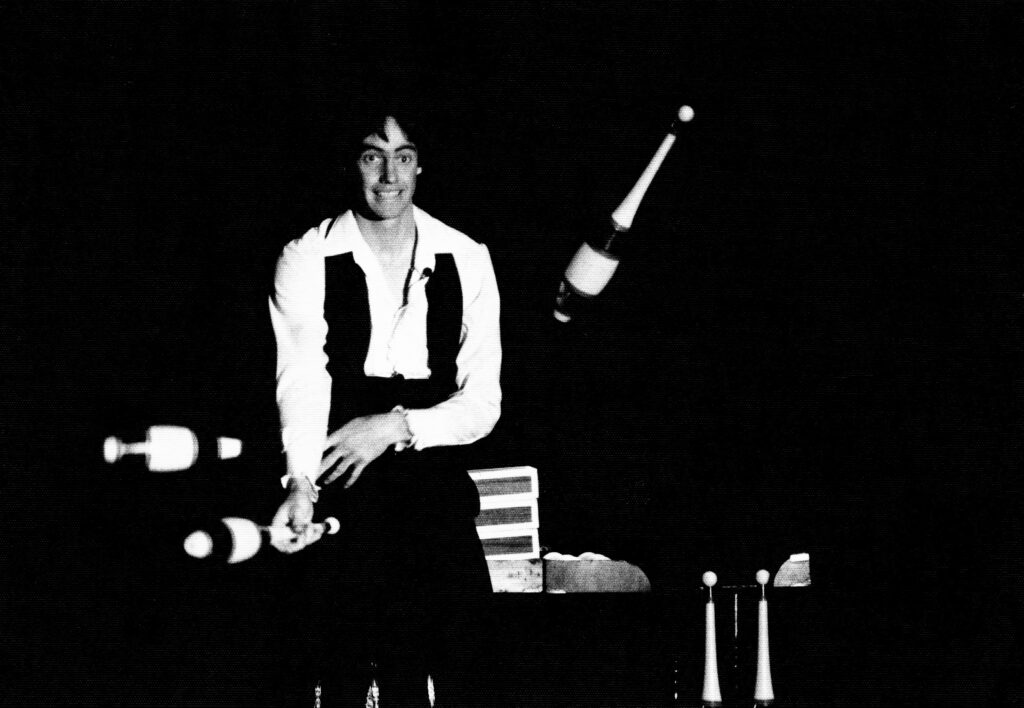 *** To read past blog posts, go to >> kitsummers.com/blog/
*** Hit by two trucks, one involving a 37-day coma, I remain happy.
*** If you are reading this through Facebook, check out my blog on my website.
*** Thanks, my wife, Beth, for editing and adding to each weekly blog.
*** I will have places to show you and tales to tell.
*** Secrets to unfold and good news!
BE TAKEN AWAY WITH ME
ON WONDERFUL ADVENTURES!
********************
TOPIC FOR THIS WEEK—FEAR—Acronym for—False Evidence Appearing Real
 
In my life, I have had many challenges where fear should have played a role, and I did not allow it to. Here are a few >> 
Riding my first high unicycle, seven foot tall.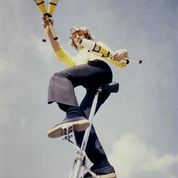 When juggling torches for the first time.
3 machetes were integrated into my show.
Jumping off the end of the Ocean Beach pier and swimming into body surf was an experience.
Riding a unicycle I built — 14 foot tall.
I went over the bar at 18'6" when pole-vaulting.
Going to Europe after my accident, three times, to present juggling workshops was a challenge.
Not knowing the language or lifestyle, I went to Japan three times to present my juggling workshop.
After that second time I was hit by a truck, I was able to set up workshops in Australia and New Zealand.
Living in my van and traveling to every national park in the US was fabulous.
I am constantly challenging myself; these are just a few of the fears I could have had.
 
I've found that people are often scared for no apparent reason. Often they make up things in their mind and then build on that until the thoughts become enormous. Fear does not have to be a part of your life! I have no concern whatsoever; I deal with what I have to at the time. What are you scared of?
 
When there is no actual threat of immediate danger, when there is no threat of a loss to someone or something dear to us, nothing is there. The idea of fear is usually made up in someone's mind; they run with it. Yet, sometimes it's a beneficial thing that keeps us from harm.
 
But, at times, it's an inner voice and barrier that keeps us stuck. We are born with only two instinctual fears: falling and loud noises. All others are learned. This does not mean they are not real; they are learned from life experience.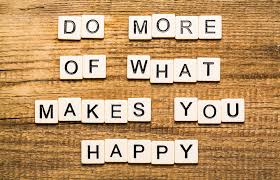 This is a vast topic, and I intend to touch on a few helpful tips to keep fear in check. Fear can be paralyzing, as you may have experienced. If given the power, fear will prevent us from doing and having things in our lives that we say we want. 
Yet, fear is not bad; it warns us of potentially harmful or dangerous situations.
Fears become registered as thoughts because they are learned. Thoughts are energy, AND – where thoughts go – Energy follows! Do you know our bodies do not know the difference between thoughts that are natural and present danger or if they are assumed?
 
This is where the acronym, False Evidence Appearing Real, comes from. Most of our fears are learned and developed and originate from our thinking. Our negative emotions are triggered, then our bodies respond. It can be helpful, for example, if you're walking alone through a dark alley — your fear can protect you by telling you to keep your guard up.
   
All fear and anxious thoughts are about something that has not yet happened. And this is what sometimes spins us out and sends our brain into even more anxious thoughts because it cannot fix or solve this thing that we imagine–because it hasn't yet happened–this is why scientists say that we're the most fearful creatures on earth because we have the wildest imaginations.
 
Anxiety feels real, even though it may have no basis in reality, arising when we feel activated by various triggers. As long as we continue to try to push away, avoid, or ignore our anxiety or panic, it will continue to hold us hostage. You must grab hold and make change happen.
 
Our experience of anxiety can change only when we learn how to listen to our mind, understand it, challenge our anxious thoughts, and replace those thoughts with new ones. Mindfulness is the best technique for managing fear, anxiety, and panic; when we learn through meditation to allow ideas to pass without believing all we think to be accurate, our experience of fear will shift!
 
Your goal today is to be present with your thoughts without reacting to them! So think about it. Other animals feel about threats and dangers in a given situation. But we think about hazards and risks; this could even take 20 steps ahead into the future, and this makes us even more scared or anxious.
   
So if you're afraid or anxious about returning to work, restarting a relationship, or anything else on the back of the announcements this week, be careful.  Try this exercise for any uncertainty around what will happen to you, your family, or anyone you know. So The First Step Is To Go There.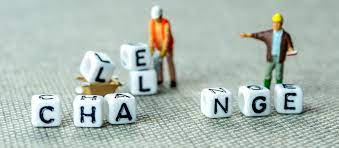 And notice how you feel, now once you do that, come back to right here, right now, and think about what you can practically do to prevent that situation in the first place and again list down put anything in place. Take any actions or things you can do to prevent that from happening in the first place. So that's it. Stay ahead of any fears you have.
 
Life is always here and now! Make and follow changes, but make each individual moment a particular time in your life. Move through your fears and KEEP GOING!
What new stories are you ready to write?
********************
WORDS TO INSPIRE YOU! >>
Inspirational quotes and motivational sayings have a unique ability to change the way we feel about life and can change our thinking.
 
They are so interesting, challenging, and essential on our path to joy, happiness, and finding ways to inspire ourselves and others.
 
Inspirational quotes and ideas give us a quick and timely burst of wisdom to get our focus back, offering the inspiration needed for the day or occasion.
 
I hope to inspire you with my words.


Words have power.
 
Are you accomplishing what you want before your eventual death?
At any age, you can (and should) make changes to make your life better.
 
How you think and feel about yourself, including your beliefs and expectations about what is possible, determines everything in your life, and it all derives from your quality of thinking.
WHEN YOU IMPROVE THE QUALITY OF YOUR THINKING,
YOU CHANGE THE QUALITY OF YOUR LIFE—SOMETIMES INSTANTLY!
Just as positive words can make someone smile, and a well-timed amusing quote can make someone laugh, your thoughts react to the world in real time. You have this control!
 
You have complete control over only one thing in the universe — Your Thinking —, and that's where motivational quotes come in!
 
To keep your motivation, you have to use each day as an opportunity to improve and get closer to your goals. It might sound like a lot of work—and with your busy schedule—next to impossible. But you can do it!
Self-talk is so essential—THINK RIGHT!
    
Motivational words, yes, they are just words.


But they are positive words; they will keep you on track.
EVEN IF YOU START LATE, ARE UNCERTAIN,
OR ARE DIFFERENT –
YOU CAN STILL FIND SUCCESS!
Don't forget that you are only as young as the last time you changed your mind!
Keep your thoughts and self-talk fun and productive, and always reach for more advancement.
 
REMEMBER, VERY LITTLE IS NEEDED TO MAKE A GREAT LIFE.
********************
I HOPE THE FOLLOWING WORDS INSPIRE YOU >>
 
Do one thing every day that scares you. -Eleanor Roosevelt
 
Each of us must confront our own fears and must come face to face with them. How we handle our fears will determine where we go with the rest of our lives. To experience adventure or to be limited by the fear of it. -Judy Blume
 
Everything you want is on the other side of fear. -Jack Canfield
 
Extreme fear can neither fight nor fly. -William Shakespeare
 
Failure doesn't mean you are a failure; it just means you haven't succeeded yet. -Robert H. Schuller
 
Failure is a detour, not a dead-end street. -Zig Ziglar
 
Fear has its use, but cowardice has none. -Gandhi
 
Fear is only as deep as the mind allows. -Japanese Proverb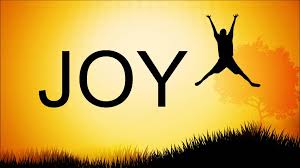 Fear is the main source of superstition and one of the primary sources of cruelty. To conquer fear is the beginning of wisdom. -Bertrand Russell
 
Fear is the path to the dark side. Fear leads to anger. Anger leads to hate. Hate leads to suffering. -Yoda
 
Avoiding danger is no safer in the long run than outright exposure. The fearful are caught as often as the bold. -Helen Keller
 
Cowards die many times before their deaths; the valiant never taste of death but once. -William Shakespeare
 
Develop success from failures. Discouragement and failure are two of the surest stepping stones to success. -Dale Carnegie
 
Do not be afraid to give up the good to go for the great. -John Rockefeller
 
Do not fear mistakes. You will know failure. Continue to reach out. -Benjamin Franklin
COMPOSE A NOBLE BOOK AND WRITE A BEST-SELLER.
YOU ARE AMAZING—PLAY YOUR PART!
********************
                                           MY DAILY JOTTINGS >>
Each week goes by so quickly, don't you think?
And time is going faster all the time.
Do you keep track of what you do each day?
Do this for a few weeks, and you will see your time differently.
IS IT TIME TO "MAKE" THINGS HAPPEN AND LIVE A FULLER LIFE?
"Make" a great week for yourself, my friend.
     
7/22–Day by day, moment by moment, time goes on. There is so much I want to accomplish–I have limited energy these days to keep going–but I do. So often, we have to "make" ourselves do things, but we do. How about you, do you push yourself?
 
Are you living the life that you want? It is ALWAYS up to you. If you are not living the life you want, make things happen to bring on the change you need!
 
7/23– We dropped off Beth's van at https://jiminy-fixit.com/. If you are anywhere in the area, he does superb work; go see Jimmy. Beth's A/C isn't working currently, which means, due to this heat, my wife is unwilling to go anywhere. (Beth: I like staying home so it isn't a problem. I have plenty to do around here.)
 
7/24–Thinking ahead is a good thing. Heating bills from an electric heater can be high, but we plan on using our fireplace to heat the home, like last year. Winter will return; Beth and I depend on our fireplace to heat the house.
 
To run the fire, we need fuel; wood works well. I brought home many wood cuttings for our future fire. The firewood was gathered at Ken Young, who cuts wood for building.
 
Today, Eddie (Beth: my ex-husband. Let's give credit where credit is due.)  and I cut the long cuttings to a size that fits into the fireplace. Much time was put in, and we filled up all the wood racks that will warm us next winter.
Do you plan ahead?
7/25–Hmm, do you remember the day?
Do you remember what you did last Tuesday?
I remember I was with Jemma >>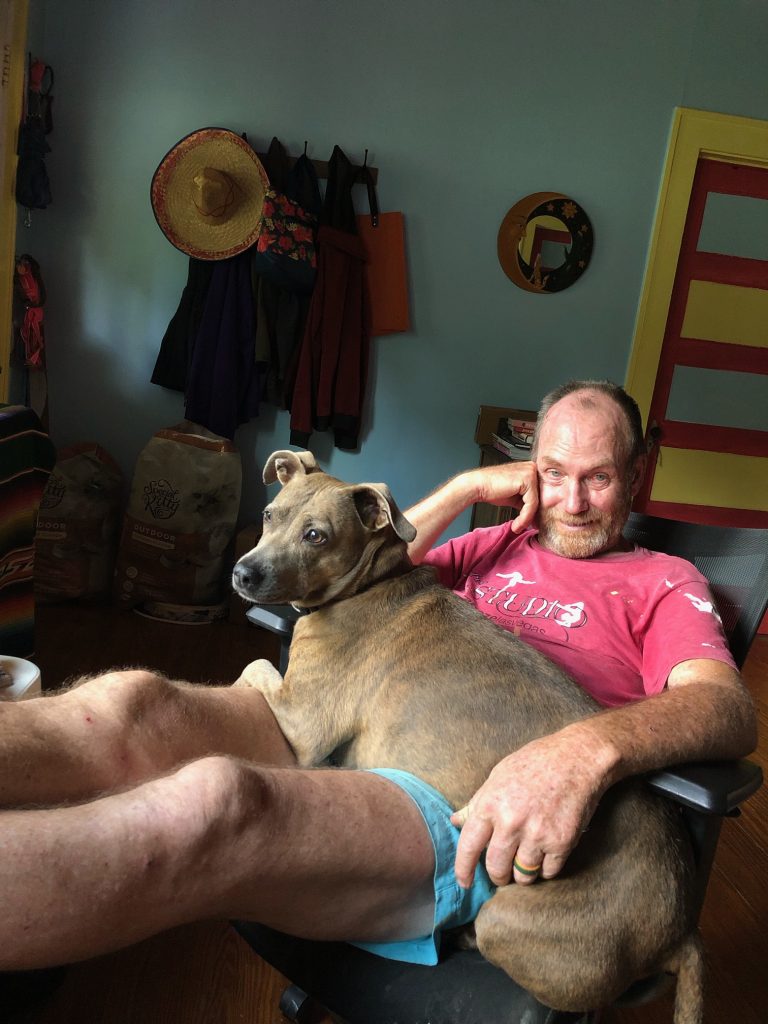 7/26–Beth: I popped a gross thing on Kit's head, which I googled and think is probably from him being out in the sun without his hat. I am not a nurse, but I do portray one at home.

We are getting many hummy birds. What a joy to see them.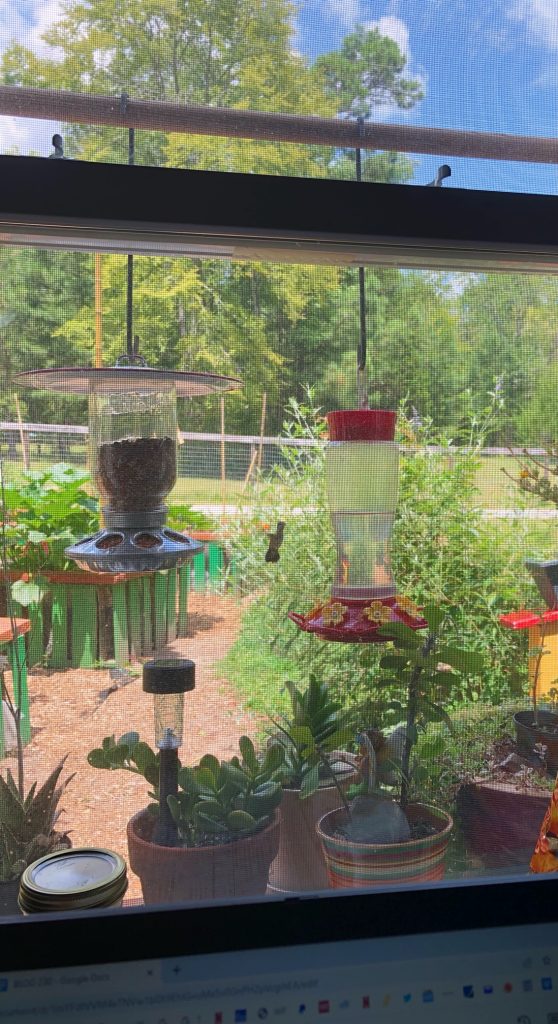 7/27–Off to Costco to purchase a couple hundred bucks of essentials for eating. Amazingly, my van runs excellently, still. This vehicle has gone through much and continues to get me there.

Also, we have a turtle; have you seen it?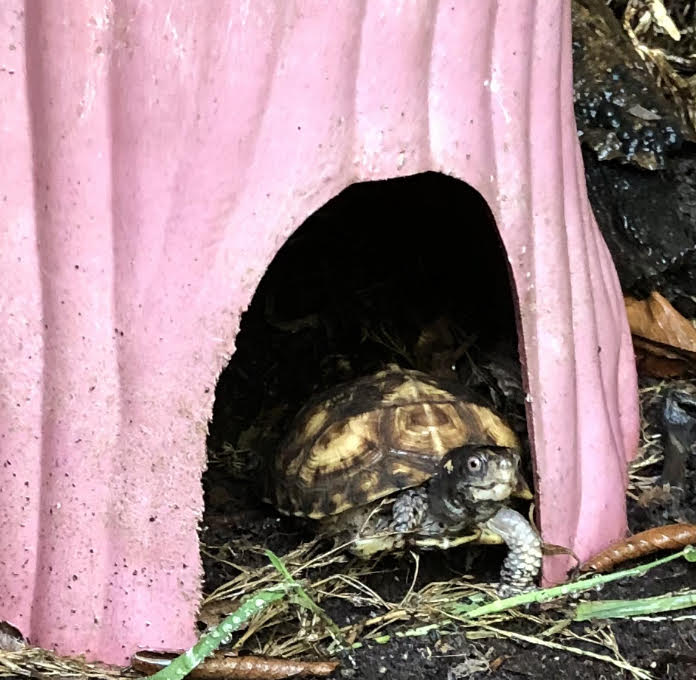 7/28–Finishing my blog and watching a hummingbird out the window. The bedroom needs a few paint touch-ups, but we set up Beth's reading area is set up, and it looks lovely.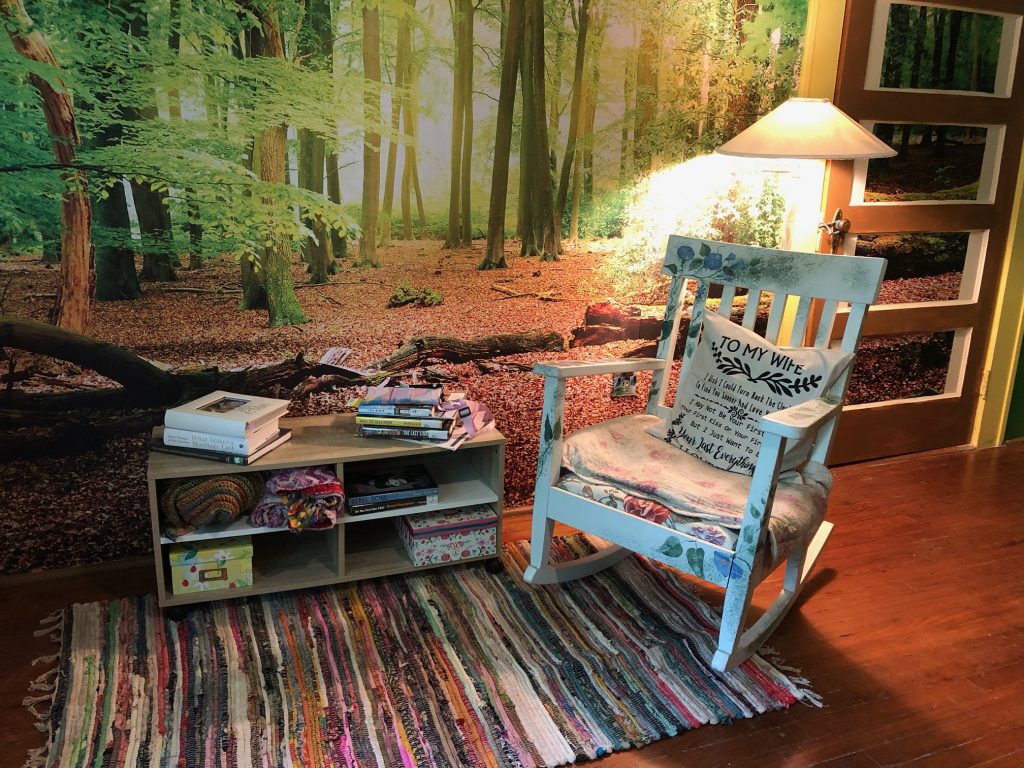 ******************
YOUR CHALLENGE FOR THE WEEK > >
Find your happy world.
Stop searching for happiness.
We explore the things which we don't have.
This often involves looking at the bad and hard.
Happiness is within you–find it today!
   
Do something new daily, then keep doing it for the rest of your life.
*******************
NEXT BLOG >>
With no fear, I will concur that problem or discipline that I have been avoiding, 
AND WHAT ARE YOU PLANNING FOR YOUR UPCOMING WEEK?
*******************