The Wanderings of Kit
(Do you wander or just wonder?)
With my words, I hope to throw  some oblique light upon your soul. By writing this blog I want to inspire you and show you that.
Many new readers do not know of me, here is a brief summary of Kit >>
** A world-class juggler performing at Ballys in Atlantic City.
https://www.youtube.com/watch?v=SZALVajgH6Q
** Hit by a truck and went through a 37-day coma.
https://www.youtube.com/watch?v=Lr8QFnD1yGc
** Wrote four books, spoke around the world, and developed a new business.
** Hit by another truck, much of my body broken, hospital and rehab again for months.
** Wrote a series of books to help YOU find your potential.
SEE—kitsummers.com
YES—YOU CAN > >
***Change your life at any time to make it more magnificent!
***Live with little money and still have an excellent life.
***Be able to live life getting very little sleep.
***Live ANYWHERE in the world and still make your life a fantastic event!
***See experiences that will add to and make your life better.
***I want to inspire you as to the wonders of the earth.
***Perhaps this is my new "gig", traveling the world doing the same?
And, I'm not just, "Kitting Around"
Create the life YOU want to live, NOW,
then make your life better and better!
*****************************
Remember, to read past blog posts, go to kitsummers.com/blog/
*** If you are reading this through Facebook, check out my blog on my website.
*** If you are not my Facebook friend, yet, please befriend me.
*** The freedom I am experiencing in my travels is a marvelous thing.
*** Going where I want, when I want, and seeing wonderful places and people.
*** I will have places to show you and tales to tell.
*** I will have secrets to unfold and good news!
I WANT TO TAKE YOU AWAY WITH ME
ON WONDERFUL ADVENTURES!
*****************************
*****************************
*****************************
INTRO TO THIS WEEK >>
Right now I am voice typing this on the cliffs overlooking waves in Encinitas, about 20 miles north of San Diego.
Chris Foster has a bike for me! It's in great shape, owned by his neighbor. He fixed it up and get it running well for me, Thanks, Chris!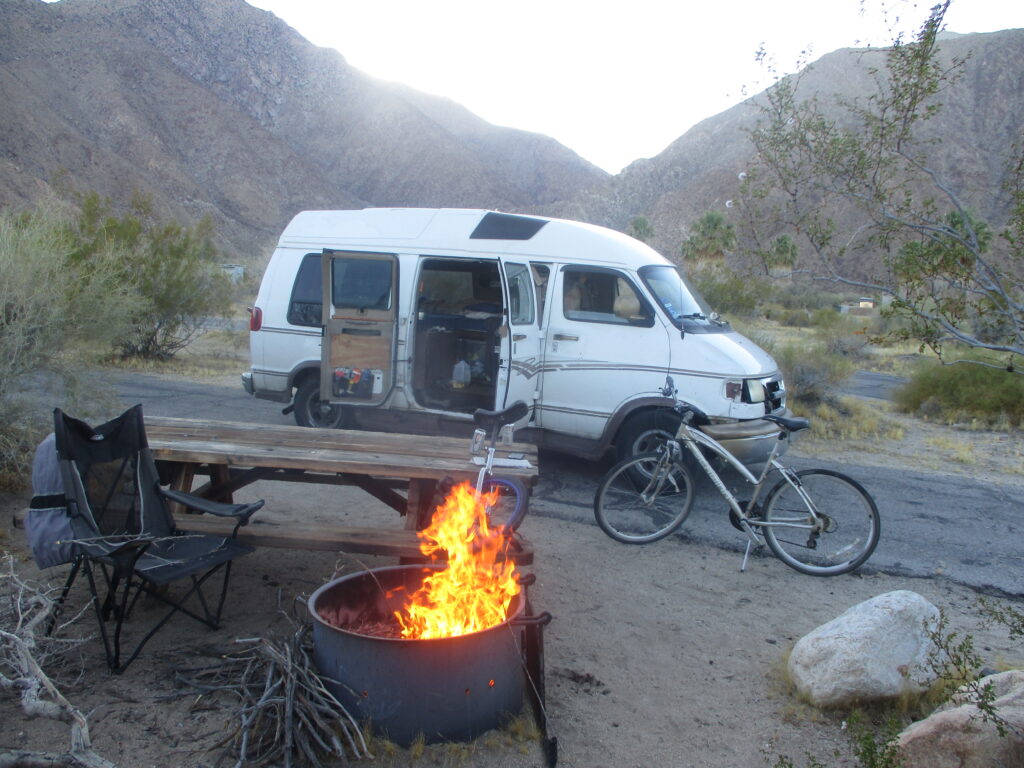 Here's my new wonderful bike!
And you see my unicycle, too. 
Hard to describe this life I'm living. I have seen such fantastic parts of Earth and having a great time. Like I said before, wish you were with me.
Driving to the town of Borrego Springs. The temperature hit 100f degrees (37.77c) here, it is a desert town, after all.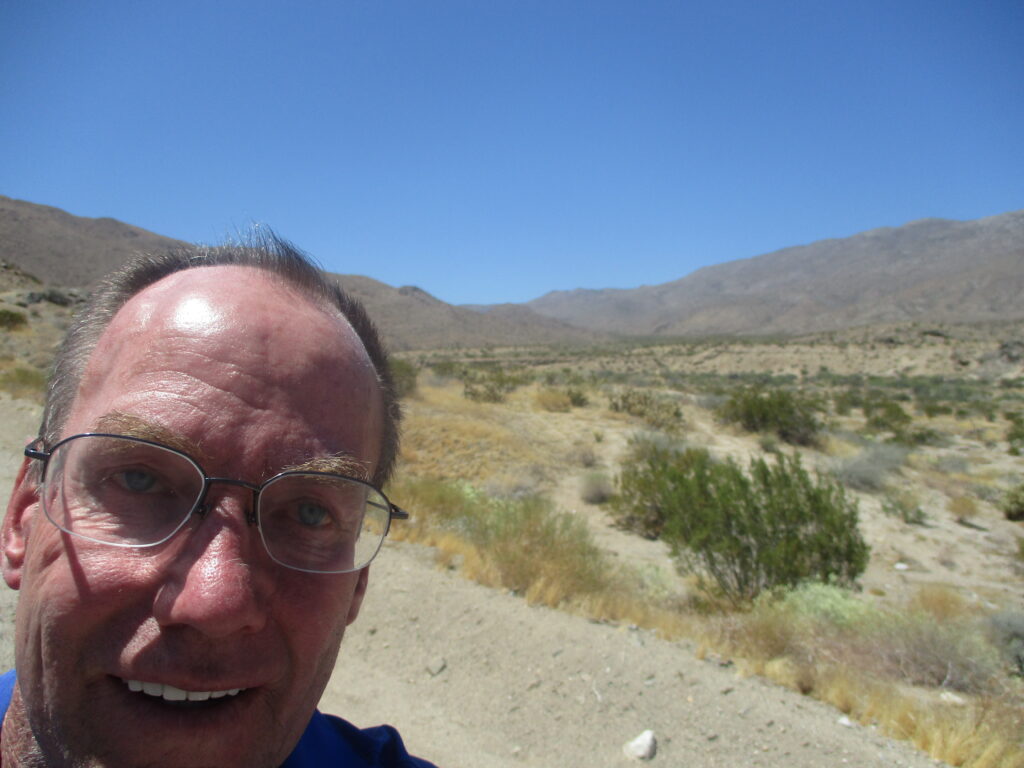 But I did stop at a park with green grass and juggled for an hour or two. Felt great, getting better every time.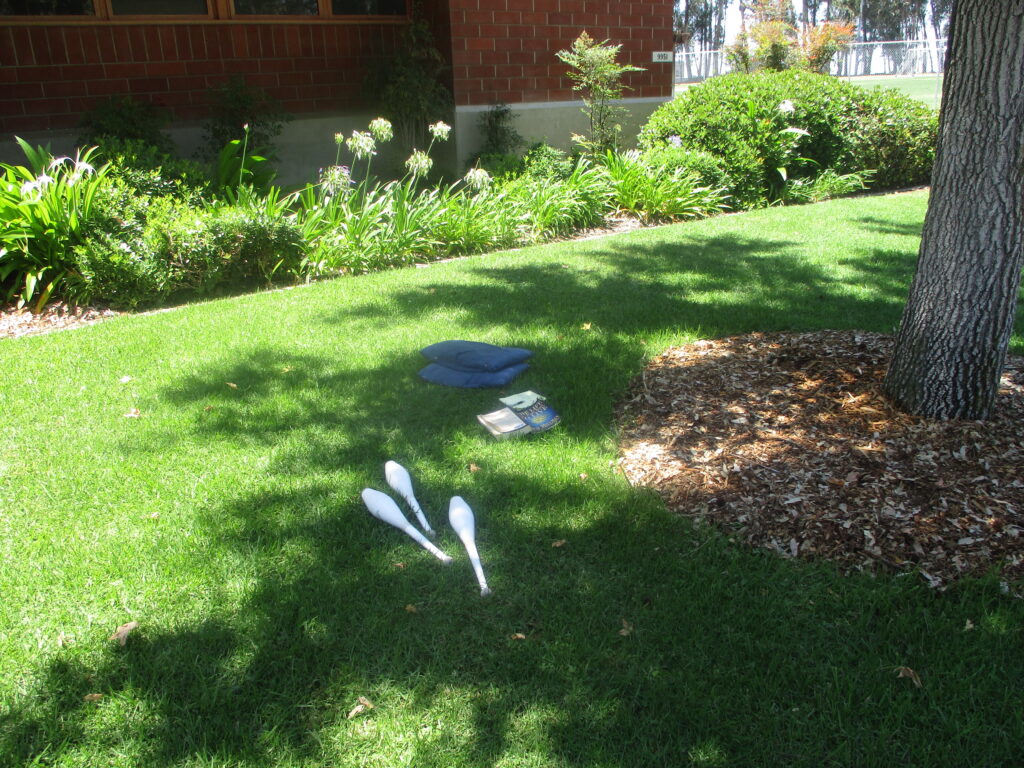 As I said, very very hot. I drive with no air conditioning, yikes, it's not working. But, in the 70s and early 80s I drove through this weather with no problem in my VW 411 station wagon, a car I loved.
Dave, when I get back there you'll have to get my air conditioning running again right.
In Slab City, California. Went by salvation mountain and slab Low's(Loners On Wheels, https://lonersonwheels.com/index.html).
No one was in the Low's group here. I've heard before that when it gets too hot, people go home. This is very understandable with how hot it was there.
Hope I went to the Salton Sea. on the way, I saw the longest train I've ever seen it just went on and on and on. Could have been a mile learn! This huge train had six engines, also.
Yes, I took a taste. I've heard the Salton Sea is saltier than the ocean, yes, it is.
*****************************
WORDS TO INSPIRE YOU! >>
Inspirational quotes and motivational sayings have an amazing ability to change the way we feel about life and can change your thinking. This is why I find them so interesting and important on our paths to happiness.
So what's the secret of great quotes? 
You see, the way you think and feel about yourself, including your beliefs and expectations about what is possible for you, determines everything that happens in your life. It all derives from your quality of thinking.
When you change the quality of your thinking, you change the quality of your life, sometimes instantly. Just as positive words can make someone smile, and/or, a well-timed humorous quote can make someone laugh, our thoughts react to the world in real-time.
Think right—always.
You have complete control over only one thing in the universe — your thinking – and that's where motivational quotes come in! Self-talk is so important—THINK RIGHT!
I hope the words I pick do help you.
=============
Be inspired by these words >>
1. Our greatest glory is not in never falling, but in rising every time we fall. – Confucius
2. Magic is believing in yourself, if you can do that, you can make anything happen. – Johann Wolfgang von Goethe
 3. All our dreams can come true, if we have the courage to pursue them. – Walt Disney
 4. The secret of getting ahead is getting started. – Mark Twain
 5. Don't wish it were easier. Wish you were better. ― Jim Rohn
 6. The secret of change is to focus all of your energy, not on fighting the old, but on building the new – Socrates
 7. Setting goals is the first step into turning the invisible into the visible. – Tony Robbins
 8. If you don't like something, change it. If you can't change it, change your attitude. – Maya Angelou
 9. Decide upon your major definite purpose in life and then organize all your activities around it. – Brian Tracy
 10. Becoming strong doesn't start in the gym. It starts in your head.
 11. Try not to become a person of success, but rather try to become a person of value. – Albert Einstein
*****************************
MY DAILY JOTTINGS >>
7/27—Donated a big box of items back to the food bank. Over time I have collected much, more than I could use. I suggest, if you have food items that you're not going to use, donate them. They will go to someone who could use the nourishment.
I found a very nice park with clean-cut grass and trees for shade, a beautiful place. I will be meeting with my friend ma later at 6 p.m. so I have all day to work on stuff.
I even worked on doing a handstand. First time I've worked on those since my accident many years ago. It wasn't perfect, but I got up!
That, I think, is the main way I came back from the coma. I have always challenged myself to go beyond what I thought I could do, or could you do. I made it a challenge to get back as far as I could and as well as I could. If you're not currently, challenge yourself to go for the excellence that is in you.
This is something that anyone (yes–YOU), can do. Challenge yourself, safely, to always go beyond what you think you can do.
I'm making breakthroughs in my juggling, recently–that feels wonderful!
With the side doors on the van open a big butterfly flew in. This beautiful specimen could not find his way out. Eventually, after I opened all the doors, he flew for the hills.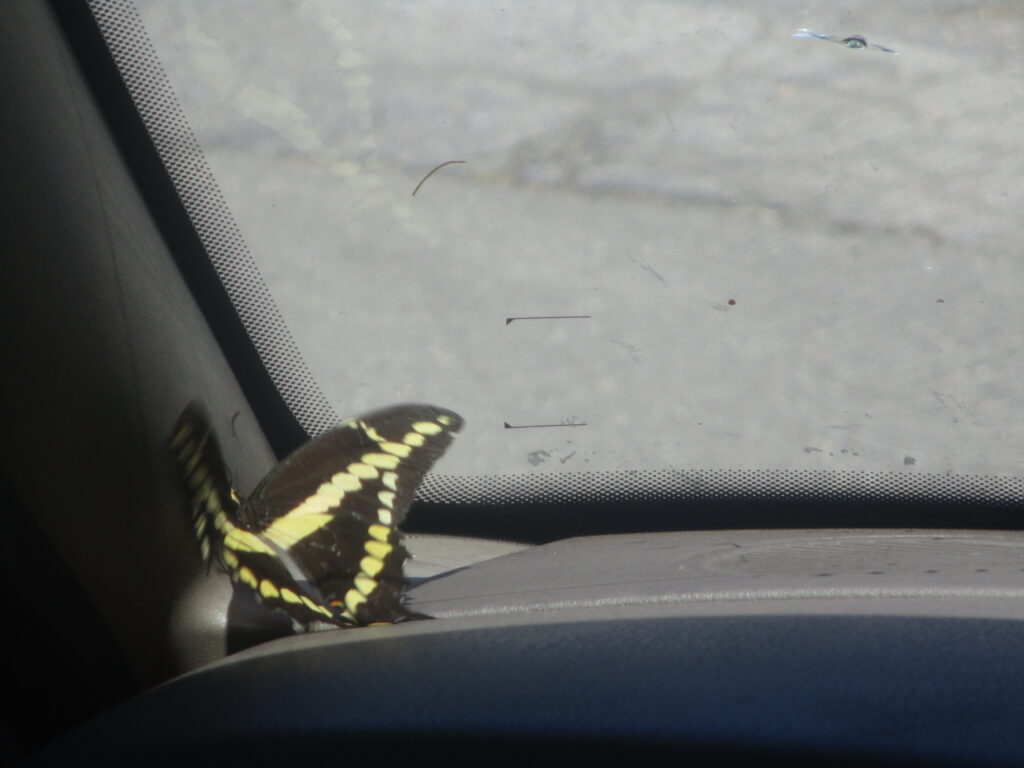 Today I even went running for a bit. Probably about a mile, it's all good. I want so much to get back to my running speed. I just have to make the time two work on the running how are you can.
Also, I got my unicycle and went for a ride. I have trouble even standing on one leg, but I got the unicycle going all right!
7/29—Last night I met with my friend, Mark Costello, anyway and we went to get tacos, shrimp tacos.
We talked about old times
We were in boy scouts together.
We were in high school together.
We ran track and cross-country together.
What a great talk we had, so good to see you, Mark.
When can we talked about was our old track coach, Rick Mitchell, I found out he was put in jail many many years for having child porn on his computer. It shocked me, in fact.
So great to catch up with Mark and talk about all the times. Like one time we went with a friend weekend flew to San Francisco with our bicycles And rode down to San Diego. 
Right now I have parked at the beach again the prime spot, an excellent location. Closest to the beach, and with grass out in the back for juggling.
At the beach, I met Dirk and Christina, what wonderful new friends. They travel and live as I do, so good to see. 
When in San Diego I went to Discount Tire and had them check mine. The guy saw that the wrong tires were put on for the weight of my van. So, they gave me brand new tires! Such a great company, if you need tires, you must go to Discount Tire. 
7/29—This time I wasn't too sad how about leaving San Diego.
It's 3 now and I'm at Anza-Borrego Desert State Park. There is no one working here, the place is empty. So, I grabbed a campsite, and here I am for the night.
Still hot, close to 100 degrees. I know that night in the desert gets very cold though, so I should sleep well tonight, I'll let you know.
July 30. went by Salvation Mountain and slab Low's in Slab City,  California. No one in the Low's group was here. I've heard before that when it gets too hot in the summer everyone takes off oh, I see why.
Here is about Slab City >> https://www.youtube.com/watch?v=0vVCSUafFVI
On to the Salton Sea! I've heard that body of water is saltier then the ocean, I had to find out. I got down there and tried some, yes it is!
Onward I went. By the Salton Sea, I saw the longest train I've ever seen. It just went on and on and on. Could have been in one mile long. Pulled by 6 engines, this magnificent locomotive was very impressive.
I passed with must have been a coconut plantation, hundreds of trees I'm one side of the road.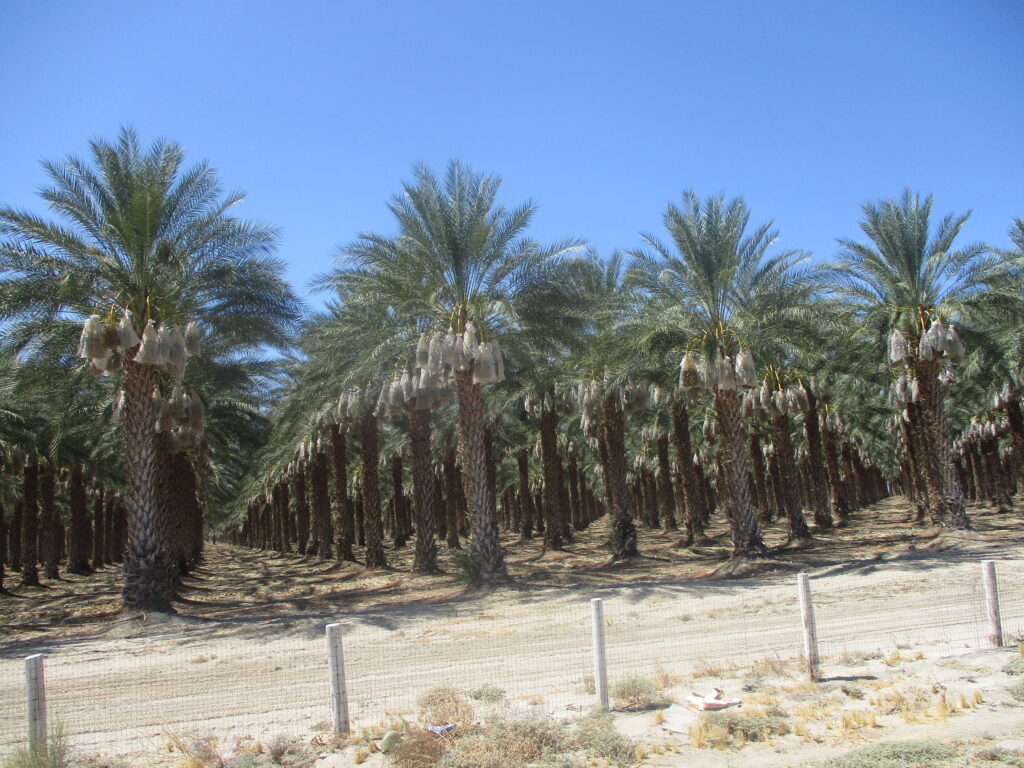 I never thought I would stay the night in Barstow, California. But here I am, lucky me. 
The first local Park I checked out what is too close to the railroad track. There happened to be a noisy train going on the track right then.
The second local park I found much less noisy, here I am for the night. 
Just looked up at the temperature gauge, 106 degrees, YIKES! A half-hour later now, 107 and rising. Lucky me.
7/31—Drove into Las Vegas and went right to see my friends at Las Vegas Circus Center. They let me use my computer to get this blog out, thanks. 
****************************
MY CHALLENGE FOR YOU THIS WEEK >>
SMILE—Keep this on your mind this week and start toward making it a habit, I love you smile!
**************************
NEXT BLOG>>
I'll be heading back to the National Parks in Utah, you will love the photos.
=================