The Wanderings of Kit
(Do you wander or just wonder?)
With my words, I hope to throw some oblique light upon your life. By writing this blog I want to inspire you to see your life in a different and/or better way and find joy how you can.
****************************
*** Remember, to read past blog posts, go to kitsummers.com/blog/
*** If you are reading this through Facebook, check out my blog on my website.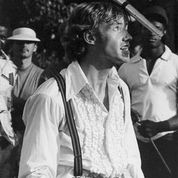 *** If you are not my Facebook friend, yet, please befriend me.
*** The freedom I am experiencing in my travels is a marvelous thing!
*** Going where I want, when I want, and seeing wonderful places and people.
*** I will have places to show you and tales to tell.
*** I will have secrets to unfold and good news!
I WANT TO TAKE YOU AWAY WITH ME
ON WONDERFUL ADVENTURES!
*************************
*************************
*************************
INTRO TO THIS WEEK >>
To the north for me? You will find out why later. But, then back south for me to Florida. I drove through the most horrendous rainstorm, I have never experienced one with that much water.
Much driving in the rainiest weather I have ever dealt with. I actually got scared while driving—could hardly see ahead, passed many accidentlies, it was all a little much—just to go and see a girl I hardly know from Facebook?
*************************
WORDS TO INSPIRE YOU! >>
Inspirational quotes and motivational sayings have an amazing ability to change the way we feel about life and can change our thinking. This is why I find them so interesting and important on the path to joy and happiness.
Inspiration >> The process of being mentally stimulated to do a certain thing. I hope to inspire you with my words. Words have power.
You see, the way you think and feel about yourself, including your beliefs and expectations about what is possible for you, determine everything that happens in your life. It all derives from your quality of thinking.
When you change the quality of your thinking, you change the quality of your life—sometimes instantly. Just as positive words can make someone smile, and/or, a well-timed humorous quote can make someone laugh, our thoughts react to the world in real-time. You have this control.
You have complete control over only one thing in the universe — your thinking – and that's where motivational quotes come in! Self-talk is so important—THINK RIGHT!
I hope the words I pick do help you.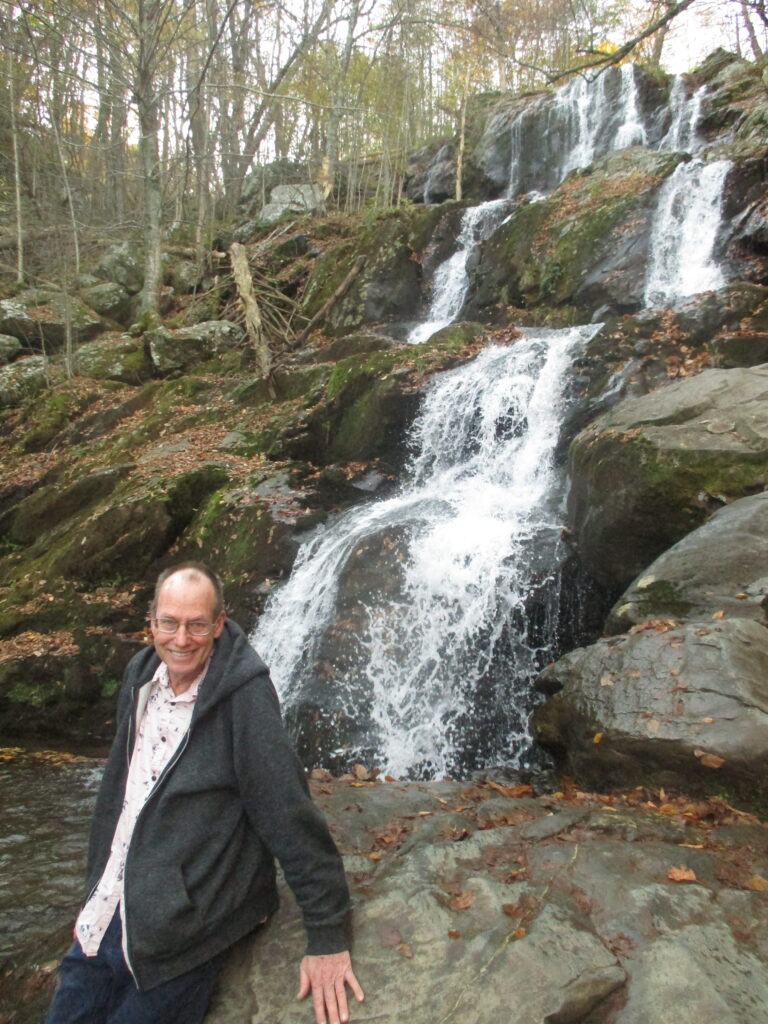 *************************
BE INSPIRED BY THESE WORDS >>
From my book series >> Beyond Your Potential
Try many ways and don't give up!
There is always an original and diverse way of doing something. It doesn't matter what limitations you perceive or find along the way, or how many times you fail. Keep trying.
One of the most common causes of letdown is the habit of quitting when one is overtaken by temporary weakness. In these moments, we may feel like we can't live up to what we desire to accomplish. I learned to get over this sort of thing through juggling practice. Often I would drop what I was juggling, but I would just pick up the club or ball or sword and try again.
Never confuse failure with momentary weakness. So many people will encounter a moment of weakness when trying something new or when attempting to stretch a limit and then assume they've failed and give up too soon feeling frustrated and defeated. Every individual is guilty of this mistake at one time or another.
We can convert that moment of weakness into success by reflecting on what happened and finding where things went wrong. Once we know what went wrong, we can try again and we can do it right. This process of reflection and correction is what leads us to success. The main thing is to keep driving forward.
Don't believe you have to know everything about something in order to do it. 

While you continue to push yourself forward, don't limit yourself by thinking that you have to know everything that there is to know about what you are doing in order to be successful at it. There are many people who have achieved great success without knowing everything, including even the correct way to get something done.
Success requires many attempts, and those attempts will require different approaches. One approach may not be the same approach that another person finds helpful, although both might find success.
Try different ways until you find one that works for you.
In working directly with people who have gone through recoveries from various accidents and illnesses, I have learned that many of these people were very strong mentally after what they had been through. I too had to learn to be of a healthy mind after not one, but two long-term stays in the hospital.
Numerous people who have come back from tragedies have extraordinary self-confidence because they have overcome hurdles and learned lessons to advance their lives. They had lifted their self-imposed limitations and allowed themselves to excel farther than if they hadn't gone through the change they experienced.
Now, don't go out looking for an accident or something to get into. Just know that, if something does occur, you can find your way back.
Belief is the key to life.
Know that you can do whatever you set out to do and believe in your abilities. Rather than limiting yourself, allow yourself to believe that you can and will be successful. Even if you find that you really can't push this or that limit any further, at least enjoy the time you've had trying.
Think back to when you were a child and the words limit and limitation weren't even in your vocabulary. Self-imposed limitations came later in your life as you saw what might cause you harm or might not work.
Now consider that everything you effortlessly do today is something you did not know how to do at one time either, but for some reason, these things were not singled out in your mind as being unattainable.
The things that I had to relearn after waking up from my coma – walking, talking, juggling –never came to mind as being a limit for me prior to my accident. I just did these things unconsciously. Things we normally take for granted should never be a limitation, just do them.
Turn back the clock, bring back your childhood, and stop limiting yourself. If you hold onto being realistic, your full potential in life will be lost and you won't reach as high a level as you could have.
Don't "turn" into an adult.

At thirteen years of age, I started riding unicycles with a neighbor named Ron Friel. I remember him saying to me, "Yeah, I'm probably never going to ride tall unicycles. This regular size will be my goal." When we set limits like this for ourselves, they tend to keep getting bigger and bigger in our minds.

The first time Ron and I ever rode a tall unicycle, we came to the realization that we had become too attached to our success on a regular cycle. In that moment, we also overcame the limitation of riding just a regular size cycle. Going above and beyond this limit that we had set for ourselves opened up a new world for us.
*************************
MY DAILY JOTTINGS >>
11/7—Today is Saturday, it seems that I often arrive at a national park or wilderness area at the weekend. More people around, to me, is not a good thing (I love you, though.) I arrived at Ocala National Forest today.
Right now I am at a library in Palatka, Florida. Arriving at about 7am, after changing into my shorts (already warm here), I saw they had benches out in front and outlets there to plug in—how fantastic!
I'm already thinking I will be here all day and arrive at Ocala Forest tomorrow. I have all the food and water I need to last me a week or more, perhaps I will? Of course, I will have to be out by next Friday to get the blog out to you.
Arrived in Ocala National Forest. So glad to be back here oh, what a wonderful area.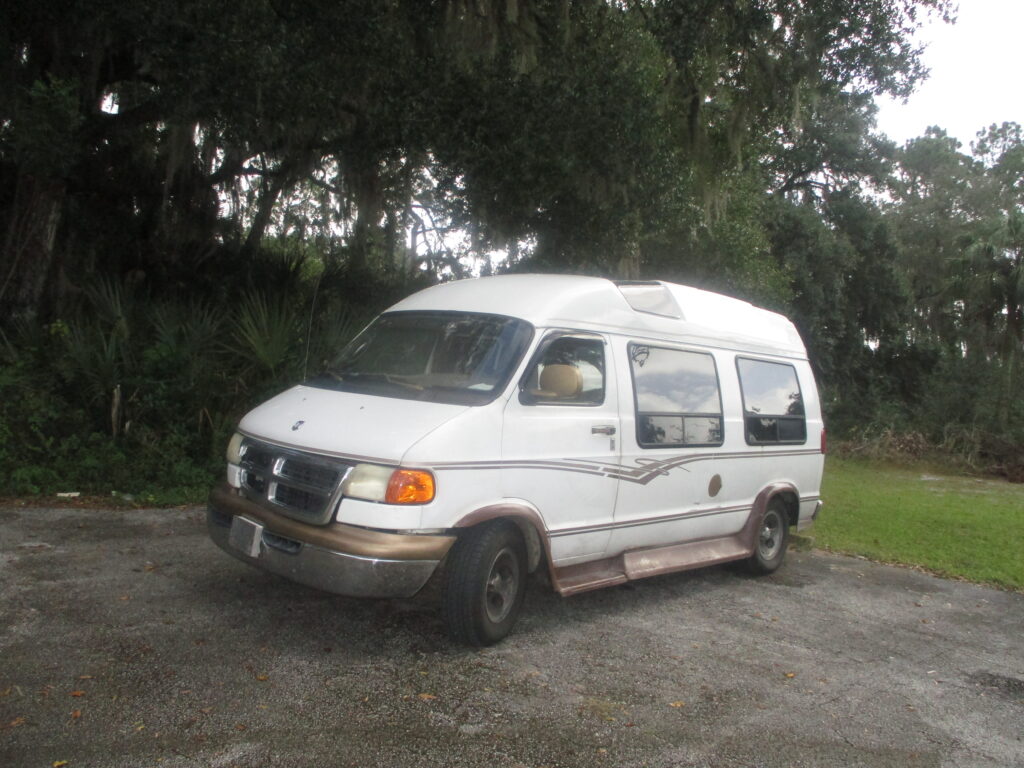 11/8—Paid for campsite number 160 for two nights. This campsite, unlike all the others, is small and secluded with forest all around. Now it was time to go and get firewood for the night and then for the breakfast fire tomorrow.
I found a dirt road turn off the main road and took it to find wood. This was a very narrow road, plant growth on both sides. I could not find a place to turn around for at least one kilometer. Along with that, there was sand on the road in some places four or five inches deep.
I had to drive in about half a mile where I could finally find a place to turn around. And, on the way in on this road, it was kind of downhill; so, I knew it would be uphill on the exit. Finally found a place where I could turn around.
While there, I gathered up some wood and loaded up the van.
To get out of here I knew would be a scary drive. To get through the sand, I had to take off at full tilt as fast as I could to go. It was hard to even steer, but I made it through and was so happy I got back to the main road.
This will make for a great fire for the night.
You will see photos of the splendid fire.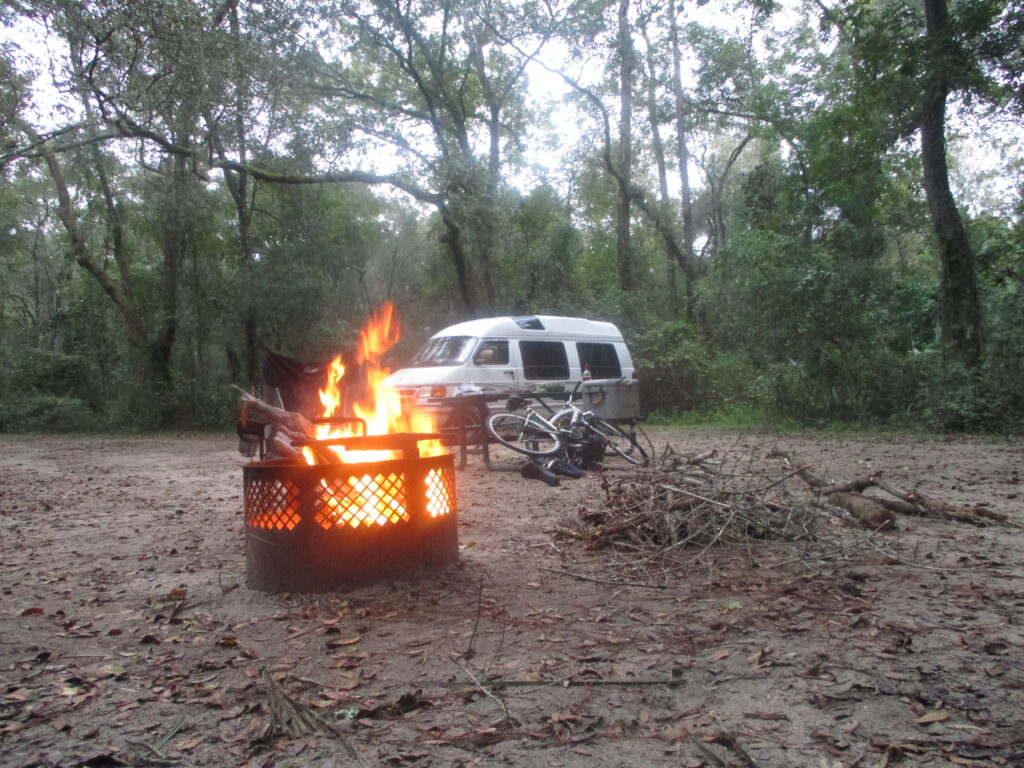 11/9—Overnight the rain started. It did not let up for all day, more and more drops came down. So, I spent my day in the office of the park on the computer.
Glad I did the fire last night because the rain started in the morning; off and on somewhat heavy. Most of the day it continued.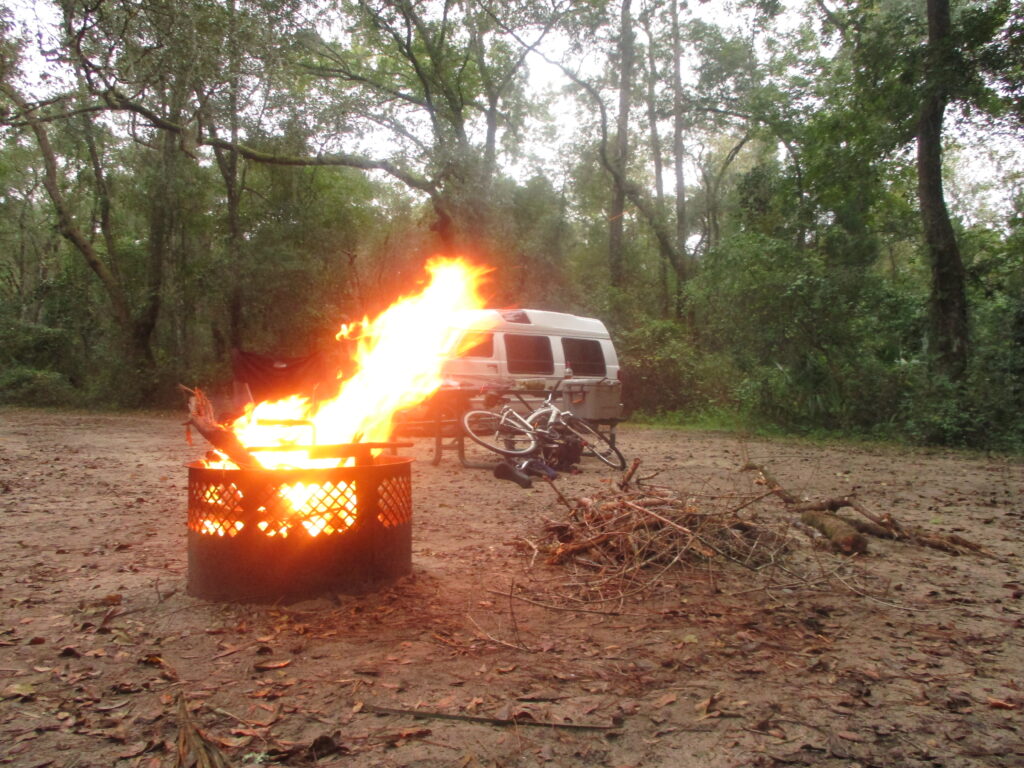 The main reason I get a campsite is to have a fire. I knew that there would be rain this day and the next, so I went to ask for my money back for the second night, I found out they do not give refunds. I ended up staying the night again in site number 160.
Trees all around, it was very dark and quiet. I am glad I did end up there again for a good sleep.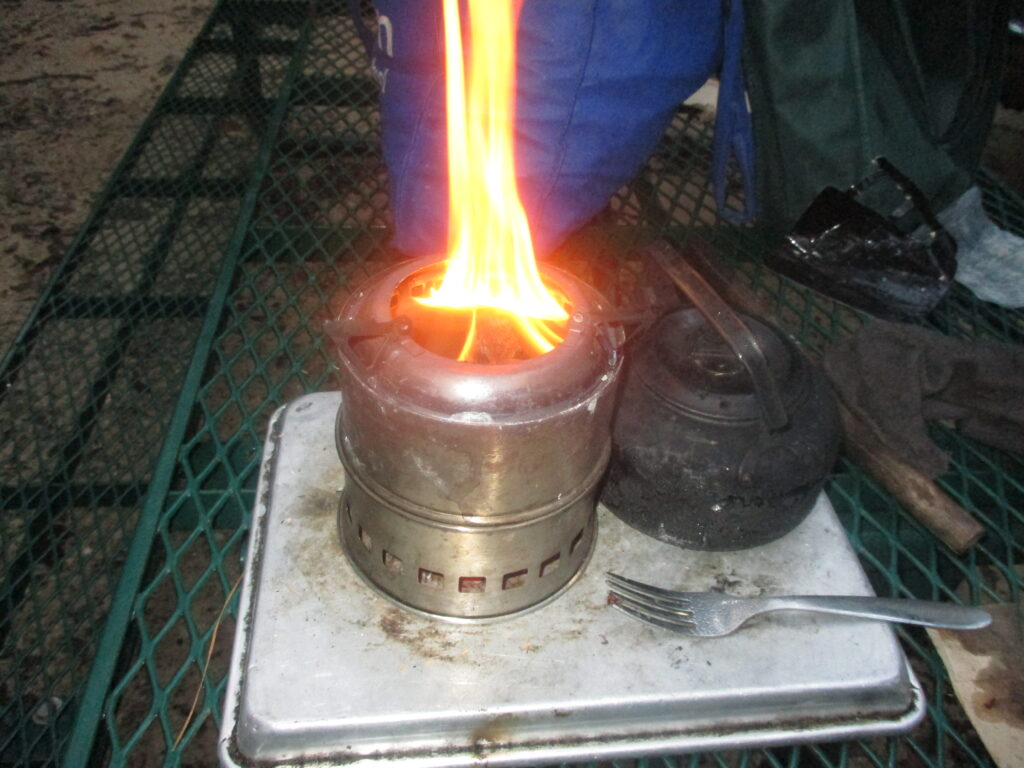 This stove burns only wood, no cost, and a great stove!
For the last two days I could not find my wallet. I sort of knew it was somewhere in the van (hoping.) I did not panic, I did not get upset. My mom taught me well, in these kinds of circumstances she would have said things like, "Well, you will find it, or you won't".
A simple thought I apply to many areas of my life. Either it will work or it won't. If you think this way you avoid undue frustration and irritation. In fact, when I could not find the wallet I was already thinking about what my next steps might be to solve the problem.
On my computer I keep a list of everything that I keep in the wallet. I only keep one of my credit cards and one debit card, the others I keep in a separate place in the van. In fact, I keep a second wallet with all the same cards just I case something like this were to occur.
It ended up that I did find the wallet, my billfold was on the front floor under some papers. I learnt to be more careful and keep better track of where the wallet is, always.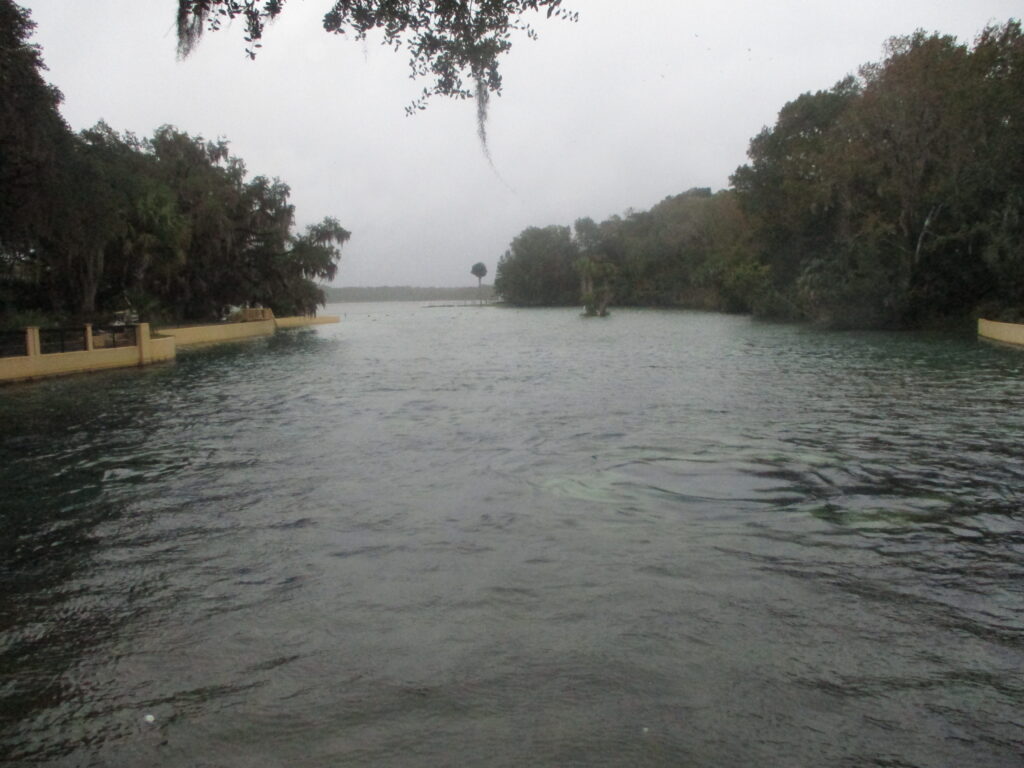 Ocala National Forest.
So glad to be back here.
What a wonderful area.
11/10—I had a great fire for the night. You will see photos of be splendid fire.
But, the rest of that day and the next head rain, much rain. I spent the day in the office of the campground.
I seldom eat pig, but at the last food-bank I went to they gave me a package of bacon. So, there was breakfast. I used scissors to cut the package in two, so the slices would fit in my pan. It actually tasted good. I will have the other half tomorrow.
Overnight the rain started. It did not let up for all day, more and more it came down. So, I spend my day the office on the computer.
11/11—The rest of the bacon for breakfast, yum.
Overnight, the rain let up. This morning I will have to look for my wallet. Yesterday, I could not find it, but I did not look thoroughly, because of the rain.
As I've written before, when something bad happens like, not finding my wallet, I don't panic and I don't get upset. I believe it's in the van and yesterday could not look because of rain, today I will find it.
My Mom had taught me some great lessons. I can hear her now saying, "Either you'll find it or you won't." So simple, yet so true. You see, when there is nothing you can do to solve a situation, you have start thinking of solutions.
It ended up that my wallet was on the floor in the front passenger side. I learnt to be more careful where I put my holder of money and cards, and what I do with it.
I remember now I had a bunch of stuff in my hands and put it all down together. In the future, if I have a bunch of stuff, I will sort and put it away where it goes.
Today I'm torn and not sure what the future holds. Either, it's going south for warmer weather, or north to go see my new friend, Alice.
We connected through Facebook and have grown closer and closer. It's one thousand miles to the north, but if things work out right, I will go to her.
As you may know, I have been so lonely. But, with Alice, it's not just to feed the need of a lonely life. I have been smitten with this woman. We met through Facebook and she wrote me things like this >>
This was sent to me by Alice >>


I'm a lady who lives life as it comes to me dear. I don't worry about tomorrow, for it will be here no matter what I do. The best days of my life are yet to come and i am looking for someone who will love and care about me for a long time relationship that can lead to marriage Kit..
She is planning to call me about 5 p.m. this evening. That call will be the deciding factor. Of course, you will find out my decision later. I do have to say, I miss so much having a love in my life.
About 1 p.m., the rains came on strong. There are people down swimming in the water, but they packed up and left. Funny, they were here to go swimming, but a little rain scared them away? They are going to get wet while swimming, seems so funny to me.
As the rain let up, and with no one around, it's time for me to go into the water. The weather is always so clear here, I'm told that there are seven freshwater Springs which feed into the lake. What a wonderful place to bathe.
With no one around, naked time. The water Felt So Good, I got very clean.
11/11—How embarrassing! I've got to tell you about it. I've been corresponding with Alice for a few weeks. We have developed somewhat of a loving friendship.
She told me she was in Buffalo, New York and wanted me to come there to be with her. She told me she was 33 and very lonely and I was the man for her. (How could I fall for this shit.) Well, I did and fell head over heels—just from text.
As you know, at the time I was in Florida, the northern part. I decided I would drive the thousand miles up to Buffalo, New York to be with Alice and her daughter Angela. I have seen pictures of them both, pretty Oriental ladies. I heard a recording of Alice's voice, sounded very nice and sincere.
She told me her phone was not working right– and I believed her! And there were other things, also, there were just not lining up.
So I got halfway up there and thought to myself, what the hell are you doing? Searching Facebook I connected with Alice with some pertinent questions.
Or, maybe I am wrong and she really does desire me?
Of course, she wrote back, saying she needed money—again (I never did send her any.) I told her I was just going to turn around at that point and return South.
Alice was a great dream I was having. I was seeing the future with this woman. She also wanted to have children with me and I saw a new family and such. What a knucklehead was I.
It ended up that I did depart and started off. I'm glad the cost of gas it is less than 2 bucks now. I had told her that I was going to give her $100 when I saw her. So to justify the cost of gas I'm thinking, well I didn't give to give her a hundred bucks.
On my Way South, I stopped by Congaree National Park again. Because of the rain there's not much to see. It was how about 3:30 and I was going to plan to stay there overnight, but with nothing to do or see, I Departed.
Going for the South, I stopped by Calhoun County Library. I'm able to use their Wi-Fi in the parking lot. So, I may just stay here overnight. It's so interesting not knowing where you going to sleep every night.
No more Facebook love for me.
As I was passing Charlotte, NC, on the way south did you see me wave, Liisa?
Back down to Salt Springs in Ocala Park. A wonderful area to come back to.
I'm lonely out here, I would love to hear from you.
Either through Facebook or email, kitsummers@gmail.com
*************************
MY CHALLENGE FOR YOU THIS WEEK >>
Winter will be over before you know it.
Start getting that body back in shape.
You are beautiful.
***********************
NEXT BLOG>>
Further to the south and warmer weather.
Do you live in Florida, can I visit you?
=========================