With my words, I hope to throw some oblique light upon your life.
I want to inspire you to see life differently and/or better.
*** To read past blog posts, go to >> kitsummers.com/blog/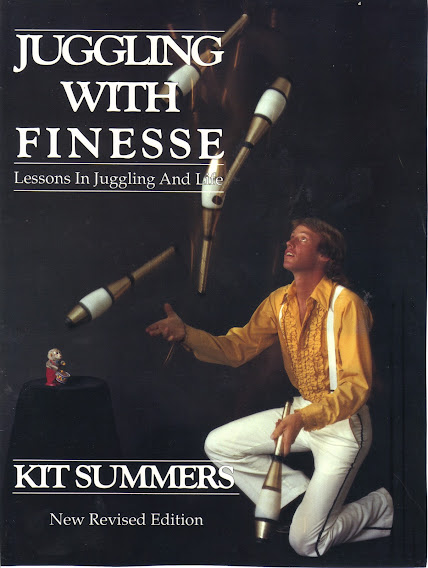 *** If you are reading this through Facebook, check out my blog on my website.
*** Thanks, my wife, Beth, for editing and adding to each weekly blog.
*** I was hit by two different trucks, one involving a 37-day coma.
*** The happiness I am experiencing in my life is a marvelous thing!
*** I will have places to show you and tales to tell.
*** Secrets to unfold and good news!
BE TAKEN AWAY WITH ME
ON WONDERFUL ADVENTURES!
********************
TOPIC FOR THIS WEEK—Finding "Your" Passion!
From my book series, "Beyond Your Potential"

STRETCHING TOWARD EXCELLENCE
I had passed from an obscure juggler to the top. My juggling at this time in my life (1982), was at a very high level, and I was trying to master juggling 7 clubs, a world record at that time.
This would be the same as the first person to run a four-minute mile, or someone pole-vaulting over twenty feet. However, I attempted this feat, not for publicity, but rather for personal satisfaction. I never actually considered performing the "7 clubs" in my act.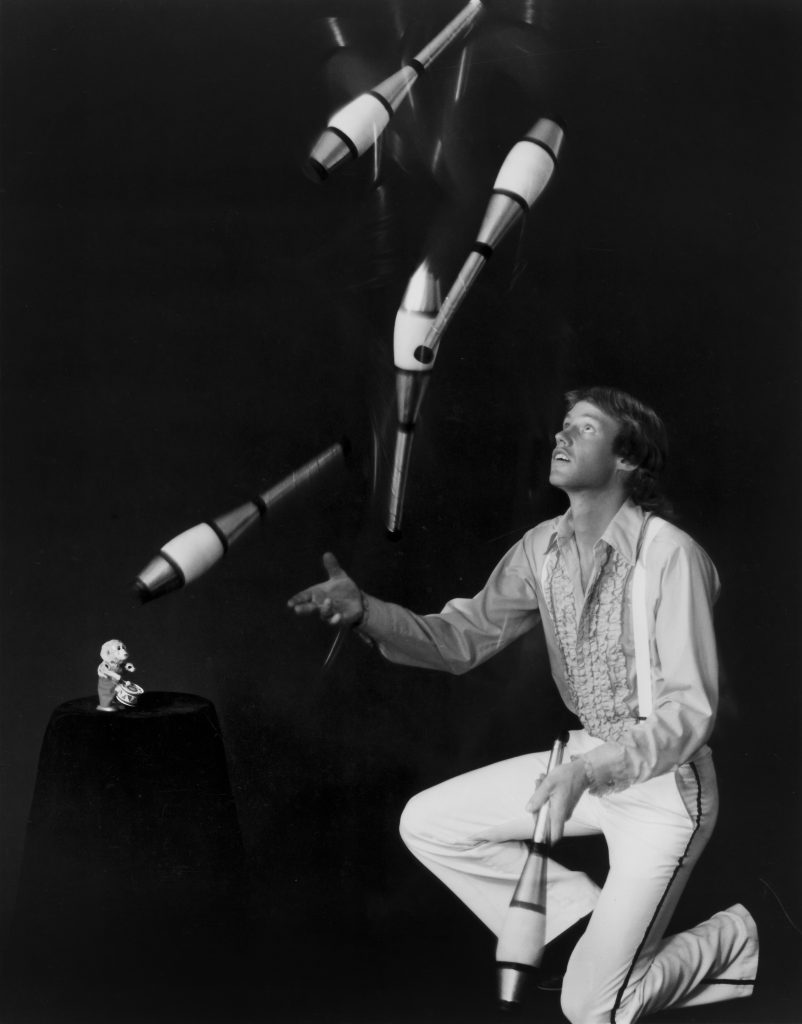 The most significant number of throws I got with 7 clubs was fifty throws. I never did make a videotape of the 7 club juggling, but there are many eyewitnesses to this feat.
This was before finding other passions, such as my recovery from a 37-day coma, writing my books, and starting and running my salsa business.
YOUR POTENTIAL
I mention the 7 clubs to underscore that in juggling, you can probe your potentialities and grow in a special way as the reach of your talent stretches outward.
START NOW TOWARD YOUR PASSIONS
Finding passion can be challenging at times. In fact, in writing this book, I had put together some hundred pages of text and then waited years to get back to it—I couldn't find the motivation to work on my motivational book! I had to find the "passion," which I eventually did, to really delve into finishing this collection of words.
I had to attack it with the attitude that these books were written to help "you" in "your" life to have a better future. That's the thing, once you start at something, the desire and passion will build and build—BUT YOU HAVE TO START!!
FINDING THE PASSION
I had to allow everything like my juggling in the old days, authoring my first book, Juggling with Finesse, the salsa business I developed, (see Summerssalsa.com), and the writing of this book; they each had to consume me.
That is what must occur for you to find your passion. All you think about, much of what you do, is geared toward your passion. Seems that so few people find and drive toward their passion in life; they often go about living unfulfilled lives.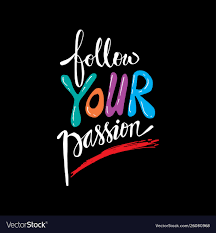 QUIT?
To drive your passion, how about this—truly consider quitting. I'm not telling you to quit but to think about what it would be like to stop your drive. It was pretty trying and drove me harder when I thought about not writing this book.
GETTING STARTED
Discover what you genuinely like to do in life and what makes you smile. Then, put all your elbow grease and efforts into becoming the BEST at what you choose. Just start, now, and you are on your way.
We often don't even start because we think the project or goal is too big, such as how I thought about writing this book. Sometimes we lose focus and need a chance to refocus.
One thing can help us figure out a different way to work toward the project. Use your creativity, be wise, and think in different ways. Once you do start, things often go pretty smoothly.

What new stories are you ready to write?
********************
WORDS TO INSPIRE YOU! >>
Inspirational quotes and motivational sayings have a unique ability to change the way we feel about life and can change our thinking.
I find them so interesting, challenging, and essential on our path to joy and happiness and finding ways to inspire ourselves and others.



Inspirational quotes and ideas give us a quick and timely burst of wisdom to get our focus back, offering the inspiration needed for the day or occasion.
I hope to inspire you with my words.
Words have power.
Are you accomplishing what you want before your eventual death?
At any age, you can (and should) make changes to make your life better.
How you think and feel about yourself, including your beliefs and expectations about what is possible, determines everything in your life. It all derives from your quality of thinking.

WHEN YOU IMPROVE THE QUALITY OF YOUR THINKING,
YOU CHANGE THE QUALITY OF YOUR LIFE—SOMETIMES INSTANTLY!

Just as positive words can make someone smile, and/or a well-timed amusing quote can make someone laugh, your thoughts react to the world in real-time. You have this control!
You have complete control over only one thing in the universe — Your Thinking — and that's where motivational quotes come in!



To keep your motivation, you have to use each day as an opportunity to improve and get closer to your goals. It might sound like a lot of work—and with your busy schedule—next to impossible. But you can do it!
Self-talk is so essential—THINK RIGHT!
Motivational words, yes, they're just words.
But they're positive words; they will keep you on track.
EVEN IF YOU START LATE, ARE UNCERTAIN,
OR ARE DIFFERENT –
YOU CAN STILL FIND SUCCESS!
Don't forget that you are only as young as the last time you changed your mind!
Keep your thoughts and self-talk fun and productive, and always reach for more advancement.
REMEMBER, VERY LITTLE IS NEEDED TO MAKE A GREAT LIFE.
********************
I HOPE THE FOLLOWING WORDS ABOUT DEATH INSPIRE YOU >>

"I'm using passion in the fullest sense of the word: a deep, fervent emotion, a state of intense desire; an enthusiastic ardor for something or someone." – Cassandra King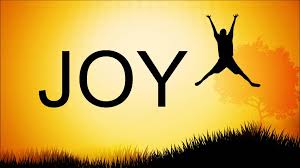 "I think that to be successful. Women must first figure out what they're passionate about. No matter what you aspire to, you've got to love what you do to be successful at it." – Michelle Obama
"Passion is energy. Feel the power that comes from focusing on what excites you." – Oprah Winfrey
"The only way to do great work is to love what you do." – Steve Jobs
"Pursue your passion, and everything else will fall into place. This is not romantic. This is the highest order of pragmatism." – Gabby Giffords
"Just because your life changes doesn't mean that your deepest passions have to." – Shannon Miller
"Just don't give up trying to do what you want. Where there's love and inspiration, I don't think you can go wrong." – Ella Jane Fitzgerald
"It's your place in the world; it's your life. Go on and do all you can with it, and make it the life you want to live." – Mae Jemison
"Always remember, you have within you the strength, the patience, and the passion for reaching for the stars to change the world." – Harriet Tubman
"If you feel like there's something out there that you're supposed to be doing, if you have a passion for it, then stop wishing and just do it." – Wanda Sykes
"If you don't love what you do, you won't do it with much conviction or passion." – Mia Hamm
COMPOSE A NOBLE BOOK AND WRITE A BEST-SELLER.
YOU ARE AMAZING—PLAY YOUR PART!
********************
MY DAILY JOTTINGS >>
Each week goes by so quickly, don't you think?
And time seems to be going faster all the time.
Do you keep track of what you do each day?
Do this for a few weeks, and you will see your time differently.
Friday, once again. In trying to think back over the happenings in this past week, I cannot think of any, except for one, I made my Japanese salad sauce. I like "salad sauce" better than "salad dressing," but I guess I cannot change the world with this new term.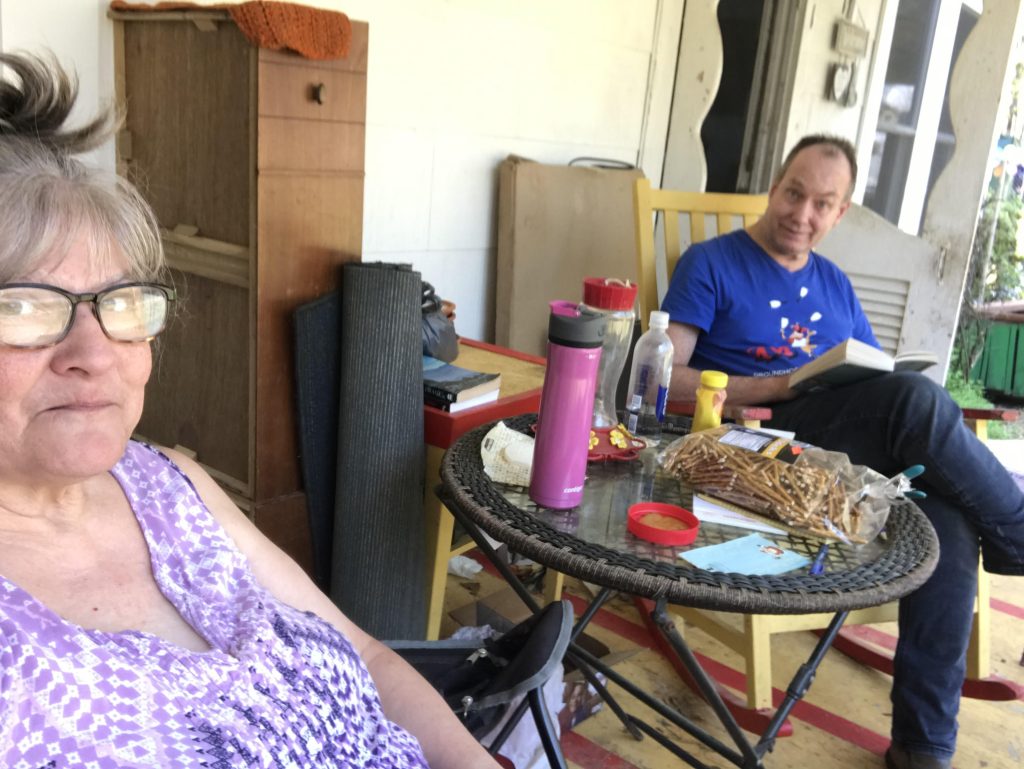 How about you? What did you make happen in the past week? Yes, you are the one to decide your life and "make" things happen for yourself. Of course, I know that, too, and this next week will be full of things.
Here is my healthy and delicious salad sauce recipe.
Let me know how yours turns out >>
Kit's Oriental Salad Sauce
Mix >>
2 cups olive oil
1 cup soy sauce
2 small onions, chopped fine
2 stocks celery, chopped fine
1/2 cup lime juice
1/2 cup rice vinegar
4 tbls minced fresh ginger
4 tbls honey
4 tbls tomato paste
4 tbls ketchup
2 tbls teriyaki sauce
2 tbls sesame oil
2 tsp dry mustard
2 tsp pepper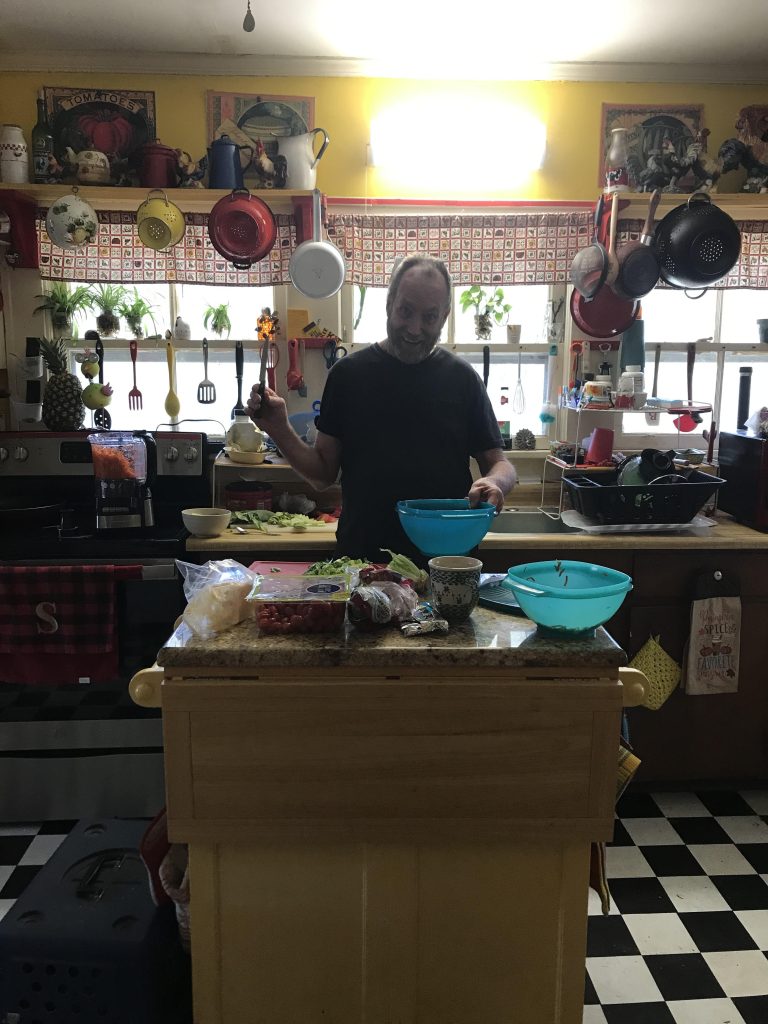 Is it time to "make" things happen and live a fuller life?
"Make" a great week for yourself.
******************
YOUR CHALLENGE FOR THE WEEK > >
Like I need to do, "MAKE" things happen for yourself this week that stand out, add to your life, and help others.
Do something new, daily, then keep doing it for the rest of your life.
*******************
NEXT BLOG
As spring is coming, the vegetable plants are coming up.
You will learn more details next week.
*******************
THIS WEEK,
MAKE YOUR LIFE
SOMETHING
THAT YOU CAN
WRITE ABOUT!