July 27, 2015—What a joyful night we had two nights ago in Hapgood campground in NY state, a fabulous place. I regret now that we did not spend another night there.
As you know, we have the freedom to travel where we want to and when we want to, we just have to pick right when to go. So, off to find an internet connection.
I had wanted to get that last blog off you, but, sorry to say, that will come second to where we are at the time and time spent there. The words were written, I just did not have an internet connection.
Last night was spent at a Dennys parking lot under trees and quiet, quite nice it was (see how I used "quiet" and "quite" together, or, are you thinking "quit"?)
A nice breakfast of biscuits and gravy.
Yesterday I drove the miles, today Tina is behind the wheel.
Right now we are driving through yet another small town in America. There is McDonalds, Taco Bell, Sunoco—so much of the same thing in each town. That is why we like to stay away from cities and more to the natural areas.
Although, the other day we drove through some fabulous small towns and many beautiful gardens and homes.
All of the mom/pop stores and restaurants have sold out to the big biz ones, it is so sad. Every city and town in America is looking about the same now—yikes. And, from my time traveling worldwide, the world is following how America is, once again—so very sad.
To save on costs we stay off of any toll roads, getting there at about the same time, too. Plus, we get to drive through many interesting town and country sides.
In Canada, as well as the US, we passed many abandoned and empty houses. All the homeless and less to do people come to mind, but, once they are put into these abandoned buildings, how will they live? When we pass each one, each of us looks at the other and says, "We could fix up that one."
We just passed a sign with an arrow pointing and the word, "Mexico", we both had to laugh. Neither of us ever heard of Mexico, New York.
We are passing many houses. We both told each other that we never want to live in a house again:
So limiting being a permanent resident.
So much cost to maintain that lifestyle.
So inexpensive to buy a van, convert it into a home, and travel.
The freedom we are finding is spectacular.
We are loving this life on the road.Next stop was a laundromat (yes, Ken, you read that right.) While we are waiting I am writing these words (obviously.) But, there is a nice lawn out back—very inviting—juggling time!
Just back in from juggling, the session felt good. I still feel that I could get back some of what I used to be able to do with juggling, but the body (mind) is saying no. Although, one guy was walking by and said, "Hey, you're pretty good at that." Little does he know . . .
The laundromat has a little library of books to read while you are waiting. I count about 50 books. So many books are released every year, how can I be surprised my "Beyond Your Potential" series never did take off? (Do you have a copy yet?) My book, "Juggling with Finesse" did go on to sell over 25,000 copies, though.
Yesterday, July 28, we decided to go see the falls, you know, Niagara Falls. Yes, the tourista in us is coming out. You can actually see the falls better watching videos on YouTube, but nice to say we were here. From the US side you can't see much because they are doing improvements to the walk that goes out so you can see better. We wanted that better view, so . . .
. . . back to Canada, again. Yes, the views of the falls from the Canada side are more grand. It was worth the drive across the border again.
What was shocking was the number of tourists there on a Monday; we saw them everywhere (I know, I know, we were too.) We couldn't imagine what it would be like during a weekend or holiday in the summer—yikes! Of course, there were all the shops and things to keep these tourists happy.
Saw many people while out walking, NO ONE looked at me, smiled, or said "hi". This is one of my pet peeves (I had another pet once, a doggy named Spot, would this be the same?) But, there were a few kids who looked at me and were friendlier. Seems that when we are younger we are more curious as to others. As people get older they "TURN" into adults (hope you haven't.) They lose their curiosity, friendliness and interest of other people. I have a strong curiosity, I am most curious about every person—
What is their life like?
What have they achieved?
Where they going in their life?
Do they like mangoes?
Yes, I wrote about this subject before, this non-communication really does bug me, or, am I just being weird? Let me know.
How about you:
Are you friendly with other people?
Do you say "hi" to others?
Do smiles come from your face for most people?
Do you offer people mangoes?
Seems to me it would be a better world if everyone acknowledged everyone else in a friendly way. I don't mean kisses or how a dog will sniff another dog's butt, but we can all share a friendship (did you see how I used "butt" and "but" one after the other?)
We are seeing houses along the drive currently and a road near Richbucto, Canada and wonder what these people do for a living, so far from any town or city. This goes for many areas we have seen on our drive, what could these people do. Here is my curiosity coming in.
For the evening meal we decided to do Chinese food, and there happened to be one right across the street where we were (I guess that is how we decided on Chinese.) The food was not that great, simply eatable. We talked with girl who served us, she looked like she was in her 20's, and told her of our travels. She was quite interested and told us that she has never ventured from that small town. Tina and I both said later that we just wanted to kidnap her and take her with us to experience life. Kidnapping, I would never, but Tina often
Kit-naps me.
Inline image 5
I have been fortunate in my life to have traveled much. In fact, just the other day I was looking through our map book to see what states in the US I have not been to. I saw that I have visited all 50 states of the US. As well, I went to Europe three times, Japan three times, and spent a month in Australia and month in New Zealand.
I am seeing that we could set up to travel like we are now in any country, and will. After arriving in the country we will purchase a Van to travel in and I will fix up the inside to live in.
China—here we come—watch out!
Then Russia.
Speaking of travels, Tina and I have been talking. We are heading up in Michigan right now to go to some bigger parks in the top of the state. After we might go through Canada to get to Wisconsin. Then we will be driving down through Wisconsin to visit friends of mine who live near Chicago (looking forward to seeing you, Ken and Paul.)
After Chicago we are planning to go back to Pennsylvania. September 13 could be a big change in the world and we want to be back near each of our kids. The Jewish Shemitah is happening at this time, and dire times are forecast.
The Shemitah is a Jewish event that happens every seven years. Most all Shemitah years have had a major financial change in the world.
I don't want to scare you, my friend, just be somewhat prepared.
Watch this to learn more: https://www.youtube.com/watch?v=rkELgi6EkNo
As you might know, I am not a believer in any god or mystical thing. What I am concerned about are the people who "think" they heard something from their god and blowing up something or attacking someone or something. There are some crazies out there who might just do such a thing, thinking their god told them to.
Just prepare yourself and your family for upcoming possible events.
Also, prepare yourself for the event of Kit and Tina coming over for dinner?
We just passed the sign that showed the way to Kalamazoo. We both looked at each other and laughed, a funny word this is.
July 30—Last night was the best night at a campground yet. Brush Lake Campground in Michigan is beautiful. In the camping space you park on the grass. The two nights we spent there were quite restful. In fact, the first night we were the only ones there, a long drive in on a dirt road to get in. At one point on that first night my clothes accidentally fell off, for a while. Yes, Kit with no clothes on, you should have seen it (no, might be better that you didn't.) On the first night, the big bottle of wine disappeared, as we went into comfort in our minds.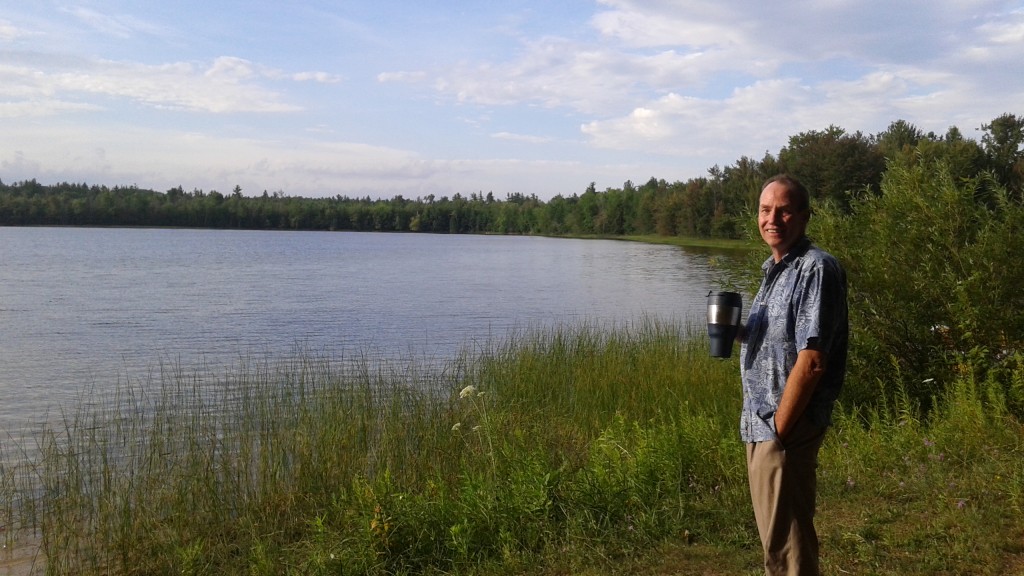 The morning on the next day, I heard fish jumping high out of the lake to get bugs, what a delight. The wilderness is so pleasant. What was strange was there were hardly any sounds of birds around.
The cost, with my discount, was only five bucks a night at this gorgeous campground. We could live here forever and we love it. But, as you know, we travel with the warmth and it would get too cold here in the winder.
August 2—After having a restful night at Pine Lake Campground, we decided to take a walk to see the lake. As we were departing our campsite we witnessed a lizard skittering off for the bushes. As we were approaching the lake we saw a skunk headed for the hills and Tina got startled and scared by a snake that slithered into the brush. Off over the lake we saw a heron gliding low with a fish in his mouth (her mouth?) All this within about 15 minutes.
I love nature.
Creatures, they're there and their demeanor is usually nice. See that, all three ways to use the same word. The English language if a strange beast. I have heard that it is the most difficult language to learn from no knowledge of the language.
Our dinner of left overs and some chips and dip was excellent last night. Somehow food tastes so much better when you are in the wilderness. You must try and and see for yourself.
Inline image 1
Then, out of the wonderful park to continue to other destinations. We have been craving fresh corn-on-the-cob. On our way we saw a little farm with a sign that they had fresh produce, we had to go. We met Candy, a wonderful lady, who sold us some excellent ears of fresh corn, cucumbers, cherries, tomatoes, potatoes and fresh garlic. This produce is perfect, we can't wait to consume. Take a look, maybe you can come here sometime? —— www.grossnicklefarms.com
In driving today we saw a mother, father and five baby turkeys cross the road right in front of us. I have never seen a baby turkey, this was amazing. Now, answer me this: why did the turkey family cross the road?
Inline image 6
At times I have to remember I am not living a dream; this has been fantastic, and could (will) continue for upcoming years.