The Wanderings of Kit
(Do you wander or just wonder?)
With my words, I hope to throw some oblique light upon your life. By writing this blog I want to inspire you to see life in a different and/or better way and find joy how you can.
*** Remember, to read past blog posts, go to kitsummers.com/blog/
*** If you are reading this through Facebook, check out my blog on my website.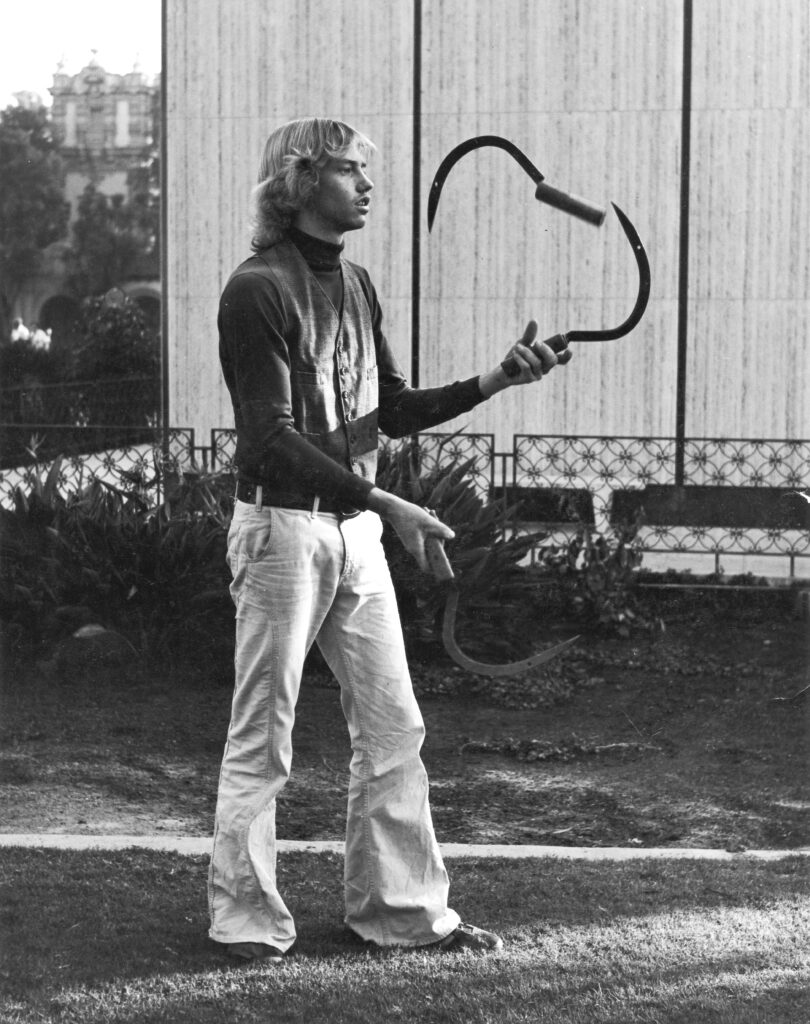 *** If you are not my Facebook friend, yet, please befriend me.
*** The freedom I am experiencing in my travels is a marvelous thing!
*** Going where I want, when I want, and seeing wonderful places and people.
*** I will have places to show you and tales to tell.
*** I will have secrets to unfold and good news!
I WANT TO TAKE YOU AWAY WITH ME
ON WONDERFUL ADVENTURES!
************************* **********************************************
INTRO TO THIS WEEK >>
In my last blog post, I was quite down, sorry for that. In writing this blog I will not hold back and write how it really is. Doing much better this week.
Also, in that last blog, I had asked if you would kindly write to me, as I am lonely. I only heard back from one person, thank you so much Elise Jordan, your words meant much to me. Makes me wonder if anyone honestly reads my words.
One of the things I mentioned in that last blog was not necessarily wanting to be in this life, perhaps. This is the one life we have, after this there is no more. I must stay on the positive track and keep you there with me.
I've discovered that we must be happy—NOW—for no reason, whatsoever!
It's always a choice we have, to stay happy and joyful, or sad and miserable. I had forgotten that when writing the last blog. This is the only life we have, I must remember that.
Yes, your death is coming—eminent. Are you living the life that you want before that end? Are you staying happy and are you bringing joy to others? For me, the main aim in life, to find joy and bring joy to others.
At this time I have no schedule and no having to be somewhere, so I'm going to take a slow time going south. As it gets warmer and warmer, I will be smiling! Wish you could be here with me.
As you know, last week I did not have my tooth pulled. I want to wait and keep the tooth in my mouth as long as possible. But, since then I have been thinking about it, you know, if the tooth did come out, I would have a visit from the tooth fairy, and I heard she I quite cute.
Laundry day today. Always feels so good you have everything clean, including the van. Gives me a big smile.

In the last blog, I wrote of the current Covid. Whatever happened to AIDS? Did it suddenly disappear? My friend and my old juggling partner, Randy Foster, died of AIDS in 1991. A big loss to all of us.
And what happened to SARS, HIV, or even the flu; and all the others. These things were supposed to wipe out all humanity when they came up; we are still here.
I am suggesting that we need to stop the panicking and get back to life. Either we will get through this or we won't, in the meantime find joy how you can.
I've been driving on Route 441 along the shore of Okeechobee Lake. I just pulled off and I'm now in a scenic overlook.
Not much to see, it is quite cloudy today. I am alone here, doing some reading, and producing this for you.
====================
WORDS TO INSPIRE YOU! >>
Inspirational quotes and motivational sayings have an amazing ability to change the way we feel about life and can change our thinking.
This is why I find them so interesting, challenging, and important on the path to joy and happiness and finding ways to inspire yourself.
Inspiration >> The process of being mentally stimulated to do a certain thing.
I hope to inspire you with my words.
Words have power.
You see, the way you think and feel about yourself, including your beliefs and expectations about what is possible for you, determine everything that happens in your life. It all derives from your quality of thinking.
When you change the quality of your thinking, you change the quality of your life—sometimes instantly!
Just as positive words can make someone smile, and/or, a well-timed humorous quote can make someone laugh, our own thoughts react to the world in real-time. You have this control
You have complete control over only one thing in the universe — your thinking — and that's where motivational quotes come in
To be successful, you have to use each day as an opportunity for improvement, to be better, to get a little bit closer to your goals. It might sound like a lot of work—and with your busy schedule, next to impossible.
But the best part is, the more you accomplish, the more you'll want to do, the higher you'll want to reach. So as long as you have the hunger for success, you will always have the power within you to achieve it.
Self-talk is so important—THINK RIGHT!
Sure, they're just words. But they're positive words; they will keep you on track.
I hope the words I pick do help you.
*************************
BE INSPIRED BY THESE WORDS>>
1. "People often say that motivation doesn't last. Well, neither does bathing—that's why we recommend it daily." –Zig Ziglar
2. "Someday is not a day of the week." –Denise Brennan-Nelson
3. "Hire character. Train skill." –Peter Schutz
4. "Your time is limited, so don't waste it living someone else's life." –Steve Jobs
5. "Sales are contingent upon the attitude of the salesman—not the attitude of the prospect." –W. Clement Stone
6. "Everyone lives by selling something." –Robert Louis Stevenson
7. "If you are not taking care of your customer, your competitor will." –Bob Hooey
8. "The golden rule for every businessman is this: Put yourself in your customer's place." –Orison Swett Marden
9. "If you cannot do great things, do small things in a great way." –Napoleon Hill
10. "The best leaders are those most interested in surrounding themselves with assistants and associates smarter than they are. They are frank in admitting this and are willing to pay for such talents." –Antos Parrish
11. "Beware of monotony; it's the mother of all the deadly sins." –Edith Wharton
12. "Nothing is really work unless you would rather be doing something else." –J.M. Barrie
13. "Without a customer, you don't have a business—all you have is a hobby." –Don Peppers
14. "To be most effective in sales today, it's imperative to drop your 'sales' mentality and start working with your prospects as if they've already hired you." –Jill Konrath
15. "Pretend that every single person you meet has a sign around his or her neck that says, 'Make me feel important.' Not only will you succeed in sales, you will succeed in life." –Mary Kay Ash
.
Now, it's time to get out there and do
something incredible that you can rejoice in! =================================
MY DAILY JOTTINGS >>
1/8—East to the coast again. Out to the Melbourne Library. This is Friday and the wifi doesn't reach out to the parking lot, as it does in many libraries. This library is even open tomorrow from 1-5pm.
This is where all the ducks, guess, pigeons, squirrels, and Snowy White Egrets (my favorite) hang out. You saw some before in the photos. I will be here for the night, hanging out with all the fowl.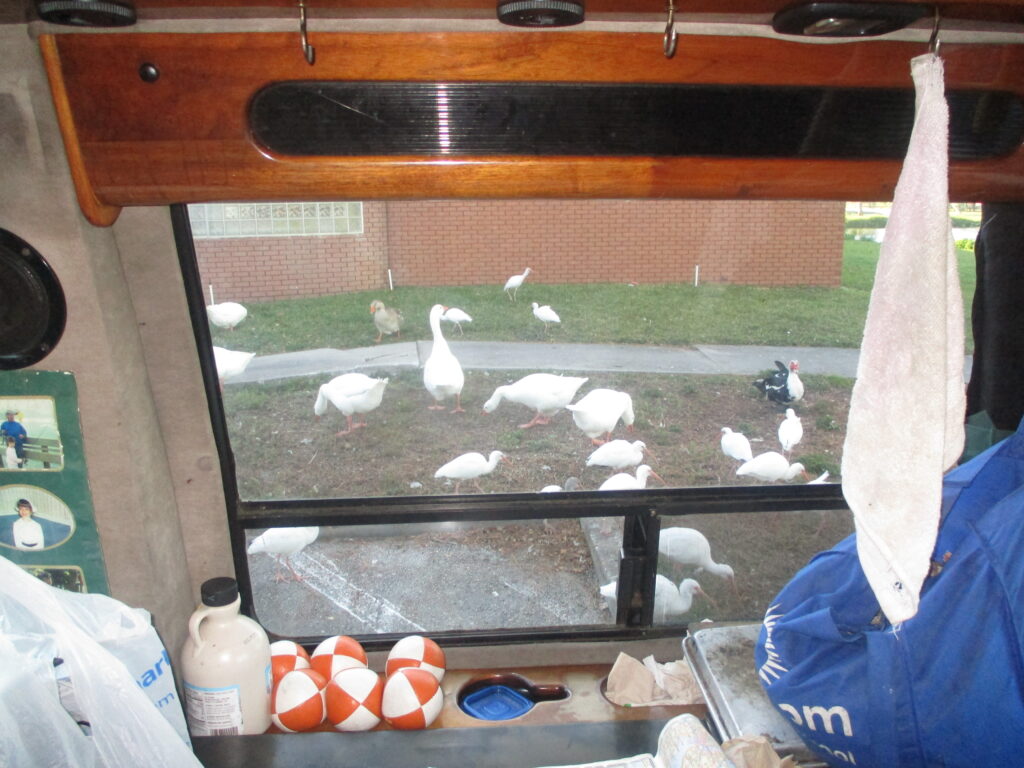 This photo was taken from inside the van while parked at the library.
See, I keep photos of my daughters, Jasmine and April there to the left?
And, you know what those balls are used for?
As I do most nights, I do not cover the windows until I see where light might be coming in the van that might keep me awake, then I over those windows.
1/9—So is Saturday now, on Tuesday I am meeting with a Facebook friend about 100 miles south from here. So, a couple of days to spend.
Yes, in Fort Pierce on the East Coast to see my Facebook friend, Kat. Too many cars too many people too much going on, I had to get away. I told her if we were to hug we would become a KitKat bar.
I look South and saw a big lake Okeechobee. I've been before, but I love the name and had to return. Right now I am at the Okeechobee Library, which is closed and the Wi-Fi is turned off.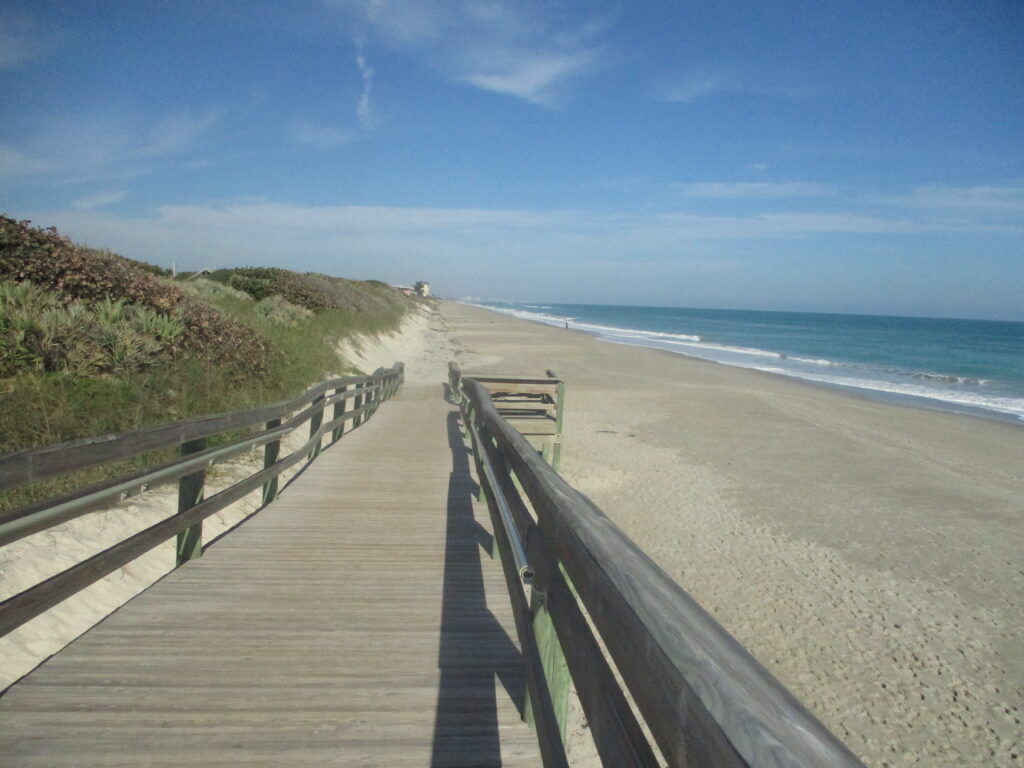 1/10—I saw to my left, Coconut Point Park. I turned around headed back to see this park, and I'm so glad I did. I took some photos, I hope you like it as I do.
As I was walking on the wooden pathway at the beach, I saw some trash. As always, when I see some trash and I know there is a trash can nearby, I will send the trash away to the can.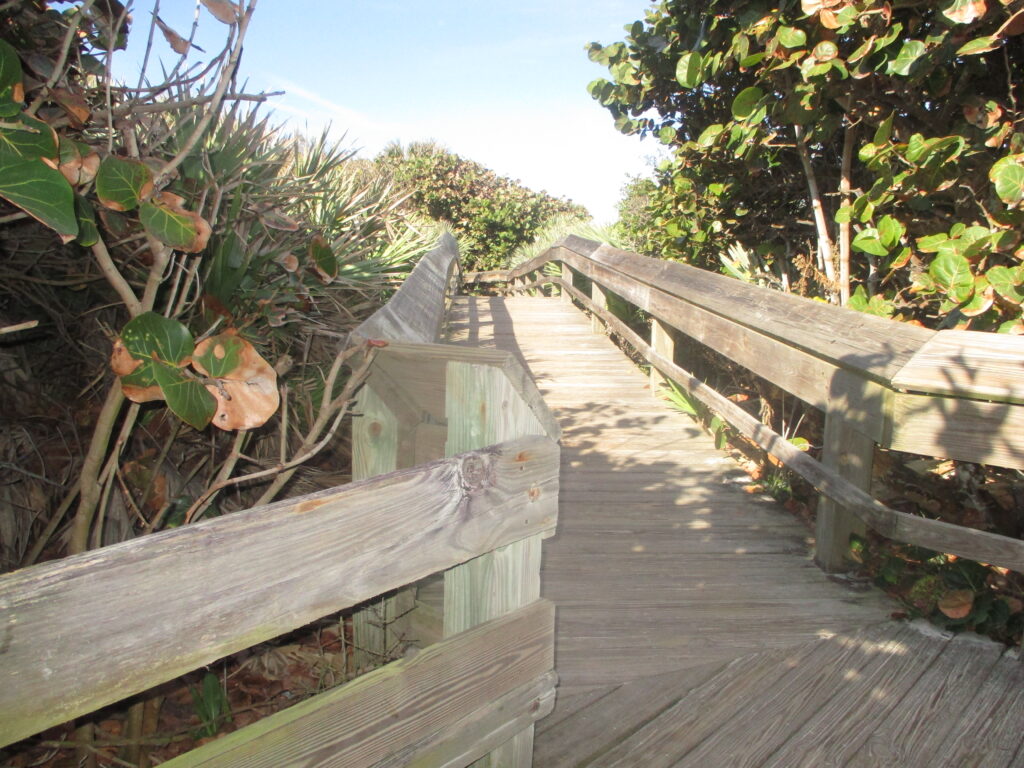 Please, join me in doing this, cleaning up as we go. If we all work together in this sort of thing I will make a much better Earth we live on.
As I've written, I carry about 100 books with me to read. Currently, I am reading "The Odyssey" by Homer. This is one of the classics and I'm telling my mind to stay close with the story, challenging my mind as I go. You might find ways to challenge yourself, I believe it will advance your life.
Right now I am reading the long introduction chapter. As I'm reading this, it sounds like the story by Homer were passed down verbally for years before being written down by hand. And, they are not even sure when and where Homer lived.
I will let you know if it's worth your time to invest your eyes and mind into this material.
Driving along the east coast of Florida near Vero Beach, there are beach parks, very nice. I stopped at one that had an outdoor shower, and so I did. You have to remember it is still winter, so it was a little cold for me, even for Florida. But now I feel wonderfully clean.
Today is Sunday, I was passing by Immaculate Conception Catholic Church. I thought I would stop in and say hi to God. This an impressive-looking building and people were social distancing well.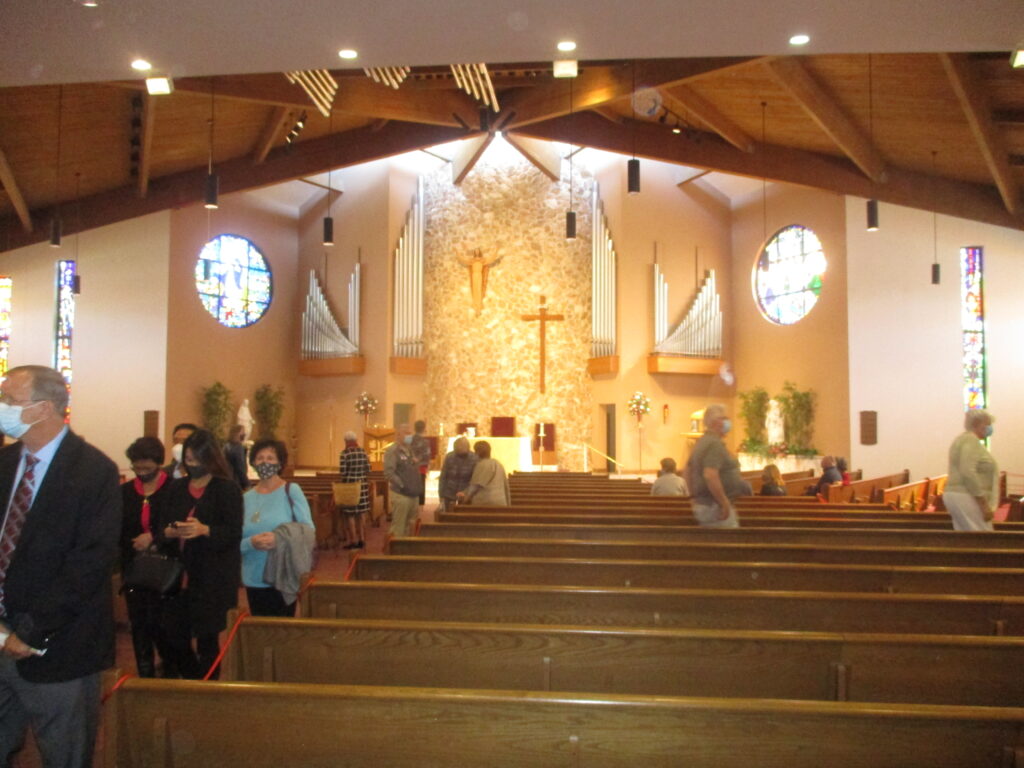 Here they are, take a look >>
Most people had their mouth covering on, I did not. I thought that was something you can pray about it and God would protect you from something like Covid? Isn't that where the word faith comes in?
1/11—I just drove into Pelican Island welcome area which has many trails and Wilderness and spectacular it is.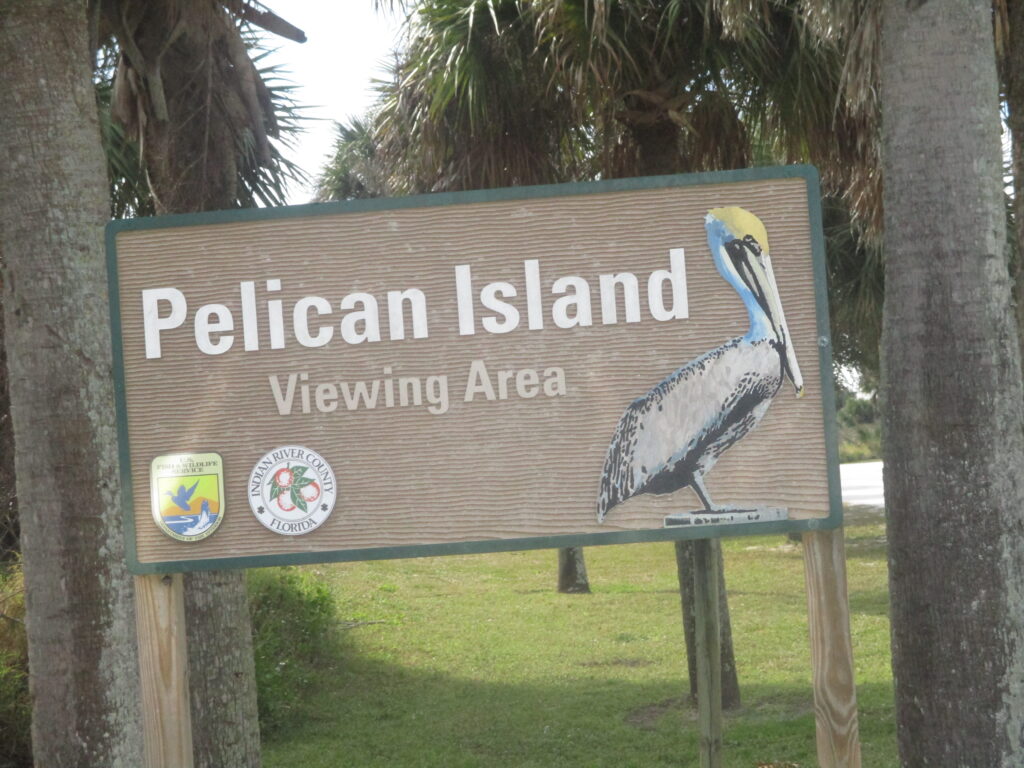 Had a short visit with my Facebook friend, Kat Brandt, in Fort Pierce, FL. A short and nice visit. If you live anywhere in Florida I would love to visit you, let me know.
1/12—I've been striving on Route 441 along the shore of Okeechobee Lake. I just pull off and I'm now in a scenic overlook.
Not much to see, it is quite cloudy today. I am alone here, doing some reading, and producing this for you.
1/13—Talked with my friend, Jules Manas, this morning. He owns a van and, as we have been communicating for some months, he is going to take my advice and start living on the road, as I do.
I GOT A JOB! Well, temporarily, in order to obtain my new bike!
I keep a bike on the back of the van, along with a unicycle.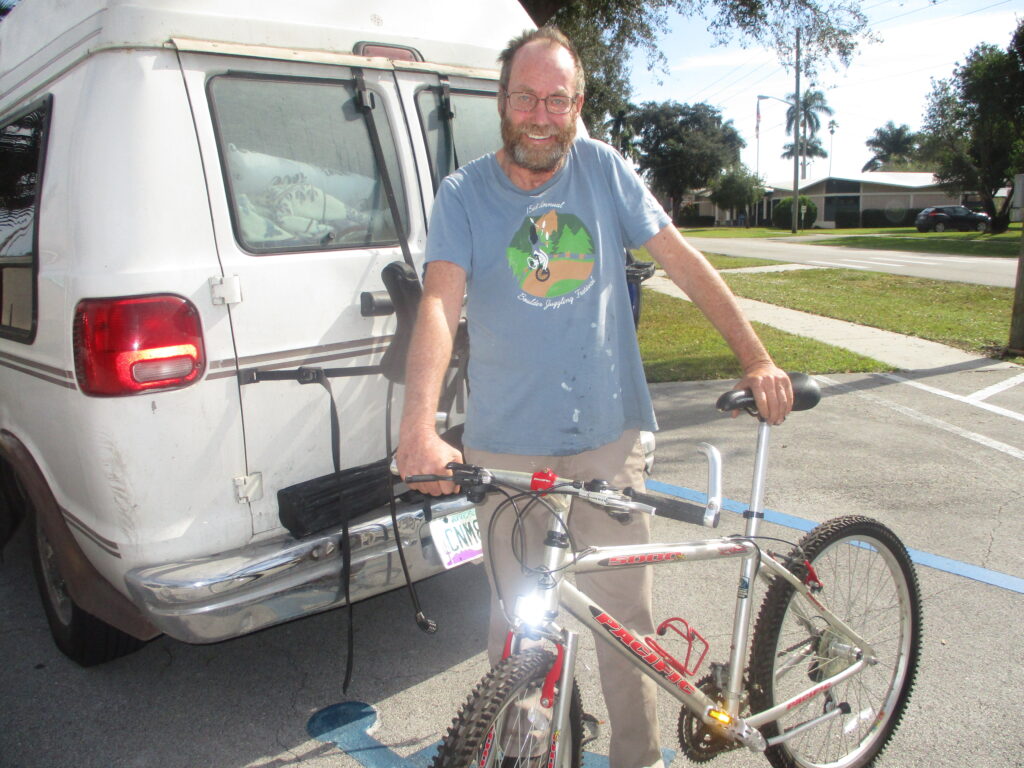 My bike was stolen when in San Diego as someone cut my lock and road it off.
Chris Foster, who lives near San Diego had a neighbor who had a bike she was not using, so I was once again on wheels.
I accidentally backed into something and bent the back rim on that bike. When I was in Clearwater, Florida my juggling friend, Dallas Saupe, had a collapsible bike he was not using and gave that to me.
The bike Dallas gave me (thanks again) did not fit onto my bike rake very well.
I found Jack the Bike Man on the internet and went to see him.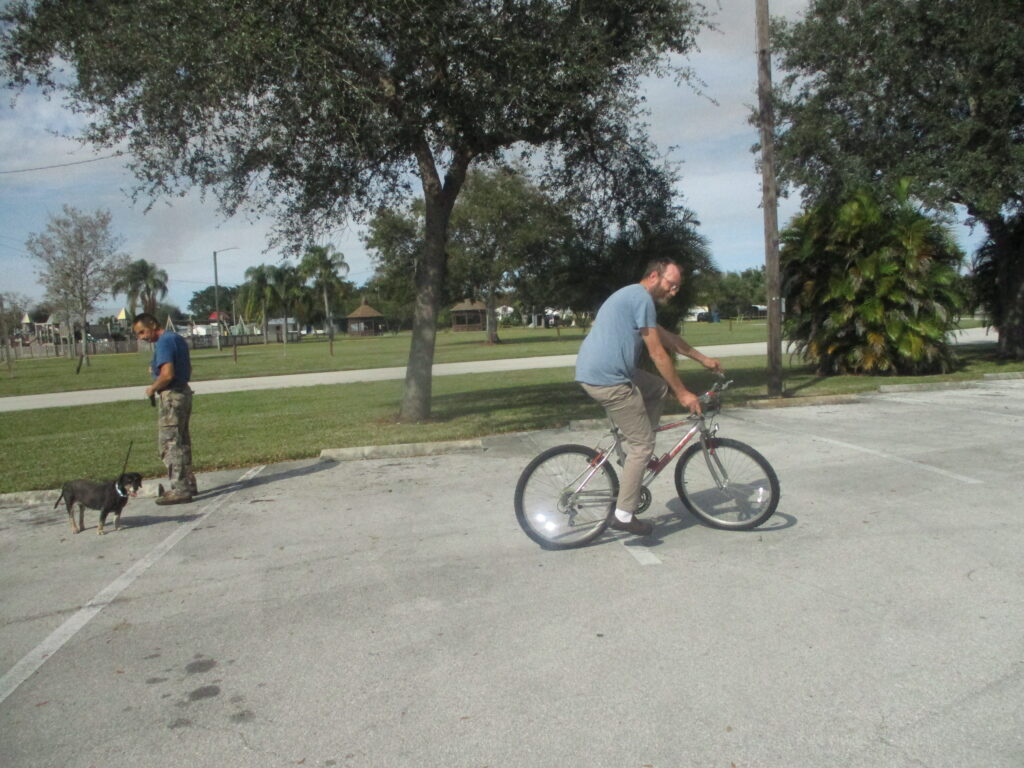 I traded in the bike I got from Dallas and put in some hours of work, I was given an excellent bicycle. Happy I am.
Here is Jack >>
1/14—Being anywhere near Miami was too much for me, so I am heading south to the town of Belle Grade. Yet, even there, too many cars and humans. So, further south to South Bay. This is better.
Arriving in the afternoon I will stay here on my computer until they close at 5pm, then sleep in their parking lot for the night.
Tomorrow is Friday, blog post day. I am always sure to look ahead and know where I can get on wifi to get this to you. I do hope you like what I write.
What is strange to me is that every library has a security guard attending. The one at this library was another mask-hound. He made sure I always had my mouth covering on. I told him it was simply ridiculous.
1/15—At Marry T Vaughn Library in Clewiston now. The library doesn't open until 10am. I have already gone for a bike ride on my new bike—I love it! I will be extra careful with the bike and make it last a long time.
Getting these words out to you a little early today. I do hope I hear back from you, I am hoping you don't see this as only a one-way communication.
I'm lonely out here, I would love to hear from you.
Either through Facebook or email, kitsummers@gmail.com
*************************
MY CHALLENGE FOR YOU THIS WEEK >>
It might be hard for you. Spend one day this week away from all electrical and internet connecting. Live the day like the old days, just you.
***********************
NEXT BLOG>>
I will be at the two big southern national parks this week – Big Cypress and Everglades. I will report back to you next week about this lovely places.
=========================