The Wanderings of Kit (Do you wander or just wonder?)
With my words, I hope to throw some oblique light upon your soul.
By writing this blog I want to inspire you and show you that–
YES—YOU CAN > >
***Change your life at any time to make it more magnificent!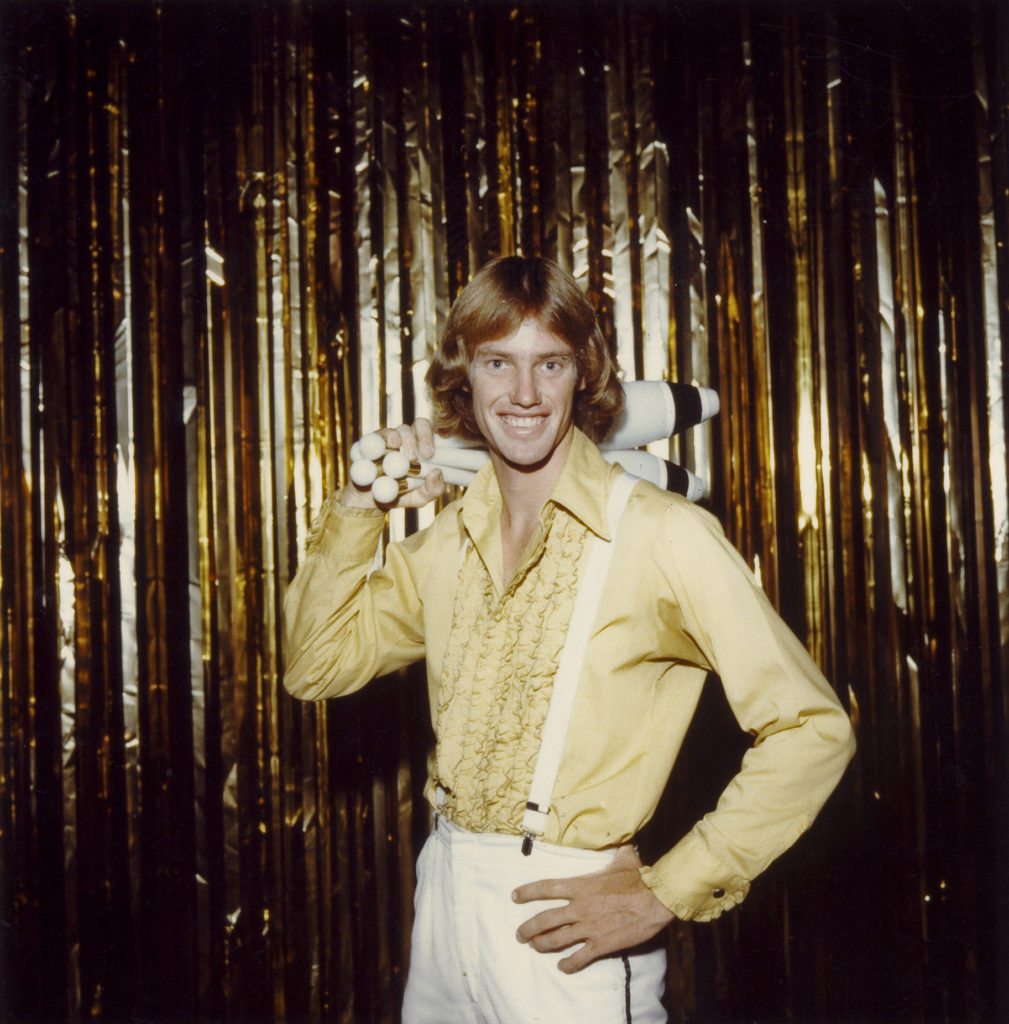 ***Live with little money and still have an excellent life.
***Be able to live life getting very little sleep.
***Live ANYWHERE in the world and still make your life a fantastic event!
***See experiences that will add to and make your life better.
***I want to inspire you as to the wonders of the earth.
***Perhaps this is my new "gig", traveling the world doing the same?
***And, I'm not just, "Kitting Around".
Design the life YOU want to live, NOW, then live that life!
*****************************
***Remember, to read past blog posts, go to kitsummers.com/blog/
***If you are reading this through Facebook, check out my blog on my website.
***If you are not my Facebook friend, yet, please befriend me.
***The freedom I am experiencing in my travels is a marvelous thing.
***Going where I want, when I want and seeing wonderful places and people.
***I will have places to show you and tales to tell.
***I will have secrets to unfold and good news!
I'm glad to take you on my journeys with me!
*****************************
*****************************
INTRO FOR THIS WEEK >>
My van is my home, and I love it. Homeless, me, no way.
Last week I wrote that I did not have much to write about—because I did not make things happen. That is how each of us can lead our life, to just go through and let things happen, or to "make" things happen. This upcoming week I plan to "make" things happen. You will see.
Not enough happened after all this week. I really need to get out to the wilderness soon, I miss my lifestyle.
I'm actually glad I am living in my van so I can drive to where things might be safer. Care to join me on the road?
*****************************
WORDS TO INSPIRE YOU!
1) "The Way Get Started Is To Quit Talking And Begin Doing." – Walt Disney
This straight-to-business quote comes from the man who created the happiest place on earth – and a multi-billion-dollar empire.
2) "The Pessimist Sees Difficulty In Every Opportunity. The Optimist Sees Opportunity In Every Difficulty." – Winston Churchill
When it comes to success quotes by famous people, Winston Churchill's inspirational words of wisdom always make the list.
3) "Don't Let Yesterday Take Up Too Much Of Today." – Will Rogers
Will Rogers was an American actor, cowboy, columnist and social commentator who believed in keeping forward momentum.
4) "You Learn More From Failure Than From Success. Don't Let It Stop You. Failure Builds Character." – Unknown
When you replace 'lose' with 'learn' in your vocabulary, the thought of failure becomes less daunting and lets you focus on growth.
5) "It's Not Whether You Get Knocked Down, It's Whether You Get Up." – Inspirational Quote By Vince Lombardi
Vince Lombardi was an American football hero who's uplifting words frequently make it onto Top 10 Inspirational Quotes lists.
6) "If You Are Working On Something That You Really Care About, You Don't Have To Be Pushed. The Vision Pulls You." – Steve Jobs
Steve Jobs truly captured some of the wisdom of life in this statement. Do that which you are passionate about and your work will feel effortless.
7) "People Who Are Crazy Enough To Think They Can Change The World, Are The Ones Who Do." – Rob Siltanen
I believe this is one of the best quotes to live by because it reminds me to think without limits and never doubt my wildest thoughts.
8) "Failure Will Never Overtake Me If My Determination To Succeed Is Strong Enough." – Og Mandino
There's a special place in my heart for these inspirational words. They remind me of my unwavering determination to become a motivational speaker.
9) "Entrepreneurs Are Great At Dealing With Uncertainty And Also Very Good At Minimizing Risk. That's The Classic Entrepreneur." – Mohnish Pabrai
This line always puts a smile on my face because it alludes to the excitement of not knowing what to expect but seeing a possible life-changing outcome.
10) "We May Encounter Many Defeats But We Must Not Be Defeated." – Maya Angelou
Maya Angelou was one of the top civil rights activists and embraced a spirit of positive thinking and sheer determination.
11) "Knowing Is Not Enough; We Must Apply. Wishing Is Not Enough; We Must Do." – Johann Wolfgang Von Goethe
This piece of wisdom is one of my favorite quotes for students. It reminds us to apply what we learn and take action toward success, rather than waiting and hoping.
12) "Imagine Your Life Is Perfect In Every Respect; What Would It Look Like?" – Brian Tracy
The exercise mentioned in this excerpt of my personal development philosophy is one of the keys to gaining clarity for what you really want in life. Start with a clear vision of your ideal life and happiness, then work backward to achieve it.
13) "We Generate Fears While We Sit. We Overcome Them By Action." – Dr. Henry Link
I love this pairing of quotation and image (below). Before we act, our imaginations often run wild, but when we move forward we often find the path ahead far less daunting than the horrifying version we had created in our minds.
*****************************
MY DAILY JOTTINGS >>
3/7—Last night Jim and Julie took me out for a Mexican meal, the best south-of-the-border food I have had in a very long time. In fact, I had two leftover tacos, ate one last night before sleepy time, then one this morning at about 4am.
3/8—Spent today, Sunday, with Julie and Jim. Jim and I threw some stuff around in a jugglie way and great to spend time with both of them.
Along with the great Mexican food, the margaritas were a delightful mix.
3/9—Waiting for two deliveries by post, should be here today. They arrived in the afternoon. I unfurled my new mattress and it feels so wonderful. Nice to be on the road again, going south toward Corpus Christi.
3/10—Took a left and went to Galveston (remember, "Galveston, oh Galveston . . .") Saw a very nice park, Oyster Creek Park, so I went. Spent a couple of hours cleaning and organizing the van. My new mattress is magnificent, so comfortable. Fifty bucks, a good investment.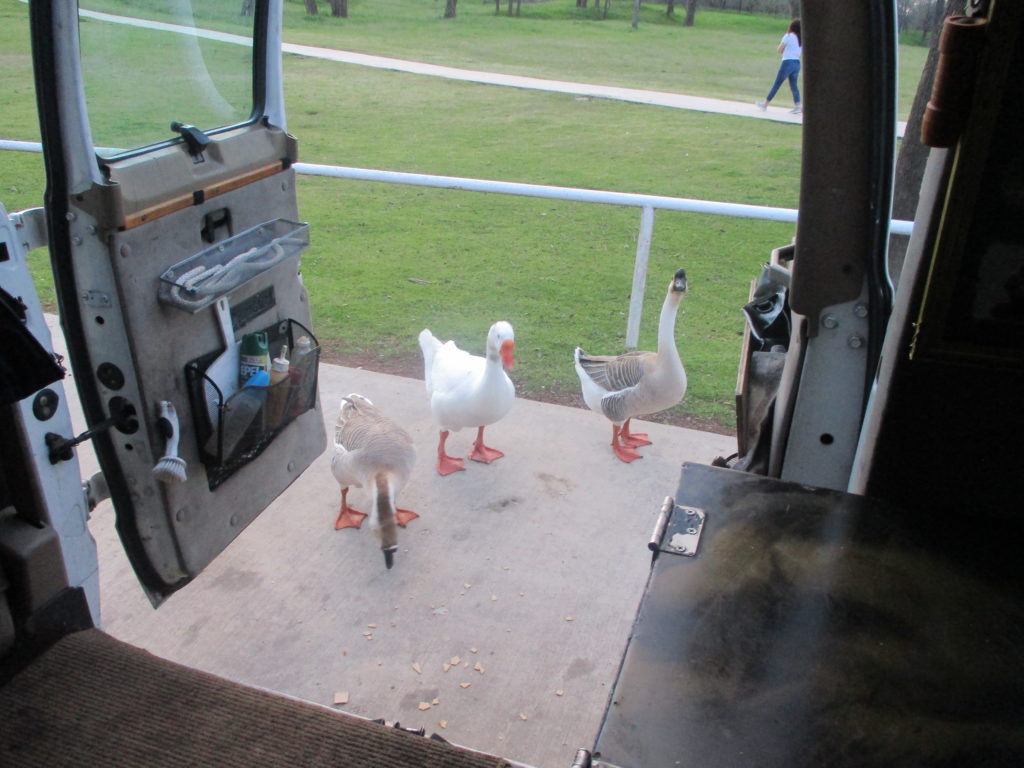 Then it was on to Brazoria National Wildlife Refuge. No, I didn't see any animals there, but I did get to use my new ax for the first time, cutting wood down for my woodstove.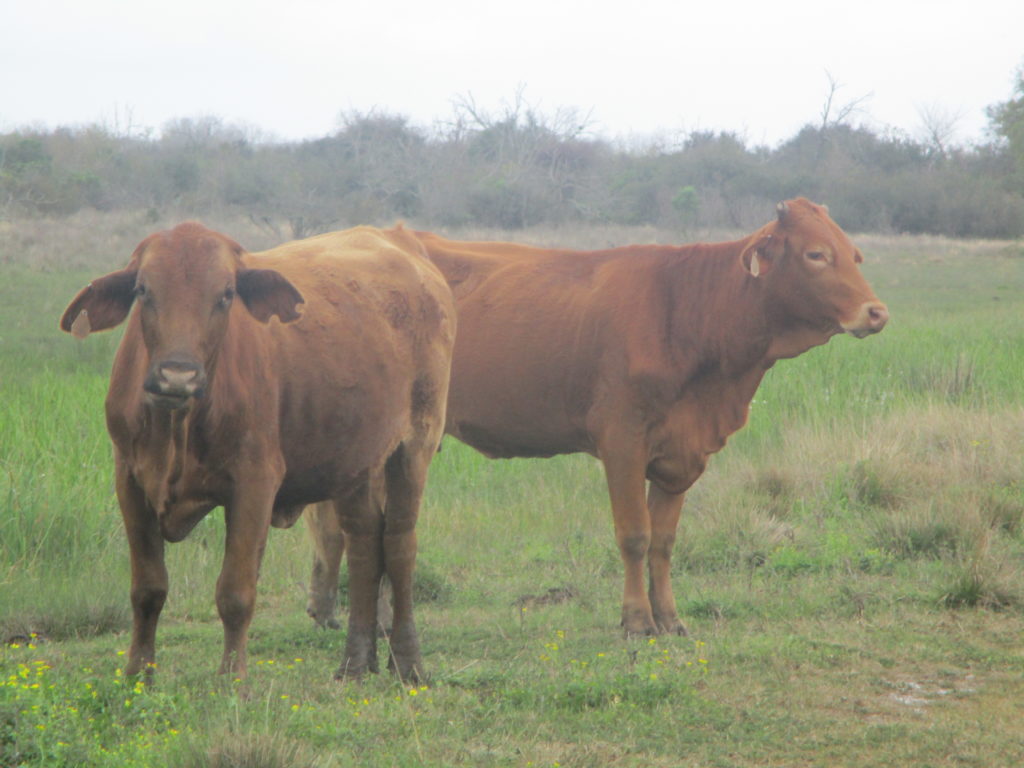 3/12—Just spending time the last few days. Mainly at libraries, very comfortable here. When was the last time you were at a library?
This morning I did some work on the van, did a shower on the far side of the parking lot, cut my hair and cleaned up.
I went to Costco to get gas. Then, of course, I went inside to get lunch (the free samples that I consume.) Because of Corona, they are no longer doing sampling! What a terrible thing.
Too much about Corona Virus, getting ridiculous. All I have to say about Corona is I bought some Corona Light Beer and it went down smooth. To tell you the truth, I have no worries about this "thing". It will pass, give it time.
3/13—Last night I did a presentation for the monthly meeting of http://www.cheerfulclowns.com/. And, what a great group it was. I told my history and taught them all how to juggle with scarves; a few could already juggle, the rest loved their new skill. Many bought books, a good thing.
Talk of Corona was rampant. Most think the talk of the virus has gotten too big. Yet, this morning I had a sore throat, yikes. I will let you know how it goes.
This morning I had a sore throat as I got going. I am not that concerned, but with all this corona stuff it makes me think.
So, I have all day today with nothing planned or scheduled. Tomorrow I will be returning to Jim and Julie's to wash some clothes and get a shower.
Mainly at the library online today, but this morning I did some cleaning of the van. When you are traveling this compact, you always need to keep things cleaned and organized.
Too long in the Houston area, you know how I don't like cities. Off I will go toward the south. I want to spend some time in smaller cities where, I think, things will be safer. With too many people taking this corona scam so seriously, that scares me.
****************************
MY CHALLENGE FOR YOU THIS WEEK >>
Be positive and help at least five people through this so-called virus epidemic.
*****************************
NEXT BLOG >>
Going south, slowly, toward Mexico.
=====================