With my words, I hope to throw some oblique light upon your life.
I want to inspire you to see life differently and/or better.
*** The joy I am experiencing in life is a marvelous thing!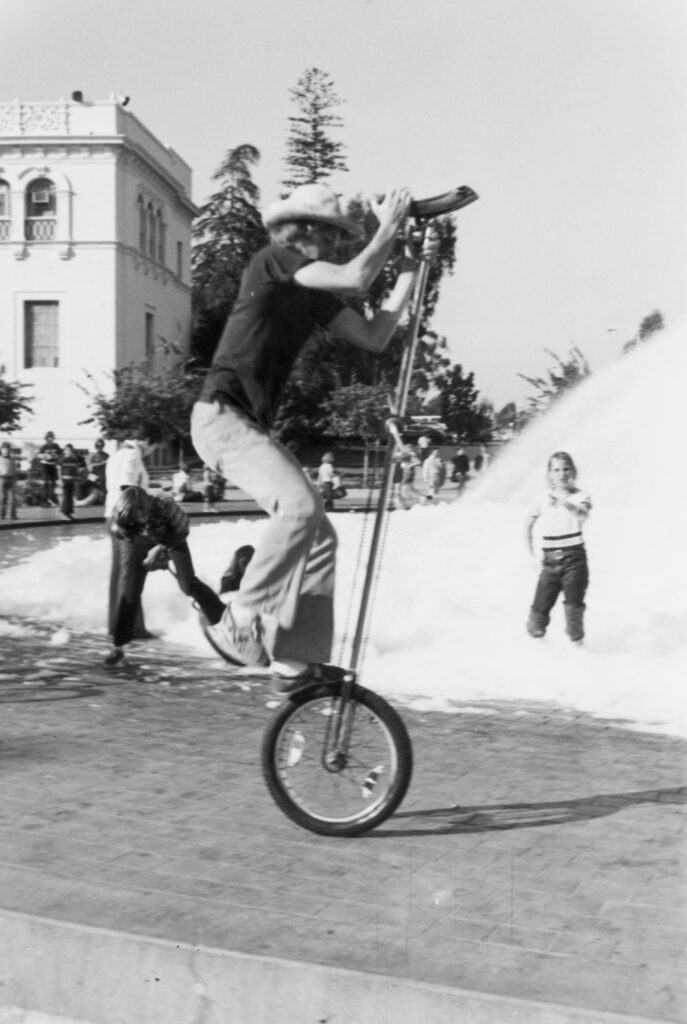 *** To read past blog posts, go to >> kitsummers.com/blog/
*** Hit by two trucks, one involving a 37-day coma, I remain happy.
*** If you are reading this through Facebook, check out my blog on my website.
*** Thanks, my wife, Beth, for editing and adding to each weekly blog.
*** I will have places to show you and tales to tell.
*** Secrets to unfold and good news!
BE TAKEN AWAY WITH ME
ON WONDERFUL ADVENTURES!
********************
TOPIC FOR THIS WEEK— Do you camp?
Every year Gary DuTeau invites certain people to his land in the wilderness on Stevens Creek, near to Plum Branch, SC.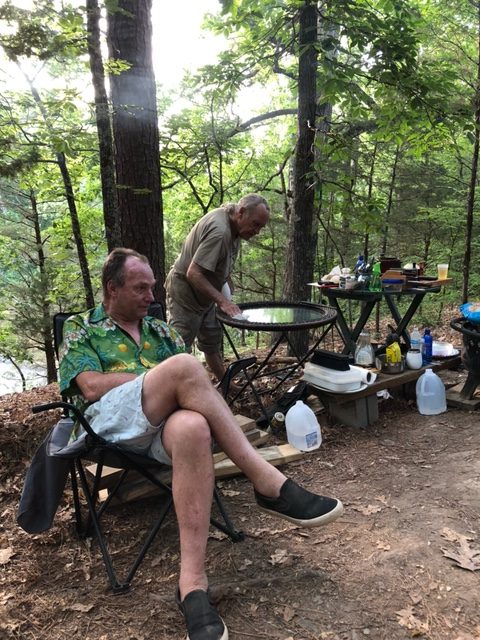 There is Gary, right behind me. 
In fact, he had invited me to his event through being friends on Facebook in 2021. This was a life-changing thing. You see, often, in my travels, I go to libraries to get online in which to send you my blog.
 
Nearest to Gary's camp was a library in McCormick, SC. This is where I met Beth. We connected well and are happily married now. So, of course, along with Beth, Gary has a big place in my heart, too. You see, each of us, both at age 63, thought we would never find anyone to be with. Very happy I am.

My first-day camping reminded me of how terrible the pathway is into the place. Of course, after asking Gary, I had to apply myself and make it better. Turned out great and I got good comments. I've always believed there is a better way to do most everything. When you have an idea for improvement, make it happen.
 
Many recreationists like myself will testify to the benefits of the outdoors, especially in natural settings. I always feel better after a weekend camping away from the city's urban sprawl – physically and mentally.
   
But it's not just unreliable. There's plenty of research to back up the claim that spending time in the great outdoors is good for your health and well-being.
 
And whilst this is good news, this story has a flip side. Americans spend almost 93% of their lives indoors. The rapid proportion of people living in towns and cities is growing. It is seeing people move away from rural, green spaces and into built-up, high-traffic cities.
   
Enjoying the great outdoors is an essential part of a healthy lifestyle.
 
There are many potential benefits to going outside:
 
A healthier heart
Improved immunity to cancers and viruses
Longer life expectancy
Increased happiness
Reduced stress
It resets your sleep cycle for a better night's sleep
Maintains healthy eyesight
ADHD treatment
Improved creativity
Enhanced memory
Better academic performance
Mental health management
 
Get out to the wilderness whenever you can!
     
What new stories are you ready to write?
********************
WORDS TO INSPIRE YOU! >>
Inspirational quotes and motivational sayings have a unique ability to change the way we feel about life and can change our thinking.
They are so interesting, challenging, and essential on our path to joy, happiness, and finding ways to inspire ourselves and others.
Inspirational quotes and ideas give us a quick and timely burst of wisdom to get our focus back, offering the inspiration needed for the day or occasion.
I hope to inspire you with my words.
Words have power.
Are you accomplishing what you want before your eventual death?
At any age, you can (and should) make changes to make your life better.
How you think and feel about yourself, including your beliefs and expectations about what is possible, determines everything in your life. It all derives from your quality of thinking.
WHEN YOU IMPROVE THE QUALITY OF YOUR THINKING,
YOU CHANGE THE QUALITY OF YOUR LIFE—SOMETIMES INSTANTLY!
Just as positive words can make someone smile, and/or a well-timed amusing quote can make someone laugh, your thoughts react to the world in real time. You have this control!
You have complete control over only one thing in the universe — Your Thinking — and that's where motivational quotes come in!
To keep your motivation, you have to use each day as an opportunity to improve and get closer to your goals. It might sound like a lot of work—and with your busy schedule—next to impossible. But you can do it!
Self-talk is so essential—THINK RIGHT!
    
Motivational words, yes, they're just words.
But they're positive words; they will keep you on track.
EVEN IF YOU START LATE, ARE UNCERTAIN,
OR ARE DIFFERENT –
YOU CAN STILL FIND SUCCESS!
Don't forget that you are only as young as the last time you changed your mind!
Keep your thoughts and self-talk fun and productive, and always reach for more advancement.
 
REMEMBER, VERY LITTLE IS NEEDED TO MAKE A GREAT LIFE.
********************
I HOPE THE FOLLOWING WORDS INSPIRE YOU >>
 
"Not all girls are made of sugar and spice, and everything nice. Some girls are made of adventure, fine beer, brains, and no fear."
-Unknown
 
"An early-morning walk is a blessing for the whole day."
– Henry David Thoreau
 
"The clearest way into the Universe is through a forest wilderness."
– John Muir
 
"There's a sunrise and a sunset every single day, and they're absolutely free. Don't miss so many of them."
– Jo Walton
 
"I firmly believe that nature brings solace in all troubles."
-Unknown
 
"Life doesn't flow backward."
-Unknown
 
"Nature is one of the most underutilized treasures in life. It has the power to unburden hearts and reconnect to that inner place of peace."
— Janice Anderson
 
"Eventually, all things merge into one, and a river runs through it."
-Norman Maclean
 
"Nature loves courage. You make the commitment and nature will respond to that commitment by removing impossible obstacles. Dream the impossible dream and the world will not grind you under, it will lift you up. "
-Terence McKenna
 
"Go where you feel most alive."
— Unknown
   
"Water is the most perfect traveler because when it travels it becomes the path itself!"
— Unknown
   
COMPOSE A NOBLE BOOK AND WRITE A BEST-SELLER.
YOU ARE AMAZING—PLAY YOUR PART!
********************
MY DAILY JOTTINGS >>
Each week goes by so quickly, don't you think?
And time is going faster all the time.
Do you keep track of what you do each day?
Do this for a few weeks, and you will see your time differently.
 
5/7 through 9–First time to see Gary, it's been a while. His land is very inviting and comfortable to be there. I was doing all I could to improve things there as much as I could. Anytime you can, you can improve things too, in that there is always a way to make things better.
 
5/8, 9–Today I worked on the path into the camp, making it wider and flater. Gary let me know how good he thought it was turning out.
 
Gary is an excellent chef. He made shrimp which was the best I have ever had.
Beth and I went to a bookstore today.
Why looky there, my book is for sale there.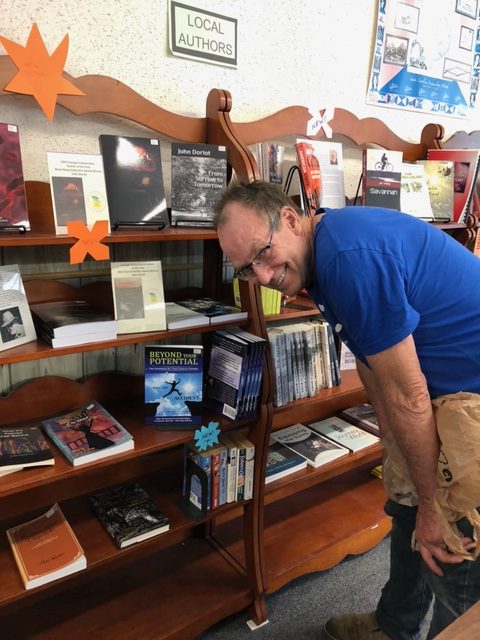 5/10–Every week a group in Plum Branch gets together at a church in town. Gary has spent much time in Plum Branch and many know him. So, of course, he was a hit and there was much talk.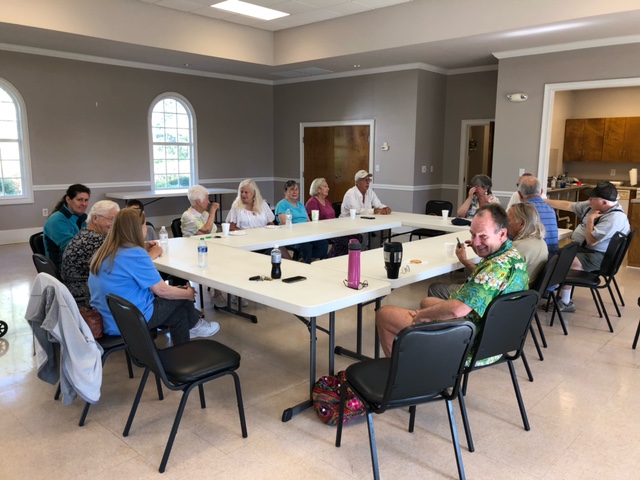 Gary is sitting next to me, see? 
5/11–I went around the entire camping area and cleared things out, put things away, and made the land we used here twice as big. As I wrote before, when I see and then have ideas to improve, I do just that.
 
5/12–Just stayed the morning there. You see, rain clouds are rolling in, I did not want to get stuck there in the rain. Thank you, Gary, for making this happen each year.
 
Is it time to "make" things happen and live a fuller life?
"Make" a great week for yourself.
******************
YOUR CHALLENGE FOR THE WEEK > >
 
Do something different–This week get a new haircut. Please let me know how it turns out.
 
Do something new daily, then keep doing it for the rest of your life.
*******************
NEXT BLOG
 
I will have more photos for you of my time with Gary at his land.
*******************