With my words, I hope to throw some oblique light upon your life.
I want to inspire you to see life in a different and/or, better way.
*** To read past blog posts, go to >> kitsummers.com/blog/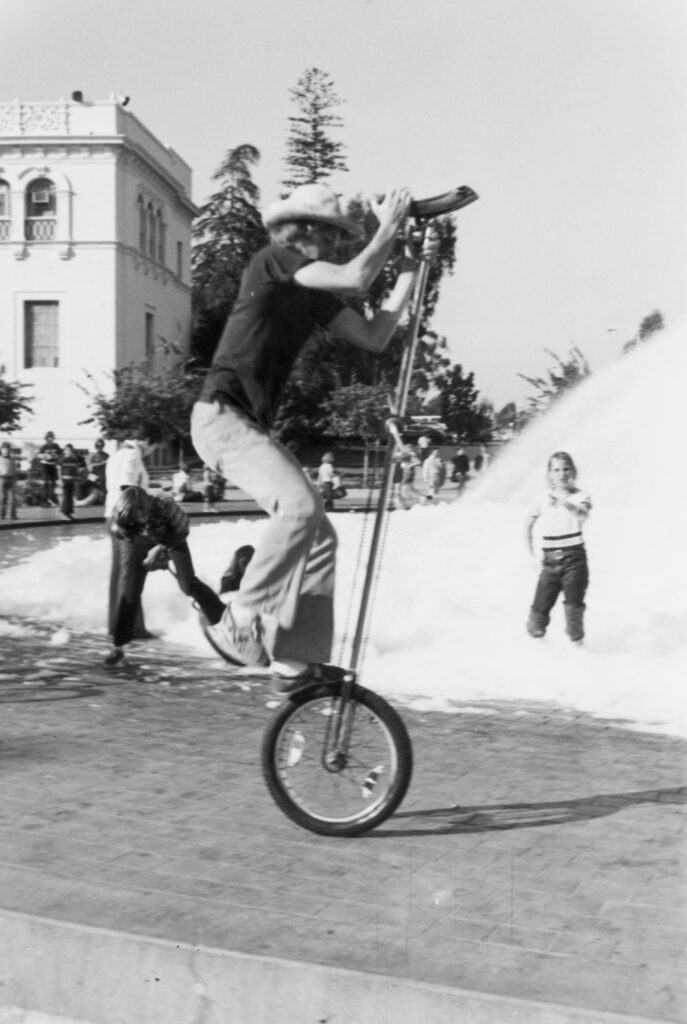 *** If you are reading this through Facebook, check out my blog on my website.
*** Thanks, my wife, Beth, for editing and adding to each weekly blog.
*** I was hit by two trucks, one involving a 37-day coma.
*** The happiness I am experiencing in my life is a marvelous thing!
*** I will have places to show you and tales to tell.
*** Secrets to unfold and good news!
BE TAKEN AWAY WITH ME
ON WONDERFUL ADVENTURES!
********************
TOPIC FOR THIS WEEK >>
Are you seriness?
Me, no, I try not to be.
You, can you be playful?
Being joyfully serious?
Being seriously joyful?
A big question – serious or joyful.
One of the main ways I made it back after my accident and 37-day come was I "chose" to be playful and find joy. This is a choice for everyone—always.
I am not saying I was joyful about life in my recovery; when I got down, I knew that I would soon be back up and doing good again. When I was happy and joyful, I would remember that I "might" be back down. Balance is the key; understand that life will be good, and it can be harmful.

What new stories are you ready to write?
********************
WORDS TO INSPIRE YOU! >>
Inspirational quotes and motivational sayings have a unique ability to change the way we feel about life and can change our thinking.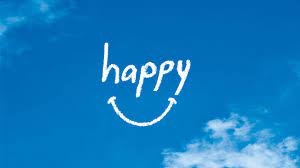 I find them so interesting, challenging, and essential on our path to joy and happiness and finding ways to inspire ourselves and others.
Inspirational quotes and ideas give us a quick and timely burst of wisdom to get our focus back, offering the inspiration needed for the day or occasion.
I hope to inspire you with my words.
Words have power.
Are you accomplishing what you want before your eventual death?
At any age, you can (and should) make changes to make your life better.
How you think and feel about yourself, including your beliefs and expectations about what is possible, determines everything in your life. It all derives from your quality of thinking.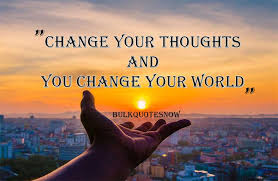 WHEN YOU IMPROVE THE QUALITY OF YOUR THINKING,
YOU CHANGE THE QUALITY OF YOUR LIFE—SOMETIMES INSTANTLY!
Just as positive words can make someone smile, and/or a well-timed amusing quote can make someone laugh, your thoughts react to the world in real-time. You have this control!
You have complete control over only one thing in the universe — Your Thinking — and that's where motivational quotes come in!
To keep your motivation, you have to use each day as an opportunity to improve and get closer to your goals. It might sound like a lot of work—and with your busy schedule—next to impossible. But you can do it!
Self-talk is so essential—THINK RIGHT!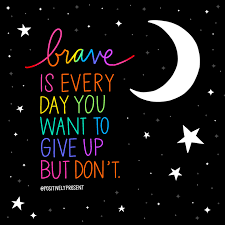 Motivational words, yes, they're just words.
But they're positive words; they will keep you on track.
EVEN IF YOU START LATE, ARE UNCERTAIN,
OR ARE DIFFERENT –
YOU CAN STILL FIND SUCCESS!
Don't forget that you are only as young as the last time you changed your mind!
Keep your thoughts and self-talk fun and productive, and always reach for more advancement.
REMEMBER, VERY LITTLE IS NEEDED TO MAKE A GREAT LIFE.
********************
I HOPE THE FOLLOWING WORDS INSPIRE YOU >>

1. "The purpose of our lives is to be happy." — Dalai Lama
2. "Life is what happens when you're busy making other plans." — John Lennon
3. "Get busy living or get busy dying." — Stephen King
4. "You only live once, but if you do it right, once is enough." — Mae West
5. "Many of life's failures are people who did not realize how close they were to success when they gave up."– Thomas A. Edison
6. "If you want to live a happy life, tie it to a goal, not to people or things."– Albert Einstein
7. "Never let the fear of striking out keep you from playing the game."– Babe Ruth
8. "Money and success don't change people; they merely amplify what is already there." — Will Smith
9. "Your time is limited, so don't waste it living someone else's life. Don't be trapped by dogma – which is living with the results of other people's thinking." – Steve Jobs
10. "Not how long, but how well you have lived is the main thing." — Seneca
COMPOSE A NOBLE BOOK AND WRITE A BEST-SELLER.
YOU ARE AMAZING—PLAY YOUR PART!
********************
MY DAILY JOTTINGS >>
Each week goes by so quickly, don't you think?
And time seems to be going faster all the time.
Do you keep track of what you do each day?
Do this for a few weeks, and you will see your time differently.
3/4—Awakening about 3am, as usual; awake for the day I am. I bought more dirt today to finish the gardens. Now that the bottom dirt is in each garden, all I have to do each year is filled in with the compost I make, So, there is no more cost to the garden. The gardens are looking excellent.
Beth got "another" bunny.
The family has grown quite big.

3/5—Beth took me out for an ice cream surprise. I must say, IC is always a special gift. Look for the photo of the parlor.
3/6—We had been raising a turtle, which grew much in our care. But, time to release the turtle. We brought the shell over to Beth's aunt Karen. This is a vast pond; the yellow-bellied slider will love it.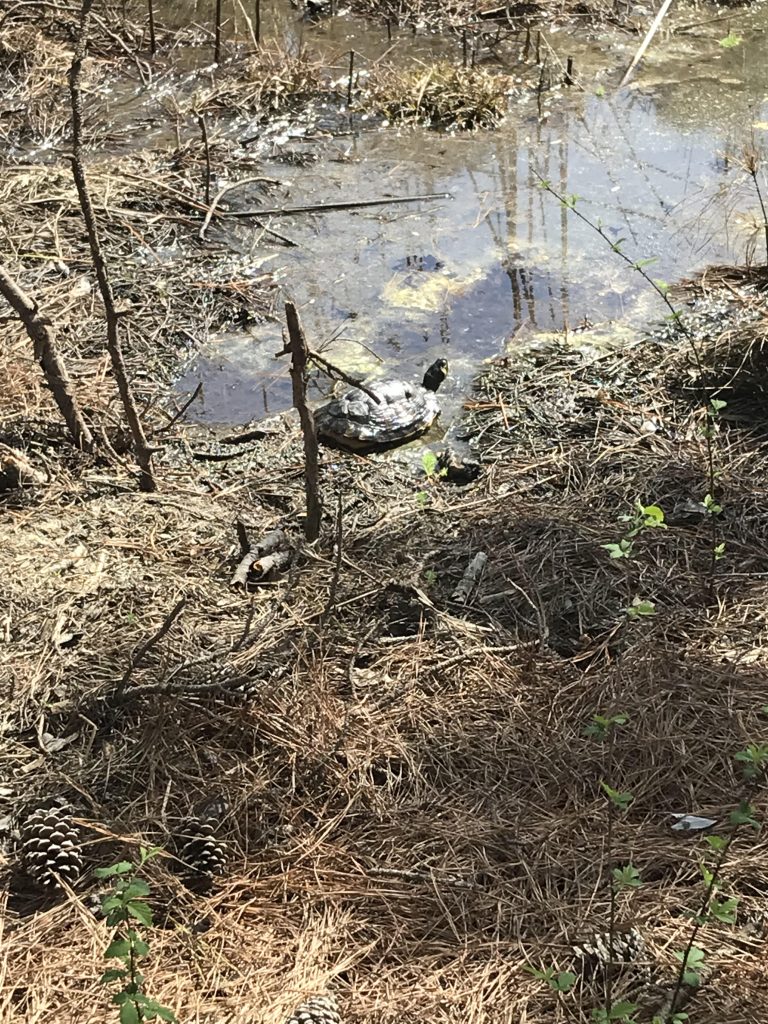 As this turd was heading out into the pond, she turned back to us as if to say, "Thanks, see ya."
3/7—Back to garden efforts. It takes a lot to build an initial garden, then easy. Have you started yours?
3/8—Alice, the bunny, hatched her new clutch of bunnies. Seven "kits" were brought into the world. I hope Beth has people to sell them to. We are running out of friends!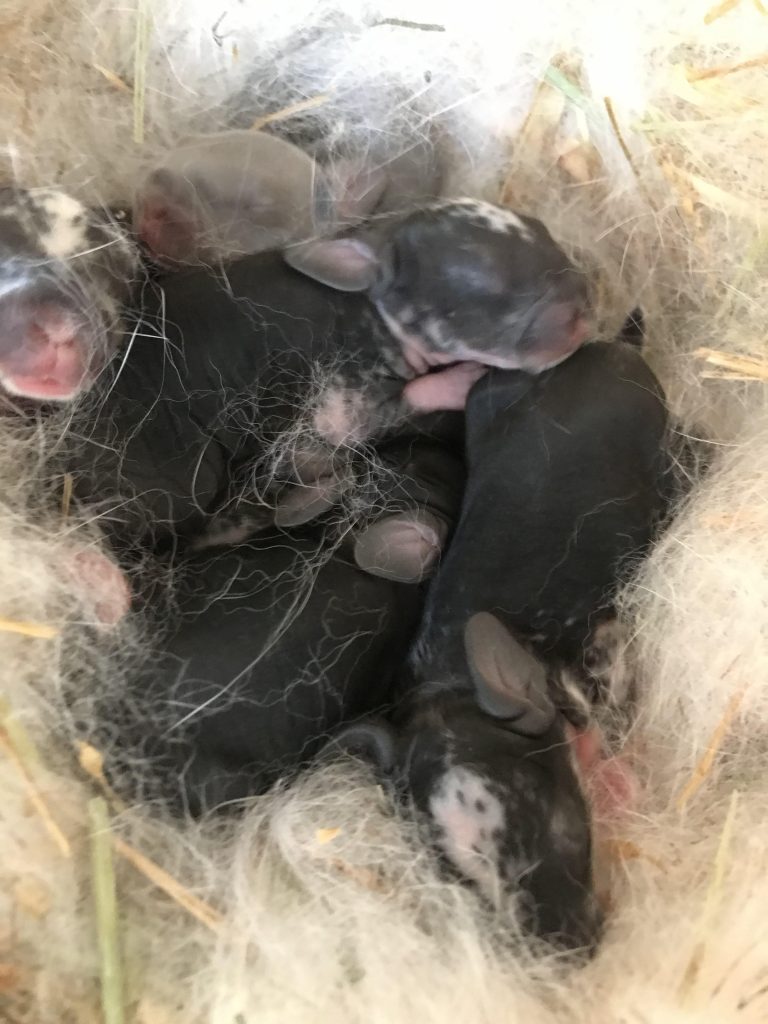 3/9—A conference call with my friend, Daniel Powell, me, and a company in Los Angeles is planning to produce a movie about my history. I must say, quite a compliment, yes?

I presented my inspirational program before; this time, I taught about 20 older people to juggle. Teaching with scarves, some got it, and they are jugglers now.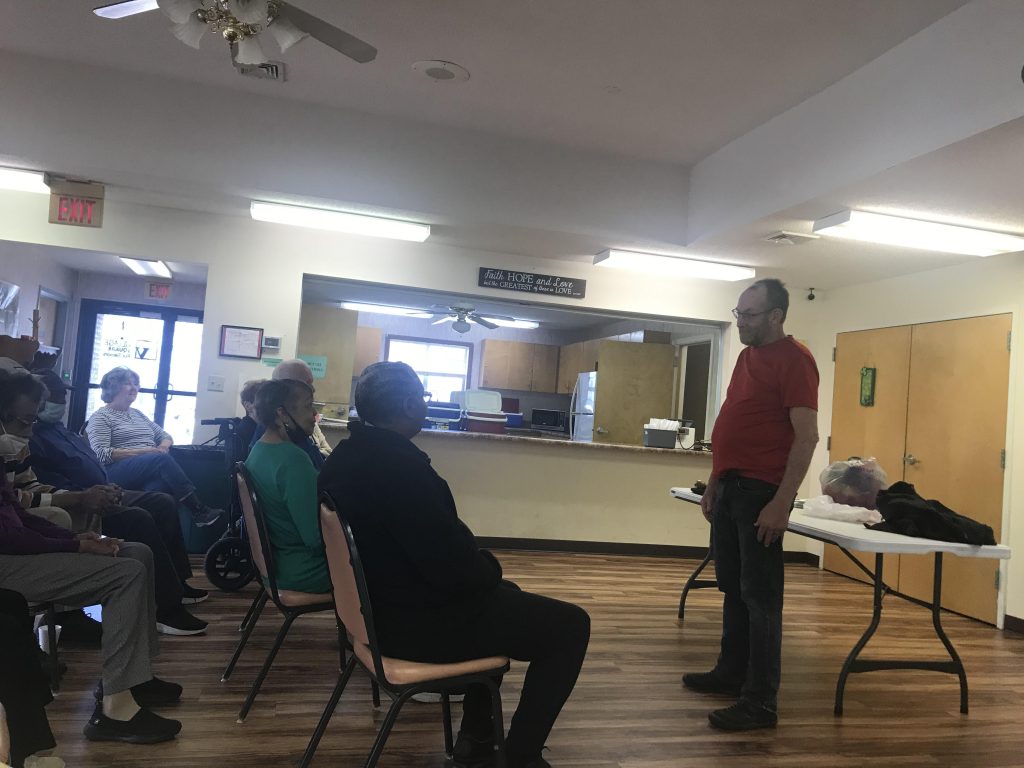 3/10—The work on my van was finally completed today. Nice to be behind the wheel once again. I have a bed and table, along with other inserts separate, I can put things in, and the result is the old van I lived in and traveled for about six years. Have you ever lived in a vehicle? I love it myself. (From Beth: if you don't behave yourself, you will live there again. HA!)
Is it time to "make" things happen and live a fuller life?
"Make" a great week for yourself.
******************
YOUR CHALLENGE FOR THE WEEK > >
How long can you keep a smile on your face and find joy? This week that is your challenge, to stay happy and joyful as much as you can. Smile, even when you are by yourself.
Do something new, daily, then keep doing it for the rest of your life.
*******************
NEXT BLOG
Reconnect with family this week.
I will be doing just that; I will let you know.
Jasmine and April–heads up!
*******************
THIS WEEK,
MAKE YOUR LIFE
SOMETHING
THAT YOU CAN
WRITE ABOUT!