(Do you wander or just wonder?)
With my words, I hope to throw some oblique light upon your life.
I want to inspire you to see life in a different and/or better way.
Also, that you find joy how you can.
*** If you are reading this through Facebook, check out my blog on my website.
*** If you are not my Facebook friend, yet, please, befriend me.
*** The freedom I am experiencing in my travels is a marvelous thing!
*** Going where I want, when I want, and seeing wonderful places and people.
*** I will have places to show you and tales to tell.
*** I will have secrets to unfold and good news!
I WANT TO TAKE YOU AWAY WITH ME
****************************************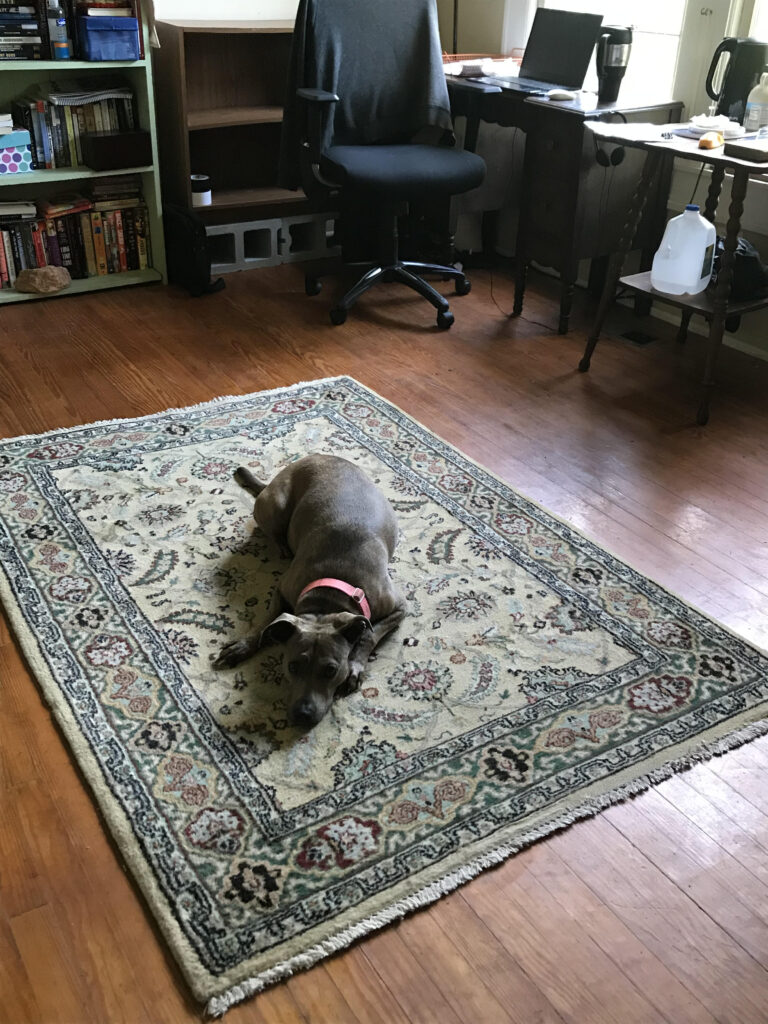 Beth's dog, Jemma, on the new carpet we just bought. 
Many people I have to dream of escaping modern life and living on the road, as I have done for the last five years. With my writings, I want to open your eyes to see that you can change your life.
In fact, I know I have influenced at least three others to start living a life on the road. How about you, would you, could you, do it?
If you are not loving your current life, you can make changes to the better—and you must! This is the only life you will have, you must live your life to aim for the magnificence that you can.
Research and examine your own life. Ask yourself >>
• What makes a good life for me?
• How am I helping others to live a better life?
• How can I make changes to make my life better, what I want? (by "better", I mean a life that you love)
• Am I alright alone in the world?
• What is truly important to you?
This being the only life you will have, you must aim toward the brilliance you can. There are many of the brain injury area that my words go to. If you have gone through any kind of life-change, you can still find the happiness that is meant for you. I want to help you make discoveries that will bring you happiness.
This solitary life I have been living has changed after I met Beth at the library. We are both about the same age at 62, we have fallen in love and will be together for the rest of our lives. Such a relaxing thought that truly is.
=========================
Inspirational quotes and motivational sayings have an amazing ability to change the way we feel about life and can change our thinking. This is why I find them so interesting, challenging, and important on our path to joy and happiness and finding ways to inspire ourselves.
Inspirational quotes provide us with a quick and timely burst of wisdom to get our focus back, offering the inspiration needed for the day or occasion.
I hope to inspire you with my words.
At any age, you can (and should) make changes to make your life better.
You see, the way you think and feel about yourself, including your beliefs and expectations about what is possible for you, determine everything that happens in your life. It all derives from your quality of thinking.
When you improve the quality of your thinking, you change the quality of your life—sometimes instantly!
Just as positive words can make someone smile, and/or, a well-timed amusing quote can make someone laugh, your own thoughts react to the world in real-time. You have this control! In fact, you have complete control over only one thing in the universe — your thinking — and that's where motivational quotes come in!
To keep your motivation, you have to use each day as an opportunity for improvement, to be better, to get a little bit closer to your goals. It might sound like a lot of work—and with your busy schedule—next to impossible. But you can do it!
Self-talk is so important—THINK RIGHT!
Motivational words, yes, they're just words.
But they're positive words; they will keep you on track.
I hope the words I pick do help you.
*************************
BE INSPIRED BY THESE WORDS>>
From my book series, Beyond Your Potential.
"Adversity is another way to measure
the greatness of individuals. I never had
a crisis that didn't make me stronger."
Loss of juggling ability, loss of being able to see well, suffering from ringing in the ears, loss of being able to run, I've had many losses. Loss is a part of life. We must accept the loss and learn to use the experience to grow. As I personally learned, after a loss or change, things will never be the same again.
THE GRIEF YOU EXPERIENCE AFTER A SIGNIFICANT LOSS WILL REQUIRE A TIME OF RECOVERY, AND GRIEF DOESN'T HAVE TO BE BRIEF.
Like a juggler, life is often a balancing act, and each time something causes you to waver, you must regain stability again as soon as possible, or risk an unnecessary drop or tumble through even more hardship—this time, self-inflicted.
When you suffer a major loss, such as a death in the family, a divorce, or relocation, it feels as if you have been hit by a truck (I know that feeling well.) It affects you mentally, emotionally, physically, and spiritually.
BEFORE YOU CAN GO ON WITH ANY SENSE OF BEING WHOLE, YOU NEED TO PICK UP AND REGAIN A SENSE OF BALANCE AGAIN.
But you must also learn from the change and loss to move past it how you can. By doing so, you will be able to progress through life again, as you were doing before the interruption. We all go through a myriad of losses in our life.
A few losses I have been through:
• The first time I got hit by a truck, I lost my juggling ability and more. Yet, life goes on.
• The loss of my wife through divorce and loss of my daughters was devastating for me. Yet, life goes on.
• The second time I got hit by a truck, I lost my ability to run, which is something I cherish. Yet, life goes on.
• After the first accident, I see double. From a bike accident, I always hear buzzing—no silence. Yet, life goes on.
• I lost my mind, which is a hard thing to think about. Is life still going on?
I'm not asking for sympathy by mentioning some of the challenges I've encountered. Of course, there are millions of people who have been through much worse.
We should not compare ourselves to others. Live your own life; focus on yourself and how you can add to the world.
When I focus on the future and the hopes I have, my thoughts change. Clinging onto the past and what "could" have been destroys me. I must keep away from doing that. It will help you, too, if you focus on your future with hope.
THE PAST IS A MEMORY—LEAVE IT THERE.
Remember the joys you have had and the wisdom you acquired, and then leave the past in the past.
In thinking back, while I'm sorry about the negative events, I'm not sorry for the growth and learning that I've gained from them.
FACE IT RIGHT AND YOU WILL MISS NOTHING.
You've missed chances and opportunities at times in your past, don't be sad or regretful. You have your future, get excited and enthusiastic about the possibilities your future holds for you.
Although sometimes, as I was recovering and looking at the future, I did wish that I could go back. I've learned too much that is too precious to ever want to go back now.
Discover for yourself as you look back at difficult times in your life and the losses you have had. See how these changes have added to your life as you live. Doing so will help you get through future changes and loss in a better state of mind.
As we go through life, we are all involved in losses of some kind. So much can be learned about ourselves from an experience of loss, even in going through a very painful grieving process.
Looking forward from where you are now, live your life with the highest degree of the best expectations.
You have to look for what can be gained from even the most painful of events.
I HAVE FOUND THAT MANY HORRIBLE LOSSES CAN BE TRANSFORMED INTO LEARNING AND GROWING EXPERIENCES.
At any age, you can make the change and aim your life anew.
Now, it's time to get out there and do
something incredible that you can rejoice in!
=================================
6/19-21—Spending time with Beth has been wonderful.
6/22—Eating food lately has been difficult. My esophagus has been closing down, so it has become difficult to consume food. I went to Dr. Matthew Bachinski in Greenwood, SC.
I was put all the way under using anesthesia. I have been put under a few times in the past this way. I like to try and stay awake as long as I can. I've always wanted to see the point where my mind goes from consciousness to unconsciousness. This has kept me awake some nights. Of course, I could never see that point.
After the surgery, Dr. Bachinski told me that my throat was too narrow to even put his scope down. What he did was put an inflatable tube down my throat and inflated it to widen my esophagus.
After awakening, Beth was right there by my side, a wonderful thing. I return next week to have the same procedure done again. I will try harder to fight the anesthesia. You will find out later what occurred.
6/24—Beth and I stayed around our home today, although we did get up to pick up a new bed for her house.
Having trees and wilderness all around her home and no neighbors, this is a paradise for me. We have talked about how we could just stay here away from everything and everybody and live a fantastic life (I would miss you, though.)
But, we will venture out in travels in the future. In August we plan on visiting Beth's family in Pennsylvania.
5/25—As you see, not much happening this week. As I've written before, we are in charge of what is happening in our life and sometimes we have to "make" things happen for ourselves. I will do that in this upcoming week.
I would love to hear from you!
Either through Facebook or email – kitsummers@gmail.com
*************************
MY CHALLENGE FOR YOU THIS WEEK >>
Your aim this week, help at least three other people to make their life better. This, in turn, will make your own life better.
Time for me to get out to visit some parks and back to the wilderness. You will find out next week.
=========================