The Wanderings of Kit (Do you wander or just wonder?)
By writing this blog I want to inspire you and show you that–
YES—YOU CAN > >
Change your life at any time to make it more magnificent!

Live with little money and still have an excellent life.

Be able to live life getting very little sleep.

Live ANYWHERE in the world and still make your life a fantastic event!

See experiences that will add to and make your life better.

I want to inspire you as to the wonders of the earth.

Perhaps this is my new "gig", traveling the world doing the same?
Design the life YOU want to live, NOW, then live that life.
*********************************************
***Remember, to read past blog posts, go to https://kitsummers.com/blog/
***If you are reading this through Facebook, I can send you the blog by email, which can have more photos. Sent me an email and write "email blog" as the subject and write your name. Send email to >> kitsummers@gmail.com
*** If you are not my Facebook friend, yet, please befriend me.
***The freedom I am experiencing in my travels is a marvelous thing.
***Going where I want, when I want and seeing wonderful places and people.
***I will have places to show you and tales to tell.
***I will have secrets to unfold and good news!
I'm glad to take you on my journeys with me!
*****************************************************************************************
​******************************************************************************************
AND, ONTO MY DAILY JOTTINGS >>
My van kept saying to me, "Come on Kit, I want to be in some selfies." So, I felt obliged, you will see shots of the van (just for comparison to the background.)
6/14/19—Made it to Capital Reef National Park, arriving at about 3:33 PM in a rainstorm. So, I will not be able to see much today. I found out you can camp (sleep in your vehicle or a tent) for free at dispersed camping, right outside the park. I found a place easily; many vehicles already here.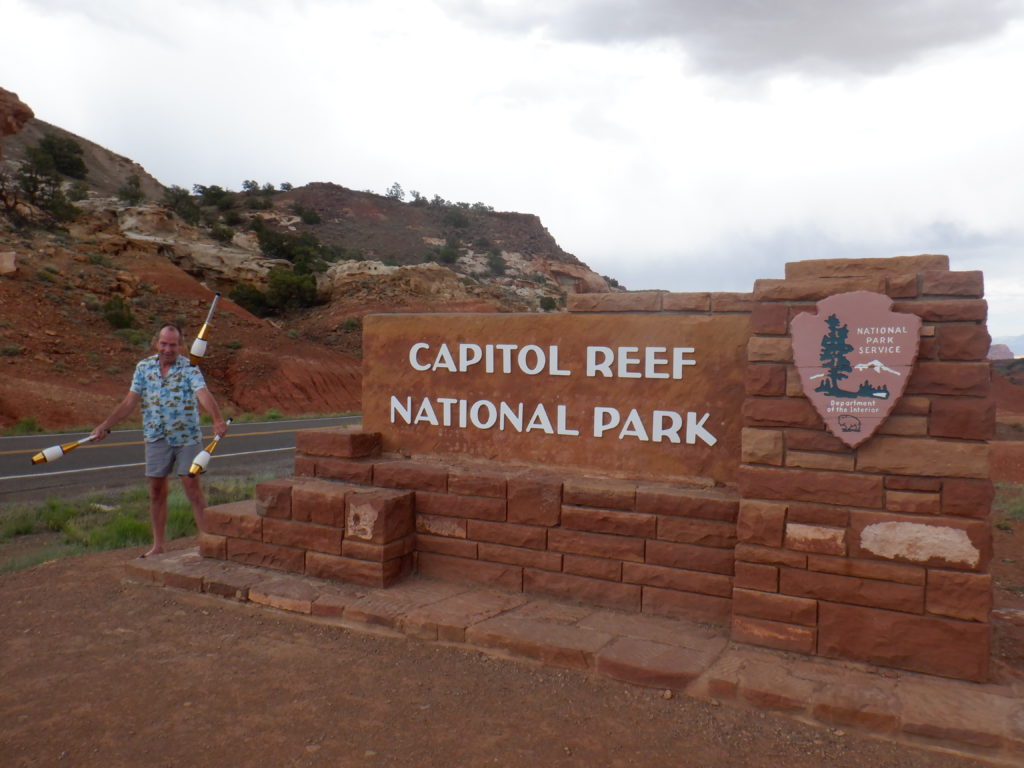 Dinner was coated chicken, quite tasty, with a salad. Already working on photos and text for your next blog. Yes, I'm always thinking of you.
Physically walked the exit I will have to take to get out of here for in the morning. There is a good chance I will be awake before the sun has shown his face, so I have to be ready. Turn a little to the left, then a hard right to get to the road. I set my GPS for the Welcome Center for the park, so an easy drive in the morning.
It is 6:28 in the evening. I have already eaten my dinner and had a glass of wine. Reading now was comforting. Then I started thinking about my loneliness. I thought Tina was the one, but she chose her God over my strong love for her. I thought Cho Cho was the one, but she is too young and too far away. Mary Ellen and I were together for almost 30 years, but we drifted apart. I've said before, having a relationship can be one of the hardest things you can do.
I am alright on my own, but I do want to be with someone who I can love and help through life as she does the same for me. For now, I live this van life alone (smiling as I type.)
As you know, I can awaken quite early, often between 2 and 4am. So, I am tired now, sleep should envelop me soon. I will think of you as I drift off for my short sleep. I do hope you think of me at times.
A gentle rain just starting hitting the van roof, comforting it is. Should be cold tonight, but that makes it even nicer in my warm sleepy bag. Goodnight for now, my friend.
6/15—Yes, little sleep for me last night. I arrived at the park at 7am and started looking around. The visitor center opens at 8, I was the premier one in. The first thing for me, drive down "Scenic" road ten miles, continue on a dirt road another 10, then hike many kilometers from there. As you see from the photos, it was spectacular.
It is Saturday and the weather is perfect, so many are at this park.
In thinking about it, I do like to always take the "different" path, perhaps you have noticed? It makes it hard for me to go to a place where thousands (millions) have been. But, then I say to myself, "But you've not been there, Kit." And, I remember that the majority of humanity has never been. Have you been all the way down Scenic Road in Capital Reef Park and then hiked from there?
The reason I went so early is to avoid the crowds, nicer alone. Talk about crowds, yikes, as I was leaving the park around 11am there were hordes of vehicles driving in. I had made the correct decision.
I pulled over to have some lunch at a grassy area. Grabbed my juggling clubs and did some practice. I really need to put in time daily to get over this throwing problem with my left hand and arm.
It was strange for me that people "name" their vehicle. But, I did. My van is named, "Sue" now. Sue Kendi is an old love and friend who died of cancer a few years ago. She means so much to me.
I AM A KILLER! Every day, as I am driving, many many bugs are killed because I drive into them (or, do they fly into my van?) I feel terrible, what can I do?
I pulled into a McDonalds to use their free wifi, have a Mcchicken and charge all my "things". Then I found a place with limited houses where I slept the night.
6/16—Slept well and looking forward to exploring a different part, Arches National Park, today. At a McDonald's doing some editing using their free wifi and charging some things. It is Sunday and I don't want to go into the park until later after some of the crowds have cleared out.
Just talked with my daughters, Jasmine and April, via Facebook video, how wonderful. Jasmine has been over there helping woman and kids live a better life. April just went over for a two-week visit. I love it that my love each other so very much. I miss them so much.
After spending some time on the computer, and also talking with my daughters, I finally headed out to Arches Park at about 11am. I got in the long line of cars to get in, oh the crowds! Arriving on a Sunday, it was just too much for me. How could I enjoy this amazing landscape with all these people around.
So, I departed the park (I was here with Tina a few years ago and did much exploring.) But, I found another small local park! I worked on a few different projects, did some unicycling and also some juggling.
Some people who saw me juggling joined in and also juggled, great to see! The father and son were each working on juggling 5 balls. I gave some tips and they also bought a copy of my book, Juggling with Finesse.
Then the rain started; much rain. I did not know about this forecast, glad I wasn't still in Arches Park. So, to beat the crowds I will be there on a Monday and will arrive early when people are still asleep.
6/17—Got to Arches at about 7:30am, already many people going into the park, and remember, it's Monday. Because they have a campground, the park is not looked up at night. I drove right by the booths where they collect money.
Right now I am typing to you on offline on battery power while I am at the "Windows" section of the park. I will go out later and do some hiking around. The sun is bright and it is a delightful day.
Just hiked the trail to the "Windows" section of Arches. As I walked I passed many people going the other direction. Only one person looked up, made eye contact, and said "hi". That makes me sad that SOOOO many people are unfriendly and will not take the time to be friendly.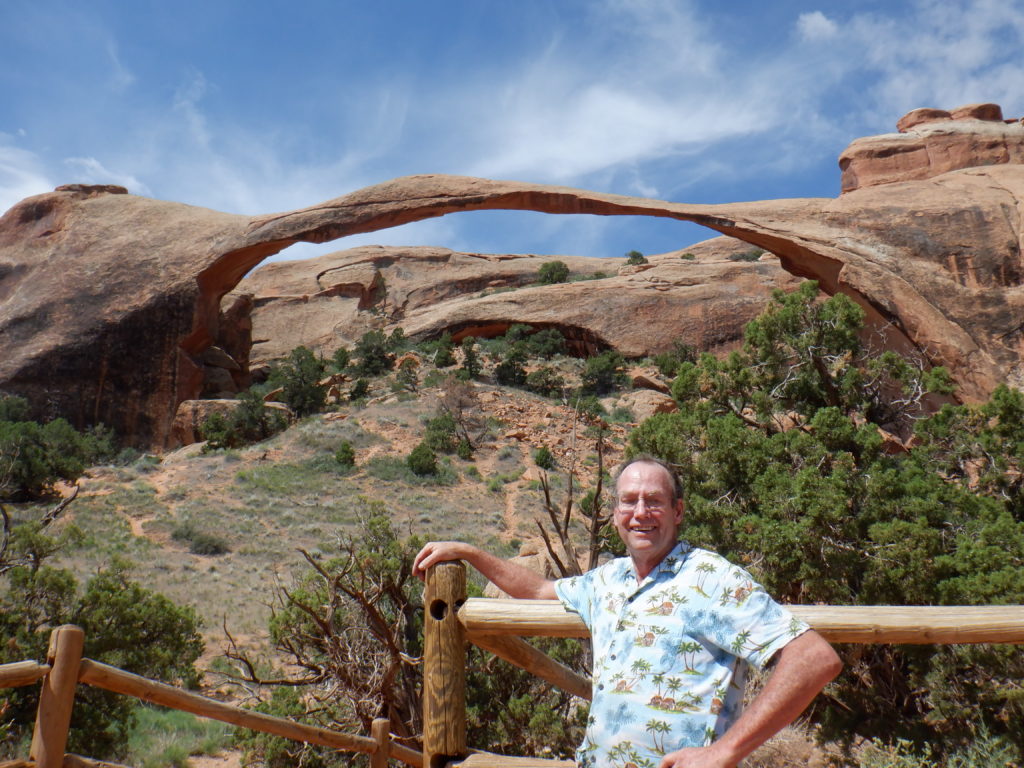 Often, as I am passing them, I simply say, "Really?", or, "What?", and keep walking. Just trying to make people think. What is more important to them?
Or, am I thinking incorrectly?
For me, people are more important than features in life.
Especially you, of course.
10:11, already too many people here. I think I will travel to some national parks further east and north. Of course, you will find out in my future writing. As I wrote before, I was through Arches a couple of years ago with Tina, so, nothing really new for me here.
I did drive down and took the walk to Landscape Arch. There were so many people here now. It is a couple of kilometers out there.
I must have passed sixty-six and a half people. Only one lady looked up and​ ​said "hi". This always makes me so sad when people are not friendly when it's so easy to look up, smile, and say, "hi". And, it makes life better for everyone.
I was surprised at how many foreigners there were taking the walk, many different accents, and languages.
On my way back I started playing and saying things like >>
I'd point the way they were going and say, "It's that way." Or,

"Is it this way to San Diego?" or I used "Paris", New York City" and "the bathroom.", Or,

"You're winning the race!
People laughed and loosened up, it seemed. It made it fun for me to come up with things to say. 
How about you, are you friendly and try and make joy for others?
In exiting Arches, GPS took me on a dirt road, "Arches Salt Wash." I was hesitant at first, having dealt with a bad dirt road in the past, but the adventurous in me said–"GO"! Off I went. It was a pretty good dirt road, all 20 miles of it. It reminded me of what I took to your house, Cole.
6-18—I've been parked on a walking street in Aspen, Colorado for some time this afternoon. I cannot believe how many young beautiful women are walking by—not that I am looking—HA! Smiling as I write these words right now. It does amaze me how many beautiful and in shape people are in Aspen. I've not seen anyone overweight or out-of-shape.
I've written before about the people I see at Walmart and the ones I see at Costco. At Costco the people, overall, are in shape. At Walmart—Well?
I walked over to where I performed in 1981, much the same, what great memories if brings back. Made me want to get out my clubs and do a show, but most of the show would be on the ground. There are many more shops all around, so it is different than I remember.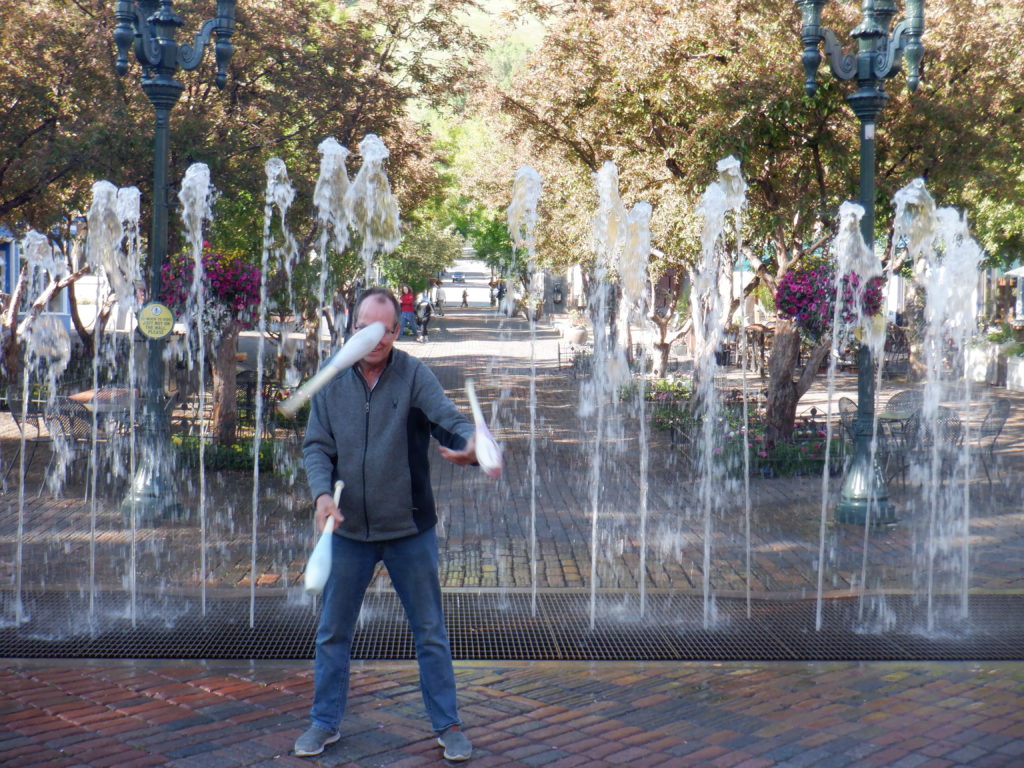 I must build on my comedy and magic skills to get a great show together. I already have a show together, but could improve it. And, how is your show looking?
So, while parked in front of a restaurant that has meals from $16 to $48, I ate a delicious and healthy dinner, made by myself, for a cost of under one dollar.
6/19—Slept in the van while parked in the business district. I knew that, once the stores closed it would very quiet, which it was. I slept well.
From Aspen I went south, first time driving this route, Route 82. This road went up to over 426.72 meters! (14,000 feet). You will see the snow in the photos. As I was driving I was smiling much as I saw the wonderfulness of the area.
Some parts of the road had a drop off of many meters—with no guard rail. Certain times got very scary, especially with a car coming the other direction. If I went over it would be the end of van life (and, perhaps, the end of Kit?)
Drove by snow in route. At one point I had to, I made three snowballs and did some juggling, see the photo?
In a small town called twin lakes, just the one road, I pulled over to make a salad. Right on the other side of the road was a cop car, with a cop just sitting there staring, I thought into a speed checker. Just out to give tickets and bring in money.
I ate and sat there for a bit, then I wanted to go say, "Why are you wasting time, why aren't you out after real criminals?" So, I got out of the van and walked up to the window. The guy didn't even look. After a bit I saw that it was just a fake cop. NOW—who's the "real dummy" here?
Drove into the south of Boulder, Colorado today. At a nice quiet Walmart where I will sleep tonight. My workshop on July 3-4, so I have some time to spend before then. Perhaps I will return to Rocky Mountains National Park (RMNP) for a time?
6/20—Very quiet at the Walmart, as I thought, slept well. In the morning I did some online work while in Walmart, words to you. It's been a few says, shower time. I parked in a place at the side of Walmart where no one would see me. Can you imagine—naked at Walmart?
TO THE FORESTS FOR ME!
So, I arrived in Boulder on a Thursday. I really don't need to be here until Sunday, when I will be going to the Boulder Juggling Club to promote my workshop. So, what's a Kit to do. I was there a couple of years ago with Tina, being only about 35 miles away, I had to go! RMNP was awaiting.
So, that's 3 national parks in one week, a new record.
What a splendid day!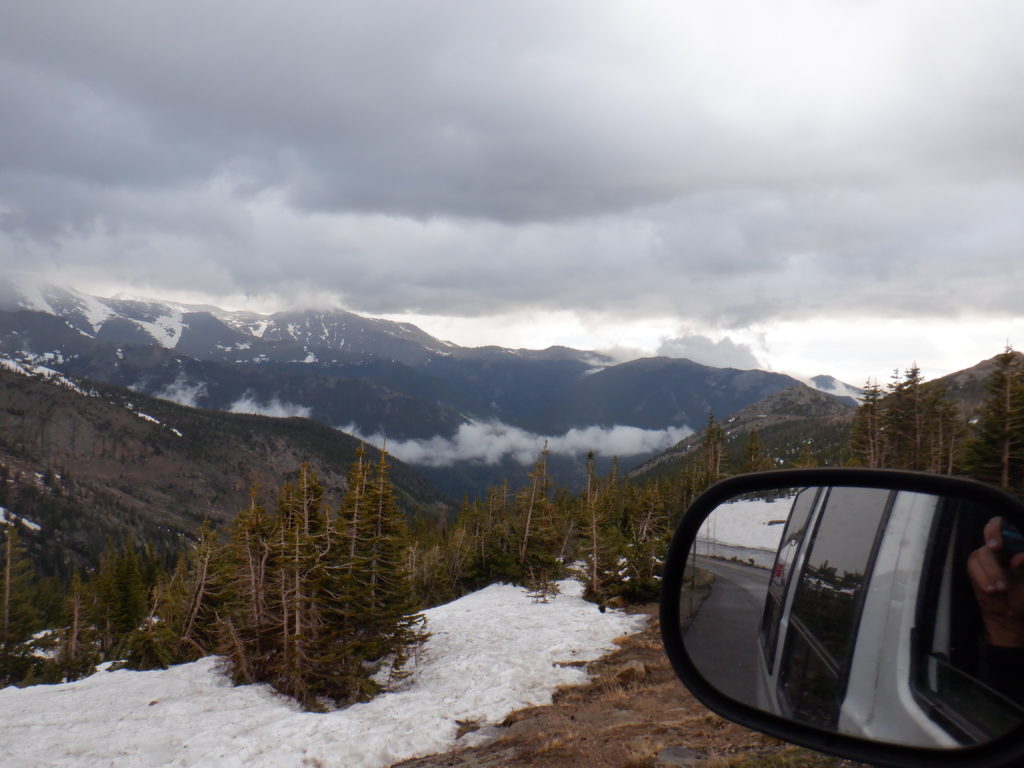 Before I headed up to the hills, I looked on the internet about a non-profit bike repair shop. Once again, I had backed into a place without carefully checking, yikes. I backed into the bike, which I keep on a rack on the back of the van.
I thought I had just bent a crank. But, once CommunityCycles.org examined it, I found out I had bent​ the frame. So, the bike was no good. They looked around and found a used bike, in good shape, that they just gave me! How wonderful. Before I took the bike they looked it over and made adjustments where they were needed.
THIS MAKES ME SO HAPPY!
From now on, I made it a habit to physically get out of the van and check behind me for any obstacles and to see how far I have to go before contacting something.
I think the new bike is much better than the one I had. The one I had is a road bike and can't really do trails. This new one can do road and trails, it's great.
I got everything loaded and off I went toward RMNP.
Estes Park is a tourist town right at the entrance to the part. Being 4pm, I will stay here for tonight and start exploring the national park tomorrow. I went for a walk, a few blocks away, in a park right on the road, I saw a huge elk feeding on the grass right in a park in town. I am told they come down and do this often. So used to humans. I did want to jump on and go for a ride, but didn't.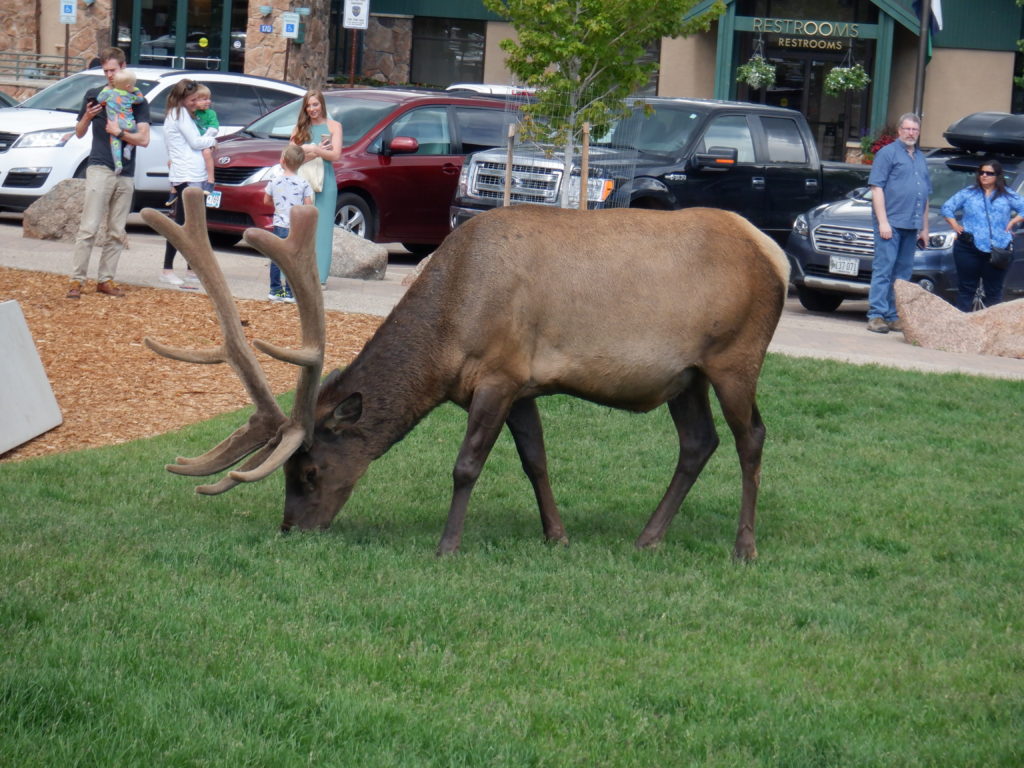 Saw a McDonalds in town and went in to use their free wifi. I couldn't believe it, the only McDonalds I had found that don't have free wifi, or any wifi. I talked to a lady about the elk I saw and she said they just​ saw​ some big horned sheep doing the same. It's like a zoo around here!
It took some looking, I found a dirt pull-off off of one of the roads up in the hills. Had dinner (salad and chicken) and I will bed down for the night. You have to remember, I am parked on a mountain road in the woods where there are hotels nearby that charge, probably, $300 to $500 a night to stay. Yes, I am smiling while typing these words.
Why do I always arrive at national parks on a weekend? Just happens that way, I wish I would arrive on a Tuesday. I will have to arrive there about 6 or 7am and start looking around before all the touristas arrive. And, tomorrow is a Friday, so I have to plan to find wifi to get these words off to you. I do hope you appreciate that.
6/21—Back to Boulder, meeting Peter Davison at 3:30 on Friday. Raining most of the day, but getting some things done.
​IF YOU LOOK ON MY FACEBOOK PAGE YOU WILL FIND MORE PHOTOS >> 
​********************************************
Did you meet my challenge for last week?
Do something that you may not like doing, do it and make yourself enjoy it.
My Challenge for you to meet over the next week >>
Offer to clean a friend's house.​