With my words, I hope to throw some oblique light upon your life.
I want to inspire you to see life in a different and/or better way.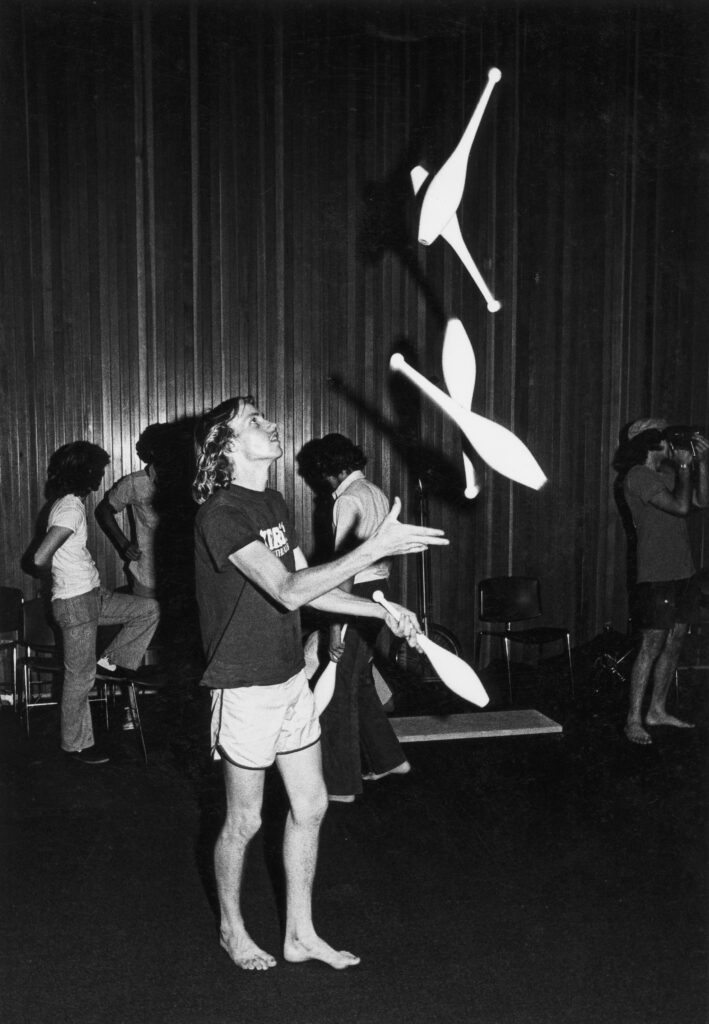 *** Remember, to read past blog posts, go to >>kitsummers.com/blog/
*** If you are reading this through Facebook, check out my blog on my website.
*** If you are not my Facebook friend, yet, please, befriend me.
*** The freedom I am experiencing in my life is a marvelous thing!
*** Going where I want, when I want, and seeing wonderful places and people.
*** I will have places to show you and tales to tell.
*** Secrets to unfold and good news!
BE TAKEN AWAY WITH ME
ON WONDERFUL ADVENTURES!
********************
INTRO TO THIS WEEK >>
I've been thinking about my accidents and how they changed my life. I am hoping I learned some things that will add to your life.
After my first accident, I learned that each year over two million people on Earth suffer a brain injury. Modern medical practices have led to the saving of more people suffering severe head trauma.
Statistics show that there is only a five percent mortality rate through brain injury. Of the ninety-five percent who survive, many will have multiple and permanent physical, cognitive, or emotional impairments that may require intensive rehabilitation.
With all the wars going on more and more military people are returning with brain injuries. For them, life has changed, life is a challenge. Through this book, I want to show you that there is hope for your future.
One of my goals is to help other victims of traumatic brain injury, as well as their family and their friends. Those who are close to a brain trauma victim must accept the probability of physical or mental disability in the person for years, possibly for life.
This acceptance leads to a more constructive and supportive attitude toward the victim. All brain injuries are different, and, with many other factors involved, you can never know what the future will hold for that person, but it does not have to be the end of the story.
Through support and understanding, wonders can happen.
No life is without traumas. Eventually, we must all confront events that test our limits. The key is to use these changes in a positive way toward our future.
YES, IT CAN HAPPEN TO YOU.
We tend to see ourselves as invulnerable and can take life for granted. I never dreamed that I would be hit by a truck, let alone twice. And, I never imagined I would spend a month of my life in jail. You never know what will happen at any moment of your life that can change it forever.
WITH THE RIGHT TOOLS, YOU CAN OVERCOME ANYTHING.
By reading about my experience, you can begin to absorb some ideas to get over your own trepidation's and get on with tasks in your life. But, that may be difficult, as you move forward toward the excellence that you possess.
You may come across many difficult responsibilities in your quest for excellence. No matter how strenuous these tasks may appear to be, I want to not only give you the confidence to face them, but specific and practical methods to conquer them.
BE AWARE THAT YOU WILL RECOVER.
In working through recovery from my accidents and changes, the ups and downs brought new awareness to my life. We can all enjoy the opportunities for pleasure and progress that are available, no matter what might happen.
YOU HAVE MORE POTENTIAL THAN YOU KNOW!
These books will show that buried in all of us are undreamed powers of healing and growth despite difficulty and crises.
DREAM OF YOUR PERFECT LIFE, WORK OUT THE STEPS TO GET THERE, AND THEN START.
One of the hardest things to deal with after a significant life change is the lost dreams and the loss of the potential that we had before. I was a world-class juggler before the accident, and Ballys Casino was my first significant step up the ladder of success. I was on my way to stardom as an entertainer—then my first big life change came.
I had to face the fact that I would never juggle like that again.
When a person goes through a major life change, their whole world of potential comes to a halt. Then, surprisingly, an entirely new life must be created to see the new world of potential that opens up before us.
I am now speaking and writing to help others with lessons I have learned from experience. Also, I developed and found success with a fresh salsa business in which the salsa has thousands of satisfied customers – www.summerssalsa.com/ . If you want, let me know and I will send you the recipe – kitsummers@gmail.com
I do hope you like reading my words,
please let me know how they might help you.
********************
WORDS TO INSPIRE YOU! >>
Inspirational quotes and motivational sayings have an amazing ability to change the way we feel about life and can change our thinking.
This is why I find them so interesting, challenging, and important on our path to joy and happiness and finding ways to inspire ourselves as well as others.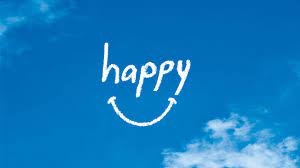 Inspirational quotes and ideas provide us with a quick and timely burst of wisdom to get our focus back, offering the inspiration needed for the day or occasion.
I hope to inspire you with my words.
Words have power.
At any age, you can (and should)
make changes to make your life better.
You see, the way you think and feel about yourself, including your beliefs and expectations about what is possible for you, determines everything that happens in your life. It all derives from your quality of thinking.
When you improve the quality of your thinking,
you change the quality of your life—sometimes instantly!
Just as positive words can make someone smile, and/or, a well-timed amusing quote can make someone laugh, your own thoughts react to the world in real-time. You have this control!
In fact, you have complete control over only one thing in the universe — your thinking — and that's where motivational q11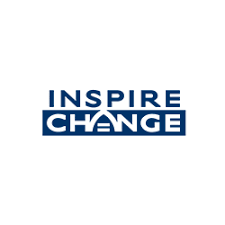 To keep your motivation, you have to use each day as an opportunity for improvement, to be better, to get a little bit closer to your goals. It might sound like a lot of work—and with your busy schedule—next to impossible. But you can do it!
Self-talk is so important—THINK RIGHT!
Motivational words, yes, they're just words.
But they're positive words; they will keep you on track.
Remember, you are only as young as the last time you changed your mind.
Keep your thoughts and self-talk fun and productive and always reaching for advancement.
Remember, very little is needed to make a great life.
I hope these words I pick do help you.
********************
BE INSPIRED BY THESE WORDS >>
"If you make your inner life a precedence (you are important),
then all else you need in life will be given to you and you will know how to go forward."
– Kit Summers
COMPOSE A NOBLE BOOK AND WRITE A BEST-SELLER.
YOU ARE AMAZING—PLAY YOUR PART!
********************
MY DAILY JOTTINGS >>
2/5,6,7—Finishing the painting of the fire room, looks so good. As I wrote before, we are going through the entire house painting and decorating as we go. So, as you travel through the house each room will have a different feel. 
And, I moved the dryer, so I had to drill a hole for the dryer air to go, a good project.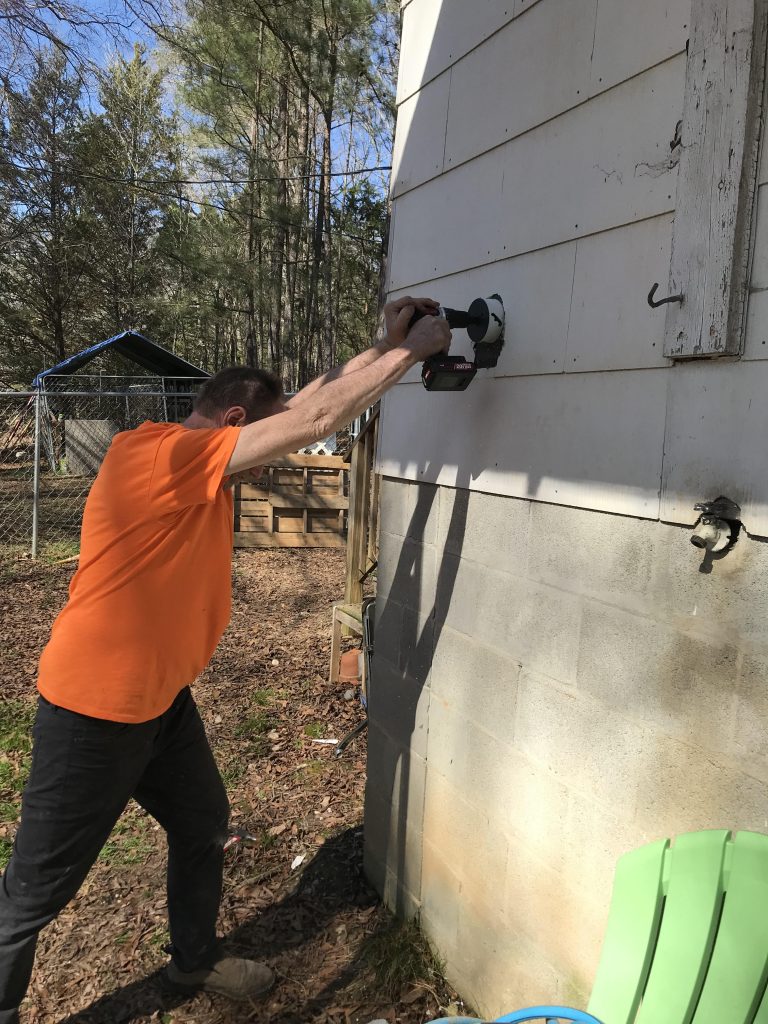 2/9—Today is my mom's birthday. She died eight years ago, I miss her much.
I drove over to the house of James Butler, who Beth used to take care of. He died at the age of 91, just a few months ago. Like my mom and Mr. Butler, death is coming for us, too. Get serious about life, look for the joy that you can find, and help as many people as you can to live a better life.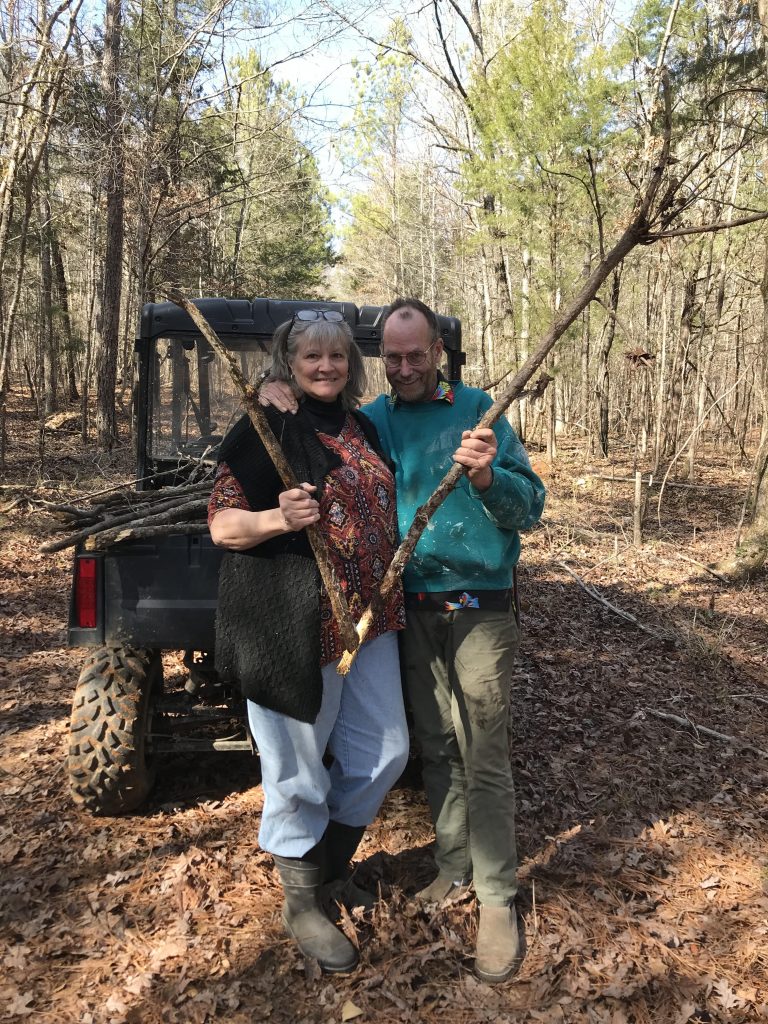 I went over to Mr. Butler's to look for dead wood for our fire. It had rained a few days ago, but the lawn felt solid enough, so I drove out on it to search for wood. It turned out that the earth there was too soft, still. I got stuck in the mud!
Beth came over to comfort me, nice.
Being a member of AAA, I called to have someone come out to help me get out. They ended up coming from about 75 miles away; there was no one closer to help.
Before he drove back to where my van was behind the house, we took a walk back to survey the situation. The rear of the van was against a pole coming out of the ground, so I could not back up, and forward was no go.
The back tires had dug into the grass and I thought I would not leave. The AAA guy was scared of driving his truck back because he said it might get stuck, too. Could imagine, calling a towtruck to get your towtruck out?
He checked the pole that was in the ground behind my van and was able to remove it. Next, he jumped in my van and maneuvered it going backward, then forward, and drove the van back out to the road.
It shows me, once again, that there is always a way to accomplish something. I was so happy he was able to rescue my van.
For you, I know you have been in bad predicaments. You made it through and moving ahead. For this reason, there is no need to ever have worry again.
YES, YOU CAN COME BACK!
1/10—Beth and I went to visit Mabrey Lyon, an old friend of Beth.
https://www.facebook.com/mabrey.lyon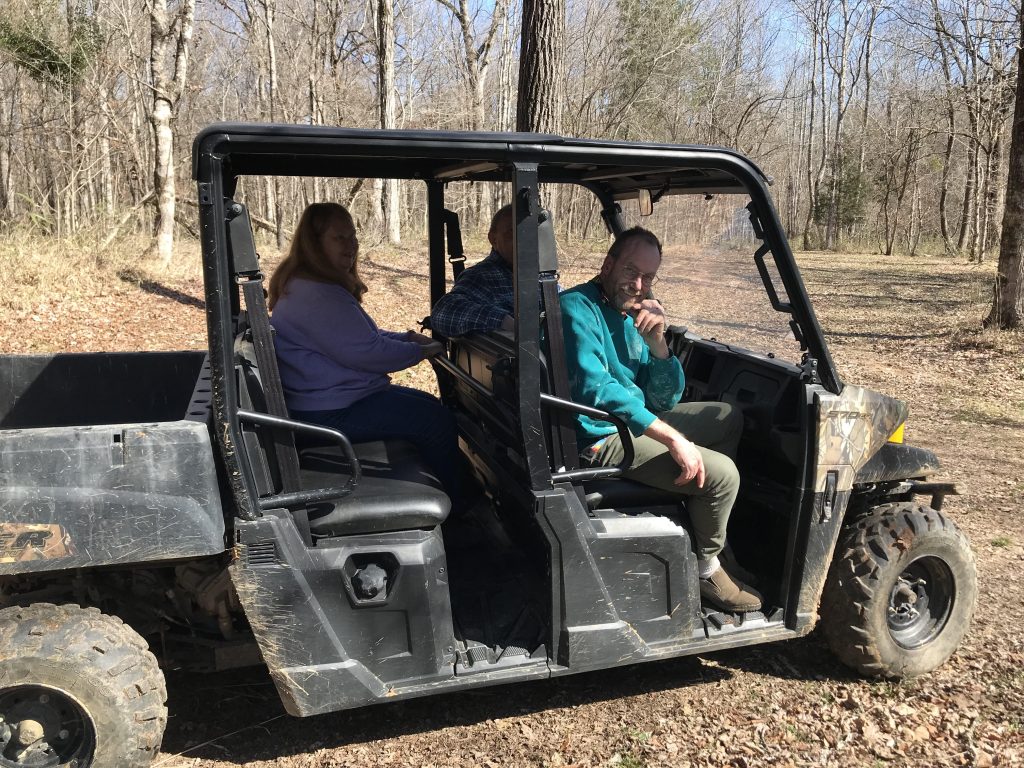 They live on a very large piece of land. Cows and horses used to live on this land, now they are older, no more animals. Her husband, Johnny, took us on a tour of the lands on a 4-wheel drive Polaris Ranger. So many trees and hills, it was beautiful.
Part of their land was right on Steven's Creek, very nice. On 2/22/22 at 2:22pm, Beth and I will be wed. This will take place downstream a little way right along the creek. You will see photos of the wedding in the future.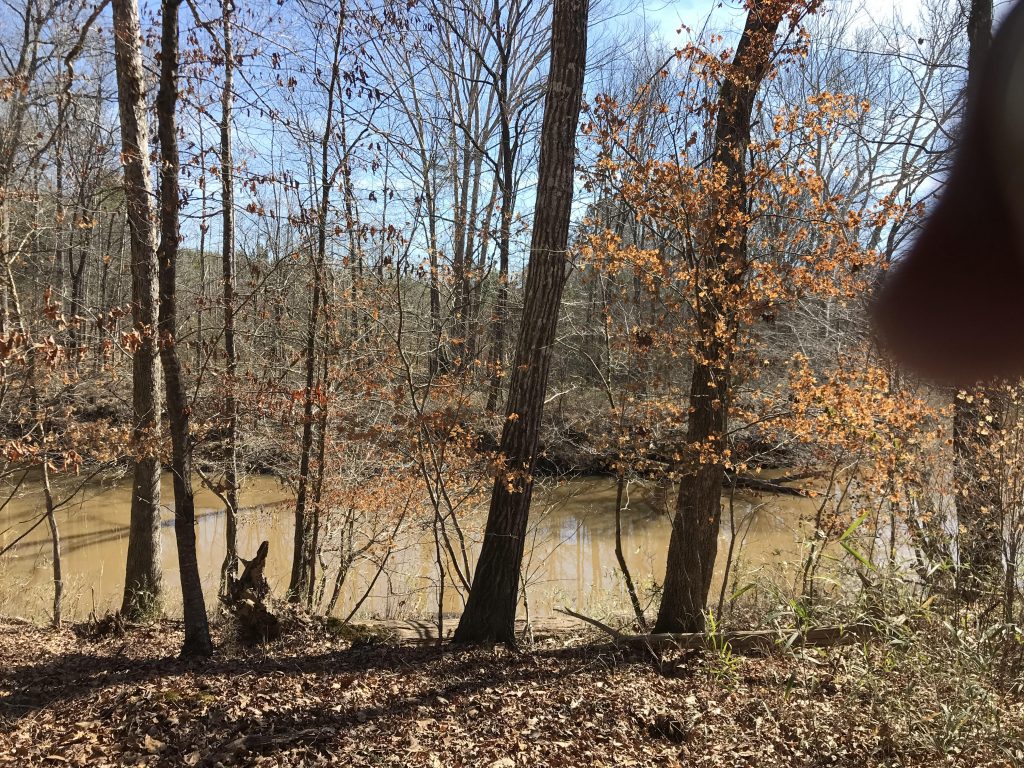 I am hoping that one day soon we will visit again with Mabrey and Johnny.
The main reason we went to visit was that we could use dead wood for the fire. With a big forest, we obtained much. There is someone Beth knows of who delivers firewood and even stacks it. But I like the price better like we found yesterday.
So many trees in the area, we will find much more in the future. I look for pieces that are about six feet in length. When we get back to the house, I hold the wood as Beth uses a chainsaw to cut it.
2/11—A bright sunny day, Spring is on the way.
*************
YOUR CHALLENGE FOR THE WEEK >>
When was the last time you worked out? As you know, it is important for your body and heart to keep exercising and breathing right. This week start back to your exercise.
==========
NEXT BLOG >>
The Sun Room is next for painting and designing.
You will see.
THIS WEEK, MAKE YOUR LIFE SOMETHING
THAT YOU CAN WRITE ABOUT!